A 'baby shower' is something Brits see in American rom-coms but don't quite get.  Through my powers of deduction, it seemingly has nothing to do with putting babies in showers, nor is it an unfortunate meteorological event.  It is in fact a party where people get to gratuitously give you presents for no reason other than you're wife is big and its getting harder to ignore the Elephant in the room.  So in summary, it is a 'We're having a baby soon' party.  Excellent, thanks to Katherine and Erica for that and for everyone's generosity. How soon though?  Five weeks seems like a wisely prudent buffer, I mean come on, its not going to turn up before then, it simply can't, I forbid it, I'm running the Lead Ladder this weekend…
Now I like a punch line as much as the next man, but you're baby initiating labour at her own baby shower is hard to compete with.
In between contractions, Jen had just enough time to regale party goers with tails of climbing the chief seven months gone, weekend kayaking trips and not being allowed to ski.  As the evening wore on though it became obvious that the monkey was en route (good job we wrote that 'to do before birth' list the day before then) and we eventually repaired au hospital at 6am the next day.  Early on in the pregnancy I suffered delusions that maybe we were having a kitten, I love kittens so, there so soft and fluffy.  Sorry to everyone that had to endure that,  I now see that as utterly idiotic with no basis in rationality and scans have clearly revealed something more munky shaped.  I like munkys too, especially baby ones with big eyes.  Maybe there's a kitten inside the monkey?  I love nature me.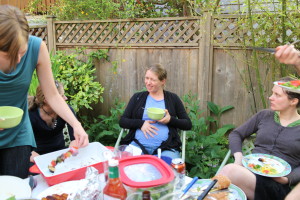 The original plan, dashed to the wall like yesterday's spaghetti, had been a home birth in a pool with candles and stuff.  Ahhh, I'm so in touch.  Five weeks early though, whilst not the equivalent of benightment, is perhaps the equivalent of climbing at dusk before the crux followed by a sketchy rap down a chossy gulley, so a hospital with "science n' that" seemed a like sensible choice.  Anyone want a big squashy pool, 15 scented candles and a step ladder?  As new, job lot for 30 bucks (OBO).
So last Saturday at 1.18pm Pacific Daylight Saving Time, she emerged to the canon finale of Tchaikovsky's 1812 Overture; comedy timing is clearly her thing.  I cried more than the baby (by an order of magnitude), but I breathed a large sigh of relief when several medical experts confirmed that yes, she does have a positive ape index.  And she does actually look and act like a little monkey, just waiting for that hair to grow.  And her tummy is kind of bulgy…
So as I write this, almost exactly a week to the hour later, Lauren Amy Leighton-Williams (which to Brits might sound like a Welsh duchess), sits in the maternity wing of St Paul's fattening up for the five minute walk home.  She's not short of character, 'small but mighty' one nurse quipped, lots frenzied tongue waggling and eye rolling lead too (get this child a priest methinks?).  I expected Parenthood to be joyous and it has exceeded my wildest expectations, best week ever!