This weekend I had to stay in town on Saturday due to an exam and my ski plans for Sunday-Monday had fallen through. As I was heading home late in the evening, I got a call from Artem. He said that they had to bail from some alpine plan and he wanted to see if I was interested in climbing some ice. This included the warning that we were probably just going to take our ice tools for a walk, but not actually do anything with them. They were leaving in about an hour. I rushed into my house and threw a bunch of gear into some bags (saving the faffing for later) and met up with the others around 9 pm.
The first order of business was checking out Artem's potential climbs close to town. We first went to Cypress Falls, where there was a frozen trickle on the pathway that got us excited for what we would see at the falls. Artem was right, there was ice. Unfortunately it had a steady jet of water shooting over it.
Next we stopped at Gonzales Creek, near Squamish. If in condition, this looks like it has serious untapped potential just off the highway.
We regrouped in McDonalds and decided to check out Soo Bluffs. We made it to the pullout past Whistler at Shadow Lake, but there was some doubt we were in the right place. We sat in the truck for a while, until we started getting cold and got out to set up tents (but remember, they had all packed for the alpine, so we only had a tent). Luckily there was an old trailer wreck remaining that provided a perfect bivy spot. We had a small fire to warm up, then went off to bed intending to wake up at first light and check out Soo Bluffs.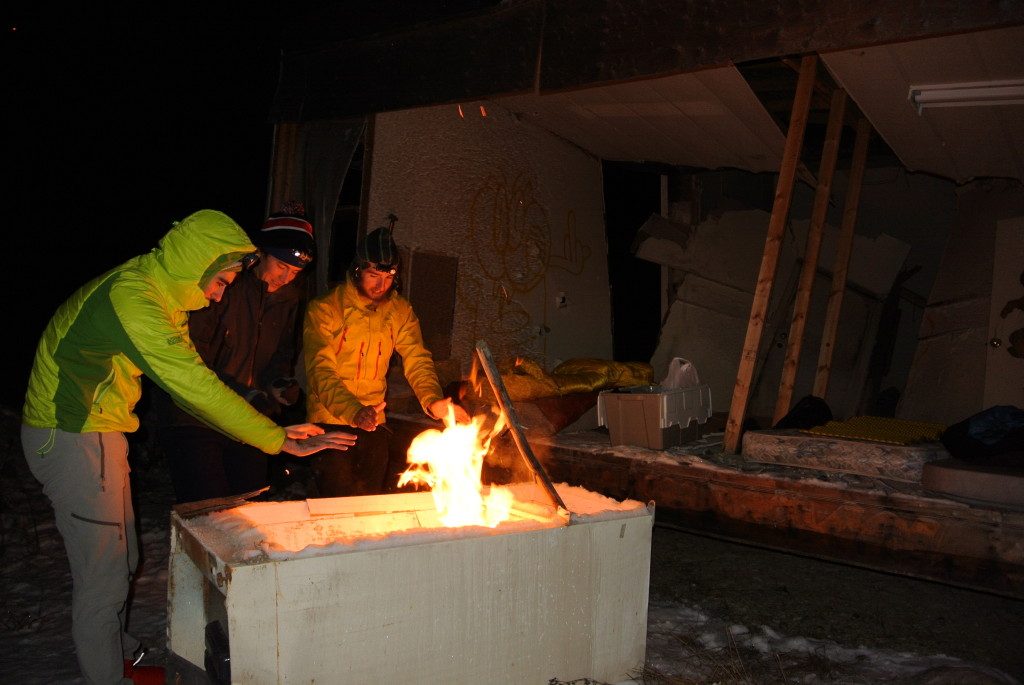 First light came and went. Finally got up. Again, since the bailer from the alpine trips had one set of ropes, we only had two half ropes for the four of us. Despite bivying at the trailhead, some people were just heading out as we got up. In the meantime, Lachlan made the first ascent of the trailers, a dizzying traverse over doors. It was impressive, but not a proper send – he used preplaced screws.
After a completely appropriate (for this trip, at least) amount of faffing, we started on the hour long approach. The guidebook notes that it is unpleasant, but in the almost snow free conditions was fairly easy, with minimal bushwacking. We got to the base of the climb and found it climbable, but the party ahead of us was on the first pitch. Right around this point, we realized that the small alpine screw racks wouldn't quite be enough for full pitches. While deciding on what to do, we played around on some small, easy flows near the base.
Soon we decided to climb the route with two parties using the half ropes doubled up, making for short pitches. Ian lead for me, while Artem and Lachlan started up later. The first couple of pitches were great and it was my first climbing above a metre off the ground. I quickly got the swing of it and the sun was shining. At one belay, I told Artem that I had been having pure Type I fun since leaving the ground. Promptly after saying this, the sun went behind a mountain, it got colder, the ice got more brittle, and learned firsthand about the screaming barfies at the next belay. We finished up the 5 pitches (normally 2 if using full-length ropes) and topped out just as the sun was about to set. Two double rope rappels and we were back on the ground just as we needed to pull out headlamps.
Happy that all of the technical stuff was over, we went for a bushwack despite the good route followed earlier. Finally we reached the landmark railway tracks and quickly made it back to the truck. A quick stop at Splitz Grill in Whistler was in order, then we made it back to Vancouver relatively uneventfully, but very excited for heading to the Rockies later this week.