It all began with a girl who really likes to play in the snow and who wanted to take a break from all that studying for finals: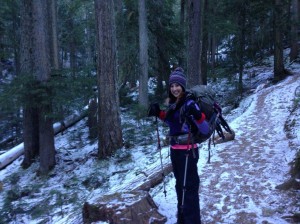 On Saturday, Dec 7, 2013, Anne Darby took a brave group of snowshoers (and one skier), including Heather Guy, Levi Graham, Philip Mark, Jenny Huang, Ben Heaps and myself, up to Taylor Meadows for snowshoeing. 800m of elevation, 18 km of distance, -5 of temperature were a challenge for a beginner like me. We crossed over the Lion's Gate Bridge at roughly 7 am and stopped in Squamish for a second-round of breakfast at Tim Horton's. We complained about how little sleep we got last night and of course, we talked about cell phones …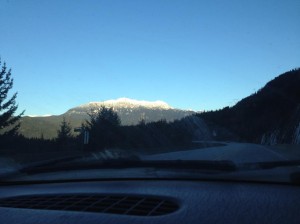 Finally we arrived. We immediately felt the rustling of the trees in the cold air when we got out of the car. Next to the trailhead was a sign saying we were entering both avalanche terrain and bear country. How exciting! If our parents knew, they would have bitterly protested our recklessness. But up we went!
There were a number of neat scenes that we encountered along the way, all beautiful:
Half-Frozen Streams – They had a cool visual effect. The surface of the stream was frozen but the water was still running underneath. Parts of the frozen top were solid white and other parts were more transparent. The life of the stream underneath was thus half-concealed and half-revealed– very much like Monalisa's mysterious smile.
The Sunshine – The sunshine seen in a winter forest is nothing like the sunshine seen in a parking lot. The layers of tree branches filter the light so delicately. Such intricate play created a rich texture of gold light. It basked the trail in a holy glow, and some of us had religious moments:
Philip developed a supernatural solar protection shield to resist the sun radiation.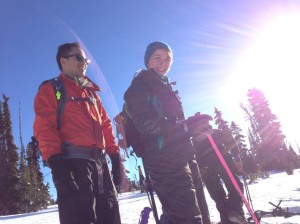 The Snow – Oh the snow, the glorious snow! The snow filled meadows were the whole reason for the trip! Joy gripped the group as we began to stomp around in our snowshoes. We played in the snow, and we played hard! I acted as a snow-lion  - does that exist? I don't know, but I strolled around on fours seeing if I could crack the crust while laughing my head off! Anne excitedly ran around in circles and terrorized the otherwise pristine landscape all in the name of the club: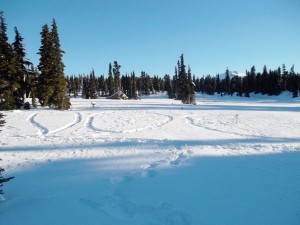 The Black Tusk: Its legend cannot be captured in words. Anne said it looked like a chunk of black chocolate cake covered in icing – but you are allowed think otherwise… It's definitely worth the trip to go and view it in person. It was the highlight of the trip, where the cool fresh air, bright sunshine, and the oceans of snow-dusted evergreens came together.
Garibaldi Lake: An amazing view and still magnificently blue!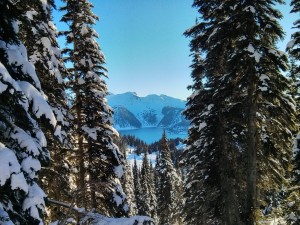 Finally after a long day of play, we slowly began to wander back down the mountain. Ben (our skier) reunited with the rest of the group and we all head back down to the parking lot. Everyone made it back in one piece, though not everything did…
When we got back to the cars, we made a horrifying discovery: Levi lost his car keys!!! It was dark and cold and Levi's keys were nowhere to be found. We tore apart his bag looking for them and when they failed to appear, we phoned a few friends to see if any kindly VOCers happened to be in the area, all in hopes of avoiding a very long cold night in the parking lot. But no such luck. Brrrrr!
It eventually worked out; Levi got ahold of a tow-truck and everyone made it back to Vancouver just fine. It was a hard lesson learned about proper key storage on the trail and a comical end to an amazing day!
That's it. Thanks to Anne for the great editing. She is the best! =]