It was a beautiful, sunny Saturday. The birds were chirping, the skies were doing what skies do, and of course no one was on time to the meeting point. However, the force was with us and we managed to assemble all seven hikers in a classy Modo van downtown. With Timmy's to fuel us, we headed out in the great unknown.
Upon arrival at the Rubble Creek trailhead, we found that three more enthusiastic VOC members had decided to accompany us; the fellowship was assembled. A minor issue of more hikers than tents was solved with the addition of a bivvy sack and we all repacked while mosquitoes and other creatures nibbled at our exposed skin.
As we hiked up the trail, good maintenance and dry footing favored us most of the way to Taylor Meadows. Our group spread out as some powered up the trail only to realize that snack breaks are awesome (me), while others managed a more sustained pace. We had a skier on our trip as well: Ben, who had to laboriously haul gear; boots dangling from pack straps and skis balanced on the sides of his bag.
We stopped for lunch in Taylor Meadows and my homemade hummus got a taste test by Marc-Antoni (it failed miserably). After scrounging for dry ground in the mostly snow-covered campsite, we set up our tents and began the next leg of the trip. Destination: Tusk Domination.
We had debated whether to hike Panorama on Saturday and get up at the crack of dawn to summit the Tusk on Sunday, but with clouds moving in and an ominous chill in the air, we decided it would be best to get our main goal accomplished before the weather deteriorated. Also, the forecast was for rain Sunday morning. Panorama Ridge would have to live up to its name or else!
The Tusk looked a good way away from camp, and it was around 1 pm when we set out. We followed a combination of footprints, GPS, eyeballing, red algae and shallow snow up to the base of the peak. After stopping to help direct a pair of girls who looked like they got lost at Jericho beach, we continued our ascent. Jannu, esteemed mountaineer and expert guide, broke trail the whole way, but the rest of us still managed to occasionally plunge up to our thighs in treacherous snow.
Ben broke off from the group to ski laps on the hill beside the Tusk, and he and Jannu agreed to check in by radio every hour. At this point the going became steeper and our pace slowed. Upon meeting a descending couple, we were intrigued to hear how the chimney up the tusk was "super sketchy", but we all agreed to keep going. Even Amir, who didn't bring a helmet, wasn't fazed.
After pinpointing the correct chimney along the base of the Tusk, we scrambled up; helmetless first, the helmeted following. I love to climb, so this was a highlight of the trip for me. Knowing that chossy could give way at any moment is quite refreshing. (Pic of the chimney!) On top, we relaxed in the sun, checked text messages, took mucho pictures, contemplated jumping to the neighboring peak where someone had set up a rappel station, and built an inukshuk that we named the black duck. It looked like a duck, I swear.
With threatening black clouds looming, we scrambled down off the Tusk. A mixture of scree-skiing and boot-skiing greeted us on our way back. I personally enjoyed picking a good line and boot-skiing a solid 2 meter run with a totally intentional somersault to top it off. The judges awarded me a 6/10… everyone's a critic. In addition, no trip is complete without hilarious irony and Ailsa was quick to deliver. Moments after asking Levi what postholing was, one her legs fell through the snow and promptly became stuck. It took five guys and an ice axe to dig her out… I think she knows what postholing is now.
Back at base camp, we peeled soaking wet socks off our prunish feet and got to work preparing a well-deserved and anticipated dinner. Perhaps the wet dog smell drove away the other campers, as we had the whole hut to ourselves for most of dinner. A couple eventually wandered in with a 12-pack and a mickey of fireball between them and I instantly remembered what I had forgotten: liquor. In any event, I was feeling exhausted and while the rest of our motley crew ate and washed up, I hobbled outside and gratefully crawled into dry socks and my sleeping bag.
The next morning I awoke feeling refreshed and revitalized, ready for an alpine start and a crack at Panorama ridge: "IT'S 10, WAKE UP", called Jannu. Hmm, looks like I had slept longer than I realized. After a hurried breakfast, it was decided that Jannu, Ben and Amir would head back down to the car while the rest of us would take a short trip to Garibaldi Lake. Marc-Antoni led us on a wet and wild adventure through slushy snow and unnamed forests until we found the trail to the lake, twenty minutes later; turns out we were almost there anyways.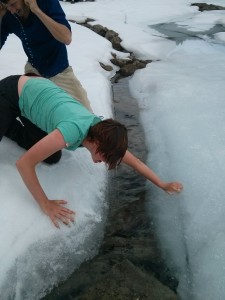 Quickly deciding that there wasn't a suitable body sized hole in the ice, Ailsa and I simultaneously waterboarded each other. Reeling in pain, I gasped my way past an ice-cream headache and blurry eyes while she looked on, cool as a cucumber, in apparent pity and disgust. Antics aside, the view across the lake was magnificent and we could hardly believe that someone had tried skiing across its surface only two weeks prior. A quick snack of dried cheese tided us over for a speedy descent during which we stopped at the barrier viewpoint for another dose of breathtaking scenery. We had already kept our car people waiting for a solid couple of hours, but that didn't stop us from imitating a loon, wolf-whistling at Marc-Antoni in the bushes and causing a hiker to think we were being chased by bears.
We pulled away from the parking lot just as the clouds started spitting, all agreeing that a pint at the Shady Tree would make the smell in the car slightly more tolerable. After greedily grabbing some grub in Squamish, we drove off into the sunset and of course a lane reversal in Stanley Park; a solid finish to a solid trip.
Thanks to Ben for the use of his tent, Amir for his stove, Jannu for leading and driving, and Ailsa for organizing a great weekend up the Tusk!
Words by Gavin Acquroff