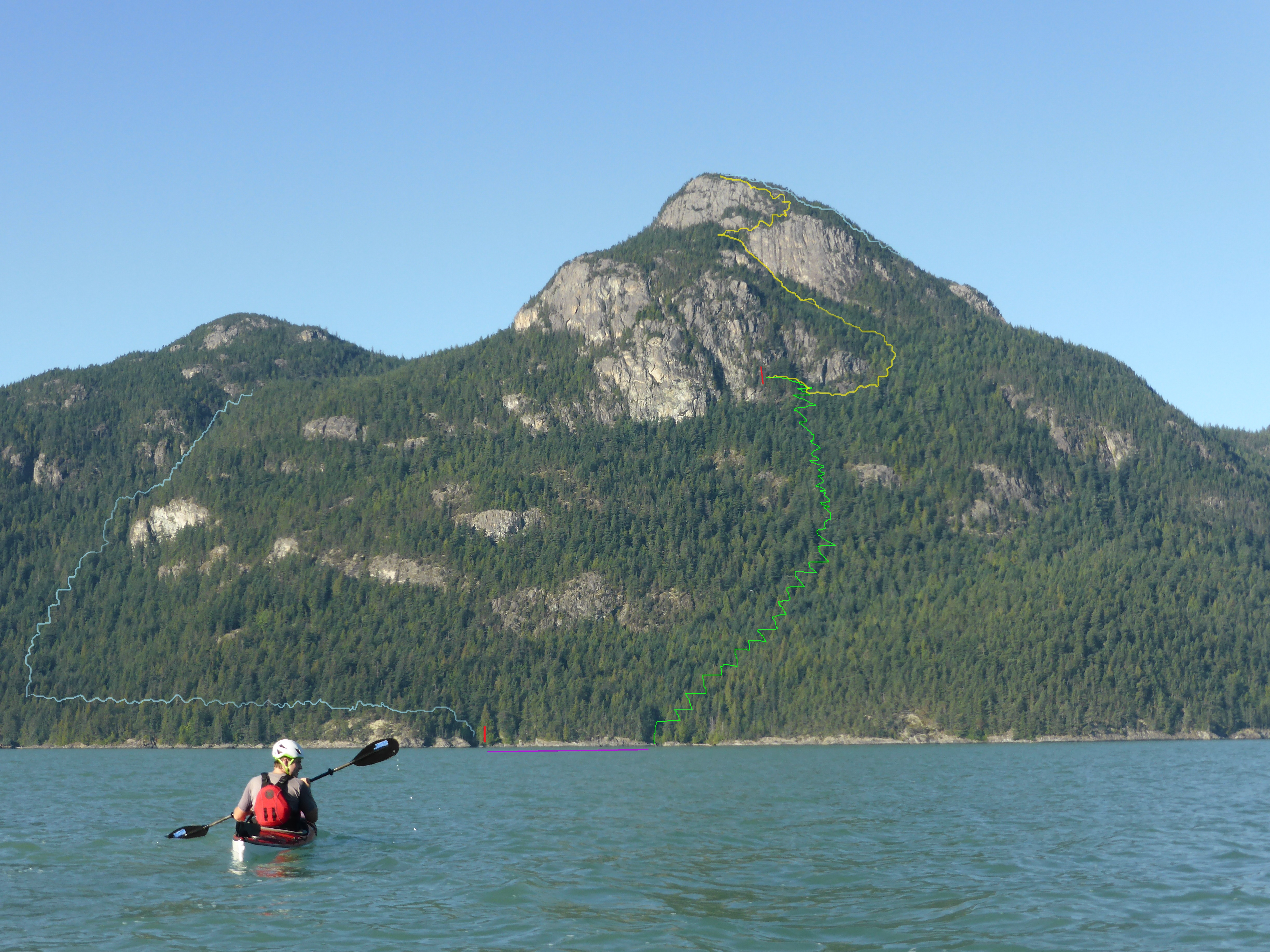 "Anvil island is steep, my neck is starting to hurt" said Piotr as we were approaching the East side of Anvil.
Rewind to a week ago. In a conversation on another trip, it turned out both of us have been up Leading Peak on Anvil by means of the 'conventional' trail that starts at the Bible Camp . And both of us wanted to try a more interesting more direct approach. And both of us figured it's likely to turn into a silly bushwhack, but do it anyway. I thought there might be some fun scrambling in all this, Piotr was hoping to find some decent quality climbing. So we brought enough gear for some exploratory climbing, loaded up and headed for Porteau Cove.
Shortly after 9 we launched and after a 45 min paddle landed on East side of Anvil. After a bit of gear faff we got walking up into the forest. Two twin ropes were decided on, for the possibility of having to rapell off a route that just doesn't end up going.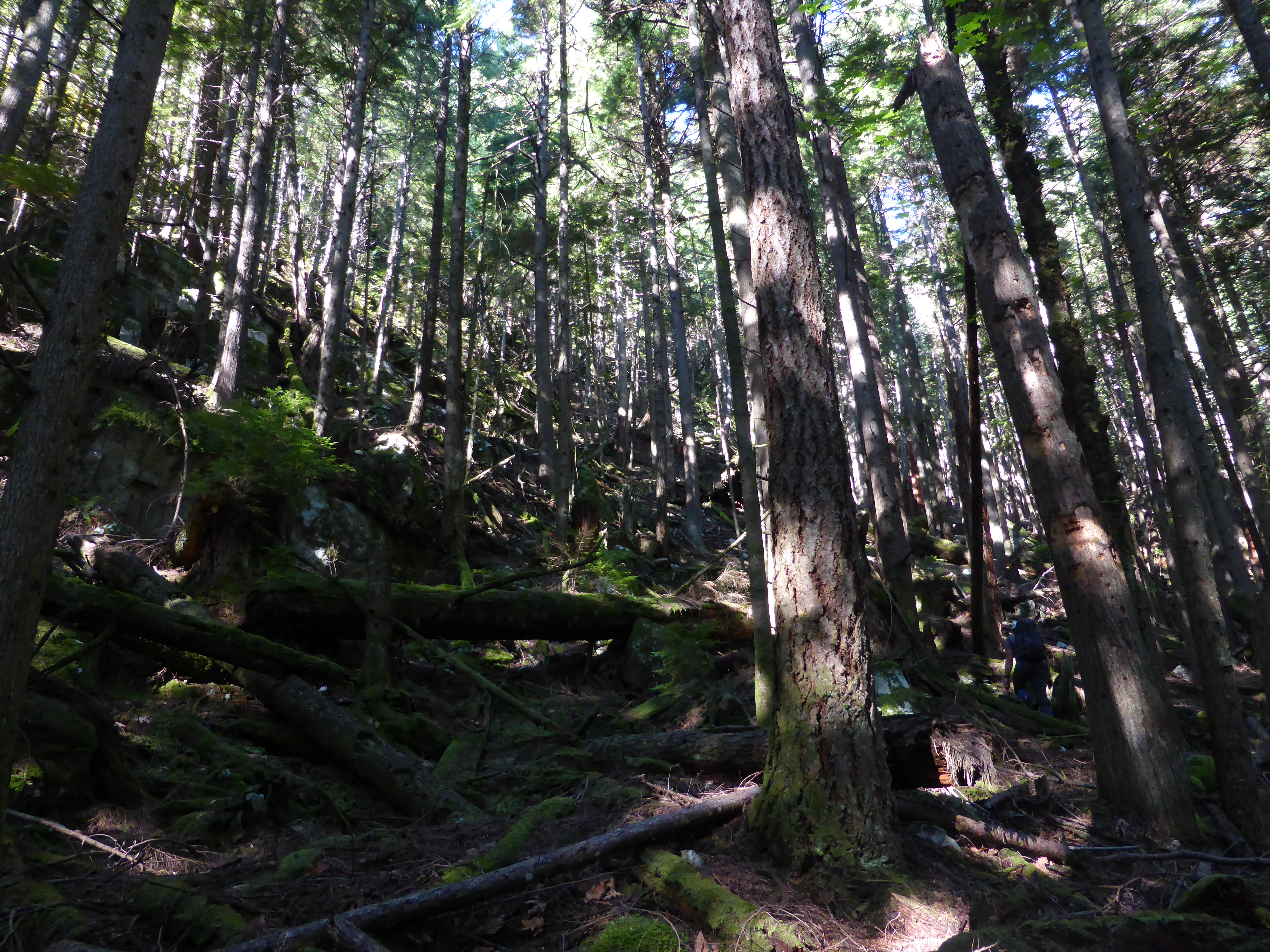 Going up steep grade over soft mossy terrain is a bit of a slog, but at least there was no real undergrowth, so progress felt reasonable. And, if you ever fantasize about being Godzilla and crashing your way through the forest, this is one place you can act it out- a good chunk of the trees are totally rotten and don't take much convincing to rejoin the soil they rose from.
Eventually we got to the bottom of the lowest of the big rock faces. The rock was steep, and while sort of climbable, the base up to tree height was pretty green/black and it would take a while to get up something that probably was barely worth climbing. I hoped that the black was actually a high-traction rubber compound that they use to coat secret awesome climbs, but again, I was wrong.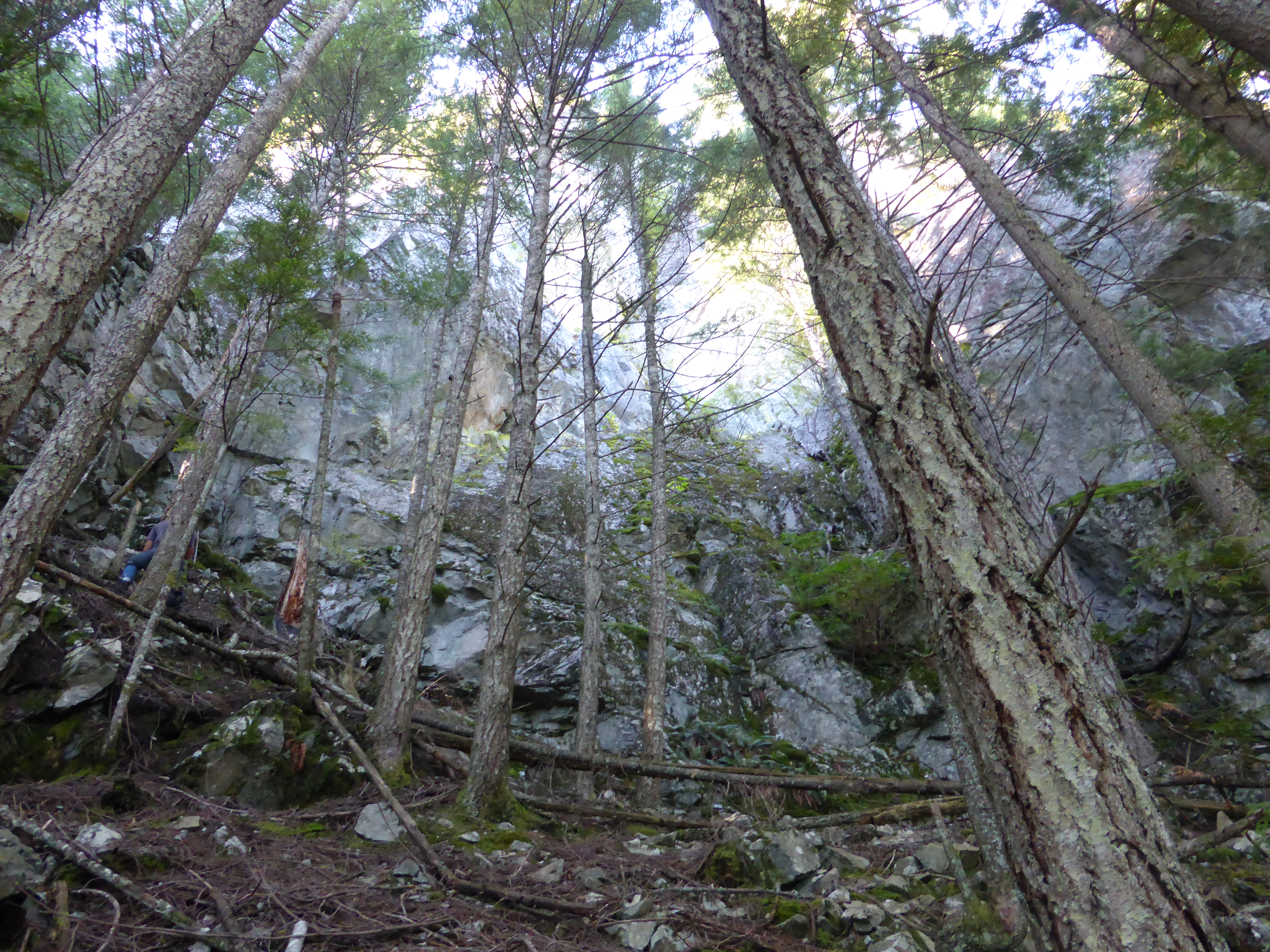 Shortly after we scrambled up a steep dirt slope onto a ramp, where I remember Piotr speaking the ancient words of wisdom : "if this goes, it'll be good, if it doesn't, not as good". After a bit of walking and poking around, we decided it doesn't actually go. So back down we went, going under the rock face and onto the big ramp that we figured should take us to the base of the face below the summit.
The ramp started off wide as a 2 lane road and got progressively steeper and narrower. And then we came to the spot we'd both agree was the climax of the route. The ramp essentially ended, and ahead of us was a rotten log beside the rock face, which you'd have to travel to get to the next part, a steep gully full of lose rock and bush. Trusting your life to a rotten half-log was a bit sketchy in one part but it held and we scrambled up into the gully.
After scrambling up the gully holding onto bushes , we reached a surprisingly awkward to get over tree root, and once over that it flattened out into a wide ramp once again. It even had a miniature swamp. Thankfully without miniature alligators.
Walking a bit up, we still haven't found any rock that was promising enough to climb. Soon enough , with less than 100m of elevation left, we hit another ramp that zig zagged up and to the right. That eventually took us to a scramble portion that involved some nice rock covered in moss that felt much nicer to pet than hold onto, and bush that had no redeeming qualities,(unless you decided that those new pants make you look like a sissy and some snags and holes will improve your credibility).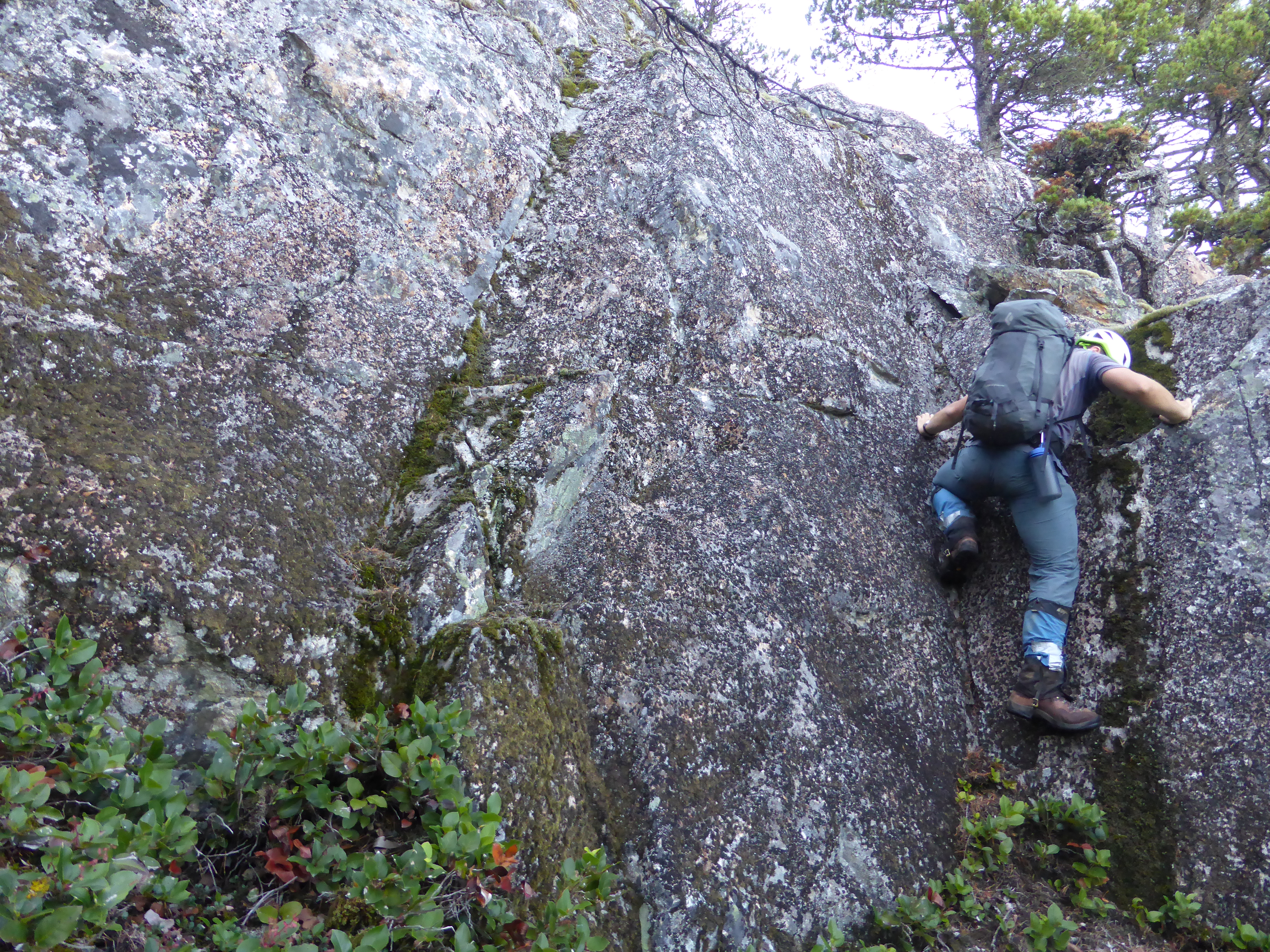 After a bit of that, we ended up on the summit, taking in the amazing 360 view and soaking the sun on the helipad.
After that we descended down the conventional trail down to the saddle near the lake and headed down. Shortly we ran into a surprisingly well marked route down. While steep and gnarly looking, it saved us a lot of guess work about the big slabs and bluffs and we didn't need to rapell down anything.
With about 70m of elevation left, we decided to cut left, back to the boats. We had just under a km to travel, which was a bit of a zigzag but for the most part reasonable. with about 200m left,we went down into a gully with a cliff on the south side, and as I suspected, it cut off out progress . We were faced with either scrambling and walking up out and around, or swimming the remaining 180m down the coast where our boats patiently awaited. We chose option 2, since it seemed like the more fun, and likely quicker option.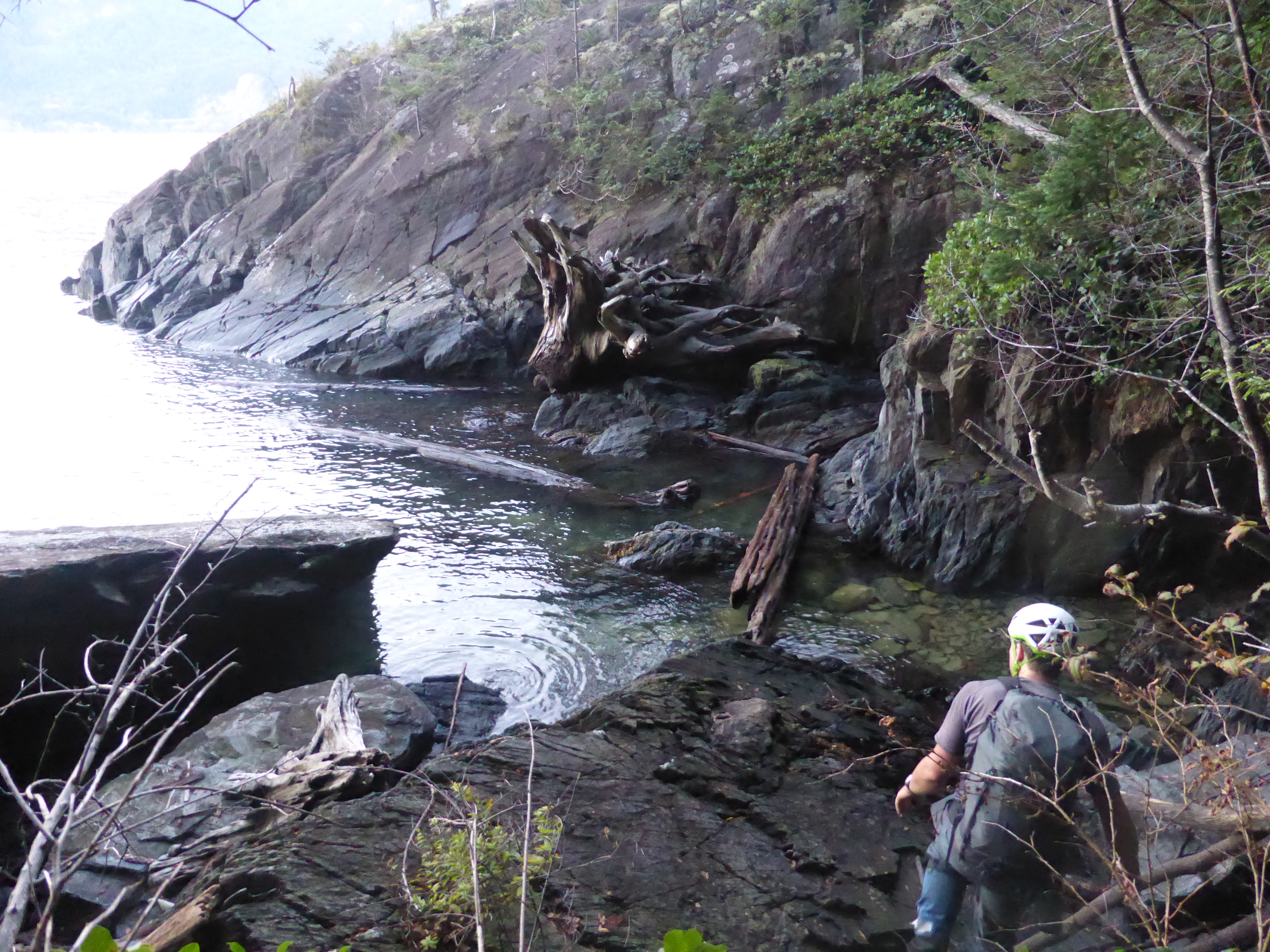 We undressed and left the packs at the cove we descended into and swam to the boats. I found water bearable in short term but quite cold, while  Piotr may have been a polar bear in past lifetime and seemed right at home. We got to the boats, launched and retrieved the packs.
The paddle back in the dark was quite peaceful with a bit of sparkly bioluminescence and took 40 minutes.
Did we get more or less what we expected? Pretty much. A classic type 2 fun bushwhack, with a beautiful view, one sketchy fun feature, some scrambling and an ocean swim to finish on a high note. In all, a fun day. And now we know a fun direct route up Anvil that does not start from Camp Jesus which is off-limits in the summer. But if doing it again, I'd leave most rock gear at home