Having lived in Langley for a year I have been under the gaze of Mount Baker and have always wanted to climb it. Further, I had seen it from Vancouver Island, Sky pilot, Seymour, Grouse, Strachan, Coliseum and therefore had it on my Must-Do list for three years. Having the trips just not working out over the past few years, I was super stoked leaving Vancouver at 4 pm Friday September 12.
Smoke was coming out of Clemens' pick-up all the way to the border and we soon realized that his mechanic forgot to place and rotate his oil cap into position after an oil change. After more oil was added and a wipe down, we were on our way.
Six of us headed to the Eastman Glacier route and we experienced a 1.5 hour detour around the mountain to the south side to a parking lot at 3000 feet (summit 10,700 ft).
The next morning we followed the simple trail to the famous railroad grade moraine.
We travelled a couple of kilometers along the moraine above the vegetation line to our campsite at 5500 feet.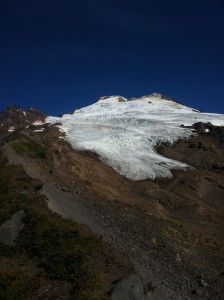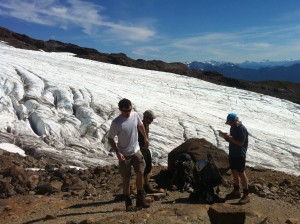 It was a great campsite next to the glacier, with lots of other camping spaces nearby. That evening, we saw two skiers skied from the summit and walked down the railroad grade moraine.
We had a 4 am start the next morning, and we had 5200 ft ahead of us to the summit. I started out with a rush of energy. Clemens, Nathan and Katie's rope team were well ahead of Andrew, Hadleigh and I most of the way but my team still made a good time. Around 6 am the sky changed from black to blue, the sun came up the colors were unbelievable. At 8000 feet we could smell sulfur from the summit crater. The grade was between 25 degrees and 35 degrees to the end of my trip when we came across a crevasse jump, a 45 degree section ahead and hundreds of feet ice cliff below the final pitch to the summit of Mount Baker. Losing confidence and having useless crampons in the current snow conditions, we set up some protection as I waited for Andrew and Hadleigh to complete their ascent.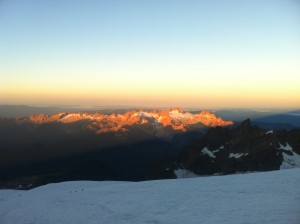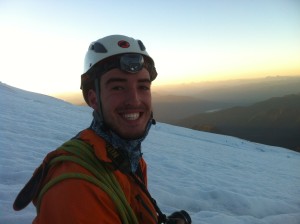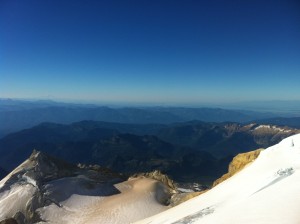 This is where I quit. I felt a lot better when I pulled out my gps and found out I quit at 10,150 feet: a new high for me, with a great view of Rainier, Vancouver Island and looking down on every mountain around Baker.
All other climbers had a great time on the summit.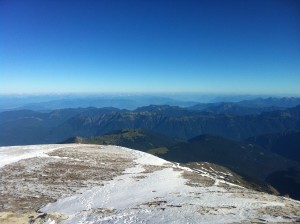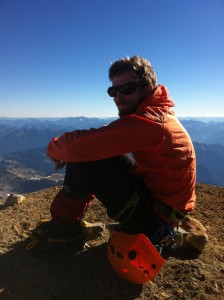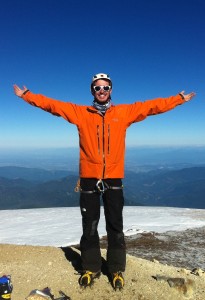 The descent was without incident, a 14-hour day, campsite-to-parking lot, and a 2 hour border wait. I did not get home until 2 am after bus rides and the last bus to Burnaby on a Sunday night. I slept until 4pm the next day!
I was exhausted, but I will be back to climb Mount Baker again and ski it!