Written by Anton Enghoff-Poulsen
Annabelle Harvey, Hanne Pedersen, Emmanuel Beraud, Sam Viavant, Pawel Mirski, Natan Villarreal and Anton Enghoff-Poulsen
April 3 – April 5, 2015
Leaving from Vancouver early Friday morning heading towards Skaha in a little red car packed with camping equipment, a pineapple, a guitar and a happy driver pumped up on Monster energy drink me and my girlfriend Hanne didn't really know what to expect, but we sure was excited to go climbing for no less than three days in a row!
The drive to get there was about 450 k's – a mere 100 k more than going across Denmark – of beautiful mountains and rolling hills. A sight we're not used to back home so every time we get out of Vancouver we really enjoy the astonishing scenery.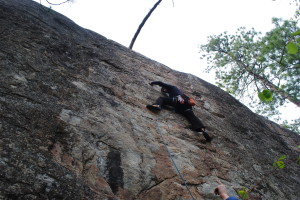 Arriving at the parking lot in Skaha Bluffs around 11am, packing our backpacks and walking the short hike to meet the rest of our little group I was starting to get even more excited about the trip. Great weather, lots of friendly climbers around and that irresistible vibe there seems to be at a crack on days like that.
Some had met before and some had not, but after a very short time the 7 man group seemed very relaxed. The experience and skill levels in the group were a bit varying and the first day would turn out to be the technically hardest with a few 5.8′s and six 5.10′s that sure did put me and a few of the others in the group to the test. Enough crimpy business to make me doubt if my arms would work the next two days.
Besides climbing (for me) hard ass stuff and getting more experience in stuff like lead belaying, building anchors and trusting our feet Sam and Emmanuel were also great at teaching the ones of us still being new about cleaning routes, leading and answering what ever dumb question we might have. All in all a very exhausting, instructive and fun day at the crack leaving at around 7pm.
Getting to the camp site on the other side of the Skaha Lake we met the rest of the VOC people who had also taken the trip to Skaha this weekend and ended up camping right beside them. Guitars, stoves and a lot of chit chat about the different climbs people had been doing during the day made for a nice setting, though a rain shower a little later sent people to their respective tents.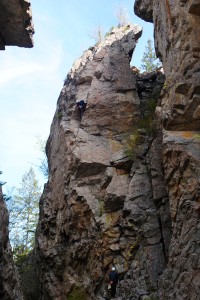 The next morning the rainy clouds were replaced with bluebird sky and the seven of us managed to get to the crack fairly early with stoves and oat meal in the backpacks to get as much time climbing as possible.
Sam went on with Chris Sillars to do some harder climbing, but we still had Manu in the group with a lot of gear and the skills to set some of the harder top ropes for us. We headed to Red Tail and started to climb some easier routes while some practiced to lead and others just enjoyed some more beginner friendly/intermediate climbs as well as tanning in the sun.
Fern Gully was up next with some more chill routes as well as a very interesting 5.9, that ended up being a super satisfying lead climb for some of us.
Other cool features about this spot was the fact that slackliners were balancing about 40 meters above us as well as some more hard core climbers were doing 12C and 13A stuff next to us.
Once again we stayed at the crack most of the day and when we returned to the campsite in the evening the weather was still holding up with stars popping out in the night sky. Now that the weather kept being dry during the night people started huddling up around the guitars and beers, down jackets and singing filled the camp site.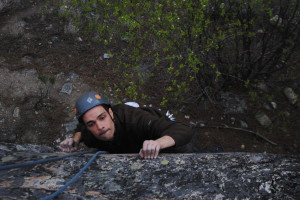 Getting up and cleaning the camp went fairly fast Sunday morning and though initially planning on heading back towards Vancouver at 3pm we ended up climbing until around 5pm, having yet another sunny day with great climbing.
Starting at Fern Gully to finish the routes we didn't get to do the day before we later went on to some more challenging 5.10′s a little further North. Once again Manu sacrificed a lot by doing easy climbing with us most of the day and helping out with setting top ropes. Thank you so much for that! As you can see on the picture to the left he did get to do some of his crimpy stuff in the end though.
Meeting up and packing the cars at the parking lot all we had left of the trip was the five hour drive home with a stop at a Greek restaurant to get some dinner and wrap up the weekend. It seemed pretty clear that everyone had had a great three days. Most of us learning new stuff and all of us getting a lot of climbs done. I am for sure even more hooked on climbing now than I was before.
Our group consisted of:
Natan who lead a 10b as his first lead climb ever
Manu being patient and great teacher with surprising crimping strength
Annabel, the singer with the voice everyone on campsite was talking about
Sam with the mantra sounding something like: "If it's getting hard, just go fast"
Pawel running on energy drinks and dad jokes while keeping the group in good spirit
and Hanne having a slight fear of heights and being pretty new to climbing managing to push her climbing and limits impressively in the three days we had.
See you all at the mysterious restaurant with the five peanuts!