At some point, Chris and I decided we wanted to spend two days climbing University Wall.  Like most silly plans, it sounds ludicrous at first, but somehow certain to happen.
Having only aid climbing a few pitches each, we figured we were going to need to improve our bag of tricks.  So we drove up to Squamish late one afternoon, and started working on our hauling and jugging systems.  After freeing A Pitch In Time, we both demonstrated our mad abilities; him hauling, and me jugging.
Of course, this isn't exactly how it went.  Jugging in an overhang is challenging, and we never seemed to have enough locking carabiners to set up a haul system.  Nice to find these things out ten metres off the ground.
We didn't have hammocks yet, or any way to sleep on UWall.  So we decided that we'd try the first few pitches to see how it went.  We wandered over to the gear store to fill in our aid rack with beaks (mini ice-axes that you wedge into cracks), and hooks (exactly what it sounds like).  There are a few types of hooks: sky hooks, which are really big captain-hook style, and are used for grabbing flakes and other things you could totally get your fingers around.  Bat hooks, which are super duper tiny.  It's common for aid climbers to drill a 5mmx5mm deep hole in the wall, and bat hooks fit perfectly in these little "bat holes".  Talon hooks, which I had assumed would be the bees knees, are not so useful in Squamish (according to the proprietor).  I eventually came to agree with him, only ever using it as a an overpriced overcomplicated bat-hook.
At the gear store, we chatted with the person behind the desk (owner?  guy who works there?) about what we wanted to do.  To our dismay, he informed us that UWall is "a boring aid route", just "pulling on cams" for six pitches.  He told us to go do Cannabis Wall instead, which is a "real aid route".
Chris and I were not exactly sure how to interpret this advice.  Were we being sandbagged?  Were we going to be in over our heads?  Ultimately, we decided that it was a "good" idea to do Cannabis Wall.  It looked fun, and the guidebook seemed to speak highly of it.  We decided that 2 habanero peppers is an appropriate spice level, and got to sleep ultra early.
We awoke at sunrise, and got climbing at 7am.  The route was easily identified by a strange flake at the bottom of an utterly featureless wall.  Impossible to free climb.  But we're not free climbers!  We tossed a coin for the first pitch and Chris got it.
Chris made short work of the first pitch.  I can't really say how hard it was because I just walked up on ascenders and grabbed gear.  He told me that there was a bit of a sketchy traverse.  Most of my descriptions of his pitches will be "Chris climbed it."
Next pitch: mine!  A short (free) traverse (in hiking boots) leading to a big overhanging (wet) arch.  Very awkward.  There were a few fixed pins, which I gladly clipped and then stepped on, without checking.  One of them had this odd habit of flexing.  As I moved up on it I realized that the ring had rusted all the way through, and was now just hanging at an edge.  I threw in a cam hook (lovely invention), and shivered at what I'd been hanging on.  By the way, cam hooks are totally the bees knees!  The middle of the pitch included a seem that completely disappears, requiring placing three peckers in a row, each at maximum reach (for 2-metre-tall Jeff) and then just barely being able to reach a sling hanging off the anchor.
The next pitch involved lots of fixed heads (seems sketchy), and a hanging belay for Chris.  I tried to climb through the next pitch quickly to make the hanging belay easier.  I failed, and Chris lied that it the hanging belay was "OK".  Chris climbed the last pitch (which was maybe hard).  We arrived at Tantalus ledge, easily the crappiest ledge in Squamish, and decided that rappelling the route would be better than traversing the "ledge".
Dinner 2: 10 habaneros.  Way too spicy, but we finished it.
Next route: Wrist Twister.  Up the bush scramble to the base of the route: an exposed ledge overlooking the Tantalus Wall.  Off we go!
Lots and lots of bolts on this one.  Shiny bolts, manky bolts, empty holes (which are super hard to spot), bits of metal sticking out of the rock not remotely resembling bolts.  I guess I know why it's called Wrist Twister.  Actually there's a little bit of cam-hooking.  Then a hanging belay (ick!)  At least I can stand in my etriers.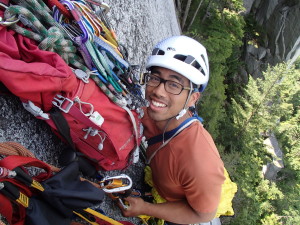 Chris's pitch looks scary: a never ending line of fixed head after fixed head.  He clips about 10–15 fixed heads in a row with no pro in between.  Seams scary. (he insists it wasn't so sketch)
My pitch next, and it's bolts again.  And then blankness.  Um, actually.  Looks like a chopped bolt.  After some consideration, I pull up the cheater stick and we're on our way (this is why you bring a cheater stick).
Higher up, I get to a nice dike with some cool hooking.  I stick the giant sky hook over a big looking edge, plop my weight onto it, unclip my piece, and…  wheeeeeeee!  Took a nice surprise fall when the rock I was hooking blew itself to smithereens.  Anyways, the rest of the pitch was half bolts, and half tiny tiny holes, hidden under moss, which were practically impossible to spot.  It was very slow but we made it.
Dinner: 5 habaneros.  Just right.
After this adventure, Chris and I went home, ruminesced, and thought about future adventures.  It wasn't long before we decided that U-Wall had to happen, so after a late morning coffee, we bought some hammocks in Vancouver, and filled a haul pack with dried ramen noodles, lots of water, and sleeping gear (!)  We arrived at the base at around 3:30pm (yeah, we faffed a lot, wouldn't want to finish the route in a day, now, would we?)
U-Wall is really steep.  Like, mind-bogglingly steep.  And awkward.  It's like a finger crack in the back of an offwidth pasted onto a 30° overhang under a arching roof.  You'd have to be made of nails to free climb it.
But these facts also make it a challenging aid climb.  Each step, you need to reach into the offwidth with one hand while stepping up on your etriers, pulling with your bicep, and use your free hand to shorten the daisy chain, while surrounded on 4 sides by crack.  The gear is solid and easy to place, but movement is slow and tiring.
Which is why we arrived at the second belay at 7:30pm, just in time to watch Squamish go to sleep.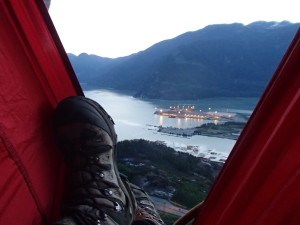 This was both of our first time in hammocks.  They're pretty unsettling, as they don't hold your weight unless you lay flat.  But after about 15 minutes I was used to this.  It was really hard to get into my sleeping bag, though (the hammock ends were pretty close together), and the breeze was pretty sharp.  Chris grumbled something to me as the sun hit the mountains and I knew we'd both had a totally sleepless night.  Yet, for some reason I fell asleep at this moment and awoke when Squamish was in sunlight.
We very slowly worked our way up the remaining pitches, which just involved muscly cam pulling.  The sixth (last) pitch looked like "real aid" (cam hooks and fixed pins), and we were both way too tired for that, so we rappelled back down to the base of the mountain, and dragged our tired selves out of there.