This is a story about how I and my girlfriend Dina went for a ski tour in Kootenays for the 2015-2016 winter break. The trip started on Dec 28th 2015 and finished on Jan 2nd 2015.
From my previous experience in Kootenays, Kootenay Mountains are not too steep, not too rocky, they are mostly covered by forest and to me they look like big fluffy hills rather than sharp, threatening and deadly mountains. My experience was confirmed by an article from Backcountry Ski Canada website about hut-to-hut Bonnington Range Traverse. Here is what else is written about this traverse: "…it is a good introduction to backcountry ski traverses", "The mountains of the Bonnington range are mainly treed, they are more subdued than the ones further north and the summits are just above treeline", "great tree skiing, many open bowls, sharp ridgelines along with a reliable snowpack". After all these praises I thought that Bonnington Range Traverse in Kootanay is a perfect place to get into ski touring.
Bonnington traverse is around 45 km in distance which spreads across 4-5 days of skiing separated by cozy, fully equipped huts. The traverse connects Porto-Rico Rd, which is about 22 km to south from Nelson on road to Salmo and Bombi pass on Crowsnest Hwy on the other end of the traverse which is about 20 km to the East from Castlegar.  You can get the full information about this traverse here (http://www.kootenaymountaineeringclub.ca/club-info/cabins/index.html ) and here (http://backcountryskiingcanada.com/index.php?p=page&page_id=Bonningtons) Although, as we found out later it is a good idea to buy a hard copy of recent BC mountaineering guide-book.
In order not to repeat all the information that you can find your-self in more reliable sources, I will just mention here what is needed for understanding of this TR.
Usually people start this traverse from Bombi Pass (which is closer to Castlegar), and it usually takes 3 nights and 4 days to get to the Porto-Rico Rd. The last day (Coper hut – Porto-Rico Rd) is about 16 km long and almost entirely downhill, so folks who start from Porto-Rico (which is closer to Nelson) usually firstly stop at the Huckleberry Hut that is closer to the road, but located on another path. This allows tourers to split first 16 km-long segment, so it takes one more day to cover the traverse in a reverse direction. The huts have to be booked ahead of time unless you want to spend 3 or 4 nights on the floor.
Our journey started with a 9-hour long bus ride to Nelson that I booked a few months ahead of time. This journey wasn't as bad as I expected due to awesome views on both sides of the road. This time I was prepared for "hospitality" of Greyhound and Vancouver central station staff so we arrived to the station well ahead of time and we didn't stress out too much about 50$ that we left for all "additional" luggage that we had (including ski boots).
We arrived in Nelson at around 7 pm so we had some time to look around and have a full dinner. Nothing changed in Nelson since I've been there last time: relaxed folks, smell of pot here and there, most restaurants are closing at 8 even in high season (some are working until 10 though). Holidays never end in Nelson!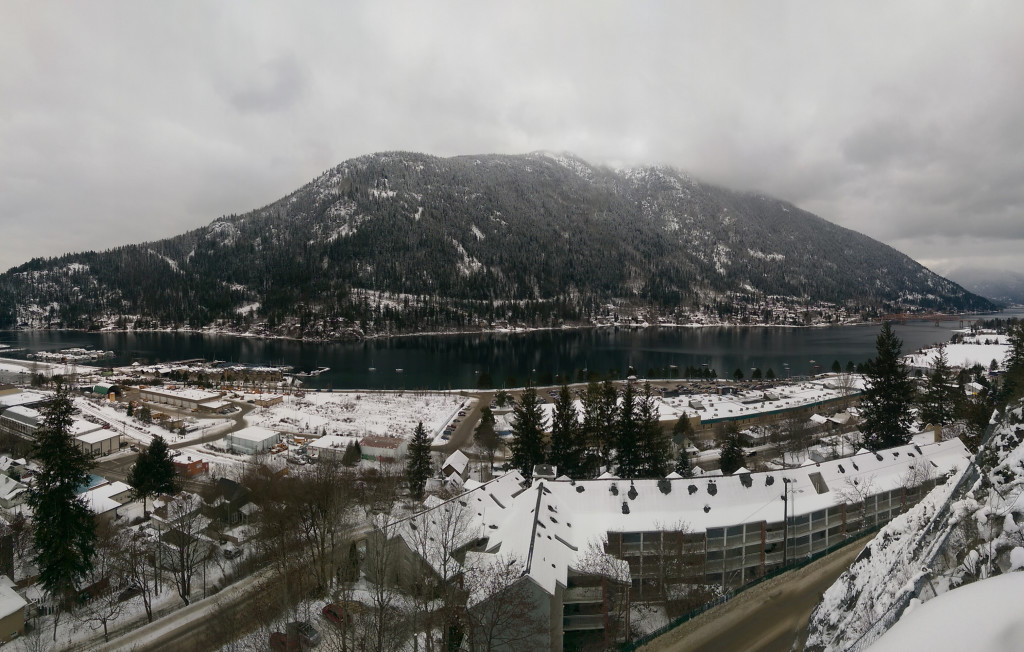 Due to my procrastination I managed to only book huts from Porto-Rico to Bombi pass which means that we had to cover the traverse in a reverse direction: Nelson – Castlegar. This option had one significant drawback: we had to cover 16 km our first day to get to Cooper hut with 1500m of elevation gain. In order to compensate for long distance and get to the hut before it got completely dark we had to start skiing at 8 am.
The first challenge that we ran into was how to get to Porto-Rico Rd. We had a few theoretical options of how to get to the trailhead. We could take a taxi (50$) or try our luck with a thumb up on the highway. We discovered at hostel reception that there is also a shuttle that goes to White Waters ski resort every morning and that it should pass through the "place where we start". I should note that phrase "place where you start" was the only word people used when referring to Porto-Rico Rd. In addition to its anecdotal name which associates with a Caribbean country Puerto Rico, no one ever heard of this place before, so every time when we were asking someone how to get to Porto-Rico we firstly had to explain that this is a serious question but not a joke.
The shuttle was leaving a bit later then we planned but we still decided to go by bus because it was cheaper (15$?). The bus arrived 15min late making us a bit nervous, but at least it didn't smell of pot. We bought tickets from the driver and explained him where we want to get off. After about 15 min driver stopped the bus, turned to us and said that "the place you start" is about 10 km in "South" direction, and that he has to drops us off here because he was going in a different direction. He calmed us down by saying that this is a perfect hitch-hike spot and that we will freeze to death here if we will not be picked up in the next hour since the temperature is -10 C. (Obviously his last words were just my inner voice).
So, we stood… Later, when we came back to Vancouver, I was told that hitch-hiking is illegal in Canada, which could explain why we couldn't stop a car for 2 hours with about a hundred cars passed by. 2 years in Canada but still a tourist! We still had one method of transportation in our check list that we didn't try that day– luxurious taxi cab! I called the guys from taxi, explained that I am not a pranker and, yes, indeed, we want to go to Porto-Rico, asked the price, realized that I don't have that much cash, but the taxi cab guy, as if reading my thoughts assured me that they accept credit cards. So we stood…
20 minutes later.
Taxi driver looked somewhat nervous and unhappy which was understandable, as he forgot to turn on his taximeter. He became even more upset when he realised in the end of the trip that his credit card machine didn't work today too. We gave him all cash that we had on us which came to total of 28$ and 75 cents. Everyone was unlucky that day.
We were finally at the trailhead, 3 hours late but having a complete checklist of possible ways of transportation and almost fanatical believe that we are going to make it to the hut. I put on the skis and put on my huge backpack, Dina put on her snowshoes and put on her not so huge backpack, and we started.
The trail was following the logging road with fairly gentle elevation gain. Except for one or two times when we got a little bit lost, way finding was fairly straightforward. In terms of navigation we had a phone GPS with power bank and a 1:25,000 scale map, which is pretty much useless in backcountry. The route is somewhat popular so the trail had tracks with well rammed snow easy to follow.
I didn't tell you all the truth here, because if I did, you would start suspecting that the obvious failure of this trip was not due to unfortunate circumstances but due to my unpreparedness and lack of experience. But what I have to tell though is that about 5 hours later I was wallowing in the snow under the pine tree in complete darkness and Dina was helping me to stand up, because once on the ground I couldn't lift up myself with a backpack on my back and long skies on my legs. Once I fallen down my brain got access to remote parts of my body and started to get information about blisters on my legs from sagged rental boots, about tremor in my legs and sourness on shoulder skin from backpack. I realised that I can barely see Dina that was trying to pick me up, because it was so dark. We decided to have a break since we had a good formal reason for it: we were in the middle of our way!
While we were having a break, a group of skiers going from Cooper hut came along. We had a little conversation in which we learned that two peaks (Empire and Colony Peaks) after Barret Lake completely lacked snow due to winds and that they had a hard time trying getting through the rocky fields.
After this conversation we made an obvious decision. Making this decision wasn't that easy as may seem at first glance. On one end of the trail we had 8 km uphill, bloody blisters on my feet and shoulders, the risk not to find the way to the hut through the rocky field in the darkness, but a strong desire to keep going and get to the hut. But on the other end of the trail we had almost empty highway and bad hitch-hiking experience in past and potentially no cell coverage to call the taxi cab. Even if we somehow got to Nelson it would be incredibly hard to find a free room (Remember that it was high season and New Year was in two days). So it could turn out that we would stay outside all night and we just had to choose whether we wanted to do this on top of mountains or near the road.
With hope that someone from drivers will have enough mercy to pick us up in the middle of nowhere and in complete darkness we moved back.
Fortunately, we will never know how much mercy do drivers in Kootenays have, because closer to the highway we were able to call taxi! Nelson taxi drivers are the most unlucky taxi drivers in the whole universe because our second driver had his taximeter showing suspiciously low price at the end of the trip (12$). We negotiated to we pay 30$ and went in peace.
Our second fear of not finding a room in Nelson was completely air-built because that night we slept in the same room as previous night. Fortunately, we were saved, but we had to decide how to spend the rest of the week in Kootenays, but that's a story for the next part!
PS. Sorry for lack of pics, There will be more in Part 2!