The way to the Island.
As I expected the buses to the Tsawwassen Ferry Terminal were loaded with people and bicycles on the first day of Easter long weekend. I was planning to arrive at Bridgeport Station at 7:35 to take the first bus out of three that were going to Tsawwessen for 9 am ferry. On my way to the bus station I lost my mat because it was attached very loosely to the bike rack and I had to spend some time to pick it up. I was lucky to get the last spot in the last bus. The driver was very kind and let me and 2 more cyclists to load our bikes inside the bus. If I was 30 seconds late I would have to wait for another bus and take 10 am ferry because right after I loaded my bike, two more cyclists came to the station. They weren't so lucky, though they might have taken 601 bus.
Next time when organizing bike trips to Victoria, especially for a big group, it is a good idea to come 15 min earlier to take the spot. Maybe it is worth ordering some kind of U-Haul to drive the bikes to the terminal if the group is more than 5 people (just an idea).
The ferry ticket costs around 18 $ per person and a bike, the trip takes 1.5 hour. There is nothing else I can say about the ferry trip.
The bike trail.
The trail consists of two parts: the one between Swartz Bay and Victoria is called Lochside trail and the one that leads from Victoria to Leechtown is called Galloping Goose trail. (Technically it is the same trail). The trail to Victoria has almost no altitude gain and almost completely paved, and you can enjoy passing by gardens, farms, fields and rural towns.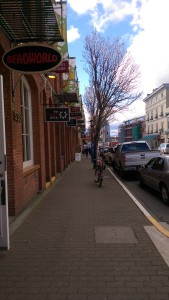 I stopped in Victoria to have lunch and just to get a feeling of what it looks like. After having lunch I made a few loops in downtown Victoria, trying to find my way back to the trail. While riding in Victoria I had a strange feeling like I have already seen these buildings somewhere. Then I realized that Victoria looks somewhat similar to those old black and white pictures of Vancouver. Lots of three-four storey houses made of red bricks, somewhat familiar European-like building style… Nothing similar can be now found in Vancouver. What happened to brick buildings in Vancouver, and why did two cities chose such different design paths?
The second part of the path (The Galloping Goose Trail) takes you through less populated area and mainly leads you through mossy forest. The trail is partially paved and partially gravel. It is accessible to any kind of bike. After Sooke, the trail turns north towards Leechtown. The trail is located on the left side of Sooke River and it looks like there are no bridges across it. Also it didn't seem to me that there are any exits to the right of the road, so after entering the trail in Sooke you can only follow it to Leechtown, or return back to Sooke. (There might be some hiking paths crossing the road that I didn't notice).
I arrived at the campground at around 6 pm, so I had some light time to walk around the camp, take a dip into the cold river and cook dinner. That campground is pretty large (around 65 spots) and I was the only person in the camping overnight which made that night a bit spooky.
The reconnaissance
Leechtown is located 5 km northward from the campground. The obstacles start to appear right after the bridge after Kapoor station. You will be following a 3 m tall fence with barbed wire on the right side of the trail until you run into the gate on the border of Sooke Lake Watershed. If you are very curious and follow the fence that goes down to the river to find a bridge across the river you will be disappointed because the fence covers it as well. I came down to the river to see how people cross the river, and I came to a conclusion that even if they do cross it, they never do it in high water. The area on the other side of the river which is connected with the bridge belongs to Timber West, but I don't understand why it is closed, because other lands owned by Timber West are open. You can learn more about who owns what from the file that can be found in the useful links section.
After I walked around the old abandoned machines along the river I went back to the Kapoor, which is located before the bridge where I planned to start closing the loop in my route, since this was the only road that I found online that wasn't closed by a gate. To my big surprise I didn't find any gate there, although it is hard to call that road a "road", since it was just a stream of a small creek. It didn't take a lot of effort to get through that stream and finally enter a big patch of cut forest. After a few hundred meters of following an almost indistinguishable path I found a wide gravel road.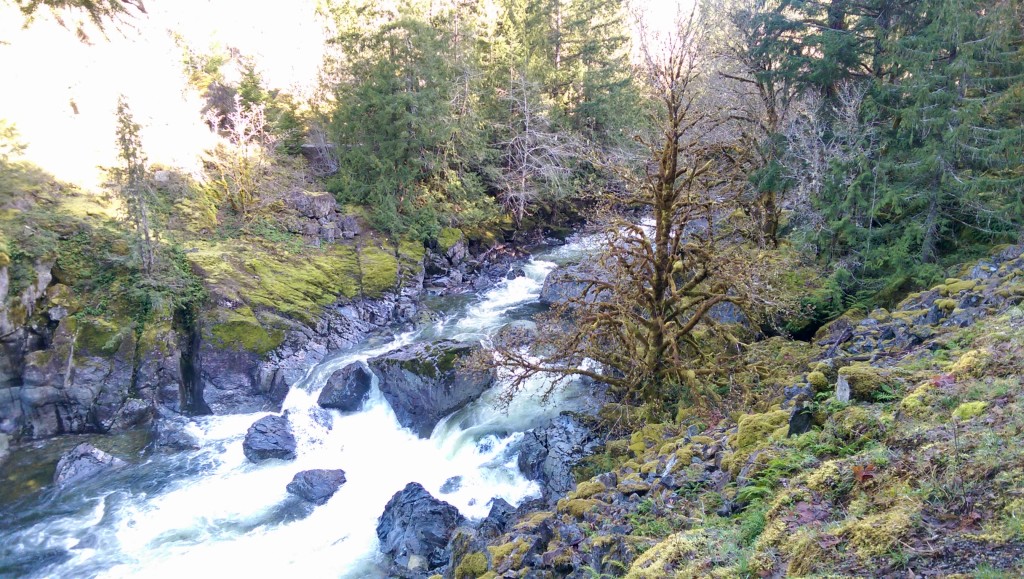 The forest was empty, no cars, no people, just me and the road. The road quality apparently wasn't as good as on the Goose trail: lots of big boulders, mud, potholes etc. So it is a good idea to have a bike with wide tires and front suspension.
I ran into gates a few times, but that was only because I went astray a few times. Every time I ran into a gate I returned back to the original route, where I didn't have any gates in my way (at least for some time…). Once I had to dismount from my bike to haul it through a part of the road (~500 m) that was completely destroyed by lumbering, although I remember that there was a road on the satellite images.
I reached Jack Lake and ran into another gate. This time it was a bit different because there was no notices or signs saying "NO TRESSPASSING". Well, at least I didn't see them for the first moment. When I came closer I saw a sign, but it was turned to the other side of the gate, it means that I somehow entered the watershed without realizing it, because I haven't climbed over any gates. I then realized there was no gate on my route because no one thought that someone will push through the lumbered patch of the forest. If you look on the map provided in the link section, you will see that, indeed I crossed a small 3 km part of the watershed. Oddly enough, even though the gate had barbed wire on top and also fences extending in both sides on about 100 m from the gate, every gate that I saw was passable. The fences have strips of land on each side that are free from bushes and trees so they are easy to follow. I don't know why forest rangers try to keep these land strip free from vegetation. Maybe it is done to make the escape from the forest possible in case of fire or it is easier to identify violators by foot prints.
I didn't think too much about this, I just bypassed the fence and went further. Although my route was supposed to take me on a different road I decided to exit the watershed as soon as possible. I also knew that this road is parallel to the one I wanted to follow originally.
After about 5 km of really amazing downhill in the pine forest I turned right on the next intersection (because I didn't want to enter watershed again on my left) and ran into one more gate. Weird, because I left the watershed behind a long time ago. This time the gate didn't have any barbed wire on top and I simply thrown my bike over the gate and climbed over it myself.
Since things were not going according to plan I had to choose which way to take in order to get to the highway. After a few trials and errors I finally found a hiking trail that took me to Sooke Road.
On my way back.
In order to make my way back more interesting I decided to take the road that goes on the shore of Saanich Bay. It starts in Langford as a wide highway with high traffic. Then it enters the forest and becomes a 2 lane road. After the road passes by another small town it becomes one lane wide with very little traffic. It goes up and down through ancient forest with huge pine trees. I enjoyed this road even more than Lochside Trail on the other side of peninsula.
I arrived to Swartz Bay right after the 7 pm ferry sailed away, so I had to wait for 1.5 hour for the next sail.
Conclusion.
I was very lucky in terms of weather throughout the trip except for the last part in Vancouver when I had to bike home from Bridgeport station under the downpour. I also didn't expect that I will be able to loop the route the way I expected, so I am more than happy with this trip!
Useful links
Kmz file with location of gates, campground, and watershed area. In the image overlay red – watershed area, green-red – watershed protected area.
Tsawwassen (Vancouver) to Swartz Bay (Victoria) ferry schedule
VOC Wiki Sooke Potholes bike trip page