On Saturday January 28th 12 keen VOCers headed to Red Heather for some beginner friendly skiing. To make hauling all the ski gear easier Tim Fisher's van was utilized and we all met downtown to pile the gear in at a lazy 8:30am. Off to Red Heather we were after a brief stop at Galileo for some coffee and snacks! All three vehicles easily made it to the bottom parking lot, but without chains nobody was keen on attempting the road any further so the hike began there for everyone at 10:30am. Apparently the prospect of spending a beautiful Saturday in the mountains was a well shared idea as the parking lots were close to capacity. Half way up to the trailhead there was enough snow and the battle with attaching the skins began, as hiking up in ski boots was not an enjoyable experience! There were moments on the uncomfortable hike up that I considered lying down in the snow and calling it a day but thankfully my legs continued propelling me forward.
Finally, at around 12pm we reached the actual trailhead and as there had not been recent snowfall in a week or so the trail was packed down and fairly easy to skin up. It is strange to actually be able to ski up a hill without sliding back down and after a bit started to get the hang of the motions. As the only true beginner in the group, last time I downhill skied was 20 years ago, I began to realize while skinning up that I would somehow have to figure out a way to get back down to the vehicles as the image of crashing down the trail started to gain traction in my mind. After what felt like hours and hours with aching hips we finally reached the Red Heather warming hut at around 2pm!
Getting those boots off and stretching out my feet while eating lunch was a great feeling. After lunch the rest of the group was keen to skin up a bit further to find powder, but as I was already doubting my ability to ski down I opted to stay in the hut. Eventually everyone gathered back at the hut for some final gear adjustments and we began the ski down at 3:30pm. Thankfully the wonderful organizer Sarah Taylor and Roan McMillan were kind enough to teach me the basics of pizza and we slow began our way down. There was some concern among others regarding skiing down in teleskies and not the usual style that the group was familiar with, but since I was not experienced in either they felt completely normal to me. It is a humbling experience to be passed by those on snowshoes and children, but I slowly got used to the skis and had a great time chatting with Roan and Sarah while they warned approaching skiers of my limited abilities!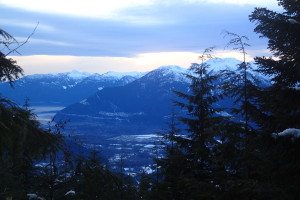 After a beautiful ski down we reached the trailhead and were shocked at how long of a hike back down it was, especially with the setting sun. Finally reaching the vehicles was a beautiful sight and getting out of those boots was amazing. One of the vehicles had already left before we arrived at the bottom parking lot and Tim's van had managed to get stuck in the meantime. After help from fellow drivers the van was finally free and by 5:30pm we were on our way home. Finding someone with chains and avoiding the long hike to the trailhead would make the trip so much easier but it was a great experience and for my first VOC trip I want to give a big thank you again to Sarah and Roan for keeping me company at the back.