Mid March should be the start of spring, the start of traverses, the start of the sun.
But this past few weeks we have experienced the opposite, weather has deteriorated, avi conditions have been too high and visibility to low to start any traverse.
So the only other option is try and look for some dry weather, we decided to head to SKAHA in search of it.
By we, I mean Matteo Agnoloni, Sarah Taylor, Kevin Burton and myself Natan Villarreal.
Weather was not looking good for Saturday, but we did expect a blue bird day for Sunday. We headed off Friday afternoon and after a few hours, 4 to be exact, driving through Manning Park, listening to some podcasts and trying to get the folks in Matteos car to enjoy my music…we arrived to Skaha. In realization that any camping spot had a fee of $30 per night per person due to off-season, we looked for a place to camp next to any road. Heading up through a road called Carmi Ave (which Kevin had suggested) we found the most ideal camping spot we could ever ask for. It was a construction site which was still not developed, so the ground was flat and the view towards Skaha was great. With the mind and body to tired to make dinner we set our tents and passed out.
Morning brought to us a cloudy day with a slight drizzle invading our hopes for dry weather. We put all those thoughts aside had breakfast, packed our stuff and headed straight to Tim Hortons for other morning duties

Finally we arrive at Skaha Bluffs. Gate is CLOSED. Four other cars are parked around the gate. Having no other option we park the car, pack our climbing gear and start heading up the closed road. At this point there was no more drizzle/rain, only cloudy skies.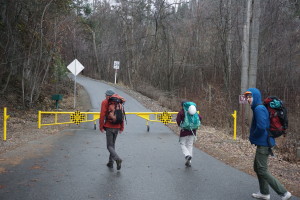 Our first climb was wet, a bit of a disappointment.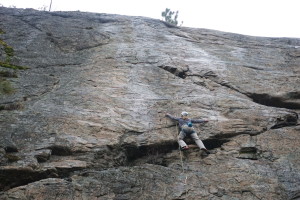 Myself and Matteo went in search for dry rock and we found plenty of good dry routes around Doctors Wall, which is quite well sheltered from the occasional drizzle. But immediately as our spirits started to lift by the sight of really good dry routes, it started to rain. And this time it started to rain really hard. We found a sheltered spot and just sat, ate and waited for the rain to pass; meanwhile hoping that Sarah and Kevin where not caught by the rain showers in the middle of their climb. We later realized that they where cleaning up the route when the rain hit and immediately found shelter on some trees.
Wait, wait, wait for the storm to pass.
Finally after like 30 minutes the rain stopped and we now had to wait for the rock to dry. But theeeeeeeen
Blue skies started appearing and the rays of sun started hitting the rock. This lifted our spirits because we knew, from the bottom of our hearts, that good weather was coming, that we were going to send some dry rock in an hour or two.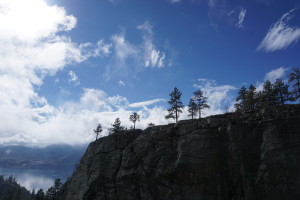 OHH and indeed we crushed some solid sport and trad routes the rest of that day. Well the 10b trad. route that we tried really kicked our ass but we managed to pull it off after a few incidents
The sun was so strong it made us feel we where back in the sweet summer days.
After the sun dipped below the horizon, we packed our climbing gear and headed back to the car. Meeting up with Sarah and Kevin at the car, they told us their stories. Stories dealing with mountain goats chasing them around and making them feel vulnerable, scared and worried about the safety of their lives.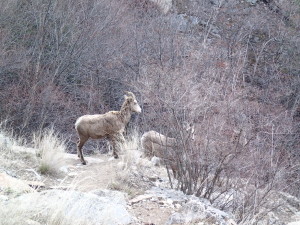 That night with clear skies above us, we were cold. Kevin who had forgotten his sleeping pad and Sarah worried, about finding him the next morning frozen solid, decided to share with him her sleeping matt. Not the most comfortable night I would say.
But it was all behind us and forgotten once we woke up the next morning, had breakfast in Tim Hortons and where back again in Skaha Bluffs. Enjoying the blue skies and the warm weather, once the sun started to warm up the day. I felt as if I was climbing through mid summer, too warm to even have a shirt on during the climbs.
What a day.
This climbing trip was definitely worth the drive down to Skaha. With the good company of Kevin Burton, Sarah Taylor and Matteo Agnoloni we are off to a great start for the beginning of climbing season 2017!