September 9-10, 2017
Eight hopeful glacier enthusiasts wake up Saturday morning to expand their glacier-travel skills and attempt to conquer Mt. Shuksan. Zack Wentz leads the group, but also includes a Swiss Mountaineer for 16 years, Pascale Vonaesch, who was curious how North American systems work. Let's just say that we showed her how we do.
It is 8:30 am when the first car arrives at the Heather Meadows parking lot. Outside it is cold, wet and windy. Following some traditional VOC FAFFing, the second car arrives, and we leave the parking lot to embark on our adventure an hour behind schedule — spoiler alert: this isn't the only time we will be behind schedule.
The group hikes through the beautiful meadows of Lake Ann. The rainy mist persists the entire day and soon picks up to diagonal rain spitting in your face. Eventually we approach the only and final scramble of the day, Fischer Chimneys, before reaching the campsite. It is also whiteout conditions. What usually is a low-class scramble looks like a slippery and daunting climb. At this point, many members of the group are soaked to the bones and can barely feel their hands. How do you climb wet rock with numb hands and an overnight pack?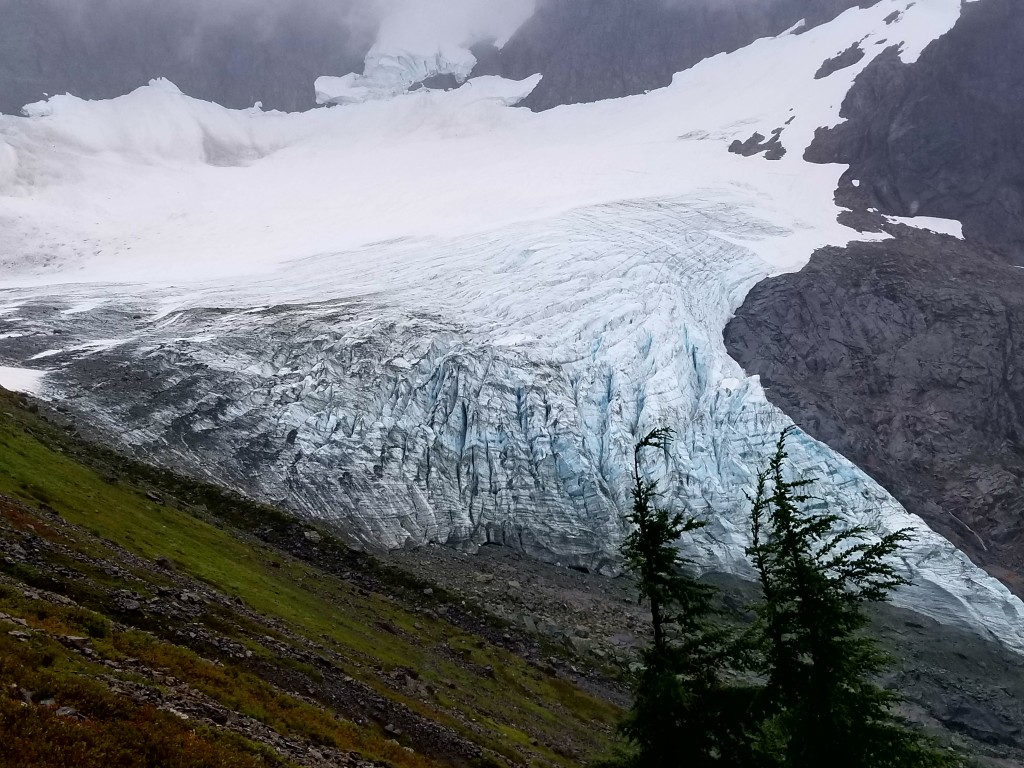 [The toe of the glacier on day one. PC: Nikhil Agarwal]
Upon consensual decision-making, we forego the chimney slip n' slide and head back down towards the lake for better, milder camping. After a couple hours of back-tracking, we find a flat area for all four tents. Tents are immediately pitched, and shelter is taken. Even a communal tarp area was created for maximal comfort. Some participants bundle up in their tents to nap while others sit under the tarped hang-out spot and play cards. Although we had G2 curriculum planned, everyone is too soaked to absorb information that day. Except for Zack, who has his rain gear dialed in.
That night, we eat dinner and discuss what tomorrow should entail. Originally we wanted to summit Mt. Shuksan, but we are now camping lower with more elevation to cover, and the morale is uncertain. Two participants convey that their vital layers/shoes are wet and can't go up Mt. Shuksan the next day. They would go down right away tomorrow morning. The remaining 6 of the group say that they would wake at 4:00 am, and access if they would attempt summiting.
At 4:00 am Sunday morning, the clouds sit high, and the moon shines brightly. Let's try to reach the top.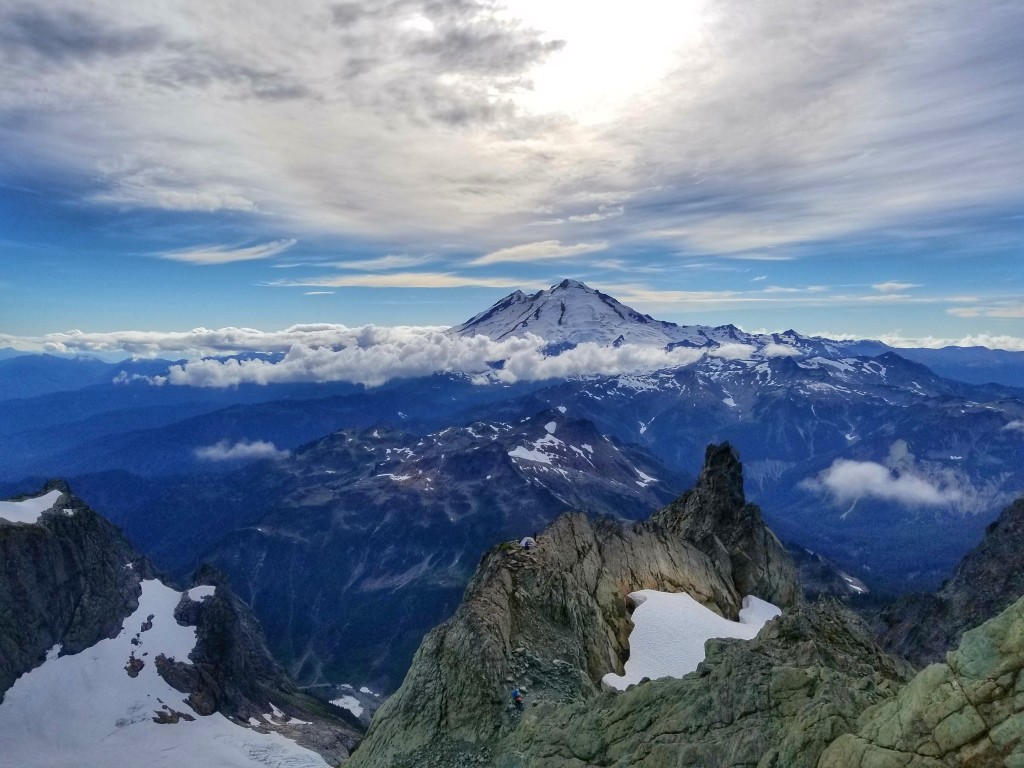 [Mt Baker view in the morning. PC: Nikhil Agarwal]
Seeing Fishers Chimney in the dry daylight makes the climb seem much more possible. However the scramble takes longer than our estimates and sets back the schedule by a few hours.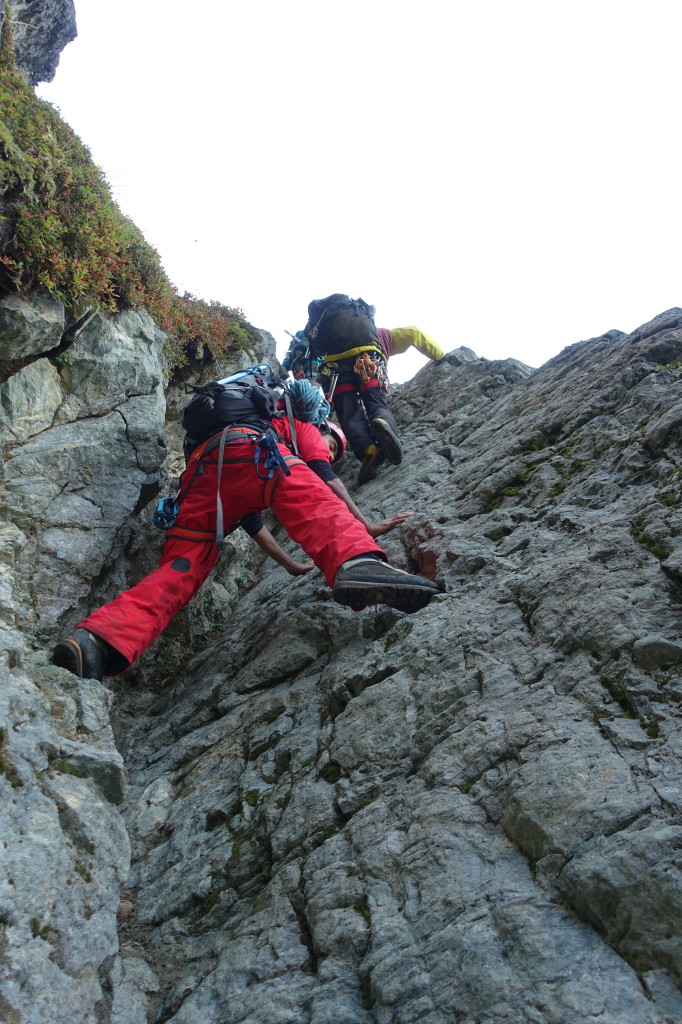 [Scrambling in Fishers Chimney. PC: Pascale Vonaesch]
Route-finding skills and different belay methods are put into play for the morning ascent. After many transitions between rock, talus, glacier and even ice, we finally make it to the last rocky scramble until the top. Only 300m to go.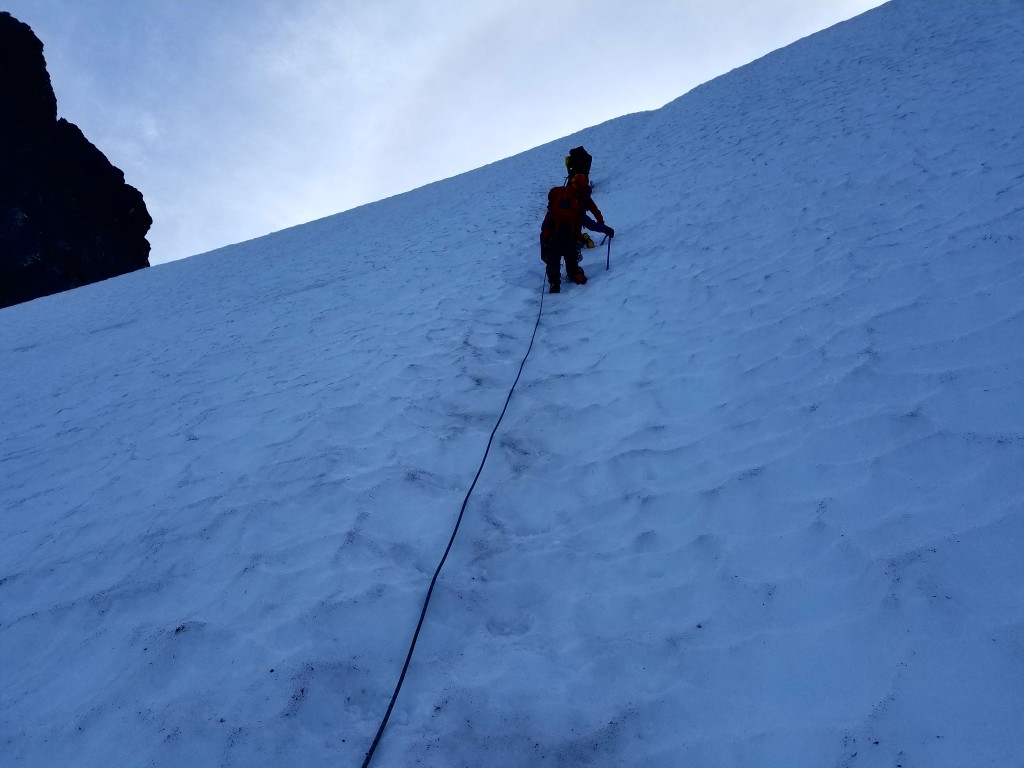 [Using snow anchors to travel up safely up a steep section of the glacier. PC: Nikhil Agarwal]
Nonetheless our turnaround time -1pm- is creeping up on us. Around halfway up the final scramble, the clock hits 1:30pm, so the group decides it iss best to have lunch and turn back. At our pace and the transitions/scrambling on the way down, we shouldn't go further. The journey was stunning, and the "pre-summit" to Mt. Shuksan as the Swiss Mountaineer calls it, is just as rewarding.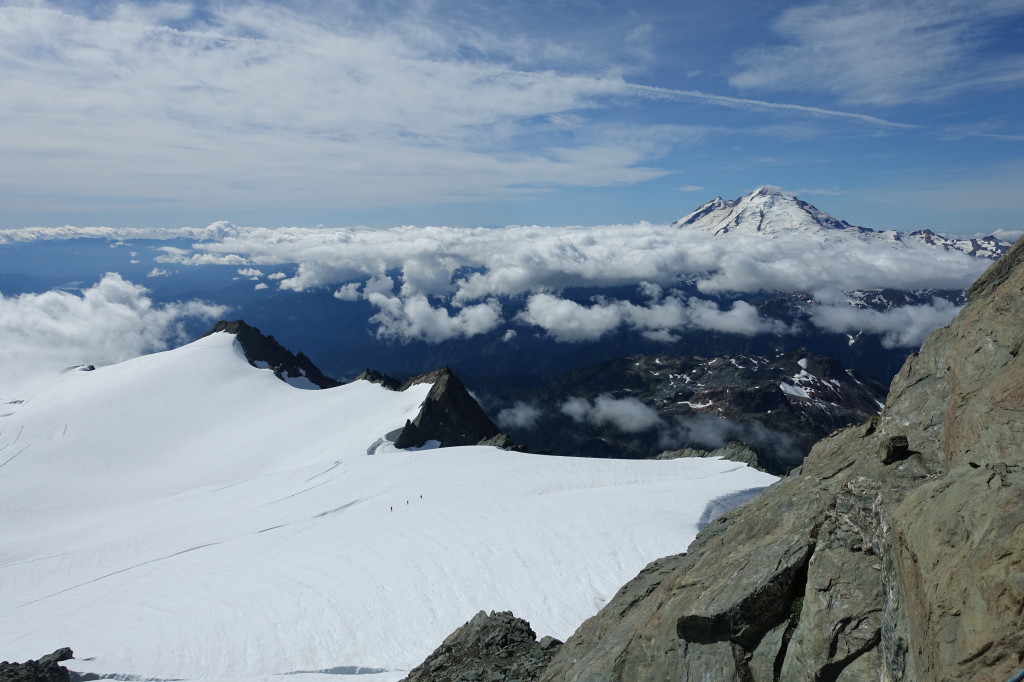 [View from approx. 150m short of Shuksan's summit. PC: Pascale Vonaesch]
Beating sunset on the tricky Fishers Chimney section keeps the motivation high during descent. Although most of the group is tired, we have to finish the tricky sections before dark.
We practice short pitching and other systems while descending. Our group manages to make it to the bottom of the scramble before dark. Phew! We hike back to camp and reach our site at 10pm. Everyone packs up their damp gear in the pitch black and scarfs down remaining snacks. The stars are glistening, and the night is still. But there is still a 2 hour hike back to the car. Exhausted and worn, we finally reach the car at 12:30am.
Some rewarding car beers later, along with a Safeway food-stop, everyone makes it home safely in the early hours of Monday morning. Kudos to Zack for organizing and reaching the 24-hr trip mark during his drive, finally reaching home at 5:30am.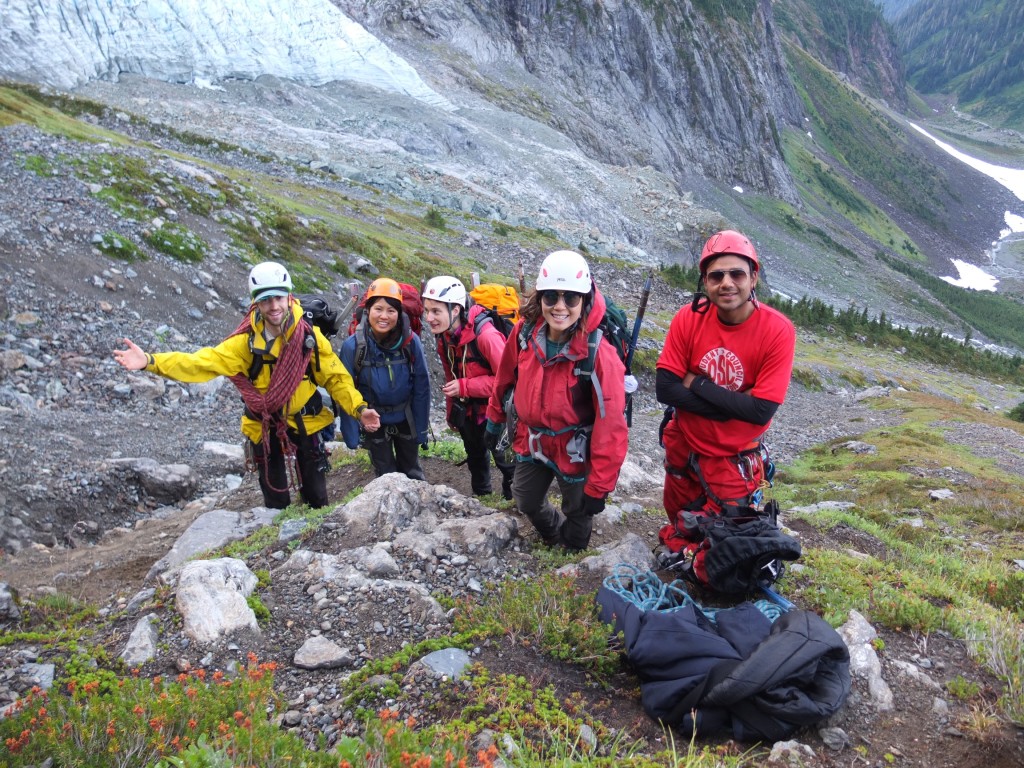 [The beginning of the epic. PC: Mariana Jarkova]