Garibaldi Lake is a magnificent alpine lake beset by tall snowy mountains and massive glaciers, it is located on the traditional, ancestral, and unceded territories of the Squamish nation – to whom we give our gratitude. Garibaldi is also known by its traditional name, 'Nch'Kay'. On a cold Saturday morning 21 VOC members arrived in the Rubble Creek parking lot laden with gear, ready to ascend 820 meters of elevation gain across 8 kilometers to camp out by the lake for the Thanksgiving long weekend.
Photos taken by: @changcj_ on instagram
With tent, gear, cooking equipment, and plenty of food, we began our journey. The well-maintained trail ran as a series of switchbacks that cut into a steep hillside that was covered in tall douglas fir and cedar trees. The cool, crisp morning gave way to gentle Autumn sun and light clouds and blue skies. It was the perfect hiking weather. The views became more stunning with each turn. From rapidly flowing streams that crashed down across the rocks, to the enormous canyon backed by a crumbling cliff face, to mellow lakes that were fed by the massive glaciers on high. Finally after a crisp, cool, and heavy hike of roughly four hours, we arrived at beautiful Lake Garibaldi.
The rest of the first day was time to make camp and wander around. Some took to the snowy hills to do brief hikes, others rested in the hut to make food and chill. Yet more wandered along the rocky shore and hopped onto the islands to survey the glaciers and enjoy the calm lake waters and Autumn sun – the lake was a brilliant blue due to the calcium deposits from the surrounding mountains.
The first night was a cold one. Day two began with high hopes for an ascent of Panorama Ridge and perhaps even Black Tusk. However after breakfast the trek into the hills ran into foggy dampness, which broke into snow. At the valley between Black Tusk and Panorama ridge, it was decided that it was far too slippery and sketchy to continue onto the steep trails that led up, instead we were to traverse the alpine valley to Helm Creek. We crossed into the snowy valley, across hills, forded a stream on rocks. On one side was Black Tusk coming in and out of view behind the fog, it sat atop a hill part of which had been stripped barren by a forest fire in recent years. The other side yielded views of grassy and snowy marshlands  weaved with patches of forest. On return there were two bear sightings, one up in the distance by Black Tusk sighted as the bear crossed between treelines. The next one near camp, the bear appeared as we stopped, coming from downhill to cross the trail twenty meters in front of us. Then, it was time for Thanksgiving Dinner.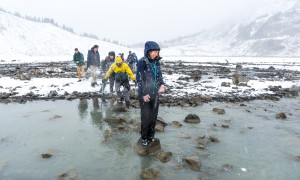 The potluck featured diverse foods. There was summer sausage spaghetti, curry lentil rice, bean chilli, mashed potatoes, and mac n' cheese. Needless to say, there were plenty enough carbs to satiate the hungry and cold bodies in the warm hut. Games of uno broke out with a 3 litre bag of wine, whiskey and cokes, and beers by the lake between sporadic rainfall and mist. After dinner we said goodbye to those who had to leave early that night – wishing them luck in their descent during the fast approaching nighttime. The rest soon retired to restful sleep. The second night was warmer due to rainfall, and more sound due to our trekking and sumptuous carb-loading. By next morning camp was broken early with quick breakfast of oats, peanut butter, cereal, cheese, and fruits. A lightning descent was made – goodbyes were said before some headed to grab some coffee on the road to home and some feasted at Mag's 99 over burritos, fried chicken and quesadillas.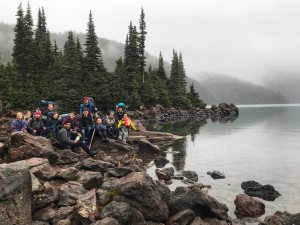 Group photo by Julia Ramos Bujalil