We had 3 days free, the weather was finally starting to look good, & the snow seemed finally to have melted enough from the alpine to be able to get out and enjoy it with C.  But how would the bugs be???  And the bigger question was; we hadn't managed to find any kid friends to join us.  Previously his older cousins had been great inspiration to keep C going when the going got tough.  Thus far, with them along, he had already, with only occasional periods of needing to be coaxed, shown us that he could mostly enjoy such trips as 5 days on both the Juan de Fuca trail & the Sunshine Coast Trails (both averaging 9km & 500m elevation gain daily) as well as the 9+km & 1000m hike up to the Phelix area (in just 6 hours; the wiki recommends 4-5 hours for adult sized humans).  Fortunately, he loved camping & slept great in the tent.
I was keen on the idea of getting out just the three of us, but would we end up having to carry C most of the way?  We had the ergo carrier stashed in the bottom of my pack just in case, but his skis were stashed on the outside, not only to let him see that we were planning for him to have some fun along the way, but it added to the dimensional appearance of my pack so that if he did ask to be carried, I could safely respond: "does it look like there's room for you on my back?"  Daddy had a  similarly large pack, carrying all of our camping gear & most of the food.
So under a very hot sun we left the car at the brew branch turnoff at noon on monday.  Very few bugs, but I knew the heat was going to be a problem.  Nick & I made a big show of dunking ourselves in the first cold creek that crossed the road, encouraging C to do the same, but he would only dip his feet & wet his hat.  That 3km hike up the logging road & then through the forest to the lake proved to be the 'winy'-est part of the trip for him.  But it was also the easiest travel so we felt reasonable to push him through this part, in hopes that once he got the message that 'no free ride' meant bussiness, he would get used to it and get more into enjoying the experience.  We were rewarded for this effort.  After a good feed & another half hour of dunking, wading & playing around at Brew lake – with almost no bugs (!!)- he all but ran the rest of the way up toward the hut area in roughly an hour!  We then enjoyed poking around our camp, writing his name in the snow nearby & throwing rocks while Nick made dinner.
The next day we got to start with a downhill on skis; which had him excited to get started, but between the melted out sun cups, the warm weather, & his unconditioned ski legs, he took some time & coaxing to get the whole way across & down the easy slopes.  I overall think that running & bum sliding on summer snow was generally more fun for him in the end, but the skis gave me something to carry & did prove useful in filling that precious back carry real estate ;-).
I was also excited to continue along this divide toward Cypress as I had never done it, & after checking in with Christian Veenstra, we weren't even certain that it would be 'kid friendly' terrain all the way.
We were rewarded for our efforts as it proved to be an ideal kid friendly alpine traverse route. After a bit more encouragement on small uphills, fun bum sliding, clouds cooled the air & C again had more enthusiasm later in the day. He nearly ran up the final biggest up of the day, ~300m in an hour, on some lovely kid friendly terrain.  Another hour along the ridge to the low col above the Cypress glacier bowl found us a lovely flat camp spot, near water, & in a good position to just drop straight down in the morning if the weather was upon us, as the forecast suggested might be the case.  We had been on the go for around 7.5 hours with two big stops and many "FSBs" (Frequent Short Breaks, a term borrowed from his Bibi (step grandma) Eileen, who hikes with that pattern herself).
On the 2nd night after we had dinner @ 6ish Nick stayed to build snow people near camp & put C to bed while I popped up to Cypress peak, just 40min from camp. I'd hoped to get C up the peak on the third morning but the weather disagreed & C was definately happy to just go down.  After his 12 hour sleep & with a lazy morning start, we descended out of the clouds. C was on his skis down a very well angled beginner run for the first ~300m descent. Again, the sun cups proved a bit tiring for him to ski & sometimes he preferred to just bum slide.  In general the mornings tended to be his less keen part of the day.  I had thought that the trudgery of 4km down a logging road would bring out the wining in full force, but again the afternoon was his happy time!  While I held his hand, he seemed to enjoy the slipsliding down the steep trail below the glacier bowl (this was the least 'kid friendly' part of the route, as there were alot of loose stones to kick down & to slip on). After a good feed at the bottom of the scree slope/slide path trail, he happily hiked the trail that took us up to the washed out road.  D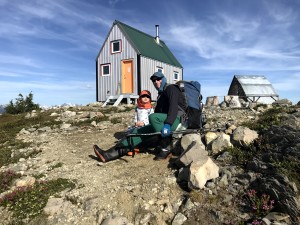 IMG_8482 IMG_8521 IMG_8468 IMG_8495 IMG_8492 IMG_8474 IMG_8488 IMG_8502 IMG_8506 IMG_8512 IMG_8510
own in the valley heat again, he soon, without prompting, asked to dunk his shirt in a creek that we crossed, which kept him comfy & happy for the last few km to the car.
Done by 2, we then enjoyed a long swim & visit to Lucille lake near the highway, which was just teaming with tadpoles! I'd never seen them herding around so densely.  Some were forming new little legs as they transformed to froggies.  C had much fun chasing after them in the shallows, & also swimming after us with his swim assist floaties on.  With the pools being closed I've been keen to take every advantage to get him into water that is warm enough for him to enjoy & perhaps learn to swim.  The 'swim assist' floaties, given to me by a friend (thanks becs!) has proven a great trick for getting him comfortable in deeper water, & to practising kicking & paddling in a way that will lend itself well to swimming.  When we met him 6 months ago he had a deathly fear of any water deeper than his waist, but yesterday in trout lake he for the first time agreed (easily) to try swimming without the floaties!  He's getting close!