I had never actually seen the summit of Mount Robson. Every time I drove by in the past the top half of the mountain was engulfed in a boiling tower of clouds. Standing in the parking lot with Seton Kriese, the swirling clouds magically began to lift their veil to slowly reveal rocks and snow that led to a peak so tall it strained my neck to look at. All we could do was stare in awe and look at each other, over and over, saying "Holy shit, we're going to climb that".
Robson is synonymous with adventure. Every serious climber in the Rockies dreams of climbing it. Only 16m shy of 4000m, it stands about 3200m higher than the Fraser River's banks at the bottom of the valley. This makes in a long climb. The summit of Everest is only 3400m above base camp. This vertical distance (called relief) notoriously allows Robson to create its own weather, especially sudden and lasting storms. All veteran Rockies climbers has at least one story that ends "and then we bailed on Robson".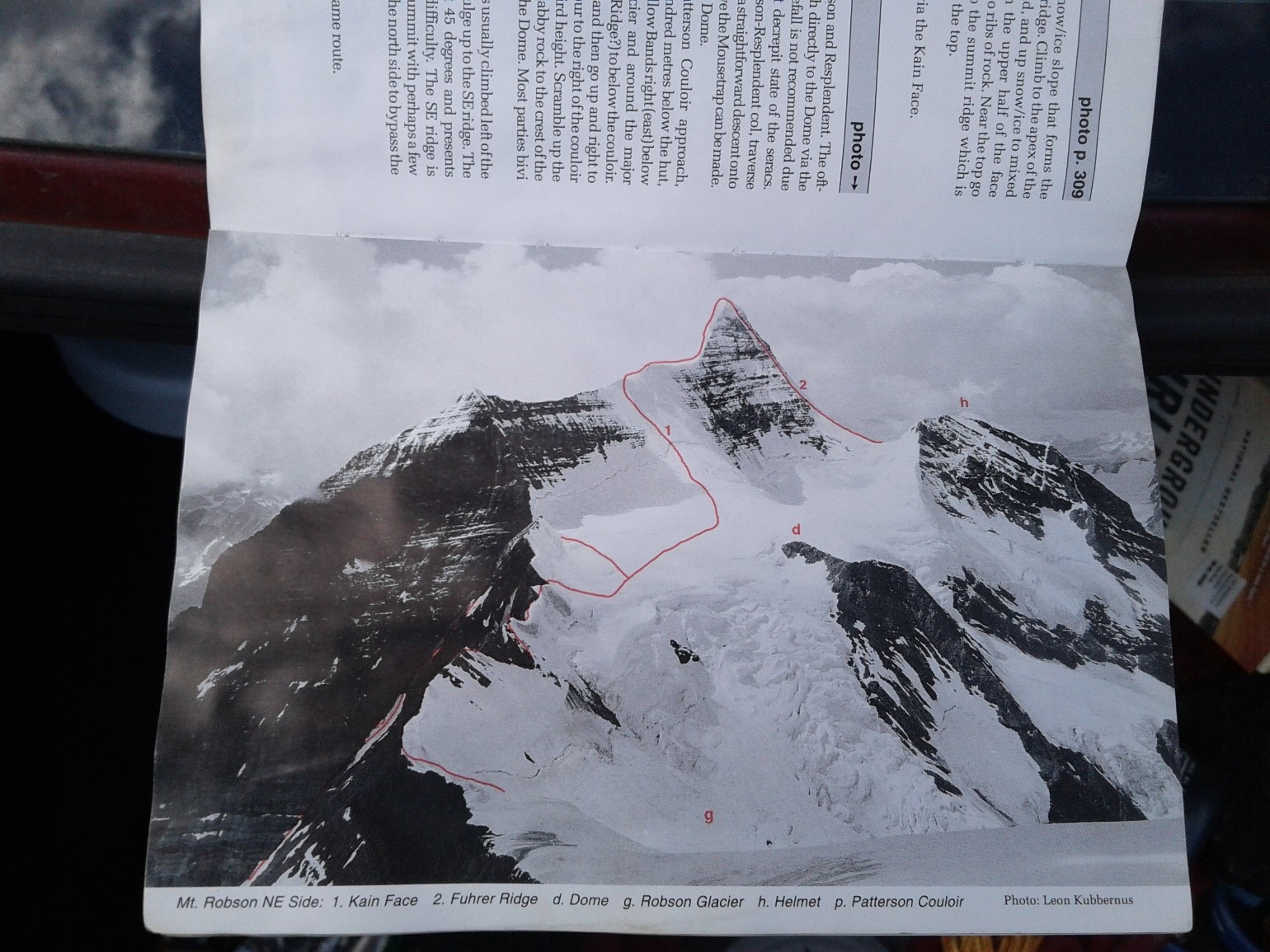 The Kain and Fuhrer Ridge routes of Mount Robson from Sean Dougherty's infamous "Select Alpine Climbs of the Canadian Rockies", aka "The Book of Lies".
I left Vancouver at 4am and made it to the Robson parking lot at noon exactly. I was on time for once, despite being stopped dead on the number one highway near Abbotsford for 20 minutes (WHYYYYY??). Oddly, there is no cell service at the rangers station parking lot (but there is a coin operated payphone) I didn't know if Seton was there yet and wandered around the parking lot for 10 minutes the old fashioned way until we found each other. Seton saw a bear, but I didn't. Since you're allowed to bike the first 10km of the approach we decided it made sense to bring bikes. This is true, except that the only bike I own is a singlespeed dirtjump bike with only one brake.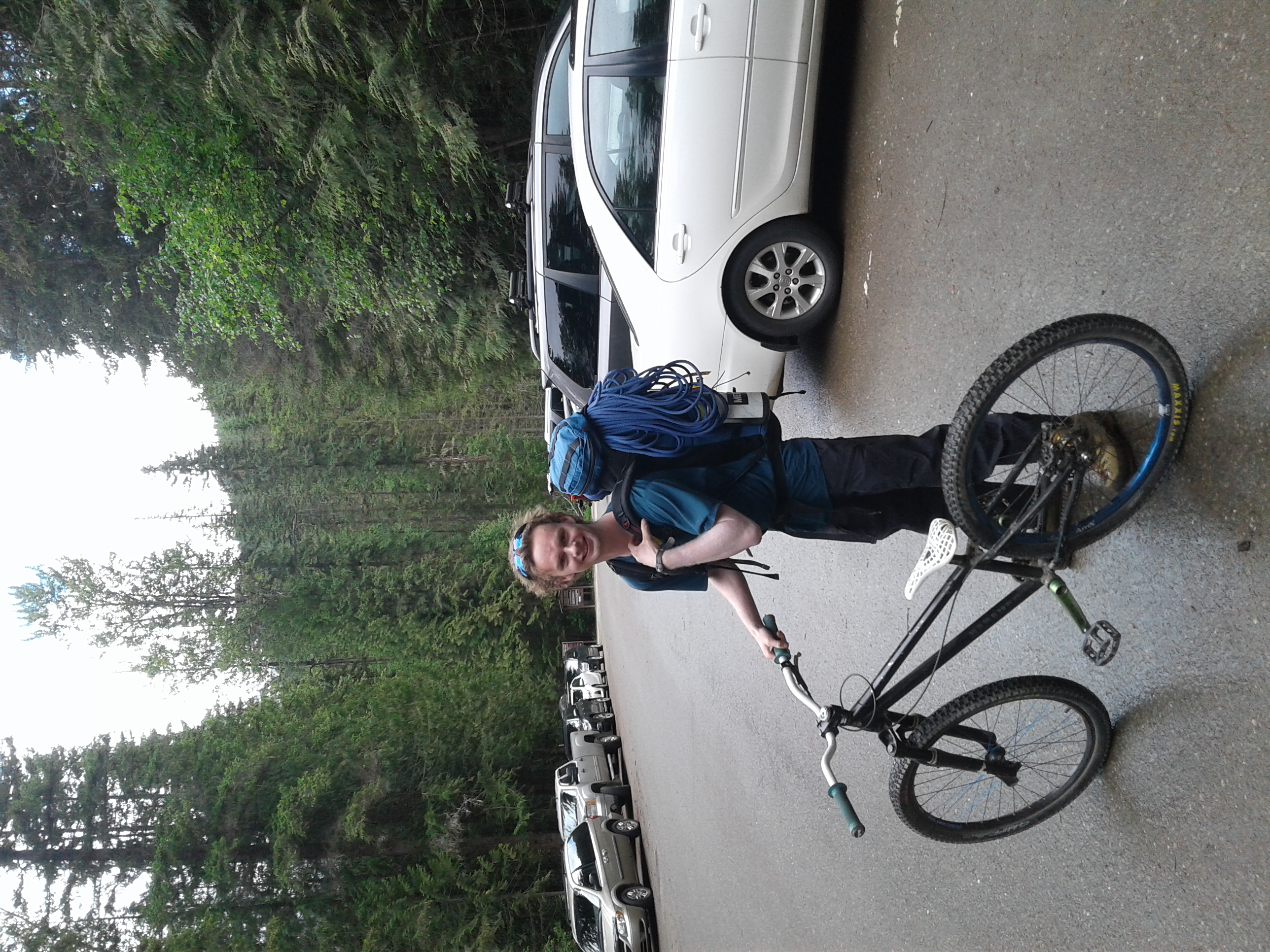 I walked up almost every hill. Fortunately, there were flat-ish sections where I could ride for just long enough to make it feel worth dragging a bike along. All the creeks and rivers in the area were swollen and flooding from snowmelt and heavy rainfall. The Robson River had taken over part of the trail and we scrambled over a rock outcrop to avoid it, dragging out bikes over. Eventually we came to a fork in the trail, with a sign pointing left for Kinney lake. We took it.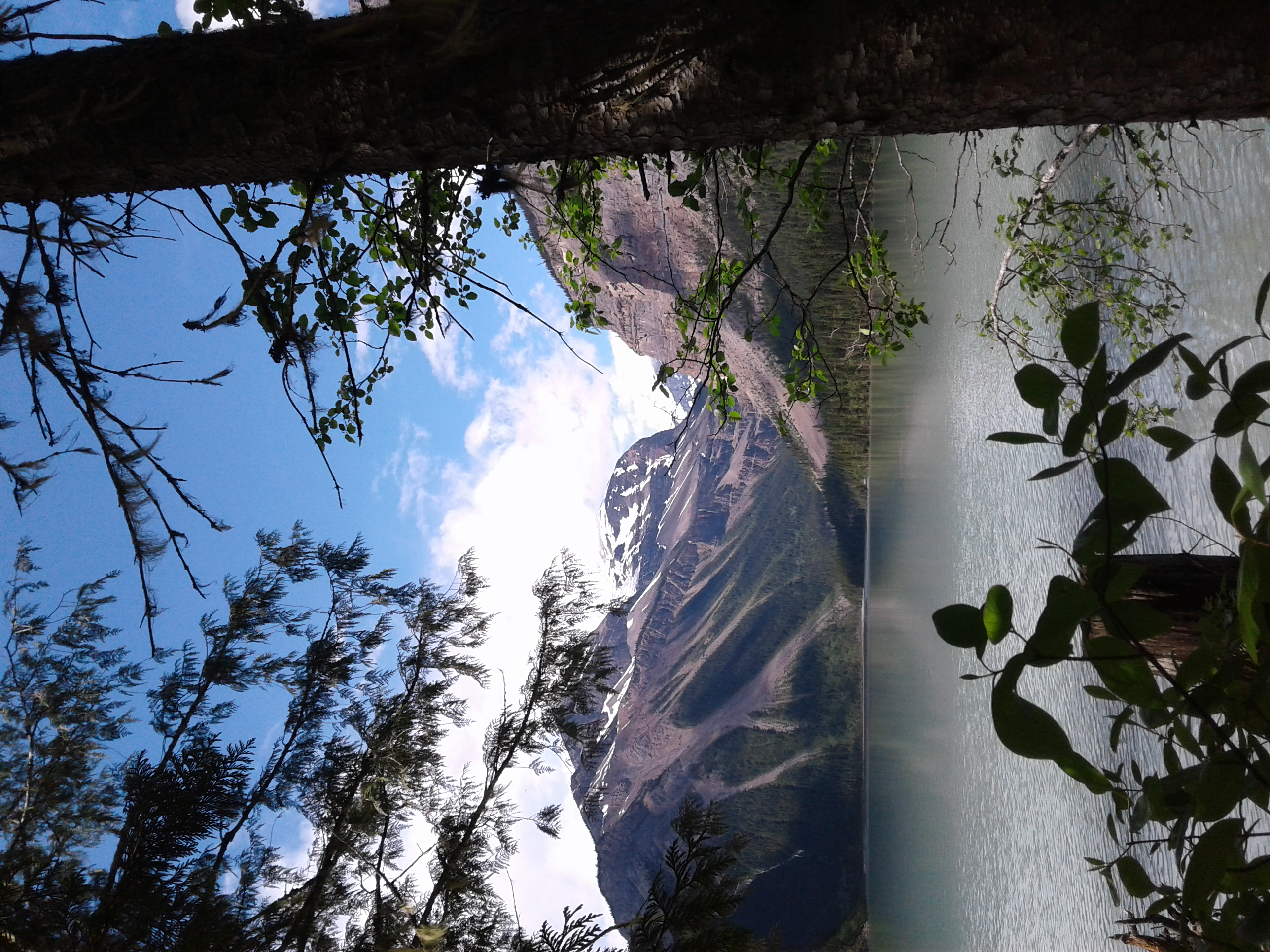 It took us to Kinney Lake.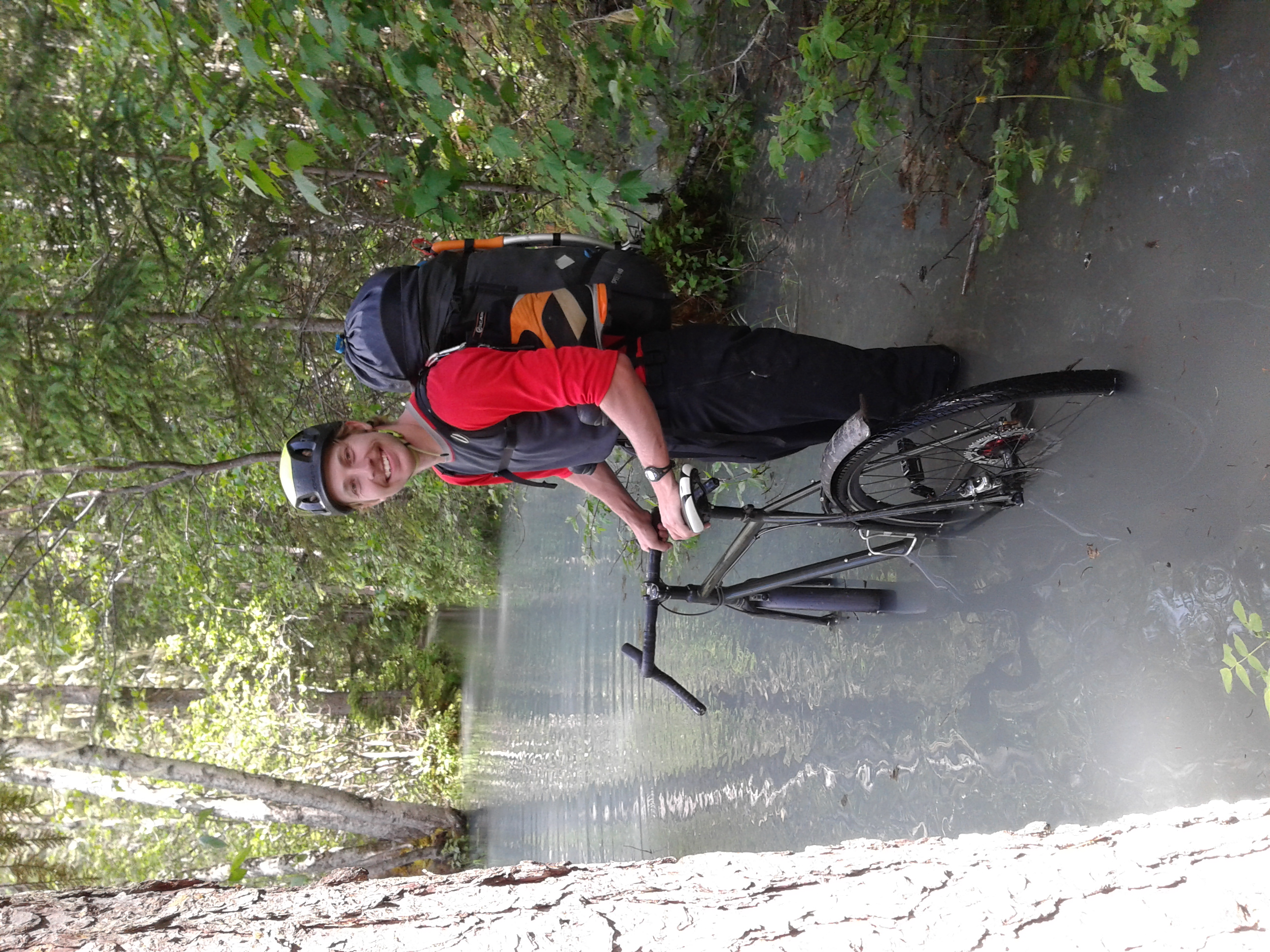 Then it took us INTO Kinney Lake.
We tried to shwack around the side of the flooded part and accidentally stumbled upon the trail that goes around Kinney lake…. Dry year round.  We rode for a short time more until we found the unofficial trail that would take us along the valley to Patterson Couloir and locked our bikes to a pretty unsecure sapling nearby. The start of the trail is on the right hand side, it looks like a trail, there is a small piece of flagging and a tree has fallen across it a few feet up the trail.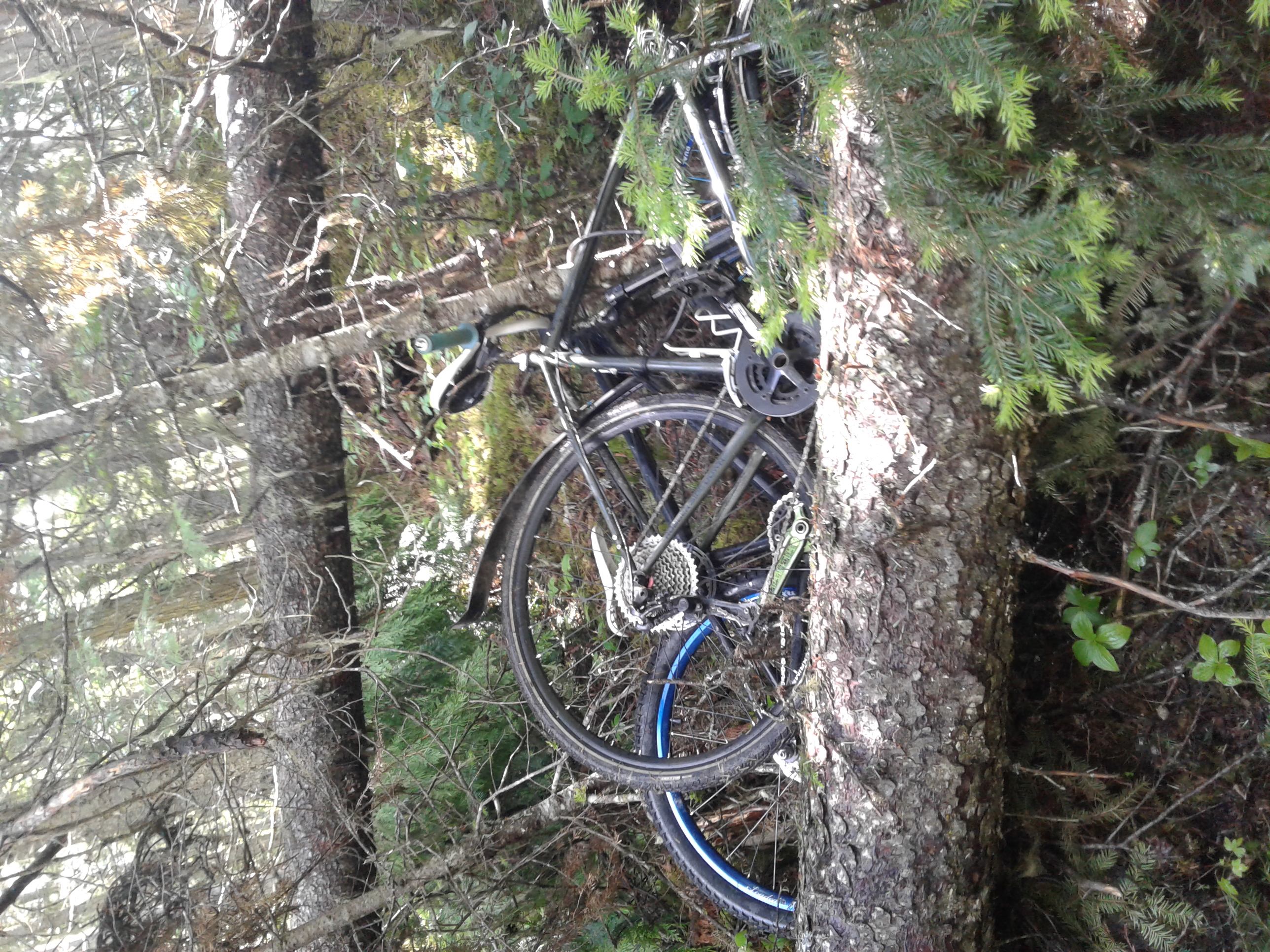 We hiked through lush, almost coastal type forest for a few kilometres until it opened into big alpine meadows with avalanche debris still metres deep. The valley was gorgeous, and we saw no other people or big animals but heard lots of birds.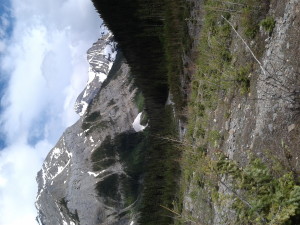 The snow under some of these slides was like 8m thick… Crazy amounts of avalanche debris coming off these big faces.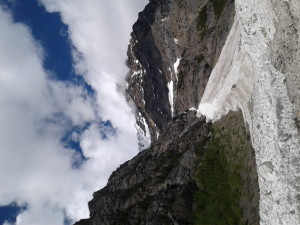 There were some fun creek crossings.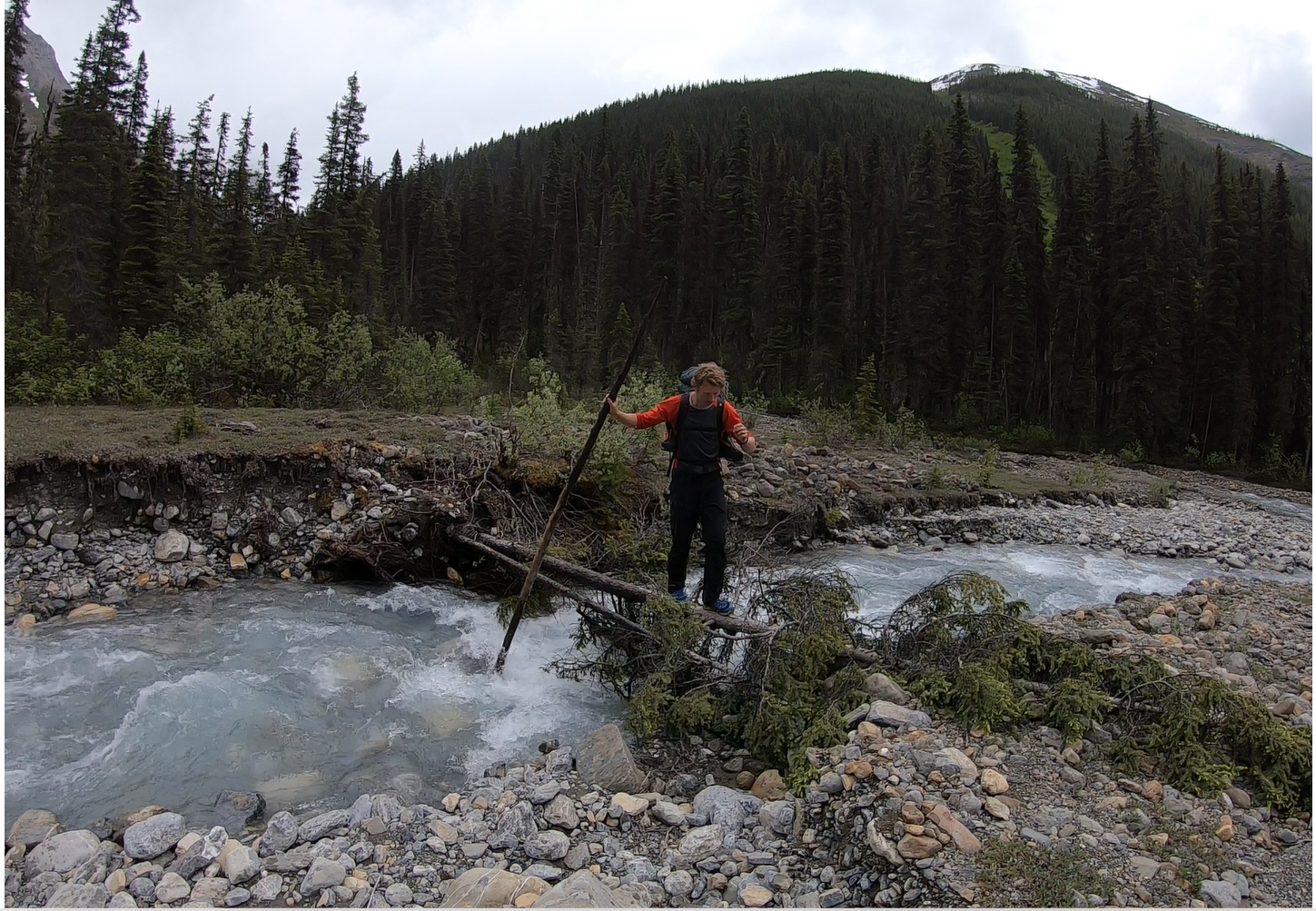 We plodded happily along the valley until a map check revealed we'd gone too far! We backtracked for 20 minutes and around 5pm we started scrambling towards some cliffy bands towards Patterson Couloir.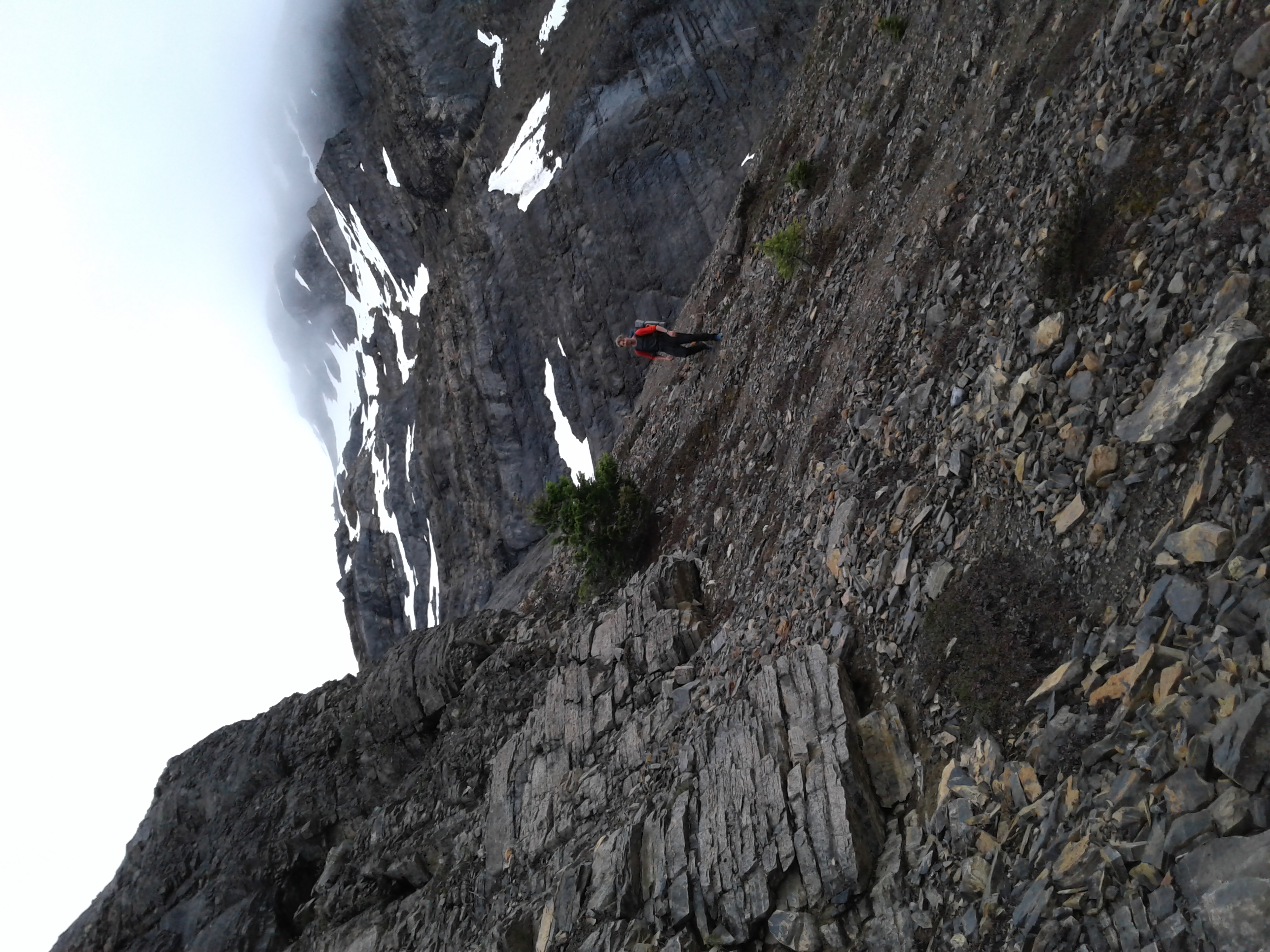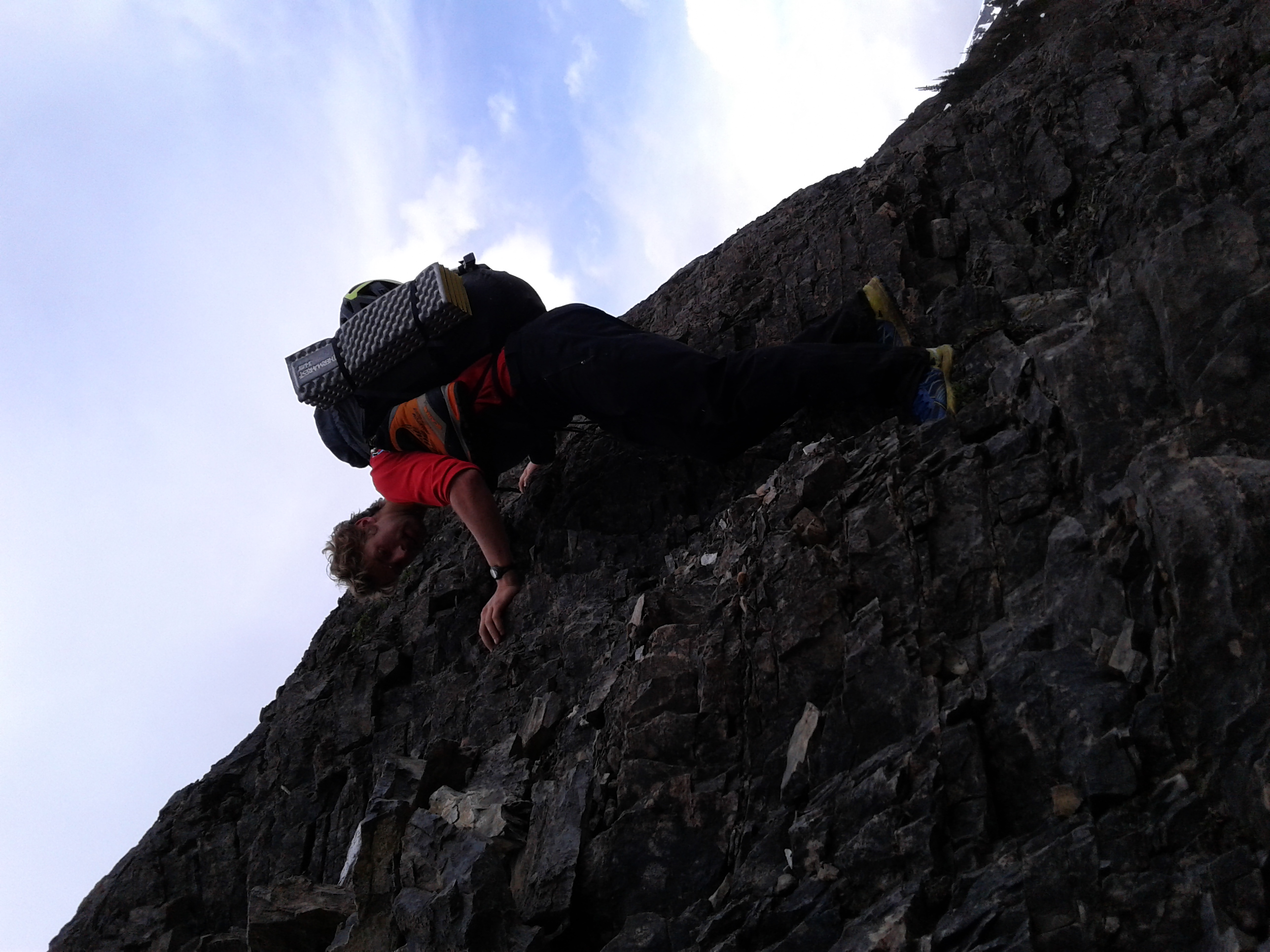 At the first flat(ish) spot we came to we leveled a bivy site and built a small stone wall. I think I've used the adze on my mountaineering axe for digging dirt and rocks more than I ever have for chopping steps or clearing bad ice…
We passed out around 10PM and had a chill start at 6am. Once we packed up and started scrambling, we found another bivi site less than 10 minutes above where we had camped. Oh well! We reached a large snowfield below Patterson within an hour.
Terrain opened quickly. Unfortunately, the weather was becoming funny. It had been cloudy overnight so the snow hadn't cooled much, and there were low darker clouds coming at us from the south. We stood on the lateral moraine below Patterson and stared at the clouds for a few minutes, hoping they would thin out enough to see the scrambling section out of the couloir. They didn't. We decided to go in blind, trusting our noses and Sean Dougherty's notoriously vague (and sometimes sandbagged) route advice. We found an impressive bergschrund that would have been a serious pain to cross if there wasn't a miraculous 2m wide snow bridge built right up from the bottom and sitting right in the middle of the couloir. I wish I had photos. Just as we crossed, it started to snow. The snow in the couloir was perfect neve snow, firm and Styrofoam-y, forming spines and allowing fun variations of our ascent line. We raced up, giggling like little kids. Then it snowed harder. And harder. Small pockets of snow began to break and sluff off at us as we were climbing. We took a break in the shelter of some cliffs on the right side to snack and assess our situation.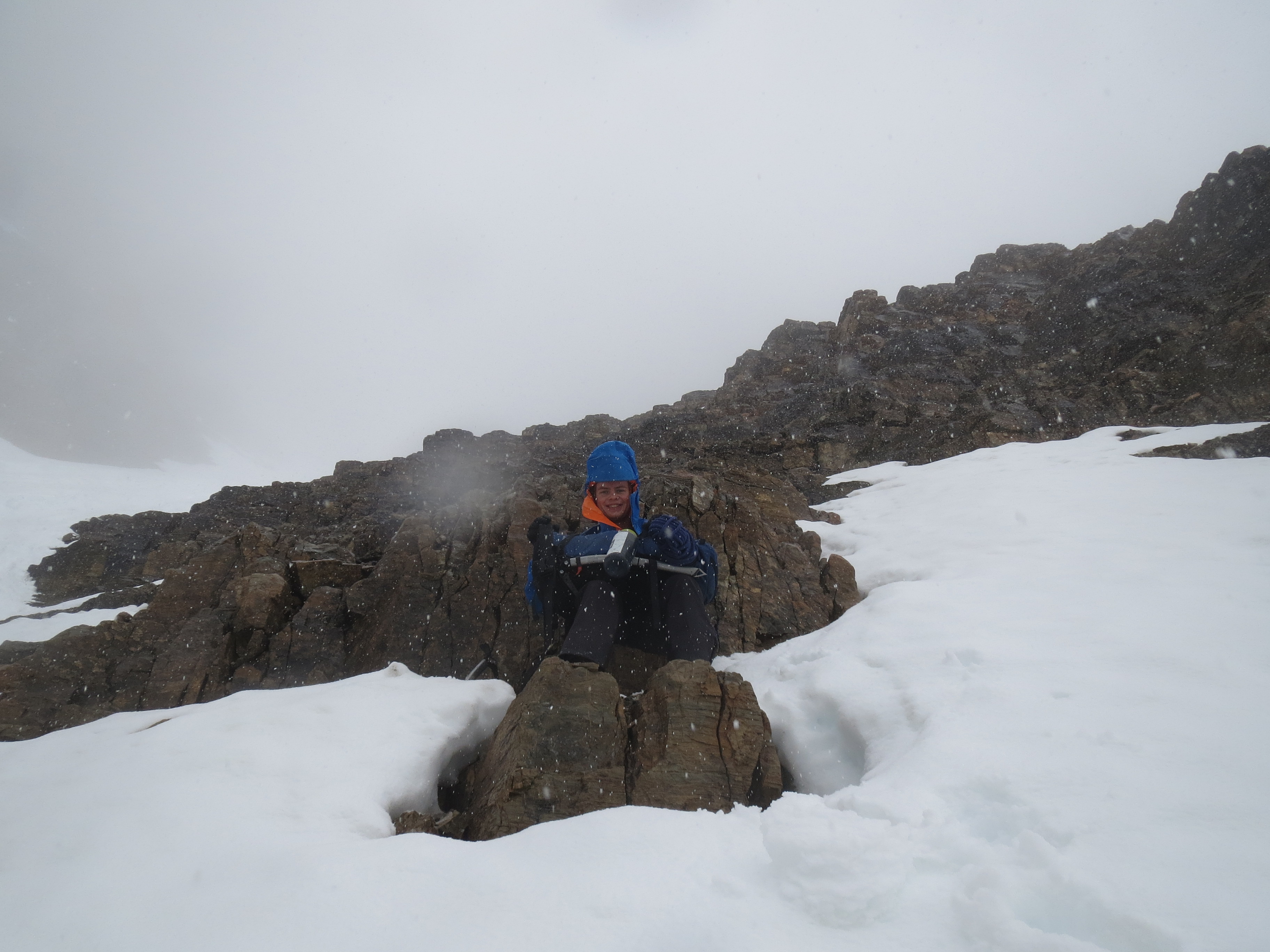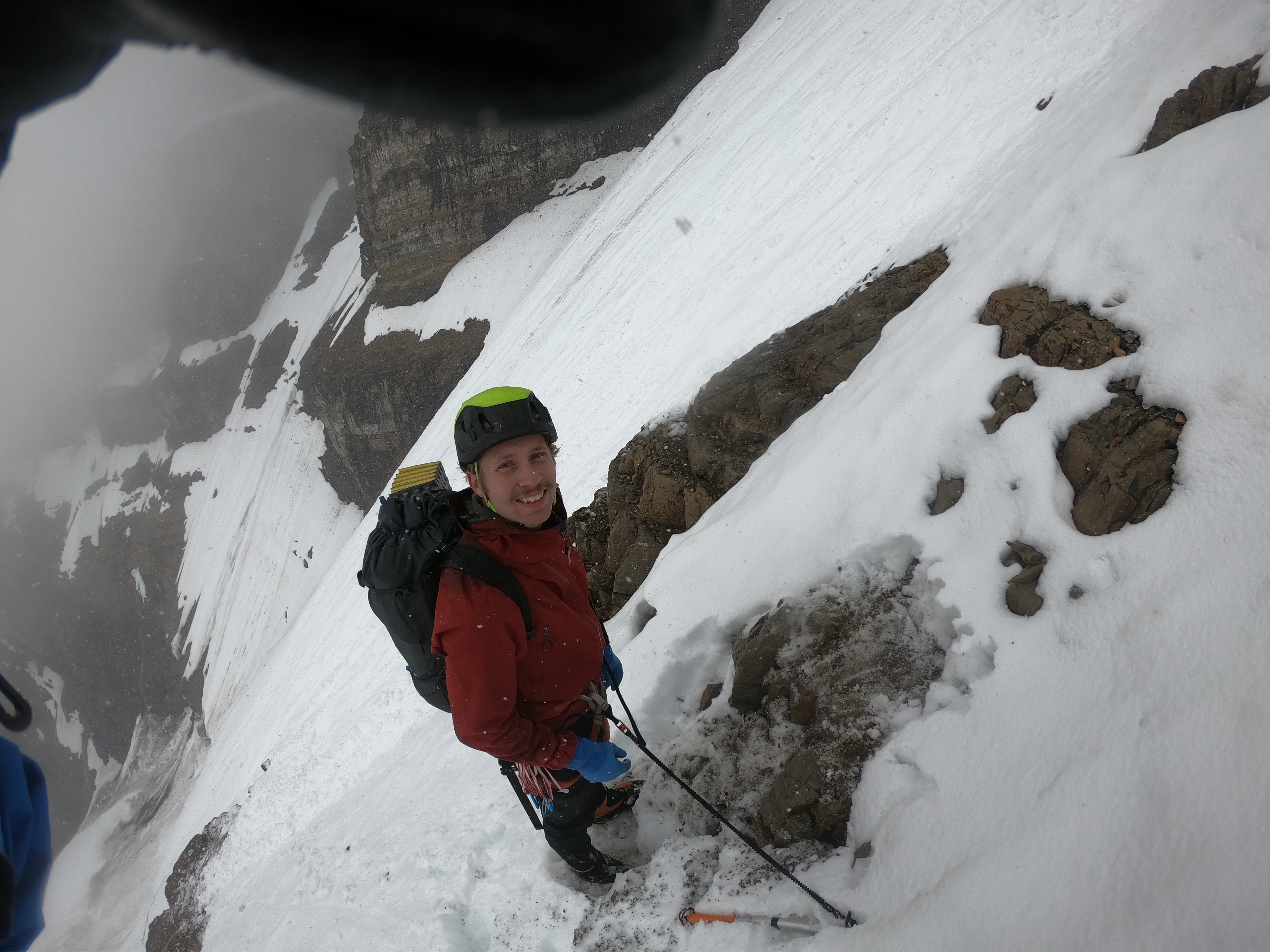 It was puking pretty hard as we ate and we realized that almost 2cm of fresh snow had fallen in the last 20 minutes, meaning it was snowing about 5cm/hr. Looking into the col the sluffs had stopped. Instead, there was a continuous stream of loose snow flowing down through the spines we had been so stoked on a few minutes before. It was much denser and more contained than spindrift waves that often brush through during storms. It was concentrated and dense. The storm wasn't showing any signs of easing up and we still had a few hundred meters in the couloir before we could get to the 'safety' of snow covered, unknown, unseen 4th class rock to gain the Robson Glacier. There was a lot of mountain still above us, funnelling snow and rocks right into our position, and the snow beneath our feet was getting pretty soft. A big slide was very possible and would sweep us straight into the bergschrund.
It was time to go.
We downclimbed as fast as we could, avoiding being overtop of one another and jumping over the increasingly fast river of snow. We heard the tearing and breaking of rockfall and avalanches nearby on the mountain.
Back on the flat snowfields, the clouds still swirled but the snow eased up and the stopped. I wondered for a moment if we should have kept going, but quickly re-decided that the right decision was to bail. The mountain will always be there.
Hiking along the snowfield I felt my right foot punching into space. I quickly shifted my weight on the left. It also broke through. My right foot landed on a rock at a weird angle and my crampon-clad left foot landed my full weight directly onto my right calf! FUCK!
Cursing more, I pulled up my pants leg, expecting to see blood everywhere. Thinking I would certainly need tape and maybe stitches. I was shocked to see only two little pinholes with tiny amounts of blood flowing out. The Dyneema reinforced patches in the Mammut hardshell pants Heather lent me had saved my leg from impalement. I used to scoff at features like this. I thought they were a waste of money and heavy, but this spared me a long hobble out or an embarrassing helicopter ride to the hospital. As we scrambled down the cliffs my calf was weak and became stiffer, making edging in my mountain boots difficult. After a few scary moments downclimbing we were back in the valley and retracing our steps back to the bikes. We reached them at early afternoon and as we unlocked them, Seton smiled, saying "This is why we bothered dragging bikes". We hopped on and ripped down the muddy trail. With almost nobody out hiking, we were back at the parking lot within 30 minutes.
Signing out the climbing registry photo. The rangers don't like wild goose chases on the mountain for climbers who are safely passed out in their cars…
We sat in the parking lot and ate chips. We both had a few days off work still, so we drove into Jasper to see if conditions were any good on Edith Cavell. My calf did not at all enjoy sitting and driving and I figured my scrambling and downclimbing ability was too compromised to hike in and do the East Ridge. Seton decided to head in and solo it (it ended up being too warm)  while I started driving back to Vancouver. It felt a bit anticlimactic to part company in a Jasper backstreet, but that was the end of this adventure. It felt just as lame as it reads in this trip report. We'll be back.
-Will