First, a bit of background to this story. VOC has four huts, the most popular being the Brew Hut. Brew has been so popular with others, that VOC members often find that it is full when they go to use it. There have been three official trails into Brew, via the Brandywine, via the train tracks, and via Roe Creek. Only the Roe Creek route is well marked and very safe from avalanches. Unfortunately the Authorities decided to remove an essential bridge across Roe Creek. The VOC Exec has had plans to plead with various Authorities to spare the bridge, but soon there were rumours that the bridge had been removed.
This is what the Exec has to say about this, quoting the minutes of the last Exec meeting:
"Roe Creek Bridge
Are we considering an alternate access route to Brew?
Where are we at with the rumoured meeting with Alistair about Section 57?
Helena is helping the VOC with access issues (she is a PEng)
Call the Squamish Nation – front desk – Declan – email Jeremy Fisher (through Bryce for email address)
Thoughts on recreation in area
Who to contact in the future
Thoughts on footbridge
Jeff is working on designs for the new bridge (first draft is nearly complete)"
I think the Exec doesn't COMMUNICATE very well.
Carla and I hadn't been on a trip for a month and we thought about Hollyburn, but Hollyburn is pretty busy at the time of the Covid and we don't want BUSY. We wanted USEFUL. We decided to find out what's happened to the bridge across Roe Creek. We invited Dave and Kevin but Kevin wanted to ski. Dave didn't want to get up early and Carla didn't want to drive after dark, so we left early and we left Dave in bed. We packed everything, skis, hiking boots, snowshoes, and micro-spikes. I felt pretty sick and wondered if I had Covid, so Carla drove. The sky was starting to get light by 7:30 as we crossed the Lions Gate Bridge. We knew that the Squamish Macdonalds had no toilets so we stopped at Shannon Falls to let out the coffee. At the Brew turnoff we encountered three snowmobiler trucks, and one driver was trying to put on his chains. Carla was of the opinion we should stop and I mostly wanted to keep driving, so we compromised and dropped the anchor at the Roe-Chance junction at 9:30. While we were faffing the three trucks passed us and the driver of one said that he had given up on the chains, and he was going to Chance, which is the new snowmobile destination. There was maybe half an inch of snow, so we left the skis and snowshoes in the car. No crowd, only a couple with a dog out for a walk. We arrived at the place where the bridge used to be at 11:00, and the snow was just starting to get inconveniently deep. We took pictures, ate lunch, and headed back. On the way down we stopped at the authentic log cabin which has been there since the beginning of time. Normally we'd just zoom past in the Jeep. The rest of the ride home was uneventful except for the strange burning smell every time we went up a hill. Never did figure out what that was all about. Got home 2pm. Total distance we walked, about 5 kms.
Click on pictures to make them magically get bigger
Perhaps a snowmobile bridge?.
Some large logs put there to stop you driving across the bridge that isn't there any more.
Cabin beside lake.  It was raining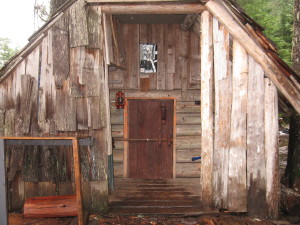 Front Porch, Solar lighting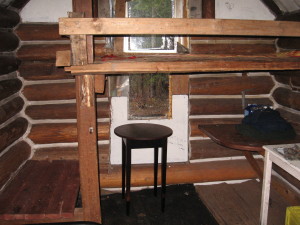 Small but remarkably clean and nice.