Around 9 am Tuesday I got an email which said "let's go to Phelix Hut". I replied that I'd like to, but first I have to make sure Carla isn't planning something. It turned out that Carla was staying in town to register for Emily Carr so I was free to go. To allow more time for hiking slowly (I am slow), we left Vancouver at 5:30 pm. I had laid out impossible conditions for the trip. I shouldn't drive or I'd fall asleep and get us killed. I was dreadfully out of shape and might not actually get to the hut. But X said she was OK with all that. X didn't want her name in the trip report because she fears the Covid Police.
We dined at Macdonalds Pemberton takeout and when we got back in the car it was dark. The road to Birkenhead park was free of snow and the park gate was locked. The rock slide at km 0.3 on the road has slid once again so we parked there. We put up X's tent and went to sleep.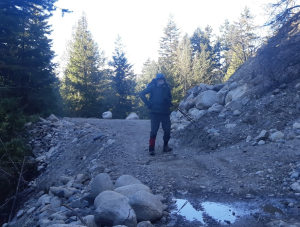 The Rock Slide
We got up at 6am. X likes a bigger breakfast. Nothing much exciting happened except we lost the car keys for a while. We were walking by 8am. At km 3 we put on the slowshoes. The conditions were ideal for slowshoes but would not have been ideal for skis as there was a hard crust in the morning, making turning unpredictable. We faffed a lot. X waited for me a lot and carried my pack briefly. She tried carrying both packs tied together, but that did not work. We arrived at the hut at 3pm. Nobody else there. The snow was maybe 4 or 6 ft deep. Lake still frozen but it made some ominous sounds as we crossed it.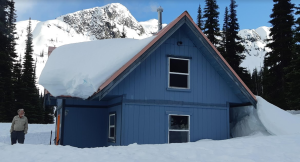 Snow on roof
X needed more exercise so she wandered off to the upper lakes, while I sat in the hut and reminisced a lot, and made plans for the solar lighting installation which should happen mid-June. The newly installed wood heater is great and VOC should be congratulated for doing a good job. The hut is cozy and no longer dissolving in mould. The firewood is all used up but there may be some lying around under the snow. I hope we can get a firewood trip going for this summer. I can teach Chainsaw 101. There is plenty of dead wood near the hut. We drained the donation box and brought the money down. There's lots of dead appliances up there, Coleman lamps, BBQ's, stoves, and a catalytic heater. Because the appliances are all broken, there's lots of propane cylinders, waiting for somebody to bring up a stove. I will buy one, perhaps, if somebody tells me what to buy  There's a pretty red one at Canadian Tire.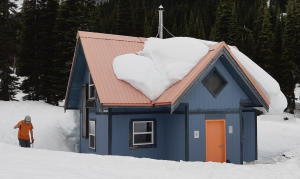 Shirt matches door
The plan was to take pictures of the meteor shower during the night but I missed that. I went to sleep.
Thursday morning,there was a trace of fresh snow and more bluebird sky. Up at 6 am, walking by 8 am. Slowshoes are a bit scary going downhill because they behave like snowboards on the crust. The straps holding my slowshes on began to break but Voile straps make very good slowshoe straps.
Cool slowshoe binding
We got back to the car at 1pm and for excitement we lost the car keys again, but only briefly. Lunch was at Splitz in Whistler where we cancelled all the weight-loss benefits of the trip.  I recommend the yam fries.  They are great!  Did we have fun? Certainly.