January-April 2021, Saskatchewan
Now four months into our new life in Saskatchewan, I am taking a moment to reflect on life in the Prairies. Until recently I had never pictured myself living here, but this is where life has taken me and it's a wonderful opportunity to experience an entirely new province after living my first 23 years in Ontario and the next eight in BC.
The allure here is of course not glaciated mountains or an ocean teeming with herring and salmon, but rather endless open expanses of Prairie sky, much sunshine, and a quieter pace.
Weekend adventuring galore in the BC Coast Mountains filled my twenties and it is with nostalgia that I left that lifestyle behind, at least for now. I continue adventuring here in Saskatoon, but of course the pace is different and so are the activities. Free time is also a little less available with a one-year old running around the house.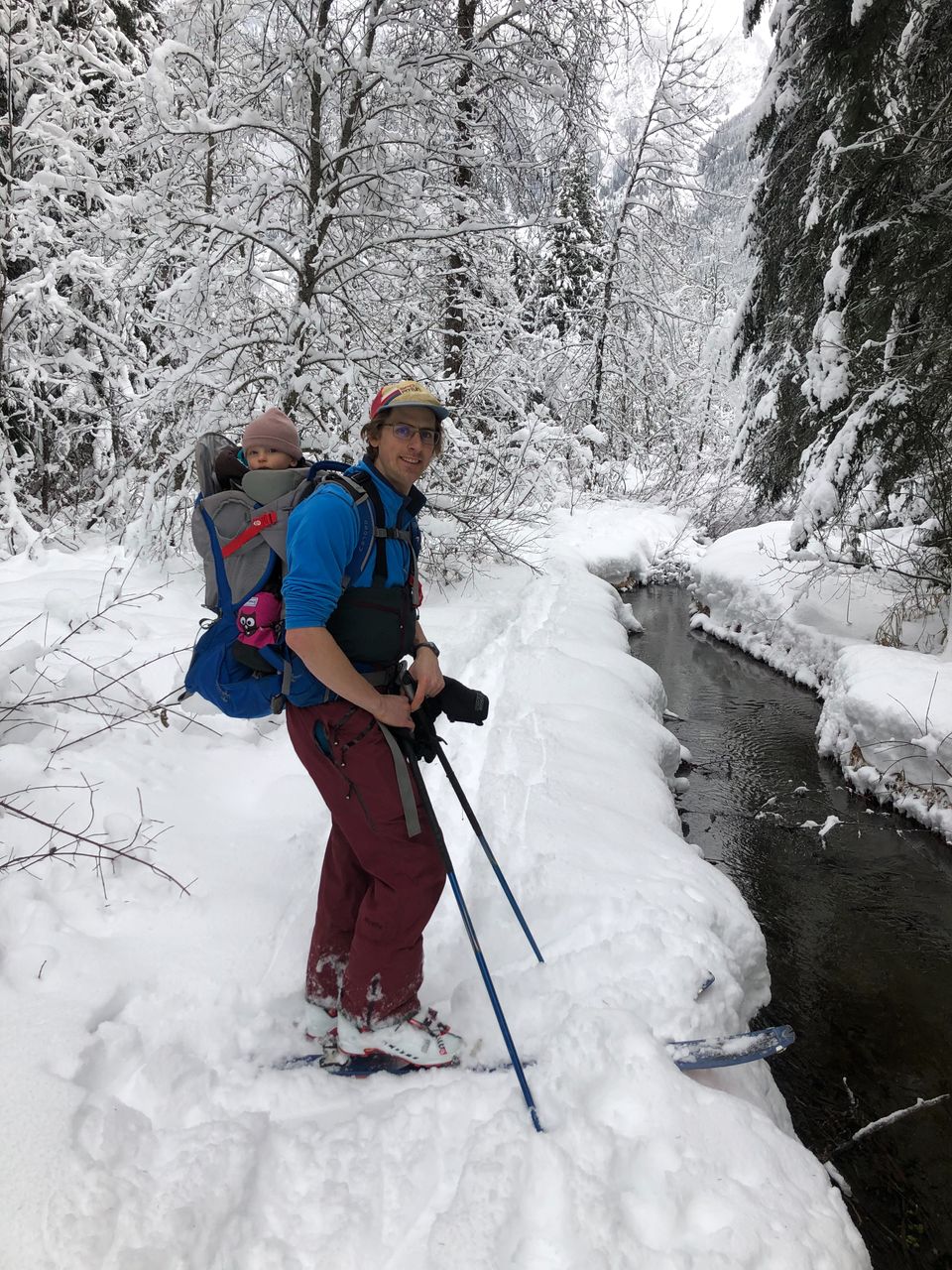 Stopping to ski tour around Revelstoke and in Yoho National Park on the drive from Vancouver to Saskatoon. December 2020.
Buried in down. Committed to keep this kid warm (actually he overheated under all that).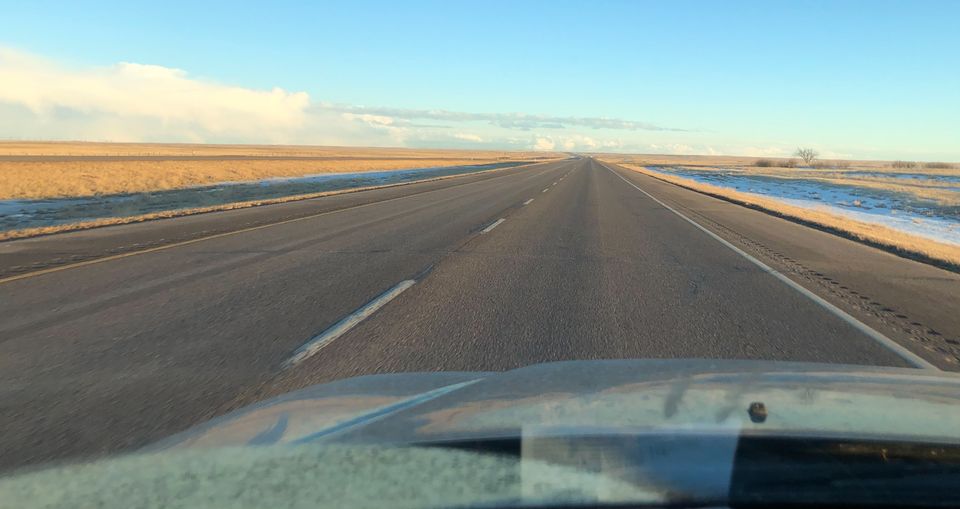 Quintessential view on the Transcanada Highway, January 2021, Southern Alberta.
That considered, there is much to be said about an outdoor life in Saskatoon. The river cutting through the city offers lovely opportunities for bike rides, runs, and paddles a stone's throw from home. In four months here, the most traffic I have seen is a two-minute wait behind the train tracks to let the CN rail freight pass through.
We have had our share of adventures in our first four months here. Winter was hard, especially with a ten-day stretch where temperatures hovered between minus thirty and minus forty—at times with windchills dipping past fifty below. I still was out skiing, but we didn't have many solutions to take our baby outside in those temperatures. I also was contending with an overuse gluteal injury that required rest and downtime, and tried my patience.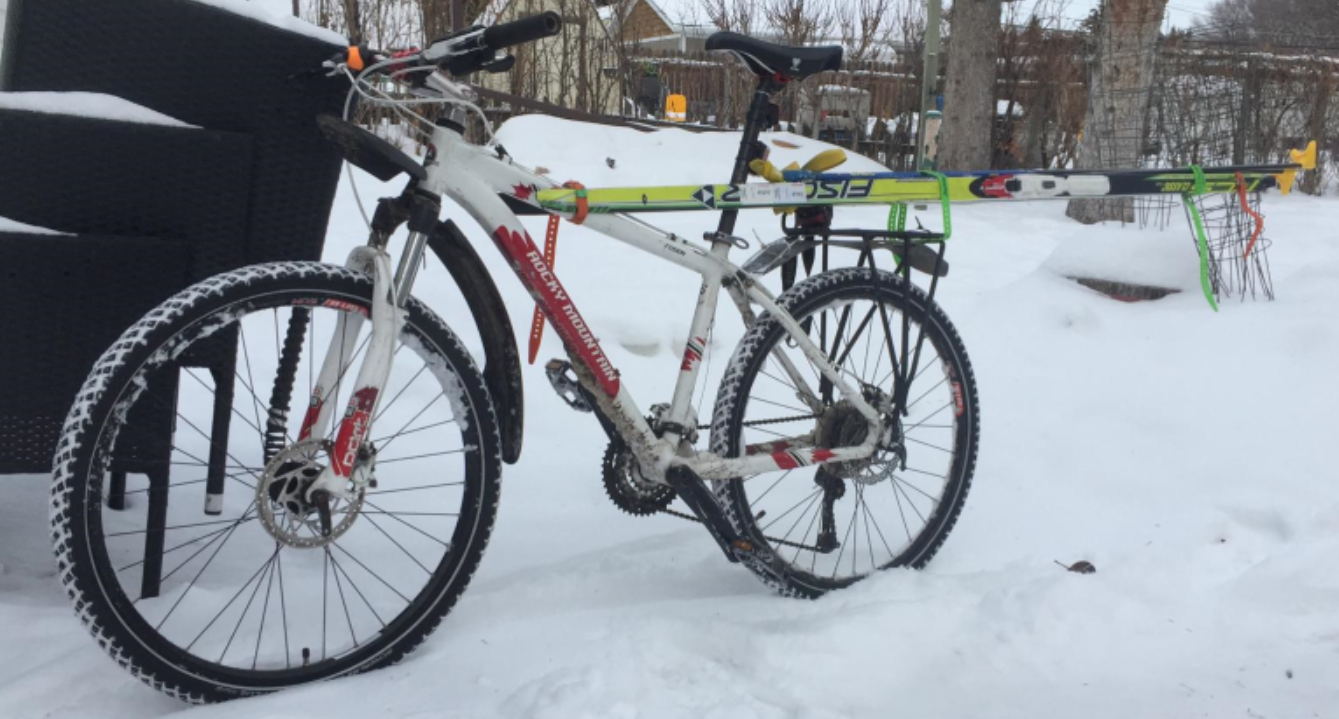 Adapting modes of transport to local conditions, while remaining faithful to VOC application of Voile straps.
Despite the cold and the dark, adventures close to home were easy to find. Within a few days of settling into our new house, I began to cut new cross-country ski trails along the riverbanks. My optimal Praire ski quiver includes some old mountain backcountry skis that I pieced back together (the edges had peeled off and I epoxied them back into the core) and mounted with Voilé 3-pin bindings. On these skis, with kick-wax on the base and cross-country-ski/downhill hybrid duck-billed tele boots, I could make good time breaking trail, and link a few rare telemark turns where I found enough slope for the purpose. Close to home, that's at the river front. Further afield, the Qu'Appelle Valley offered 100 m ski runs down the coulees where pockets of powder could be found interspersed among the ubiquitous Prairie wind-crust.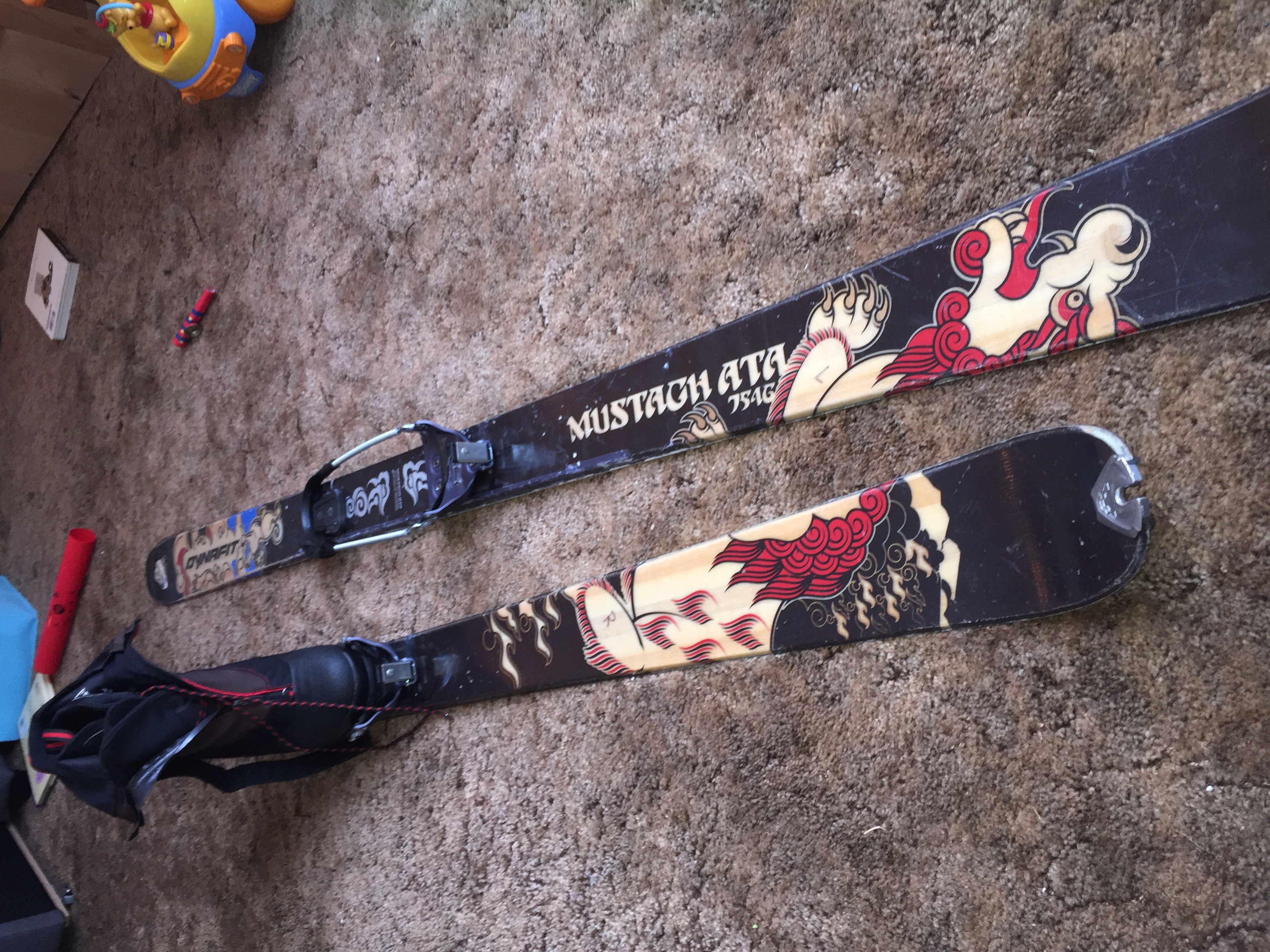 A new quiver for Prairie ski touring. 3-pin bindings with removable cables (I basically never need the cables) mounted on some beater Dynafit touring skis with flexible duckbill boots. 
Shredding the Saskatchewan Gnar (linking tele turns on the riverbank close to home).
Winter Wonderland by the River at Minus Thirty.
Likely no Saskatchewanian outdoorsperson would survive winter without some regular skinny skis either. After track-setting from the backdoor a few kilometers along the river on my tele skis, we built our own ski trail that eventually connected with groomed XC ski trails maintained by the Saskatoon Nordic Ski club. Cue the skinny skis, where I took grand pleasure flying down the groomers at high speed, when my injury allowed it.
An hour north of Saskatoon, there is epic rolling and forested terrain perfect for XC ski, at Eb's Trails, and we enjoyed some great skiing there before things melted away.
Two and half hours north lies Prince Albert National Park. We only got up there once this winter for some car camping under perfect spring ski conditions. Here it was possible to fly across frozen Waskesiu Lake on skate skis, taking advantage of the spring melt/freeze crust. I imagine there must be lovely hilly bushwhacking to be done out here on my tele skis and will have to wait until next year to find out.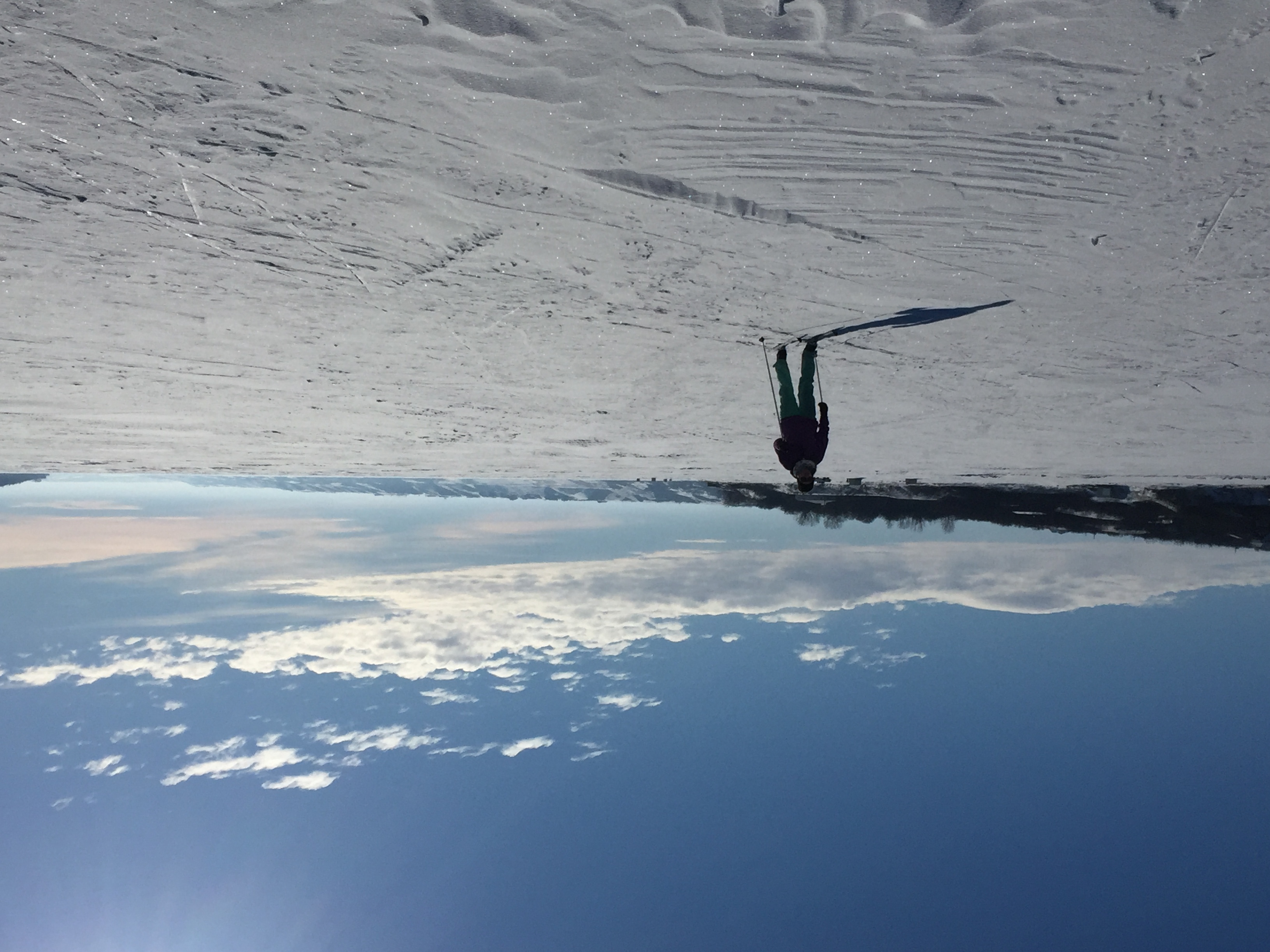 Skiing on frozen Last Mountain Lake, with the coulees of the Qu'Appelle Valley visible in the background (some telemarking to be had there).
Spring skate-skiing the melt-freeze crust on Waskesiu Lake.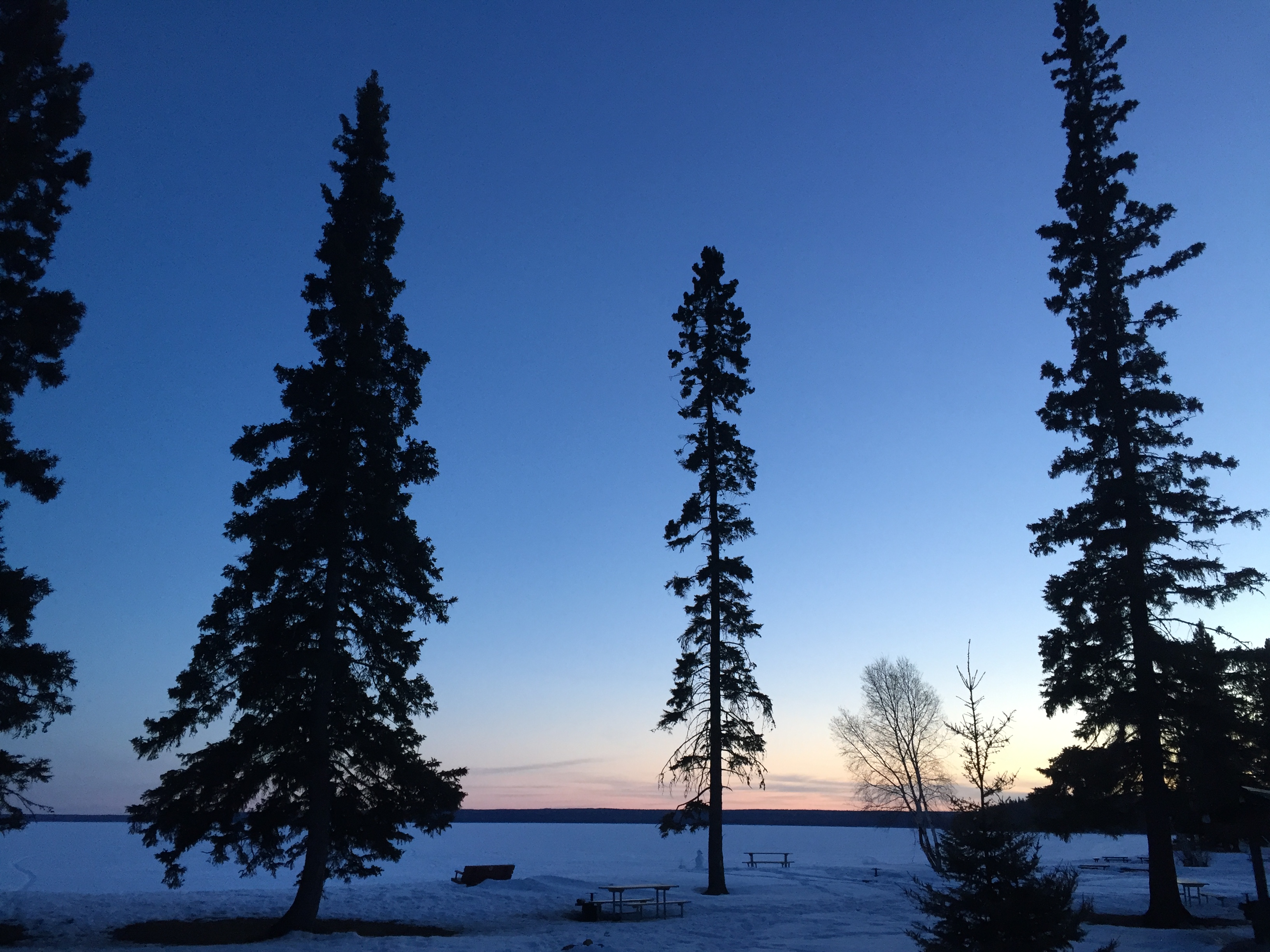 Winter camping in Prince Albert National Park.
One of the big challenges for us with winter was simply managing temperature. We had several issues with our car not starting, or springing a tranny oil leak, during the cold spells. This kept me a bit hesitant from venturing too far afield for fear that without a reliable car, being trapped at negative thirty or colder far from civilization could have dire consequences. The Prairies have low population density, so it gets desolate pretty quick once you leave town.
We've sunk some money into the car and hopefully will have better luck next winter as we figure out how to keep it running during the bitter cold. We've also considered building a wood-heated tiny-home on wheels to tow around and allow us to get out with our little guy on winter family trips while having the security of a heated structure for lunch breaks and in case of vehicle problems. We'll see if we can fit that project into our budget.
The other interesting thing about the bitter cold is that even going for a 5 km bike ride to the grocery store is a serious adventure at negative thirty. Every inch of your skin must be covered lest you get frostbite. I learned to swap out my metal-framed eyeglasses for the cheapo plastic ones out of worry the bridge over my nose would freeze up my skin. Transitions, i.e., the time spent between parking your bike, fishing your keys, locking it up, getting your facemask on, and getting into the grocery store is a big crux. I guess in the old days you could run inside any business in a hurry, warm up, then deal with locking the bike up after a bit of respite. But now with covid things are a little different. I sure hated getting my hands frozen numb during the bike-locking faff, then having to further freeze them up shuffling around my bags trying to find and don a facemask before entering a shop. Do that once or twice a day and you are well-sated from your adventure thirst. Arguably, thieves aren't out nipping bikes at negative thirty so maybe the bike-lock faff isn't even necessary, but I'd rather not test that theory out.
Of course, things like phone batteries dying, or in my case the insulin in my insulin pump freezing solid, also happen real quick in those temperatures. Gotta keep everything tucked away!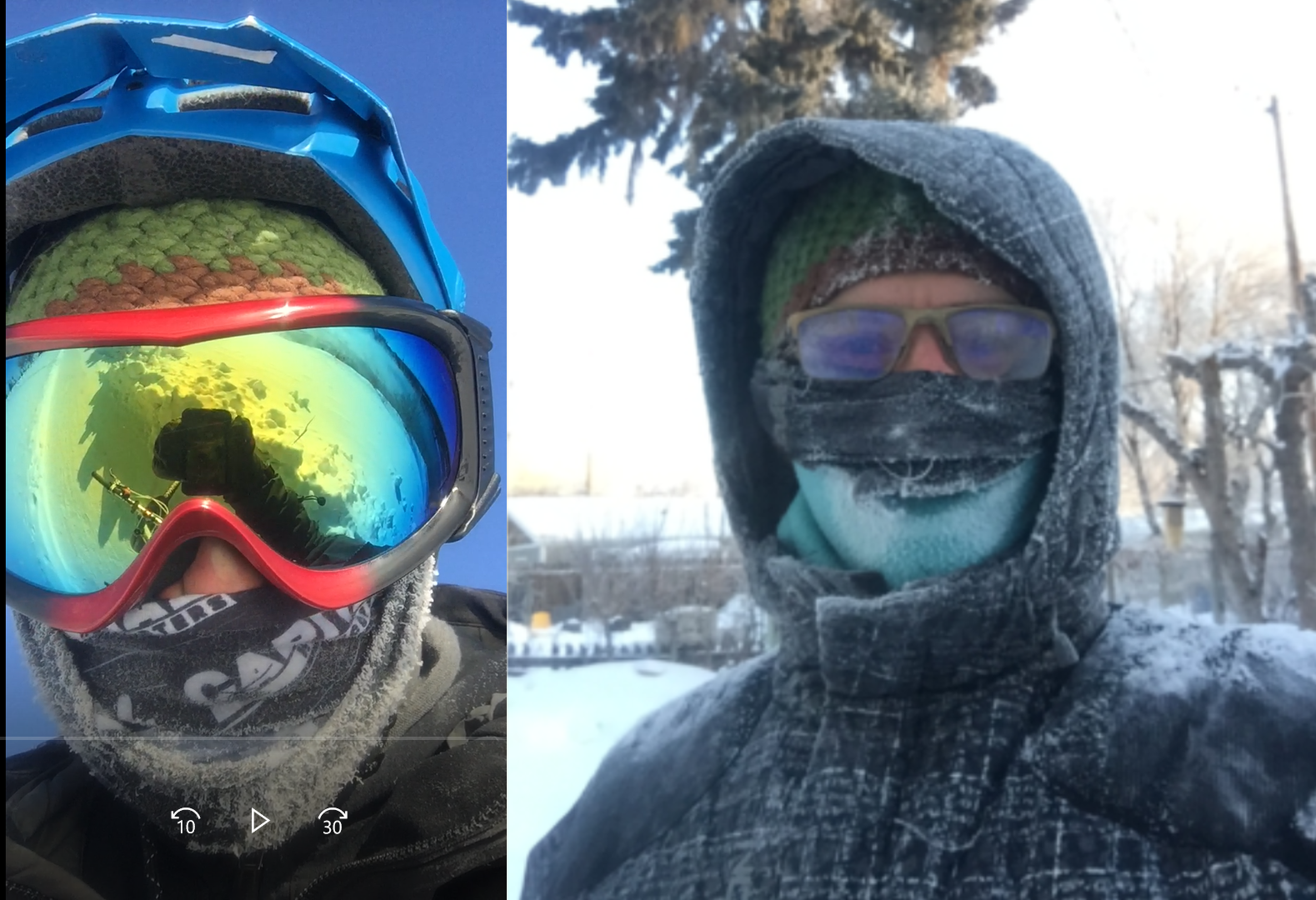 Urban adventuring, a.k.a. getting to the grocery store during a cold snap.
Thankfully spring is now here and we've switched gears into a bit of an easier mode. Easter weekend we spent hiking and camping in Saskatchewan Landing Provincial Park where coulees dipping below the Prairie presented incredibly scenic ridges. It really is all-time hiking, I would say equally enjoyable as alpine ridge walking in the big mountains of the west with a big open feel to the landscape.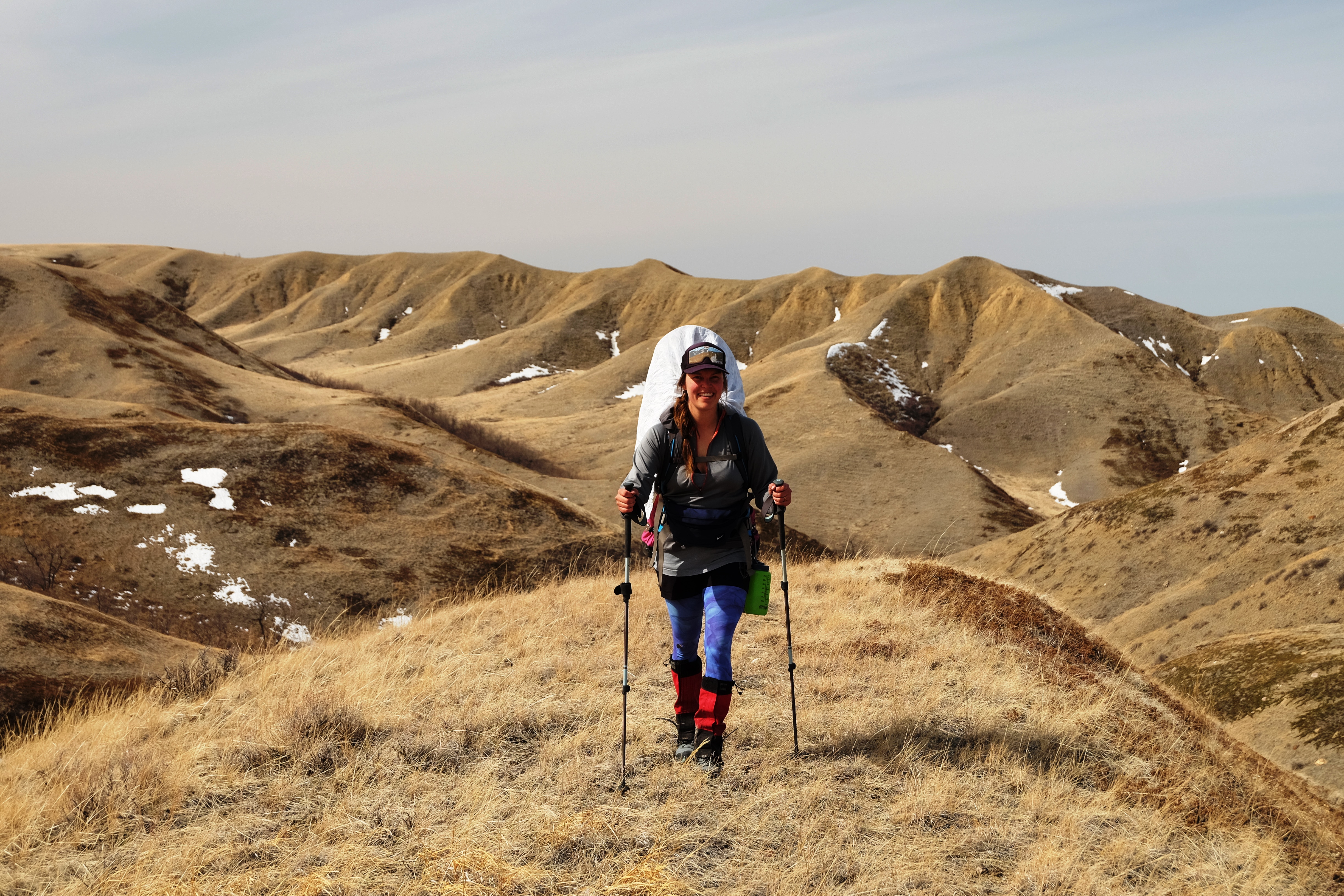 Stunning hiking in coulees above Diefenbaker Lake.
We just purchased a canoe and are excited about paddling the river close to home—no car required. Prince Albert National Park has some nice canoe loops to consider later in summer, and a bit further north the Churchill River / Lac La Ronge area has some of the best canoe-tripping country in the world. Endless Canadian Shield lakes connected by small narrows, rapids, and portages. I'm certainly excited about exploring up there on a longer trip.

A new mode of transport.
There are a couple things I find challenging for exploring the outdoors here. I've enjoyed a few long bike rides in the countryside. While the traffic is next to nil, the options for paved riding are either high-speed highways or gravel range roads. I'll take the gravel over the highway, but it makes for a noisy and slow ride.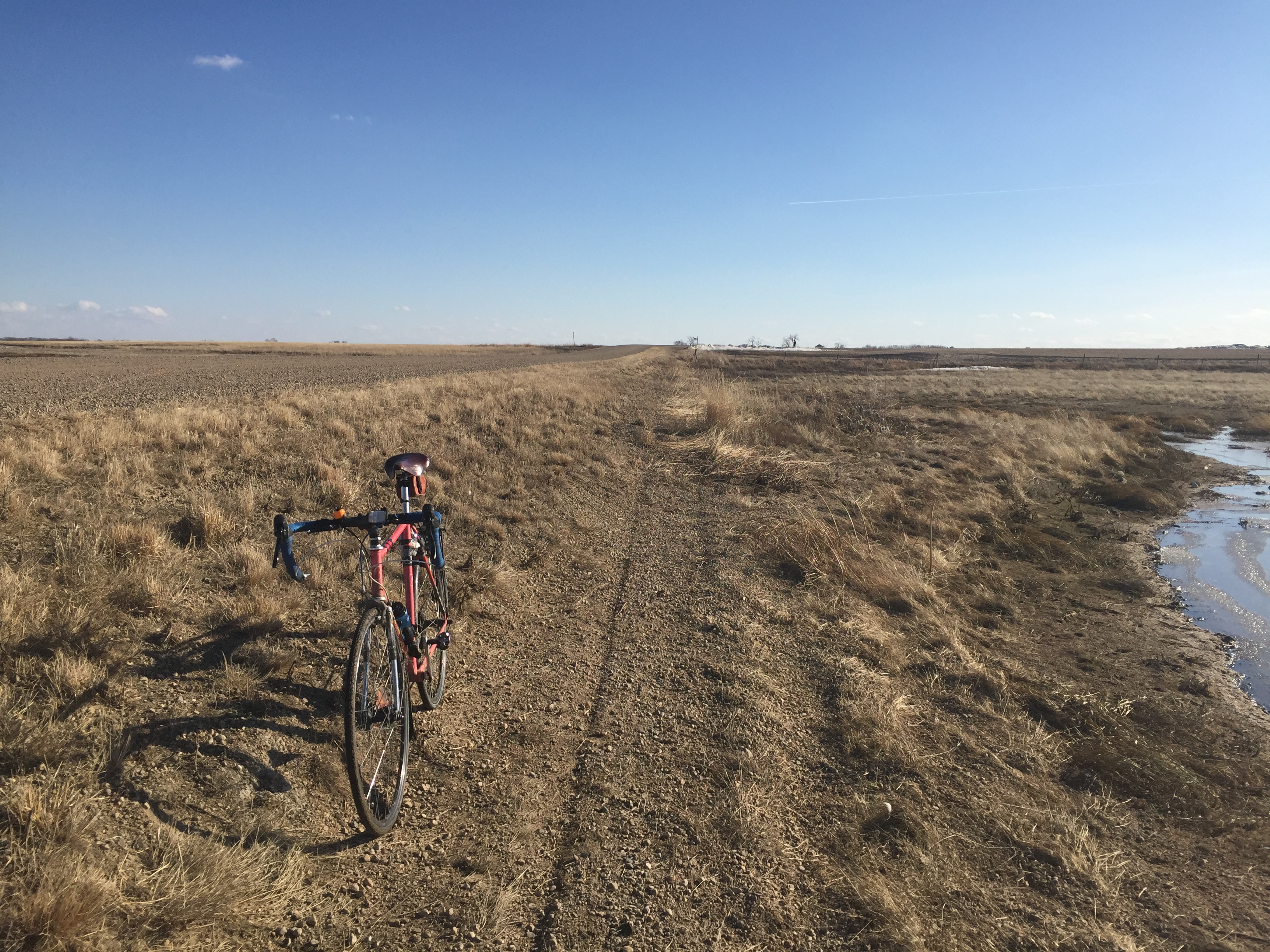 Prairie Bike Riding.
I've found the native Prairie absolutely stunning, but also extremely elusive. Essentially the entirety of the Canadian Prairies have been replaced by cropland. The only pockets left untouched seem to be areas that are obviously infertile. These includes swampy lowlands covered in aspen thickets, sandy dunes covered in juniper and cranberry, and coulees where the slopes are too steep for the plough. Yet when present, these little pockets of untillable land are heavenly oases of grasses, cacti, deer, antelope, beaver dams (in the ravines), porcupine, and birds. I just wish these islets of wild were a touch bigger. Even for the transient human visitors to these conservation areas, it is painfully obvious that you run out of trail after only a few kilometers, when you are boxed in by barb-wired fence delimiting agricultural land.
Pockets of native Prairie amidst cropland.
The other funny thing is feeling like an outlier for adventuring around here. I know Sask adventurers exist, but I think they are fewer and further in between than my circles in BC. I haven't really seen anyone else out telemark-touring, off-track hiking, or doing similar sorts of explorations a bit off the beaten bath around town. I suppose nature begets adventure, and with what isolated patches of untouched wilderness are left around here, adventures might be less commonplace. It's not like Vancouver where I was a pea in an adventure pod of VOC-types all gung-ho to crush miles and miles of arduous mountain trail for the pure pleasure of exploration and adventure. Admittedly, meeting new people in a new city during a pandemic is slow-going so I'm sure I'll make some connections in due time. And to their credit though, Saskatooners are to be found cycling at all extremes of the thermometer. Kudos.
I lament the driving times. The patches of wild Prairie and vast tracts of Boreal Shield wilderness are amazing, but are often one to four hours' driving time from Saskatoon. That's a bit of a stretch for a lot of weekend trips, especially managing a one-year old's schedule around it all. There are nice places close to town, but you've pretty quickly circumnavigated their trail network making me question the value of the drive out in comparison with the "trip" value.
All in all though, there is a lot for us to look forward in terms of exploring Saskatchewan. This summer I hope to do some bike tours if we can find some non-barb-wired-off land upon which to camp for a night; to do some canoe trips either from home downriver or upriver, or further north in the land of endless lakes; to visit the larger intact grasslands of Grasslands National Park in southern Sask; and to enjoy hiking with endless views of the sky and the warm Prairie wind at my back. Stay tuned for some adventures from Sask from a VOC ex-pat as I uncover some of the province's outdoor gems.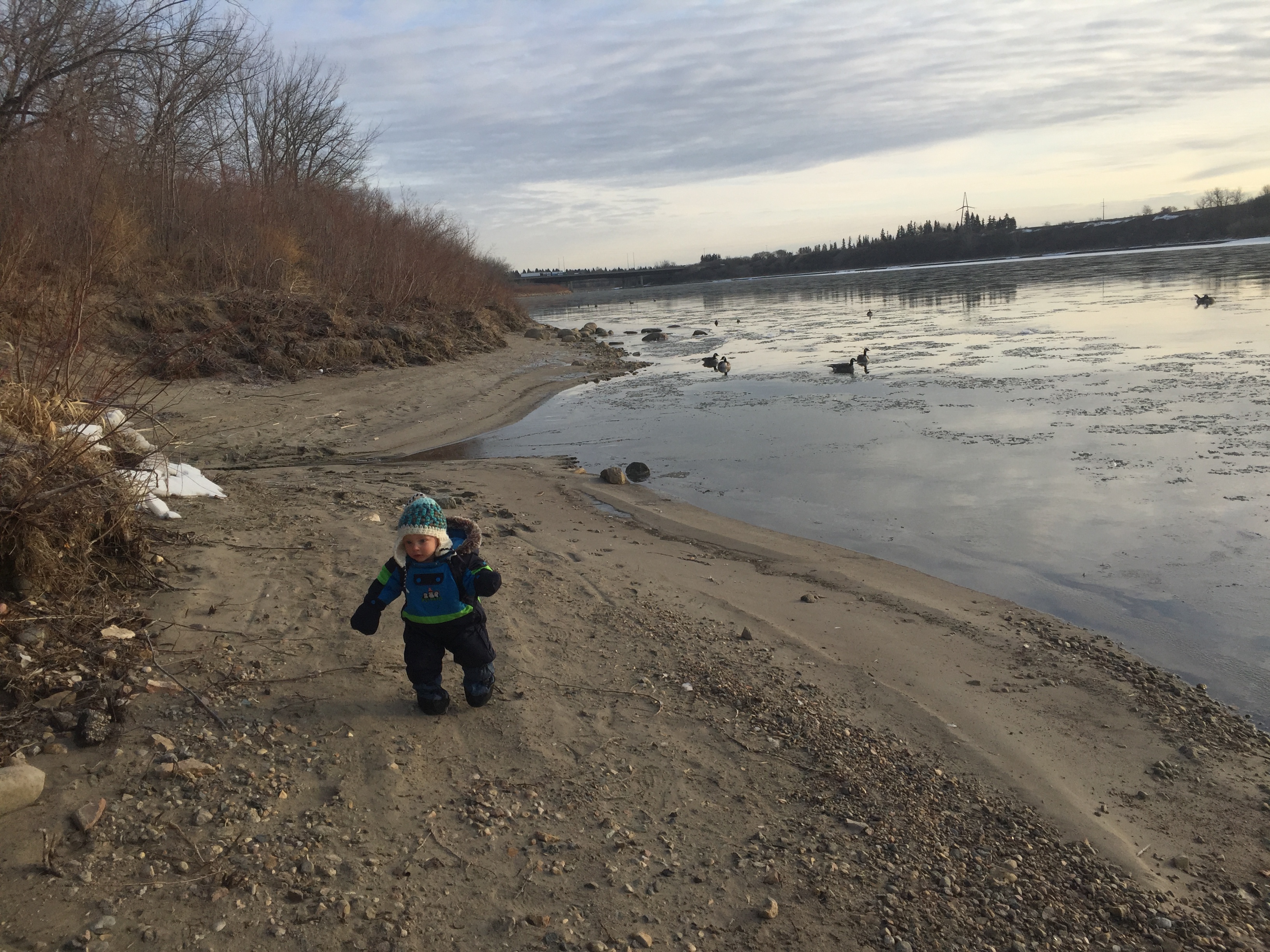 A little explorer on the South Saskatchewan River.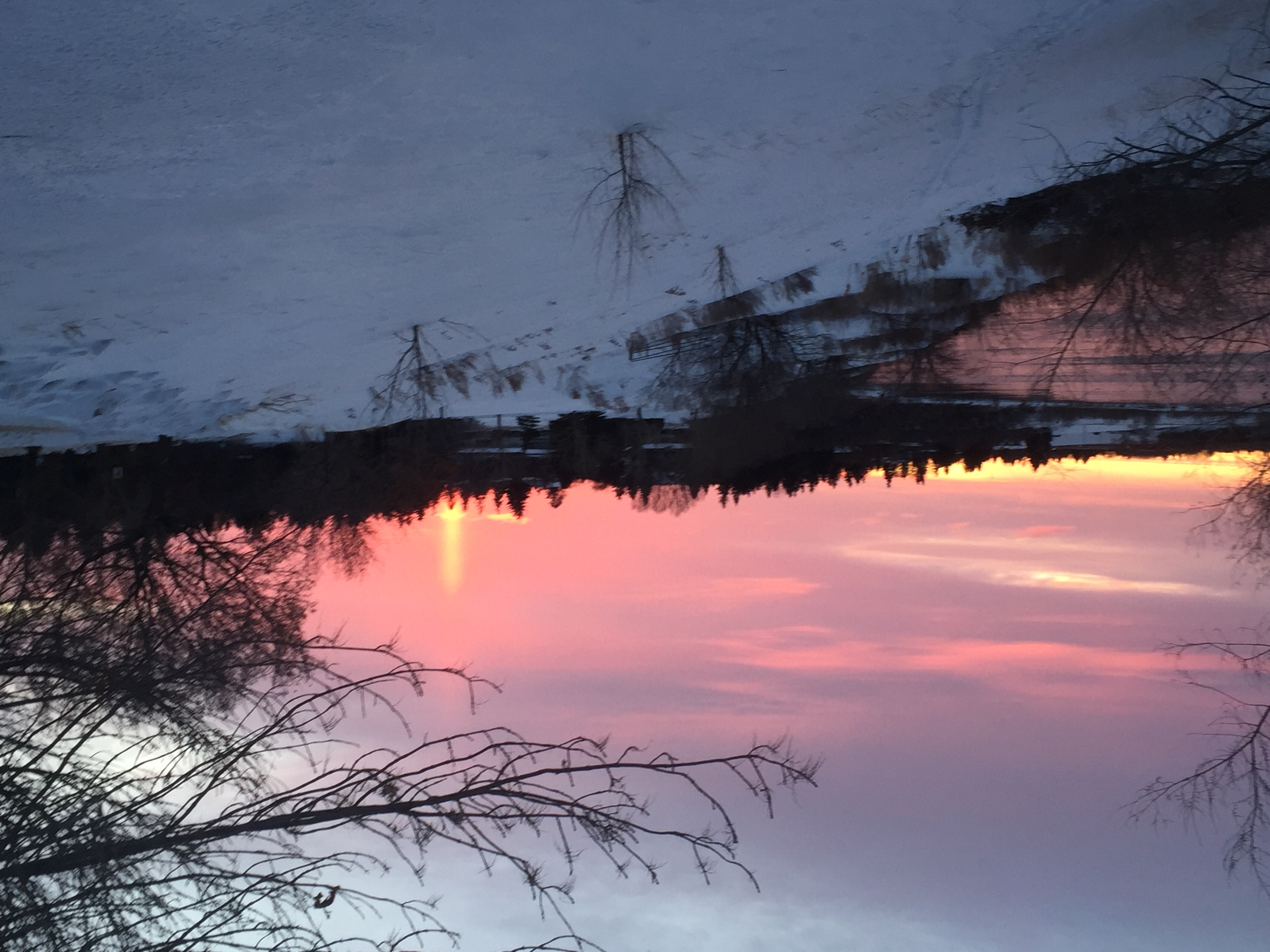 Prairie Sky on Fire.
I share a province with cacti.
Another Prairie Sunset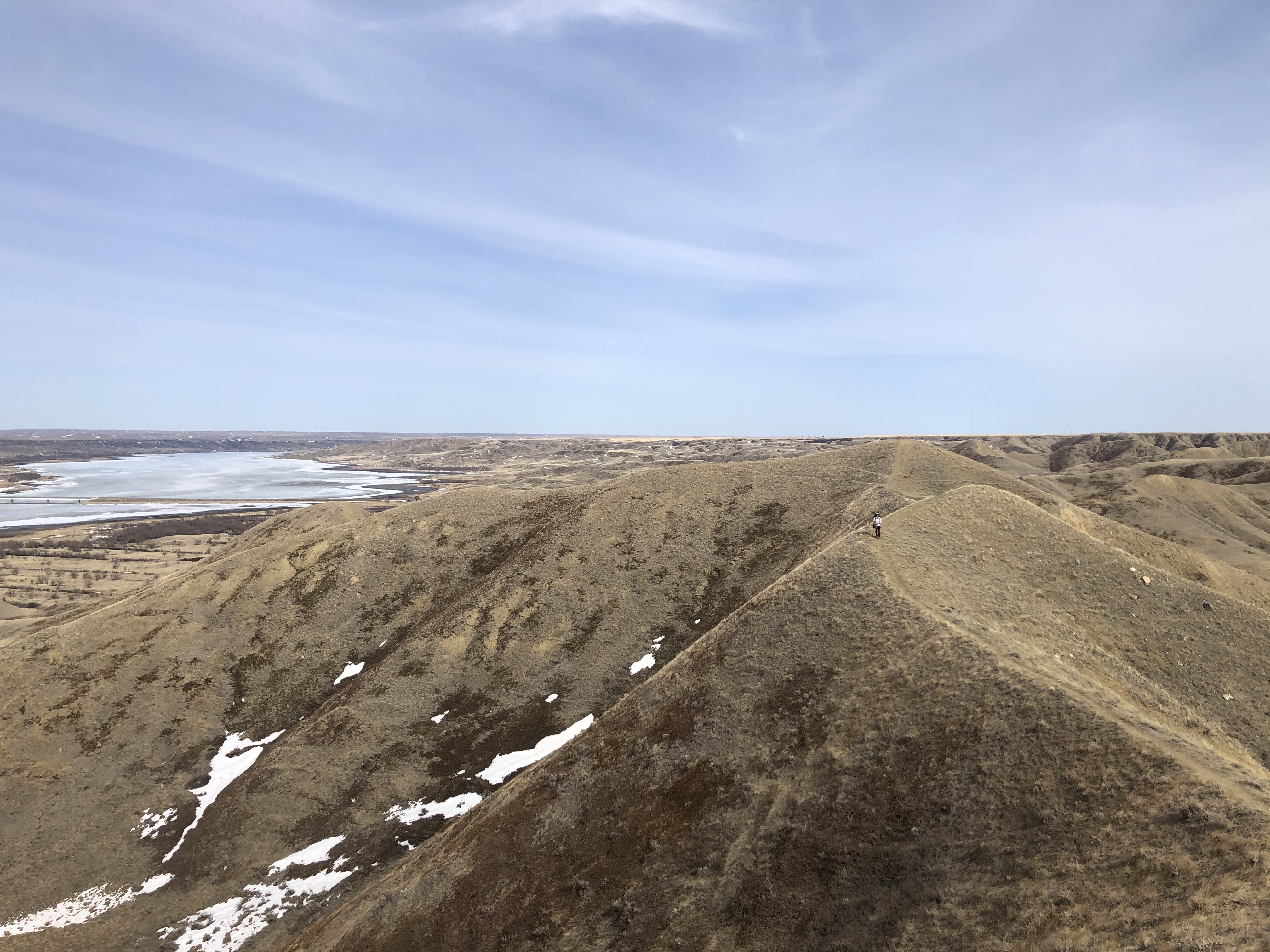 Here is to adventures in Saskatchewan!