I saw this ambitious expedition pitched as a Triple D. Researching into the International French Adjectival System (IFAS), a regular D: difficile (difficult) represents hard, more serious with rock climbing at IV and V, snow and ice slopes at 50-70 degrees. [1] If that's a 'D', I wasn't sure if we'd all make it out alive on a 'Triple D', especially considering our planned gear was only that of a bicycle each, plus some water.
Meeting at Grounds on Alma, I was surprised to find myself most prepared for rough terrain. I at least had a hardtail; my peer expeditioners Melissa and To brought road bikes. Our first stop, of all things, was a curious donut shop – Duffin's – a cult classic of sorts that sells everything from fried chicken to bubble tea. Needing as many calories in us as possible for the adventure ahead, I grabbed the largest donut I could see – a Cinnamon Flitter (sic), while Melissa and To went straight for the fried chicken.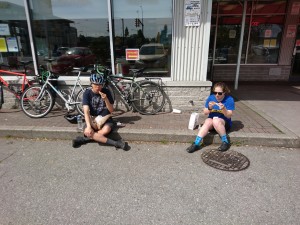 Our first real test was the Fraser river crossing. We descended easily to our crossing point and took a look at our route ahead. A thin passage, no more than a few meters wide, lay ahead of us. On our left was a barrier, and on our right (three hundred and change meters down) the Fraser river surged on. I tried not to think about it as we crested the top of the thin path and flew down the far side.
Our trip plan, once across the river, followed the Dollarton route. This route swings around closer to Indian Arm than the arguably more direct Seymour Pkwy route, shaving off a few dozen meters of required elevation gain and saving precious energy for the technical sections ahead.
We then descended into Deep Cove. Judging by the name I was expecting a couple raps or perhaps some exposed scrambling down to the beach, but none of that was required. The route plan brought us down a wide swath of consistent terrain – if I was to guess I'd say some sort of medium grained particulates held together by a large amount of bitumen. Good thing we didn't need to rap in; none of us brought a rope. Dismounting our bikes in the cove we took a breather on some surprisingly moist ground and grabbed some more calories from another conveniently placed donut shop – this one known as Honey's. I had a strong coffee in addition to some fuel and the three of us discussed our return route over the Fraser and back onto the Burrard Peninsula.
We returned the same way we came via the Dollarton route; it went easy having done it already. Once across the river we followed its bank, heading straight west and to our last destination – the heart of a dizzying cluster of enormous spires near the tip of the peninsula. Again we happened across a donut shop – this time, Cartems.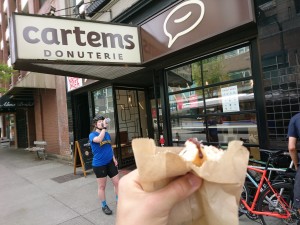 We savoured our treats on this third and final stop before making one final crossing over the so-called 'False Creek' via the Burrard route. Not nearly as elevated nor as exposed as our previous crossing, we traversed it with ease. At this point I was headed home, so we exchanged farewells and called the trip a success.
Having completed this Donut Ride, I'd suggest an IFAS grading change to F: facile (easy). Straightforward, possibly a glacial approach, snow and ice will often be at an easy angle. [2] Note that the only snow/ice we found on this trip was in my coffee.
Written by Michael Friesen, accompanied by VOC members Melissa & To
[1], [2] DIFFICULTY RATING SYSTEM,
https://www.proguiding.com/resources/difficulty-rating-system.html#:~:text=D%3A,sustained%20or%20harder%20but%20shorter
. Retrieved 5/2/2021.