These are some notes about what Ilya and I did on our week-long summer vacation, whose main plan was to ride the Chilcotins loop, drafted by the VOC's own Skylar des Roches. We bookended the adventure with some low-key wanderings up and down the BC coast. Words by TJ, photos mostly by IK.
From Vic to the Mainland
I think anyone who has lived on the Island for any amount of time starts subconsciously forgetting that places off the Island exist – this is the impression the more local locals give, anyway. It's in any case true that getting to the mainland is a faff. Anyway, if heading up the sea-to-sky with a car, it probably makes sense to drive to Nanaimo and take the ferry across to Horseshoe Bay instead of traversing all of Richmond and Delta and the big city YVR. But if you find yourself on the Island, you already know that. You are also almost definitely in an abusive relationship with BC Ferries. 
Copilot Scramble
The trip started with a mellow wander up the copilot/skypilot area with local running-for-a-long-time-chips-and-jokes team Joe and Jeff in the sogging rain. Not much to report there except that we abandoned the gully after the first rap station because if you're going to get injured in the mountains, doing so because you really needed to scramble up a very simple gully that water was pouring down is dumb, not epic. A small tarn offered a skinny-dipping opportunity. All's well in the west.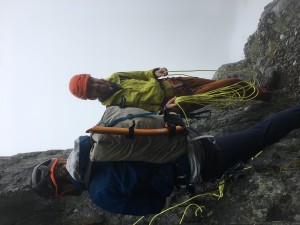 Visibility to write home about
Go North Young Man
To split the drive to the Chilcotins, because we had the luxury of time, we slept in the Cal-Cheak rec site. The rec site was predictably full, but if you keep driving there are multiple parking lots that you can stay in unbothered. If you put your tent up under the power lines, your poles will resonate at a pleasant frequency that could be the base of some interesting ambient techno. Move your tent, though. There was also what looked to be a burnt-out meth lab in the opposite corner of the parking lot, but we slept well that night. 
The Loop
I'm not sure if I can give a better synopsis of the loop than the one given by Skylar. However, Skylar says it's 95% rideable. Good for Skylar! I won't venture to give a percentage, but I will say that I spent less than 95% of the time riding. Quite a bit of time was spent avoiding giant black-muck sinkholes/ fording rivers waist-deep/ falling on scree/ cursing rocks and roots/ etc. Because I've spent quite a bit of time riding (road/fixed/cyclocross, never mountain) bikes in various contexts, sometimes in those favouring speed, I'm mostly used to the 'I push hard I go fast' way of thinking about cycling, and my ego and I had to readjust to the 'I push hard I might get out of this hole today' wavelength. After day 2, which was the hilliest and during which I whined and swore somewhat, the readjustment was complete and I was fully here for the 'wander through the world on or around a bike' schedule for the remaining time. 
A quick summary: We left our car on the logging road somewhat west of Tyaughton lake, sometime in the afternoon, and started out on the loop counterclockwise. The first afternoon was mostly logging roads, and we slept at the lovely Tyaughton Creek Rec Site. The next day was around 32 km of hilly logging roads that gave way to hilly singletrack once we made it to the park. Views were lovely, mosquitoes abundant and less lovely. Hills were somewhat dispiriting, but once you get used to the idea that this hill will continue to be a hill for tens of kilometers, it all becomes somewhat easier to bear. Speaking of bears (sorry), none were seen on this trip, though we both of course carried bearspray in our holsters, like John Wayne but more so. We saw a grizzly track, which was cool (grizzly pawprints have all the 'fingers' in a line, while black bear pawprints have one below an imaginary line; chalk another educational moment up to the provincial park signing system), several bighorn sheep, a very at-ease seeming marmot, and some rather dumb grouse-like things that were nevertheless very cute. Day three brought exclusively singletrack through the stunning wildflowers, a big hike-a-bike up the scree to Lorna Pass, and properly amazing singletrack downhill. Half-day four consisted mostly of long descents through alpine-meadow-changing-to-birch-meadow-changing-to-dusty-scree-river, after which we packed up and headed into Lillooet for some good old faffing. 
All told, the trip took us something like 3 not-overlong-not-getting-up-early days and 2 hours, but could have been compressed into 3 slightly longer ones if you are up for a long weekend of lots of driving. I simultaneously found it physically and technically challenging and also think it's pretty doable if you are down for some type 2-3 fun at points. My partner rode a full-suspension fat-tire 29′er, which makes the terrain quite a bit easier to navigate than if you're riding a 26" hardtail from the early 2000s that someone lovingly cobbled together at the community bike shop (giant shoutout to Kickstand, who are just goddamn holding down community-feeling-inclusivity-and-accessible-transport over in East Van; go volunteer). However, it's still doable on the hardtail. If you're trustworthy, small-to-medium-bodied, don't have a suitable bike or funds to buy one, and want to do this trip, hit me up and I'll lend you my hardtail. Water access isn't much of an issue, creeks are everywhere. Some sort of bug-mitigation is probably a good idea. Caloric expenditure is probably higher than hiking/scrambling. Sometimes pushing the bike is hard. Knowing how to fix the majority of your bike and having spares of the critical parts is really important, because it's quite remote.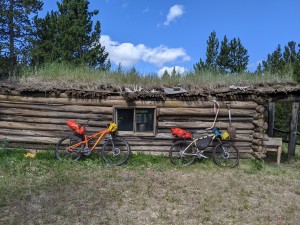 a choice of bikes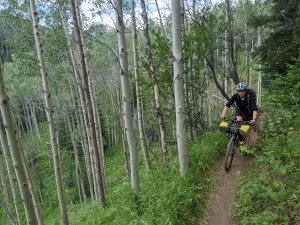 through the subalpine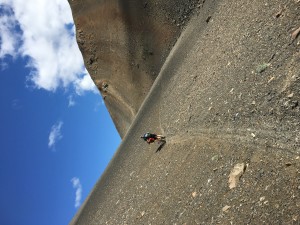 to Lorna Pass
So you want to faff in Lilloet:
We went the long way in and out of Gold Bridge – the way that's through Lillooet – mostly to avoid the ill effects of the Hurley FSR (the way that's through Pemberton Meadows) on our smol Toyota Matrix named Hertvig. This lead to many spirited discussions about how many times it's appropriate to play Fleetwood Mac's Rumours on a road trip. (I maintain: the limit may not exist.) It turns out we needn't have bothered, probably (though, if you own an F150-like vehicle and insist on taking turns at 70km/hr around blind corners on logging roads, you're an asshole and the Pemberton-Gold Bridge corridor contains about 200 of you, at last count). It's a good drive, though, on the shores of Carpenter Lake, with some death-defying drops that keep you alert. This meant that our post-adventure decompression/faff/idling happened in Lillooet and it was great! Here are things to do next time you're in Lillooet:
The Reynolds Hotel Pub serves ok pub fare for quite cheap by BC standards. If you want a beer you can either have a Bud or a Keit's. Keit's is fine. They also didn't mind that we were quite literally covered in swamp, or at least didn't let on. 
Abundance Artisan Bakery has great coffee, great baked goods,  nice people, and a room in which you can sit, read their cool selection of books, and update the maps on your GPS for the second part of the trip in case you forgot to do that before. The entire town seems to go there in the morning, but the line is fine. My partner bought an entire day-old pie for 35% off and then he ate it. 
Fraser Cove Campground is semi-pricey by dirtbag standards at $35 a night but has lovely views of the Fraser Canyon, chickens and sunflowers, and cheap showers in case you haven't seen a shower in a week. Peter the owner will talk to you about bear hunting and mountain biking and in general it's a really pleasant, friendly place to take a deep breath. 
The Kilowatt is a sculpture on the Lillooet side of the main bridge, made out of old hydro parts. It is the most Soviet sculpture I have seen to date west of Berlin.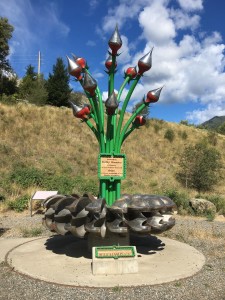 Buy-Low Foods has everything you need, including several flavours of Kettle Chips (Korean Barbecue is still a distinct second to Honey Dijon, by general consensus). Surveying the extensive snack options in the snack aisle, Ilya pronounced: "You know, I think Lillooet is very livable".
A note on fire:
At the beginning of the trip, we wondered if we were being silly heading to the mainland, given that BC is on fire, but spent a lot of time checking firesmoke.ca and assuring ourselves that such fires as existed were reasonably far from us. We saw no smoke for the whole trip (or really evidence of fire, except for the helis carrying water above Lillooet). We may of course have been foolhardy/lucky and the wind was always in our favour. 
Points South
The rest of the trip proceeded at a lower-intensity pace. We headed to the ever-lovely Semaphore lakes for some hiking/scrambling. Brilliantly, we unexpectedly ran into old VOCer Elliot Skierszkan up the Hurley FSR! An unfortunate fever incapacitated me at the end of our scramble and we retreated into Whistler-town for acetaminophen (the one in our med-kit had expired in 2003 (!) but I think it still worked) and staying still. Whistler's deeply weird. A symptom-free morning inspired me to go for a run-and-swim with Jeff (who drove all the way up the S2S just to go on a faffy run-and-swim– thanks!), at which point, perhaps unsurprisingly, the fever returned and I tested how many acetaminophen you can eat in a day. We missed the 8:30 ferry and so took the 10:40 one, leading to an exploration of the gas stations of Nanaimo at 1 in the morning – memorable. I learnt that this is a great song for driving down the Malahat at 1:30 in the morning after some 3500mg acetaminophen. At 2:30 we made it to our door, devoured some toast, took a perfunctory shower and slept until noon the next day. All's (still) well in the west.
*It's not really grim up north, but I've been listening to the KLF a lot lately and think they're great and also it's a reference to the fact that the Chilcotins are north of Victoria.