Sitting at 2,591 meters, Mt. Currie is one of the highest mountains that most of us have ever attempted. The elevation gain is brutal yet consistent, and with a surprisingly well-maintained trail, this could easily be a type 1 fun hike on a sunny day. There are viewpoints after the first 5km, which contains 3-6 different types of terrains along the hike, with a challenging summit that is still class 3. However, we ended up with type 1a failure due to the extreme white-out (10-15m visibility), ran short on daylight time, raining conditions as well as taking the wrong route(which was not mentioned anywhere). Overall, it was a fun hike that was a complete pleasure due to the incredible companies that we had.
(from left to right: Karim Elkholy, Kristen Krueger, Kaila Bonnell, Yiyi Yan, Matthias Sachs). We have Karim from Eygpt, Kristen and Matthias from German, Yiyi from China and Kaila from Montreal! So it's a truly Canadian team. Most of us are traveling with VOC for the first time, and are new to Vancouver)
We planned to leave the campsite at 7:00 am, and to finish the hike in 8.5 to 9.5 hours (estimated based on AllTrails stats). The actual hiking time was 10:59:49, started at 8:02 am at around 2 km from the trailhead. The distance recorded are different on different platforms: AllTrails(22.9km, 1,895m), Connect(22.83km, 1,840m), Strava(28.29km, 1,918m). We finished the hike at 7 pm, just before sundown at 7:45 pm. Surprisingly, there are services for most of the hike exclude the summit section but be prepared with GPS devices cause you might get lost in the scramble easily.
The start of the trail is a soft and clean, and the weather was a pleasant 25 degree with overcast. It's quite humid, but it means less need for drinking water! We had a very steady pace going uphill at 2.3km/h, the trail is mostly clean of roots at an consistent angle. Although there are not many trail markers, the trail itself is in good condition that no marker is required before scrambling. Unfortunately, for the first 5km, there are not much views. But after that, the hikes become more and more interesting, as well as the views.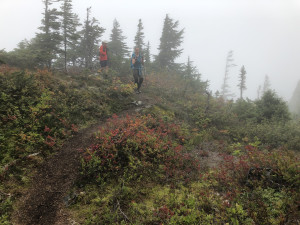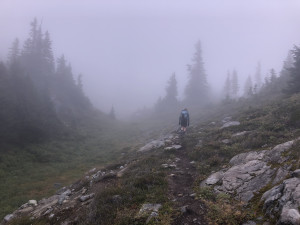 (we didn't take pictures for the first 5km, but it's a pretty standard "normal hard" hike, zip zagging into the mountains. At 5-6km mark, the tree becomes shorter and it became a mountain meadow hike)
After the midpoint of the hike, the trail becomes more diverse, and there are viewpoints at every corner. Mount Currie is hidden behind some small peaks here and there, but on the way, it's facing a valley that is breathtaking. In distance, you can see waterfalls here and there; creeks are all muddy white, rich with glacial flour; hidden cliffs at the turns can give you a cheap thrill.
(When we were hiking up, it was a complete white-out. But we had some grand vista when hiking down)
The hike after this "panorama" section becomes a bit harder and steeper, as we hiking towards the base of the summit. It's mostly not marked, and we were only guided by the inuksuk and AllTrails map. Under Kaila the great guide's leading, we managed to stay on the "road". There are mostly 3 types of terrains: grass-covered small scramble, small scrambles, and large scrambles(human size boulder). Trekking poles become useless in this part because sometimes you will have to use two hands to stay on the slippery rock (it was raining). This goes on for about 6 km, and we were going at the speed of 2km/h and less. The visibility got worse and worse near the summit, and although it was not raining, everyone was wet, if not soaked, from the high humidity in the cloud. The funny thing is we hiked by some Marmots and mistaken them as lost hikers due to the similarity of Marmot's scream and whistles (Marmot sound). We gotten really freaked out, and whistled back and forth, trying to communicate with this furry "lost hiker". I don't think Marmot understood the SOS morse code signal, or maybe it was our failure of not remembering the morse code correctly? (we were blowing two short bursts, which is the letter "I" in morse code). Anyway, next time when you are in the mountain and need help, do not try to imitate a Marmot.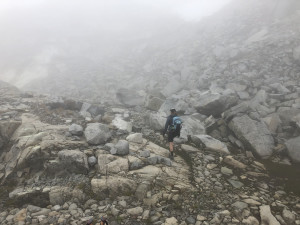 (The hike to the summit. It's on a slope at about 45-55 degrees incline, a perfect ambush area for marmot attacks.)
At around 2 pm, which is the time we set for turning back, we were at 2,100m (summit is at 2,591m), and about 1km to the base of the summit. We decided as a group that the weather is not favorable for summiting, as we couldn't see anything and were running short on time. When we were deciding, as if we need more persuasion, Mount Currie decided to throw a raining cloud in our face, with some 15-20km/h wind to push us off the mountain. So we kindly accept her suggestion and got the heck out of there.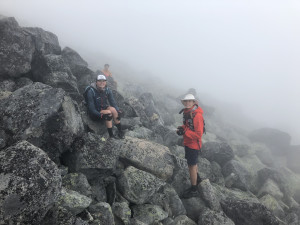 (The photo at the point where we turned back. Everyone can't help but smile)
The summit hike itself, based on AllTrails, is a 300-400m ascent over 500m. We cannot add more details to the condition for summiting but heard from another group that took a different route from us that it was not a good idea to summit in white-out and raining conditions. The hike back was more relaxed, but much colder due to the rain and the wind. The cloud started to clear out when we were going down, so we got to see some views.
A huge thanks to Anya and Jamie for organizing the trip, and Jamie and Matthias for transporting us!