This late trip report (1 month late) sums up our three night -"intro" to glampacking- trip in Garibaldi park. It is a conglomerate of raw testimonies and roasts from several of the group members. Have a good read and make sure to join "Intro To Glampacking 2" in March!   The trip started off on Friday as three different groups headed out of Vancouver at different times to meet each other at the Garibaldi Lake campground. My group arrived at the trailhead at about 2:30 and we were greeted by a beautiful sunset once we hiked  to camp. As the day rolled out and the milky way rose overhead,  the other groups began to arrive. The night was cold, with ice forming wherever excess moisture seeped out, but overall, spirits were high. Even after JP burnt his arcteryx jackets trying to put out a spontaneous fire caused by a gas leak (feel free to call Arcteryx at 1-866-458-2473 to complain about their refusal to fix/replace JPs jacket after his heroic act) and Selina walked into the lake, the trip was off to a great start.
Saturday morning showed layers of clouds and a threat of rain. Since many were tired from the night hike from the prior day, we got off to a late start. We decided it would be best to check out the conditions on Black Tusk, since Panorama Ridge looked to be completely covered in clouds. Some passer bys coming from Black Tusk told us that the conditions toward the summit were quite sketchy to say the least, so we opted to just reach the viewpoint and decide our course of action from there. The hike to the viewpoint offered our first sights of snow and thick fog on this trip. However, there was little to no wind and the way up offered some nice views of the lake and overall a great sense of comfort and confidence. Mother nature did not like the fact that everything was going so smoothly. She decided to shake up our little snowglobe to wake us right up.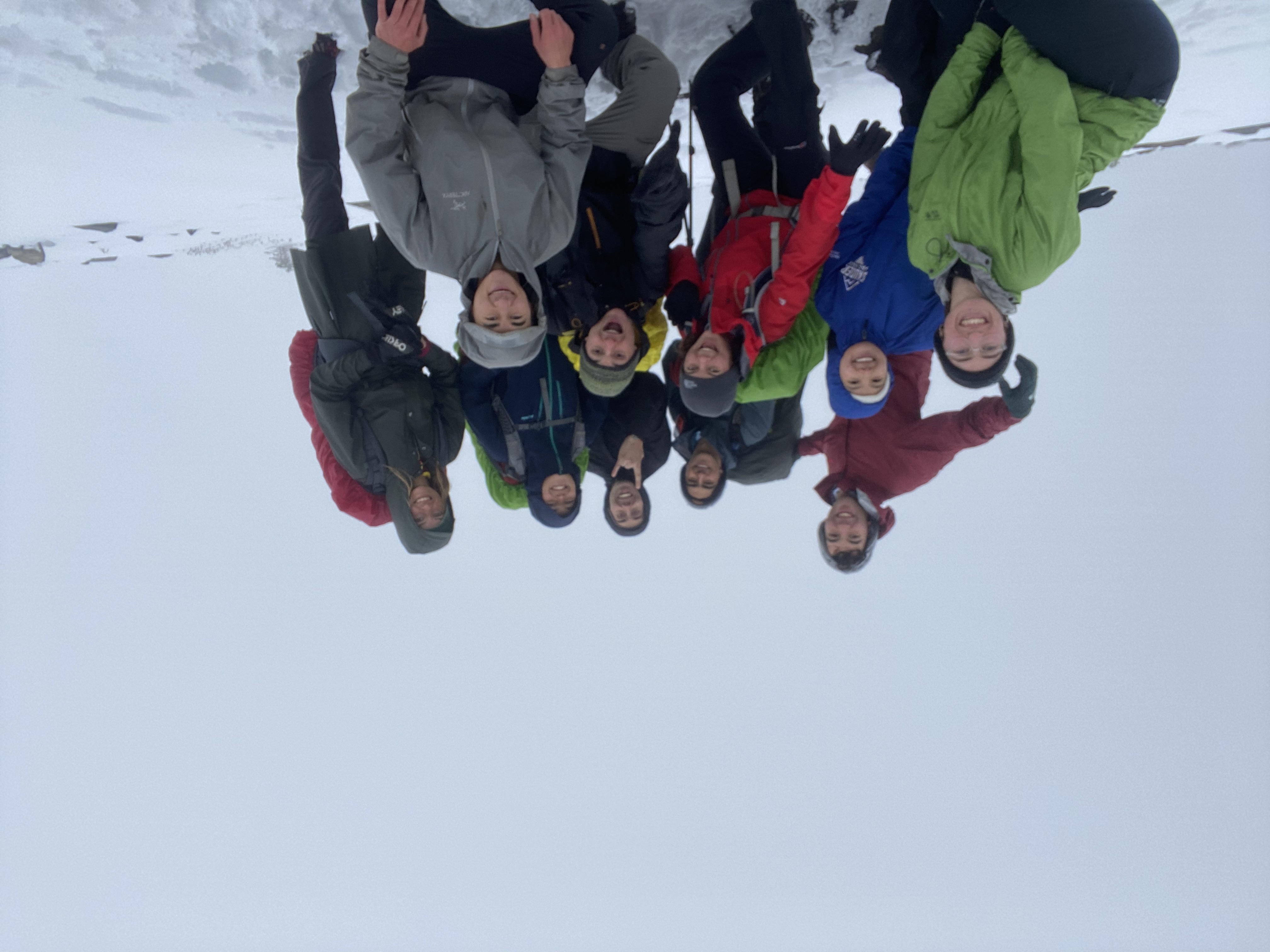 Our trek to Helm's creek was defined by sideways-snowing snow and whiteness everywhere. Just look at this picture:
Group bonding really started to take place once we arrived at the second campsite and began to make dinner with 10 people huddled under a small tarp. Sebastian was a frozen block, Benedict was eating cold mashed potato powder, Emma was sopping wet (that's what she said haha) and most tragic of all, Sirena dropped her noodles on the ground :(( We made it through the night without the bear whose tracks we'd seen earlier eating us though, so that was pretty successful.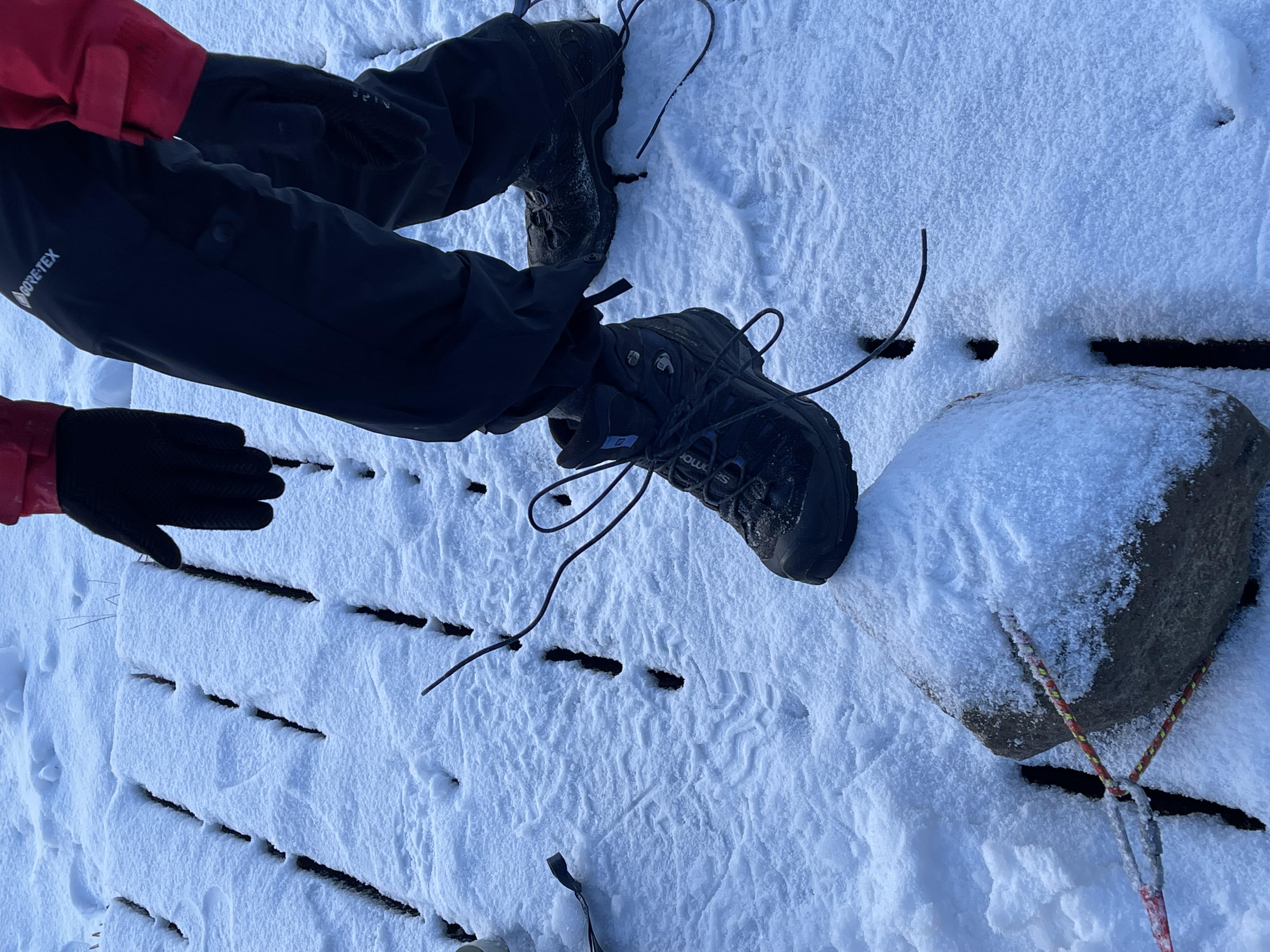 In the morning, many of us had a fun time getting our feet back into our frozen boots but then the sun came out and the peak of black tusk was glowing which boosted our morale! Despite stomping through lots of snow (JP being the only one who'd brought gaiters *cough-not-on-the-kit-list-cough* but still walked at the back), the third day was super fun and the views were incredible. Somehow at the end of all of this, Matt's feet were still attached to his legs even though he wore trainers – Nike should sponsor him.
Testimonies: Sebastian: I came home excited to pack some brand new wool snow-ready socks for the trip. My roommate and trip organizer, JP, told me that they were not going to be necessary since my feet would   overheat, sweat, and get wet during the hikes. I am pretty new to backpacking, so I decided to follow his advice and leave the socks home.   Sirena: This trip was literally the warmest and driest I've ever been in my entire life. With JP's excellent skills of guiding the group from the back (despite being the only one with gaiters), I managed to get totally introduced and extremely well acquainted with *glam*packing. I mean, I know her better than myself at this point. Overall, one of the best decisions I've ever made

  JP (trip organizer): I'm glad everybody was properly introduced to glampacking. And yes, I should have added gaiters to the packing list.  As someone who was raised in an arid climate, clearly I've yet to learn how to properly conceptualize what 20cm of snow looks like. Special shoutout to Ewan who, after picking me up, let me know what 20cm of snow meant and took me home to pack some gaiters, then for some bizarre reason volunteered to break trail (tree planters are weird). Jokes and roasting aside, this three night trip proves that even in sub-optimal conditions, you can still find some laughter amongst the little things. Wet feet, near-frozen toes, numb fingers and terrible weather conditions, yet nobody complained. For those in the group that were looking for a legitimate introduction into this hobby, I'm happy to see that you skipped the first few levels and still enjoyed it. Note to future JP: Make sure to run your trip through someone who has been here a while and knows their snow, this isn't Mexico.