This trip report is written from three VOCer's (Marie Sandler, Kevin Lam, Shruti Yogesh Vansia) point of view.
Day 1:
Marie's Experience: 
At 5:00 am, our car (the three trip leaders and our quinzhee group of Carolina Bombelli, Jacob Hotz, Guilio Saibene and myself) began pick ups making *very* on time stops at several campus spots. Piling 7 people and quite a few packs into the Pilot (Sierra's car), we had a smooth drive up to to the Squamish McDonalds parking lot with a bit of time to wait for the other groups, who also arrived *very* punctually at 7 am. After a bit of gear rearrangement, we headed towards the Forest service road, and made our way up to the lower parking lot. Due to icy conditions, some cars weren't able to make it up to the trailhead, and a few groups were shuttled up.
Most groups headed out from the upper parking lot at around 9:00 am, with the first group reaching the hut at around 10:30.  As people began arriving, we began to shovel some snow mounds to begin quinzhee construction, and by 11:30 the last group had made it up. Other than a few annoying snow shoe straps, all the gear worked out very well with no malfunctions.
The space by Red Heather had around 2.5 metres of snow and fit around 10 quinzhees and a few tents, but could easily fit a few more.
Even with 31 people and around 20 shovels, creating the snow mounds turned out to be a tedious process, but resulted in some seriously impressive snow mounds.  Some park rangers near the hut were quizzing passing skiers on avalanche safety and having free gear draws for participants. They were also very impressed with the snow mounds, and excited to see the outcome.
After finishing the mounds, at around 2 pm, Sierra gave us a little seminar about snow caves and other snow shelters, as well as some tips on quinzhee construction, and how to avoid collapse, as well as the importance of letting it set and having a thin ceiling. Nice to have an in-person class for a change :).
While most groups began hollowing their quinzhees, having finished our pile less than two hours earlier and as it was in direct sunlight, our group was a bit concerned at the risk of collapse, so decided to head up the hill above the hut to catch the sunset light. After a clearly essential photoshoot, we met up with some other groups also heading up to catch the sunset view. As we headed down, we were very disappointed that a thin trash bag doesn't make a very successful sled.
We then began hollowing out our hole, after being sincerely impressed by the spacious quinzhee by the snow table with benches and steps. Despite the slow start, once a person could sit inside, the digging process began to speed up. Turns out shovelling from inside out is much easier and warmer than removing all the snow from the entrance. While our group's quinzhee had a "minimalist" design, some groups went all out with steps and fairy light decorations. Our group was last to finish, but not so late as to miss the much appreciated rounds of mulled wine.
As the night progressed everyone started to head to their quinzhees, and after sharing some chocolate, our quinzhee group went to a surprisingly not freezing sleep. Suddenly, we hear a scream "Oh my god! Oh my god!", and see Jacob zooming out from the quinzhee. After perhaps one too many jokes about ceiling collapsing, we were certain that it was happening. The grand collapse. But a few minutes later, it was all sorted out (apparently tight spaces, unusual sleeping circumstances and all those jokes don't bode too well together).
Kevin's Experience:
Falling asleep before a trip outdoors has never been my strong suit, and this trip was no exception. At 12AM I was still preparing my lunch and realized I'll probably get 4 hours of sleep max for this trip – fortunately for me this winter long hike was a short long hike and the more sleep deprived I am, the better I'll sleep once inside the snowcave, right? My car group was a bit tight, with 5 VOCers sardined into a sedan named Athena, but we made it up to the lower parking lot without a hitch. My group didn't have the appropriate chains to get up the upper parking lot but thankfully we were ferried up by the other groups.
The hike upwards to Red Heather was pretty relaxing, we saw a large ski/splitboard touring group that were perhaps doing some avalanche awareness training or other event. Once we reached the Red Heather Hut, we began surveying the area for the nicest real estate, knowing that we could probably rent out our finished quinzhee for a good buck or two on Craigslist, "spacious 1 bedroom living area, lots of natural light, quiet neighbours, shared washroom".
For a few hours, we dug, piled snow, compacted it, and repeated until we had a sizeable mound going on. It was around sunset and I hiked up a bit with Lucy Luo and Josh Thorsteinson to enjoy the sunset and cloud inversion.
After sunset, we returned to continue hollowing out our quinzhee and eating dinner. Some people had created a snow table and I thank them for their ingenuity. One group that included Tilo Hase and Sam Salitra decided to really flex on the rest of the VOCers by bringing in ingredients you would see at a proper restaurant. They brought bags of rice, cooking oil, raw, unshelled eggs(?!?!! one did crack though), and other stuff I was probably envious of.
After dinner, hollowing continued for my group and things were looking a bit uncertain on whether or not we would have a place to sleep for the night. One of my group members decided that she would sleep in her tent, so now our quinzhee only needed to fit 4 people. Jarod Finnie passed by checking up on us, and decided that he would win our hearts by offering to dig for a bit. We looked inside our quinzhee and noticed that Jarod basically moved our progress from 40% completion to 80% in the span of 15 minutes or so and even strategically built an efficient ventilation system to ensure that we had proper fresh air intake while sleeping.
Eventually, we finished our quinzhee, decorating it with fairy lights that Lucy brought, and people were beginning to retreat to their shelters for the night. Lucy, Josh, and I decided to go up on a midnight hike to remove some excess energy that we gained from dinner. We put our headlamps to strobe mode, put on some tunes, and danced for a good while. Eventually, we turned in for the night as well, and I realized I had overpacked because I had begun to sweat from overheating in my sleeping bag. Who knew sleeping in snow could be this comfortable?
Shruti's Experience (Well ! There is always a first time): 
Unlike other members for the winter long hike trip, I started my journey on Friday night itself. As me and my friend Akash were in the same car group (The whippo car group as Ewan says), I crashed at Akash's place (UBC) around 10 pm. Being novice winter hikers, the night before the hike was all about figuring out how all our gears would work. Everything was new (knowing how to pack for backpacking, figuring out how to use winter gas & stove, headlamps, emergency blankets and so on). So engrossed into such cool gears, we didn't realise it was already 1 am and SHOOT! We were supposed to wake up at 4:30 am.
HOLA! It's a sleep deprived yet exciting morning! Ewan picked everyone from different spots on campus sharp before 5:45 am and our journey towards Squamish began! 5 of us in one car was a cosy drive all the way till Squamish. We reached Squamish McDonald's at 7:00 am and saw that most of the VOCer's had already arrived. A nice hot coffee before the hike was the only kick everyone needed tbh. The organisers Sierra, Jarod and Alia gave everyone a quick guide to reach till the Diamond Head Parking Lot along with walkie talkies for all the drivers to safely reach the spot, we drove our VOC Convoy for the ever so exciting Winter Longhike 2022. Due to the icy road conditions, there was a mandatory requirement for snow chains the way up towards the upper parking lot. None of us knew how to put on snow chains yet we did it. That was our first eureka moment on the trip. Some cars did not have the snow chains so they were shuttled up. After reaching the upper parking lot, everyone got decked up with their snowshoes and poles. We started hiking around 9 am. Being a newbie to snowshoeing with such heavy loads and climbing the elevation throughout, already got me tired after 15 minutes. The first breath of relief was when we reached the lookout point and could see the cloud inversion. The first group reached the hut around 10:30 am. However, everybody was at the top by 11:30 am. Special thanks to the amazing organiser Jarod who stuck by and encouraged the last group till the end.
When we reached, most people had already started piling up snow for quinzhees which was quite surprising. Our quest to build our first ever quinzhee started at 12:00 pm sharp after gazing around and learning from the pro hikers. Well, that was our second learning experience. We piled up the snow mound and compressed it by walking over so that it would become stronger. After finishing the mound which was twice my height, at around 2 pm, Sierra called everyone for a quick orientation on different types of snow shelters. That was my third learning experience.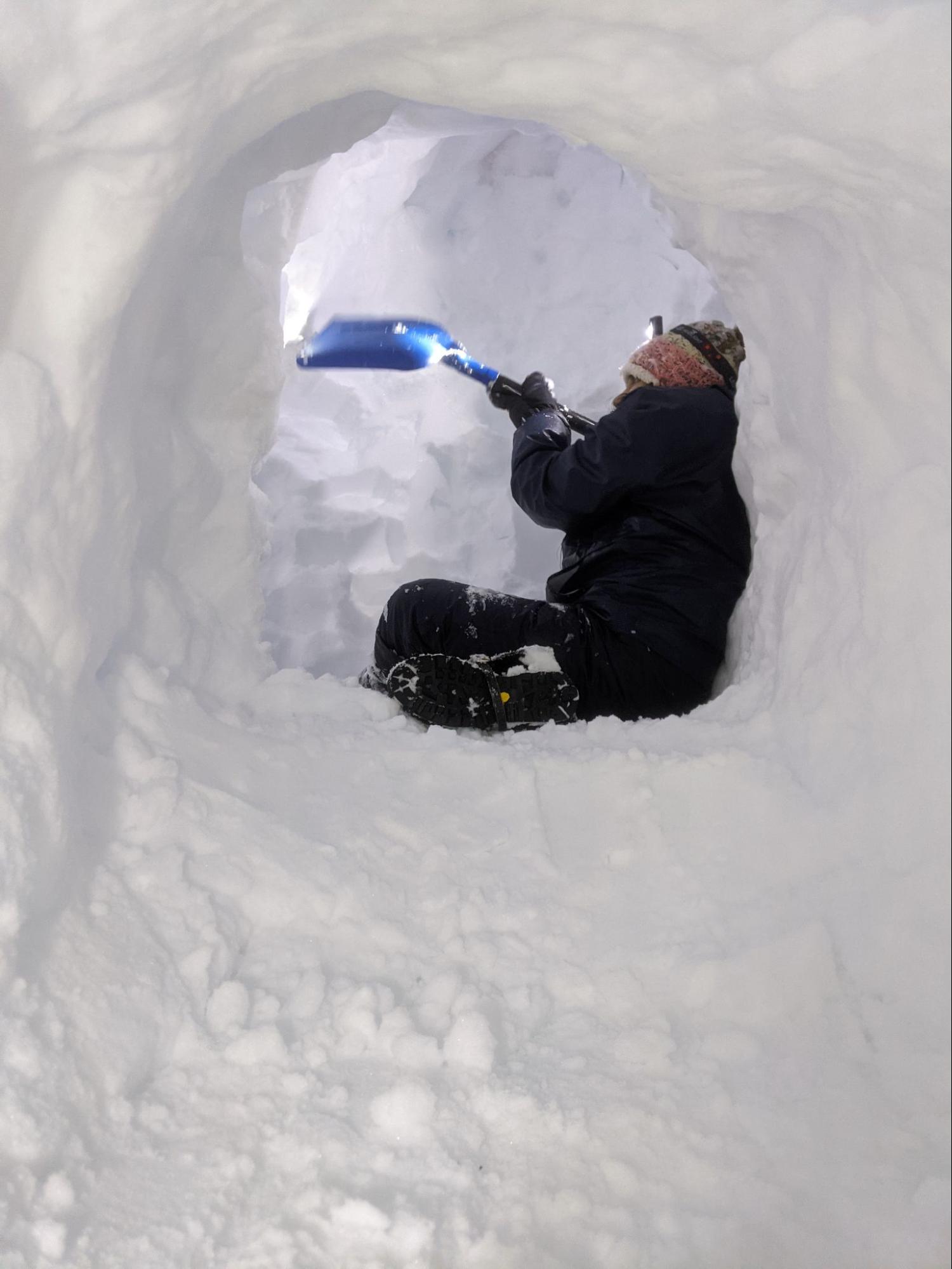 Once the snow was hard enough, we started digging the mound. Just 1 feet into the pile, Akash was quite petrified as he has claustrophobia and all we could see inside was white walls all around. So, I took a leap of faith and started using my feet to loosen the snow upwards as guided. 2-3 hours into digging the mound (it was already dark and our headlamps on), we were almost there with our not so luxury 2 person quinzhee, enough to keep us warm. Once done, everyone headed towards the red heather hut besides to warm up at the fireplace, dry up their socks and gloves and cook some delicious dinner. Although it was cold, everyone was enjoying mulled wine and dinner at the snowy dining table. Around 10:30 pm, we headed back to our quinzhee, set up the base to sleep on (Tarp, sleeping mats, sleeping bags and to be a lil extra, we also carried our blankets, coz first timers! Haha!). The night was panicky and restless as Akash had a claustrophobic attack and all he could think of was to go and sleep in the hut. However, since we were so tired, we soon dozed off. What a good night!
Day 2 
Marie's Experience: 
Waking up for a sunrise hike at 7:30, we decided that what seemed to be the light at the end of our entrance tunnel, was not worth exiting the warmth of the quinzhee. However, several groups headed out for a sunrise, or a slightly post sunrise hike for a view of the mountains above Red Heather. At breakfast everyone compared the warmth of our quinzhees, and were happy to hear most groups had a relatively not freezing experience.
By around 10 am, we began the demolition with the largest quinzee. One person came up and started jumping with the hopes of collapsing it, but after that proved ineffective, another person came up. Soon enough around 6 people were jumping on the quinzhee, until someone finally fell through.
While most quinzhees were easier to destroy, perhaps the most impressive demolition was the axe, as a group had over a meter thick roof which no amount of diggers and jumpers seemed to be able to destroy.
On the way down from the upper parking lot, we realised we slightly miscounted the shuttling and gear situation for the two skiers, so ended up with this:
Overall, the trip was very fun – and a few takeaways would be – bring a sleddable object (whether it be a toboggan or surfboard type object), no such thing as too much mulled wine, and although not very time efficient in terms of construction, quinzhees are not only warmer than tents, but also much cooler.
Thanks to the organizers for a great trip!
Kevin's Experience:
It's never a good sign when you wake up hearing your roommates saying "hey we have a leaky ceiling", although it's probably a lot less alarming when you're living in a snow cave and half expected it to happen with 4 bodies cramped inside. We had already planned to go out for a sunrise hike up to the ridge, so our leaky ceiling situation didn't faze us that much as we were already prepared to not sleep in.
My group that went up for hot chocolate by the ridgeline consisted of Lucy, Josh, Pushpkiran Ubi, and Thanh To. Once up there, the sun was already mostly up and the clouds were blocking the view anyways, but it was still a pretty nice view. A misplaced bag of cheesestrings sliding down the slope led to a truly nerve wracking (not really) rescue mission by yours truly and after a windy photoshoot, we decided it was time to head back down and begin the destruction of the quinzhees.
The destruction of quinzhees was actually almost as hard as building the quinzhee itself, which was basically stomping the crap out of the quinzhee roof until it collapsed and then digging out the sides until it fell inwards (brutal, I know).
After the destruction, we left the murder scene and began trekking out way down to the cars. The trip was all in all a very fun one, quinzhee building was enjoyable (and good knowledge for emergency situations), it was surprisingly warmer than I had expected, the scenery was beautiful, and the company was great.
Would definitely recommend sleeping in a snow cave at one point in your life, just for the experience. It is super quiet inside as the snow dampens all the sound around and it is a truly relaxing experience. Well, that's if your ceiling doesn't start melting or collapse from structural integrity failures. Thanks Alia Sanger, Sierra Jensen, and Jarod Finnie for organising this long hike!
Shruti's Experience: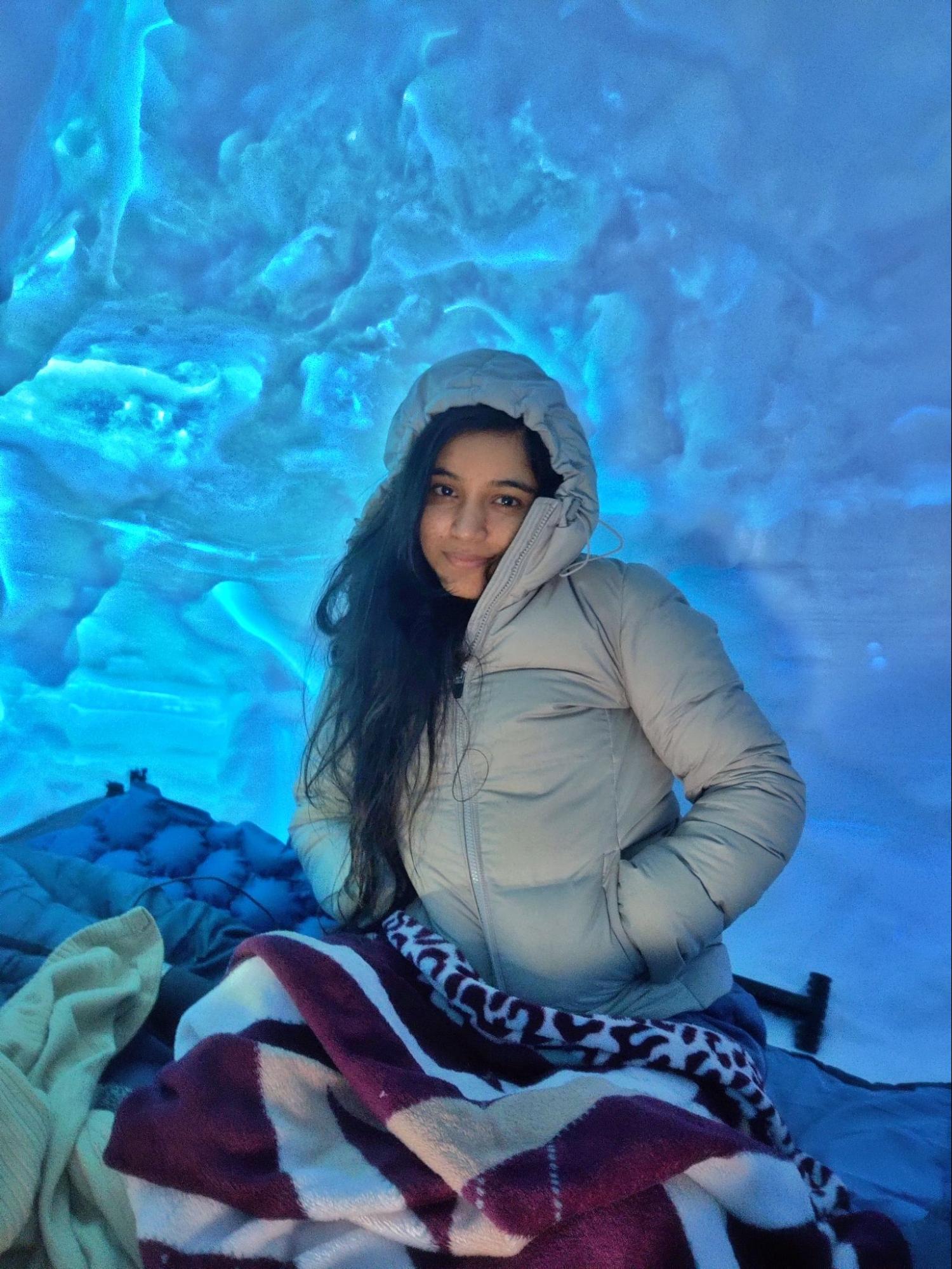 What a sleep I had, I still feel that I earned such a warm and comfortable sleep for the night. Even though it was already 9 am, I didn't feel like leaving my not-so-luxury yet sweet looking quinzhee. It was not that bright a day but I was really excited and happy that I even Video Called my friends and family to show them the quinzhee (Yeah there was network, what a surprise).  9:30 am we went to have breakfast in the red heather hut and we went to destroy our own creation. Couldn't be more saddening. Well it took almost 6-7 hours of sweat, and determination. Destroying the quinzee was equally tiring yet fun as everybody was excited to just jump over it together.
Once done, It was decided that we will start descending in groups. I was in the first group and all the way I just wished if I could have brought the sled. It would have been the best roller coaster ride downhill. Just after an hour or so, I was at the trailhead ready to head back home & sleep on my cosy bed with the sweet and remarkable memories I made and of course such great learning experiences.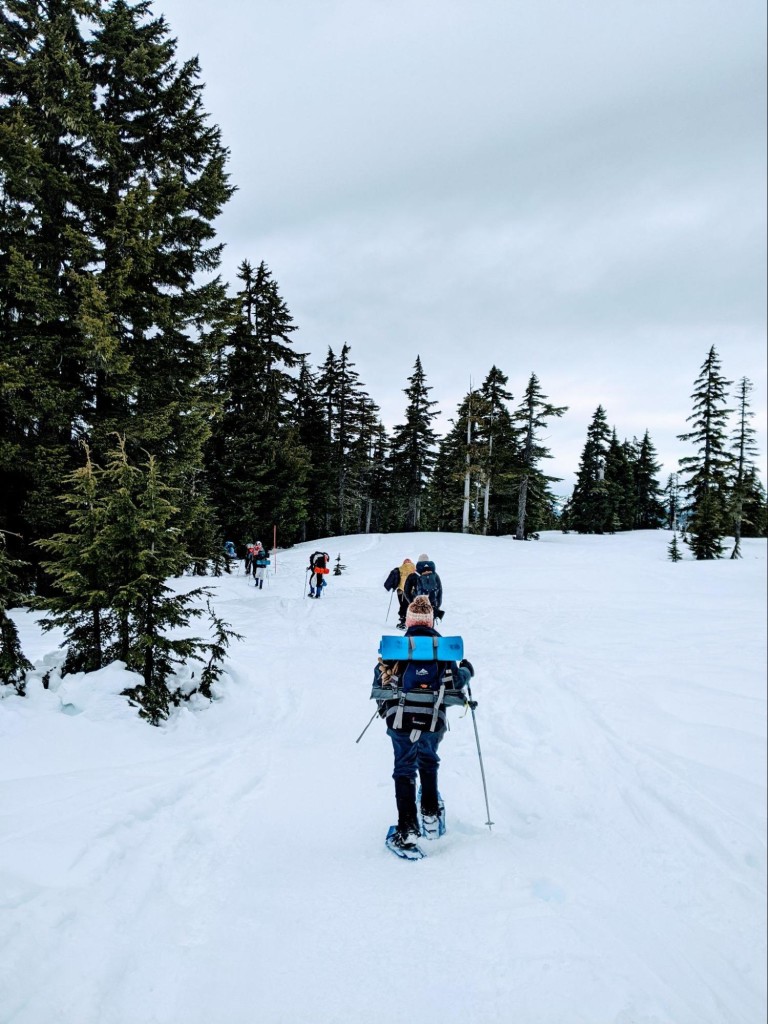 I would definitely recommend everyone to build a quinzee for once and spend at least one night there, just for the amazing experience and it definitely feels like an achievement to build one by yourself. If you have a "Never give up" attitude, any beginner can do it, if I could do it.
Thanks Alia, Sierra and Jarrod for organising and managing this trip so well! This trip was just the beginning of building many more snow shelters in future!