We got the message that the donations box was so full that nobody could get any more money into it and nobody else seemed to be doing anything about it, so we decided that this was the sort of problem we could solve. We also heard that the roof had a hole in it, and the firewood might need replenishing, as it normally does after a year of winter.
We planned carefully to get only the best weather, and to avoid carrying too much. We posted the trip on the VOC Trips Agenda to invite others to share the experience and to share the cost of gas ($100, $2.32/l in Pemberton) but the Vocene newsletter had no mention of our trip and in the end our car contained only Carla the driver, Michael Spagnut, and myself. Michael has been a long-time member of VOC but he had a stroke four years ago so he's just getting back into the outdoor scene. We cunningly left Vancouver at 4pm Friday July 1st, and the highway was nearly empty except for the cars going towards Vancouver. After the usual meal at Pemberton Mcdonalds, we were at the place where the Authorities had blocked the road, and we put up our tents, well before dark. The slide at km 0.6 could have benefited from a couple hours of work with a shovel but the loggers will fix that when they get around to doing the logging.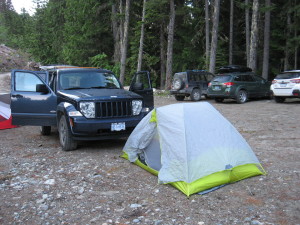 Base Camp Friday Night
Saturday we did breakfast (oatmeal cookies + coffee) and stowed the tents and were on our way by 6:15am with day packs. We thought that maybe we could slow down Michael by giving him the hammer and the bag of trail markers but it didn't slow him down much. He waited patiently for us. Nothing ruins a trip as much as losing one of the members. We encountered two parties coming down and they seemed happy. We hit snow about 2/3 of the way in. Carla brought microspikes and she tried to persuade me to wear them but I still think they are mostly for wimps, and I only fell on my face twice. By the time we got to the hut (11:15, no speed record) we were sweating and welcoming the occasional cloud. There seemed to be a bit of fresh ice on the lake, but by the time we left, the fresh stuff was gone. Nobody was swimming, but one group had left to climb something and we shared the hut with a VOC law student who had sore feet. Others we met up there said that VOC is doing a lovely job of looking after the hut and they were very grateful. We started doing what we came to do.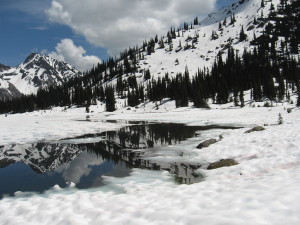 Nobody Swimming
What we got done and what we didn't:
Brought down the money from the money box.

T

ested the solar lights. They

seem

OK.

Fixed the door; it fits perfectly now. The screws were loose on one of the hinges.

Tested the outhouse. It works as intended.

Checked the wood supply.

Some wood remained, but w

e think that the hut might get used mo

r

e

next winter

, now that covid has mostly gone, so I'd recommend doing another chainsaw expedition.

Took pictures of the roof problem. We need to haul up an impact driver and thirty or so 3" screws because driving nails while upside down

on a ladder

is hard.

Also

might

need sheet metal cutters "

tin snips"

. There is sheet metal in the basement.

W

e didn't hang any trail markers because in the places needing markers we weren't sure where the trail was. We saw some tracks going down the wrong side of the river running out of Long Lake, and those folks would have benefited from some trail markers. Don't know what happened to them.
Roof Needs Work
The job of painting the main floor a light color seemed to be a good idea three years ago because it made the hut light and pleasant but the paint is now either covered with mud or peeling off, and I don't know what to do about it. We could re-paint with mud-colored paint. The upstairs could benefit from the same light paint color as we put on the main floor and wouldn't get covered with mud because we don't wear boots upstairs. I can provide the paint color if somebody wants to do this but I will not carry up two gallons of paint.
On our way back to the Jeep we saw two parties coming up. One party included two girls in bare feet. We mentioned that there was snow higher up but they said they had boots. The abandoned burned out truck was still there.

Car Needs Work
Animals: We saw three very fast road-coloured bunny rabbits. We saw a mother deer and a young one and the mother was prepared to attack the Jeep to defend the kid if necessary. We saw a third deer which was extremely fast and bouncy. We saw a bear cub, a bit blurry, heading off the road. We saw maybe a mother black bear and a teenager as we were walking back to the car and Carla said that maybe we should not have left the bear spray in the car. We advanced slowly towards them indicating we were not afraid and not very aggressive either, and they got the message and took off. Finally we got up at 5 am to take the tents down as it looked like rain. Carla was still in our tent when two bears wandered over. They figured out that they weren't welcome and took off. I'm glad we weren't still in the tents or the bears might have gotten curious.
Sunday:The drive to Vancouver was uneventful; not much traffic yet. It rained very hard for a while, No delay on the Lions Gate Bridge. We got home around 11 am. Had a nap.