Group members: MJ, Lou, Simeon, and AJ
Dates: June 22, 23, 24 (and also the 25th), 2023
Tuesday June 20th
In the evening, we had a pre-trip meeting and decided that the conditions were good (supposedly the snow coverage was alright with the glaciers filled in and moats not too bad – from various trip reports – the FKT had just been set a week or so prior), and it was supposed to be sunny with some clouds, maybe some rain Thursday afternoon and Friday.  We decided it was good enough and also to pack the following things: ice axes, crampons, 2 30 m glacier ropes (to be tied together for the rappels), harness, crevasse rescue gear, helmets, overnight gear, 3 days worth of food, etc.  We were able to get a couple gpx tracks off the internet, and discussed the following plan:
-day 1: summit Pelion (optional), camp at the Pelion / Tantalus low point
-day 2: summit Tantalus, then Dione (optional), then camp near the Jim Haberl (ACC) Hut
-day 3: summit Serratus (optional) and Alpha (optional), descend to lake lovely water, descend the trail to the squamish valley river, canoe across, bike back to the north end (where the car was parked), then drive home
*Day 1 arguably went according to the plan but the rest did not haha.  But we did all make it across the whole traverse!  Details below
Wednesday June 21st
Simeon drove up to Squamish with his car and a canoe on top, canoed across the Squamish Valley River, stashed the canoe, then swam back across.  The current was fast but it was manageable for a strong swimmer, starting upstream of their destination, and without a pack – note the current and water level vary a lot throughout the year this was just our scenario.
Thursday June 22nd
MJ using her car (non-canoe compatible) picked up everyone and we headed out.  We got to the little road that connects the Squamish Valley Road to the Squamish valley river at ~9am and MJ stashed her bike in the trees on the side of the little road (locked and out of sight in the bush).  We then drove to the Sigurd Creek Trailhead at the North end of the Tantalus traverse and left the car there.  It was ~10:30 by the time we actually left the car and were on our way.  Then AJ was worried about blisters and went back to switch shoes, a good idea considering the intense 3 days to follow, but all in all not a very early start.
The trail up from Sigurd creek was well maintained (BCMC trail) with only a couple splits which were well marked.  We followed it straight to the alpine, then started navigating around the snow fields and talus fields up to Pelion.  We wore harnesses for the glacier crossings but decided we didn't have to rope up for it; everything was well filled in.  At around 7 or 8pm, we stashed our bags at the base of Pelion and scrambled up with just ice axes, ropes, and crampons (already wearing harnesses – we didn't end up needing the crampons).  Crossing the moat was fun and doable, then the scramble was very nice: quite exposed 3rd to 4th class scrambling following a narrow ridge to the summit; lovely :)  We summited as the sun was setting, headed back down to the bags, then headed down to the low point on the ridge between Tantalus and Pelion, where we hoped to find a water source.  It was getting dark, so we set up camp at the first little pond we came across as soon as we were off the snow.  I (MJ) think we arrived at 10 or 10:30 pm.  It had been a long day, over 2000m elevation gain.  There was some reception at the camping spot so we looked at forecasts which said it might rain or maybe might storm around 3 or 5 or 7 pm the next day so we set early alarms to try and stay ahead of it.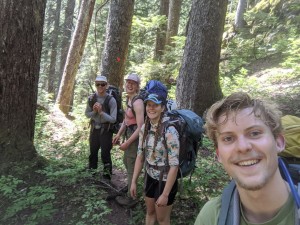 The team on the Sigurd Creek trail
The team walking up the snow fields towards Pelion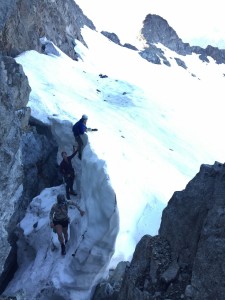 Down climbing into then out of the moat to get from the snow to Pelion's ridge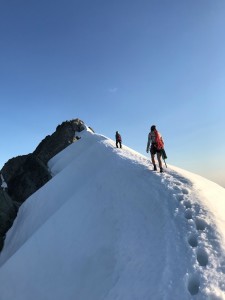 Pelion Ridge
Pelion summit
Friday June 23rd
We woke up at 5am, and were moving by 6:30… yeah. We started on rocky terrain near the low point, and eventually switched to snowfields, where we gained the height of Rumbling glacier.  For the first pass over Rumbling (The Northern end – just before getting up onto the rocky ridge) we decided to rope up in 2 teams of 2, and place pickets every 30 m.  It was decently steep and right above a bergschrund.  We climbed up and traversed over the steep part back onto the rock and rappelled down the other side.  From here we got onto the North ridge of Tantalus.  The way to the summit was full of rocky ridges, snowy ridges, and one more rappel.  Once on the final ridge, it was a lot of 4th class scrambling plus a handful of low 5th moves.  For some of these moves, Simeon would climb up (solo) then loop a sling around a block, then belay up AJ, then MJ (soloing) and Lou (following) would repeat; we kept these sections short, as actually pitching out 30 m would have been slow with tough communication and rope drag.  The scrambling was the best, most sustained I (MJ) had ever seen, it was exactly what we signed up for.  The prominence/exposure off of the ridge is insane, you can see straight down from Tantalus summit + ridge to the Squamish valley river, it's unreal.
We reached the summit around 6:30pm (later than we had hoped – but thankfully the storm never came) and started to rap down.  We had read in the trip reports that the rappelling was difficult to navigate, so Simeon had printed out the pages detailing the rap route description, there were 2 options, we went for the one that stays on the east face.  We were hoping to at least get back to the snow and off of Tantalus before dark, but we ended up spending about 1.5 or more hours on each rappel, most of that time spent trying to locate the next rap station.  It was not straightforward (or I guess straight down), as most of the rapps included rapping 25 m, traversing 10 m, sometimes climbing up 10 m.  Anyways, we each took turns leading the rappels and each got lost. It was roughly 10:30pm when we decided that we couldn't finish the rappels that night.  So, we told AJ who was looking for a rap station to climb back up (he prusiked up, then once he was up, Simeon lead climbed (slinging flakes for pro) to a ledge mid-the previous rap, which we figured would be big enough for us to sleep.  (We did also consider sleeping standing up at our current rap station but figured it wasn't worth it).  The rest of us followed one by one on top belay up to the ledge.  We built an anchor around a large flake and Simeon, Lou, and MJ – wearing harnesses in their sleeping bags – tied into the anchor.  Lou's sleeping mat popped because of the rocks underneath, so she slept on a rope.  Luckily, the storm still never came and we actually spent quite a lovely night under the stars. The view was amazing, although it was cold and you had to get your foot against a rock in order to not slip down.  MJ (me) slept in a helmet which was a bit much, but we were worried about rock fall especially in the morning as it got hotter, so we set another early alarm.  Note: there had been bivy ledges much more comfortable than the one we went with along the upper rappels, but we had pushed past those hoping to accomplish all of the rappels that night; I would actually recommend proactively bivvying on those (at the bottom of rappel #2).
Note on the rappel stations: there were 2 routes, both starting at the summit with the big moose chains (easy to find), we took the eastern facing route.  All anchors were in good shape with 2 bolts, 2 hangers, 2 rings, and our technique of tying 2 30m glacier ropes together worked well/was long enough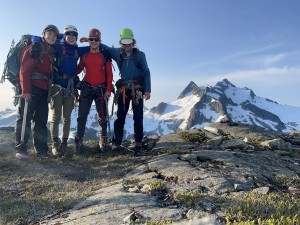 The team at our Thursday night/Friday morning camping spot.  Our route for Friday is visible behind us – where we crossed the snow right under the pyramid shapped peak in the back to get onto the ridge behind it
The pyramid shaped peak from up close, with the bergschrund visible.  We traversed above the bergschrund up to the low point in the rocks on the right.  Where we scrambled to that little col then rappelled down the other side
The Tantalus North ridge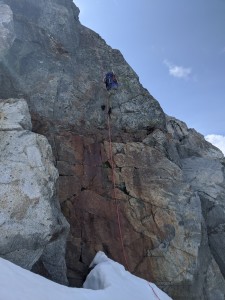 Lou on the rappel on the Tantalus North Ridge
AJ on one of the low 5th class moves on the Tantalus North Ridge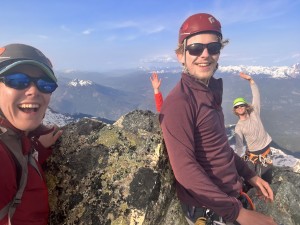 Our group summit photo… only Lou's hand made it to the summit lol
The top of the second rap station.  All rap anchors from here on looked like this/had this gear.  The very first rap station off the summit is a set of large, heavy, old chains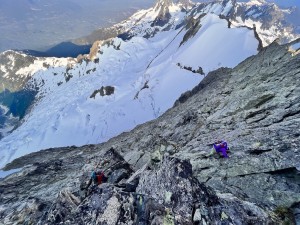 Lou and MJ looking for the third rap station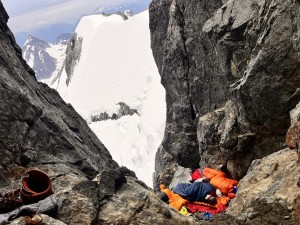 Our sleeping spot – taken Saturday morning
Saturday June 24th 
We woke up at 6am (meaning we had not much more than 5 hours sleep the previous night and again that night) but the mountains woke us up and we were moving right away!  The remaining rappels still took time even in the morning light, with the following incidents occurring along the way: we core shot Simeon's rope (at least near the end) so we tied the damage off on a bite, MJ got MJ's rope stuck and eventually unstuck, and Lou dropped her ATC so someone always had to rappel on a munter.  Finally, we reached the snow, all in all the rappels took us 12 hours, so double my (MJ's) highest ever estimate, and Dione, despite looking very inspiring, we decided just wasn't going to happen.
Back on the snow we were moving quicker, rappelled again, off the ridge onto the west facing snow fields and traversed on those to Jim Haberl Hut. (We arrived at 3pm)  We had heard music playing the whole time, and were very shocked in our completely dehydrated, calorie and sleep deprived total mountain state to see a rave going on at the hut.  We wanted to ask if we could use their outhouse, but they were so kind they offered us beer (which was mostly turned down for water instead), and bbq beef, and veggies, and more water, and we sat right outside the hut which was just a lovely spot, and they were super friendly! Apparently they had used an entire heli ride just for the speakers! Anyways one of them seemed particularly impressed and kept calling us a sexy giggle (we think he meant gaggle) of pals just emerging out of the mountains.  We got a selfie with everyone then left around 4pm (so like 9 hours behind schedule?) We contoured around the south of Serratus and descended to the trails just above lake lovely water. It took a bit of navigation to avoid the steep slopes above the lake, and some inevitable shwacking.
Once on the nice wide path through the trees, MJ sprained her ankle… anyways so Lou and Simeon kept going ahead while AJ and MJ went slower.  Eventually below the lake, MJ and AJ caught up to Lou and Simeon who had stopped because Lou rolled her ankle… We took a much needed break (as headlamps were already required so why not) then kept on in the dark to Squamish River Valley .  We got there at 1am or 2am, set up tents on the side of the path and passed out.  There was service so I guess right before passing out we cancelled plans for Sunday (the plan had been to be back in Van at a reasonable time that night but it was already 1am or so and canoeing just seemed like a bad idea).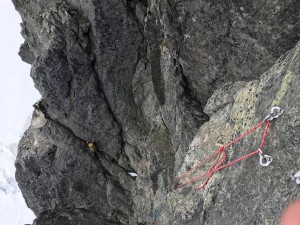 Another rappel station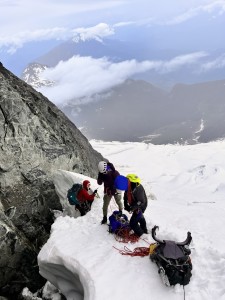 The final rappel finishes in a Moat – Here we are getting back onto the snow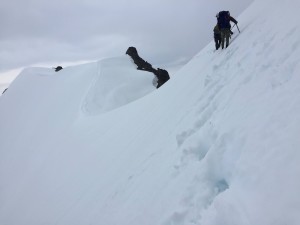 Back on the snow – now on Tantalus South Ridge, just below Dione
Another set of 2 rappels on Tantalus South Ridge (once down, we were on the final snow slopes that lead to Jim Haberl Hut)
Eating actual food at the hut, with good music and good vibes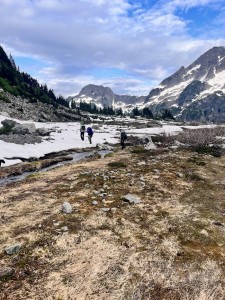 Just above Lake Lovely Water
Sunday June 25th
No one set alarms, folks slept in a bit, I think everyone went for a swim at some point that morning, it was lovely.  Of note I think folks had either very little or no food left but spirits were high, it was a nice morning.  Eventually, Simeon and AJ dropped off MJ (me) on the other side of the river (via canoe) so that she could go get her bike then bike 20 km up to the Sigurd creek trailhead where the car was.  They then came back and picked up Lou and all the bags/gear and paddled down to the Watershed Grill in Squamish.  Apparently that was quite the ride, but they never tipped so props to them.  Along my bike ride I had beautiful views of Tantalus, the ridge, and Rumbling glacier, which lead to quite an a-ha / thank god we all made it down moment (little did I know at the time that currently the canoe was at risk of tipping over) but anyways I (have given up on 3rd person?) joined them at Watershed, then they continued canoeing to a friend's house where we would leave the canoe and drive home. We got home at 7-8pm Sunday night (a full 24 hours late) and yeah!
AJ and Simeon in the canoe
The team at Watershed Grill
Takeaways:
A team of 4 despite adding some comfort (of: if shit goes down, there will be more people to help) definitely slowed us down on decision making (which there was a lot of – just navigation wise) I mean I think we made good decisions and worked well together just naturally I think larger teams travel slower.  Also teams of 4 rappel slower when you have to go one at a time (BUT most of our time was lost by navigating the rappels not necessarily waiting for the 4th – but we did obviously have to wait for the 4th).  All in all I (MJ) would be tempted to do this as a 2 and would recommend to folks to do this with someone who has done at least the rappels before, or plan on taking forever and sleeping at one of the bivy stations along the rap route (valid option – some weren't bad – ours was kinda bad though haha).  At least print out the rap beta like we did, that was great.
This traverse is long, we faffed a lot Thursday morning, Thursday lunch, and even building/breaking camp Thursday night/Friday morning.  We hoped that would be our longest day as it had the most elevation gain but the navigation Friday (turned into Saturday) slowed us down even more.  It's important to acknowledge that these are 2000m days, with glacier and steep snow travel, with overnight packs, with class 4 scrambling, with tough navigation, so yeah big undertaking. You've either got to be fast, or just don't faff, but man is the ridge ever beautiful.
Huge thank you to the ravers who fed us, gave us water, and uplifted our spirits with music and flattery.
And a massive thank you to Simeon, Lou, and AJ; spirits were high, folks were in a good mood, and we just kept going until we did it; super proud of the team!
References: 
Tantalus descent/rappel beta: (we took option 2) https://altusmountainguides.com/general/tantalus-descent?fbclid=IwAR1vROV8iXo6GhFNStfYQUbOzeNYJaza2GH94j-XuAvI2FsfywrQcLK9mMY
Fat maps has a track (under hiking) with North to South Pelion, Tantalus, Dione, Serratus, Alpha, and out
Alpine baking trip report:
https://www.alpinebaking.com/2020/07/fast-and-light-al-pie-nism-a-traverse-of-the-tantalus-range.html
Many other TR out there too