Upon seeing the trip post with the title "Beyond Elfin", I was immediately intrigued. What is it like back there? I heard that the initial plan was to camp on night 1 of 3 at Mamquam Lake, explore and camp again at Mamquam Lake on night 2 then return to the parking lot on day 3. Upon looking at a map, I immediately decided on attempting Mamquam Mountain on day 2 with me being a peak hungry scrambler. Unfortunately no one else had the same idea. It involved plenty of up and down and bushwhacking and crossing a creek that I had no idea of the levels. On day 2, first thing I decided was that I wouldn't be able to cross the ice field between me and Mamquam peak so I reduced my objective to a sub peak. Around 8 AM, I finally decided to forget about Mamquam Mountain sub peak and stay with the group and explore down to Mamquam Lake (which no one ended up camping at on night 1 and 2 … details below) and some ridges west of Mamquam Lake based on the fact that it would not be good to climb alone and there was a good chance the river would be uncross-able because ring creek was about as much as I could handle.
voc members hiking towards Elfin Lakes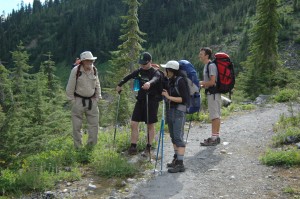 on break past Elfin Lakes towards Ring Creek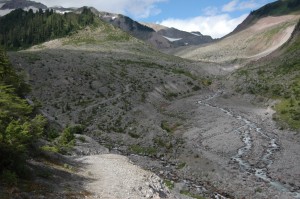 Ring Creek, Opal Cone top right corner
fording Ring Creek
Viking Ridge, a neat looking scramble but very far away, looking north from trail to Mamquam Lake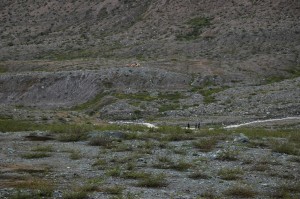 Zig Zag Creek, campsite for most of the group for day 1, with three of us deiciding on whether to camp with the others in view or to continue and camp on the next ridge. Ben and Simon camped slightly east of the next ridge, there were plenty of good campsites close to the next ridge.
Garibaldi and I morning day 2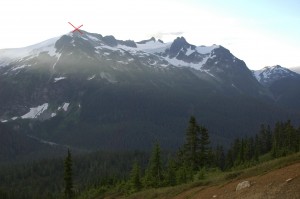 Mamquam sub peak from campsite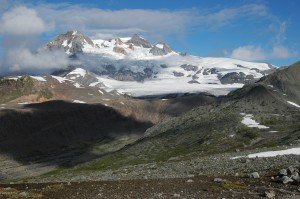 Garibaldi from ridge between Mamquam Lake and Zig Zag Creek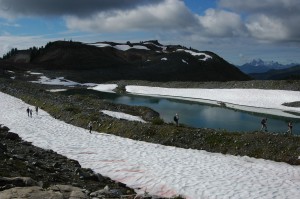 start of morning scramble day 2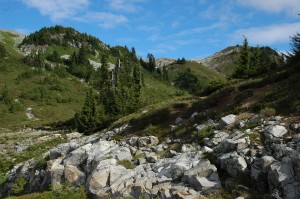 objective: walk along the ridge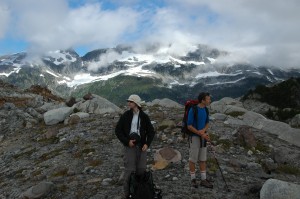 scramblers on the ridge, Viking Ridge in the background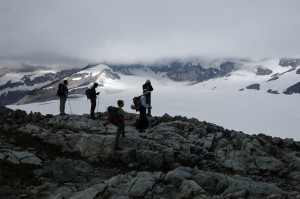 Garibaldi clouds over as we make the ridge
nice shots
Down from the ridge scramble to Ben and Simons campsite, having lunch before our descent to Mamquam lake (down and to the left). Pyramid Peak in the background (if you have a map handy), a very difficult scramble with some nice steep snow slopes tremendously exposed.
on the way down to Mamquam lake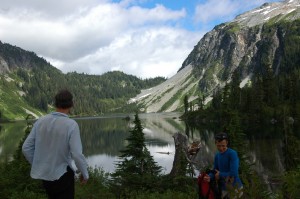 Mamquam lake
After Mamquam Lake, we returned to a beautiful patch of alpine grass near the Opal Cone to camp for night 2. Two of us decided on not climbing Opal Cone and we set up camp early.
On day 3, we all decided to return to the parking lot early. The hares left the tortoises behind, I joined the hares and we made it back to parking lot in three hours (by my guerilla math) and we drove off.
Quite a trip.