Earlier this week, the Squamish weather forecast was not good. I was hoping to get away for the weekend and either climb in Skaha or Leavenworth.That was until Diego texted me on Thursday night, saying the forecast for the weekend in Squamish looked good. Once I got home, I promptly checked mountain weather forecast and it said Squamish was going to be sunny Saturday and Sunday, with perhaps 1mm of percip falling Friday night.
This forecast turned out to be completely erroneous.  Nick Matwyuk, Diego Ribas and I left Vancouver at 8 am Saturday morning. As we drove up the sea to sky, a fine mist was condensing on our windshield. Eventually this "mist" intensified to a point where I had a hard time still considering it such. Perhaps my optimism delayed this realization.
Upon arriving at the smoke bluffs, we socialized with long hike faffers for 20 minutes, and then promptly ditched Diego with his climbing partner. They were headed to Area 44. Nick and I proceeded to mooch a mountain bike off of two of Nick's Squamish friends. Since Nick had packed his commuter into my trunk, he already had his "chariot." I was fortunate enough to borrow a full suspension mountain bike. As Tim Blair would later point out, it was true Matwyuk style to borrow a full suspension bike for a friend and then ride his own zero suspension commuter. Overall, the day was stupendous. It consisted of some flowy runs and only a few flat tires.
After our bike ride, we picked up Diego and drove back to Vancouver. On the way back, Diego regaled us with details of his day in Area 44. He had explored a newly developed segment of Area 44 called the pillary. So new, that it's not even in the guide book. He was raving about how well it climbed, even while wet. I convinced him that we should head back to Area 44 for Sunday. Nick was not so convinced. He wanted to go biking with a chariot sporting ≥ 1 shock absorber.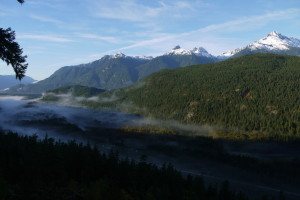 Sunday was spectacular. Diego and I arrived at the Area 44 parking lot at 8:45. We set out to tackle climbs in the Marbles Wall and Upper Gully. Some were wetter than others. Notably, "Mystery of the Marbles" had a plump, seeping, offwidth crack. It was actually really fun, but flummoxed me for a bit. My "go to technique", laybacking, is sub-optimal in wet conditions.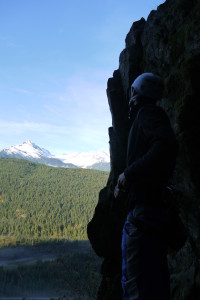 Next, we headed to the Outta Sight wall to climb "Special Ed" and "Mister Ed".  En route, Many wasps accompanied us.
After our brief detour, we were back to the base of "Mystery of the Marbles." We planned to climb the harder variation of this route, "You look Marbelous". A year ago, Diego had attempted to onsight this route. Today, he was hoping to red point it.
I went up first. I failed in my onsight attempt. Diego was up next. He made it to the crux, then groped around blindly for a key side pull, then fell. He attempted the crux again, and then fell. During this fall, I faintly heard him curse something to the effect of "Shit, my Nose". Next thing I knew, I was lowering him.
Blood was obviously gushing out of his nose, so I first suspected Diego just had a nosebleed. He promptly used his dirty sock to stop the bleeding. When I asked him what happened, he explained that he had hooked his nostril on the caribeaner of his top quick draw. He had more than just a nosebleed, he had a torn nostril. Apparently his head was very close to the caribeaner as he fell. It's wire gate design allowed his quickdraw to penetrate his nose as he slid past. Lucky for him, only part of his nose was damaged.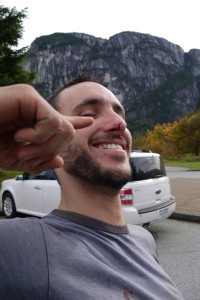 After arranging for nearby climbers to clean the draws we left en route, Diego and I trekked out of the woods and drove to the hospital. Because Diego is not Canadian, the receptionist in emerge recommended that we go to the walk in clinic. It turns out that in emerge, internationals are charged an $800 fee at the door. Although Diego has health insurance, it made sense to cut expenses, just in case.
The South African Doctor at the walk in clinic did a fine job of stitching Diego up. Diego ended up with 5 stitches, 4 on the main tear and 1 on the smaller tear.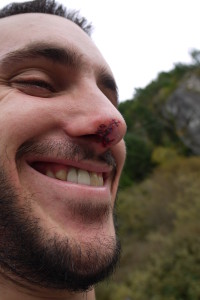 Most importantly, Diego achieved a rare "red nose point" of the climb. With a freshly sealed nose, Diego did indeed look marbelous.