Wide eyed and bushy tailed, we set off at stupid o'clock in the morning from Vancouver to meet at the Petro-Canada station in Pemberton to buy some much needed coffee, it was then that the excitement of the trip settled in…woohoo…mountains! After a long log road up to the place where we thought the cars should be parked we set off through the woods and along the babbling brook with our tents, ice axes and crampons (which a few of us had never really experienced before and learned our first important lesson…crampons inside bag + cake = cake all inside bag). It was a fun hike to the camping spot, a little muddy but most of all beautiful.
After setting up camp by the lake on the snow some of us young whippersnappers decided to take a lovely scramble to the top of Locomotive Mountain.
Now, I'm not going to lie, this did not look like it was accessible from where I was standing at the bottom, but with the great instruction and eagerness of our trip organiser, Julien, and with a little ice axe arrest training, we were good to go! Up we went, step by step by step, Jannu bringing up the rear and Sam and Julien sprinting up ahead, so far ahead that they decided to scramble up a pretty steep part of the mountain. Jannu had to call on the walkie talkie asking, "Is that a good idea? it looks pretty steep"…after a couple of minutes deliberation we decided, maybe not a good idea and instead took a longer, but much safer way around to the beginning of the summit.
As the sun was going down we all made it to the top, took some wild pictures of people jumping off the big rock at the top, and then started to descend. Oh how much fun is the descent in snow?!! I felt like I was a puppy bounding down the mountain with no fears in my mind, until my leg dropped into a hole and the rest of me fell forward, then I decided maybe I should stop bounding, but the slipping and sliding was just as fun as well! We all made it back to camp in one piece and started cooking. Here, another lesson was learnt…do not bring spiced falafels camping, they do not taste very good, and if you do decide to bring spiced falafels, do not cook them in a ridged frying pan with not much oil. Usually everything tastes good after a hard days hike, but alas, not this (sorry Ian!). I was very tired so I think I was the first to hit the sack, however others stayed up and relished the joys of sour puss and fireball and serenaded us all to sleep with Christmas songs and other classics (although at the time it was not always apparent which song they had decided to sing).
After a very cold nights sleep on the snow I heard Marie-Eve's voice crying "Wake up wake up!!", she went around asking who was going to hike today and I'm pretty sure most people said no to begin with. I certainly did, I had had no sleep (or it felt like it at least), and did not want to put my frozen boots back on. However peer pressure always works wonders and after a delicious bowl of porridge I changed my mind along with a few others and 11 of us set of for Face mountain, a scramble that should have finished at about 2pm in the afternoon but due to the "faff" took a wee bit longer!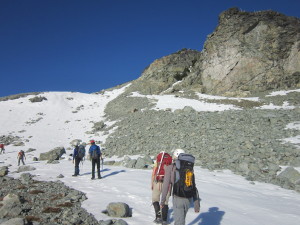 Filled with renewed energy, I was excited by the prospect of a more "technical" scramble, something I had never experienced before. I was so filled with energy that I decided to take a little risk, put my foot on a wet stone crossing a river without making sure it was stable enough and oops….I fell in. Well…it was a good wake up call, that I can tell you! Because not many people really knew me on the trip there was a bit of a silence where I could tell they all wanted to laugh out loud but didn't know if it was rude or not. I can tell you now that if I had seen myself, I would not have been able to stop myself from laughing, it must have been a sight to see. After that Julien helped my soggy ass across the remaining river. Luckily Jannu had an extra pair of long-john's in his bag and generously lent them to me for the remained of the trip. We started the ascent and boy was this an ascent! I have never really been sketched out by scrambling before! There were definitely times where I thought to myself, " Why the hell am I doing this, surely if I fall I will die?!" but with the re-assuring remarks of the others, I fought my inner demons and struggled ahead. I'm not sure how long it took us to get to the top, but the sun was hot by the time we summited. It was one of the greatest ever feelings, being at the top, having lunch and looking at the wonderful views Face Mountain had to offer us.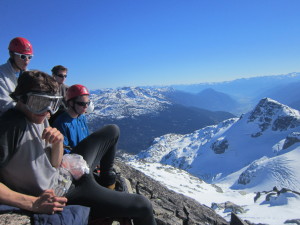 And then I realised….oh god….we have to go down the way we came… Luckily I think some of my fear had waned and the fun in the snow began. We tried bum sliding down, then boot skiing down, then the same happened to me as the previous day. As I bounded down the snow my feet kept getting stuck in holes…I never learn! Once at the bottom everyone was pretty motivated to get tents down and head back to the cars because it was already 5pm and it took 4 hours to get there from Vancouver, so we packed and skidaddled. I unfortunately misplaced my foot into about half a metre of mud, caking Jannu's long-John's and the VOC's boot (inside and out) in it, but apart from that it was a quick descent into warm, comfortable cars.
A wonderful trip to say the least, thank you to Julien who organised it, Jannu, who lent me his long-John's and Ian who calmed my nerves on the steep ascent of Face Mountain. Apart from an unfortunate tyre blow on the way back in the modo van, the trip ran smoothly with no accidents and only smiling faces were to be seen!