April 12-15, 2015
Participants: two days only, Aga, Tom, Artem; four days: Jeff, Brody, Lucy
This is the first trip I've organized in a while, and my first bike tour ever, so I guess being the novice, the onus is on me to write a trip report!
The fun begins on Friday night. Cora, due to her knee had been considering bailing, but I hadn't heard the final word. Was she bailing or not? It turns out she was, and she had told Brody (my co-conspirator), but not me. Alright, well at least food and tent groups are dealt with, right?
Wrong.
So picture Jeff, running around (literally) at 11PM Friday night to find an extra tent for our group. Thankfully Cora was willing to lend her tent, and everything worked out.
The next morning, Saturday, we all met down at Starbucks on Kits Beach to begin our trip. We filled a few tires with air. The only person we were missing was Brody, who had gone to the wrong Starbucks, and soon we were all together, moving along nicely.
The trip got to a good start, we made it through downtown and over the Lion's Gate without a hitch. I tried to take a picture… when I realized that I'd left my camera's memory card at home. Nooooooo!
We rode through Ambleside, and over the hills of Marine Drive into Horseshoe Bay. It only took us about two hours (including faff), which meant that we had a whole hour to wait for our ferry. Which gives me plenty of time to buy a new memory card. I did this, and then opened up my camera, only to see my old memory card inside. D'oohhhh.
After having a cup of coffee in Horseshoe Bay, we caught the ferry to Gibsons, which included a fun conversation with a little old lady.
We rode off the ferry, into Gibson's, which is a beautiful, quaint, town, and then we rode up the very steep hill. Several of us had to get off and push our bikes up the hill.
We started riding along the Sunshine Coast Highway. It was pretty nice, some sections on the shoulder, some sections with dedicated bike paths. Tom blasted ahead and we didn't see too much of him for this leg of the trip. We rode for an hour and a half along the highway before stopping for lunch just outside Sechelt.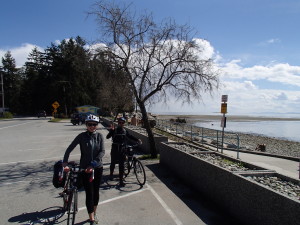 Up and down the hilly roads we went. We took a big detour off the main highway, encountering all sorts of interesting little things. There were many hills, and we were fairly tired by the time we arrived at our destination: Madeira Park.
After picking up some groceries, including lots of candy (foam strawberries!) to raise everyone's blood sugar, and delicious breakfast, we made our way into the place we intended to ninja-camp: Francis Point Provincial Park.
I had a few gear problems here. My pannier, loaded down with extra water for cooking, twisted into my rear spokes, stopping the wheel. None of the spokes were bent, to my surprise, but I didn't do a thorough enough check to spot the real damage (duh duh duh).
Unfortunately, most of the open areas in Francis Point Provincial Park are covered in sensitive moss, which we didn't want to disturb, so we ultimately pitched our tents in the parking lot. We cooked our dinner and ate while watching the sun set.
As we slept, there were many things out in the night. Two separate people came into the parking lot at various points. There was a continuing thunderous croaking of frogs… And in the morning we woke to some kind of screeching owl (maybe?)
That morning Lucy, Brody, and I parted ways with Artem, Aga, and Tom, who wanted to head back to Vancouver.  Their fate I do not know.
We had to start biking fairly early as the next ferry sailing after 10:55AM is 4:30PM.  With 30km of biking to do, it was absolutely crucial we not miss our ferry.
As I rode up and down the hills, something didn't feel quite right. I noticed that uphill, I was keeping up with Lucy and Brody just fine… but down hills they were leaving me in the dust. I figured that perhaps my tire was a little flat, or that my rainjacket was causing air drag? And there were a lot hills.
We made it to Earls Cove in decent time, with plenty of time for coffee and a snack, and then caught the ferry, where we had lots of time for selfies.
Due to the slowness, I decided to check my tire in Saltery Bay. But I found something interesting: I'd broken a nipple! Thankfully, Lucy and Brody both had spare spokes and nipples. We fixed the nipple, trued the wheel, pumped the tire back up, and we were good to go!
Since the ferry traffic had all gone by while we were doing repairs, we now had the whole road to ourselves for a few hours!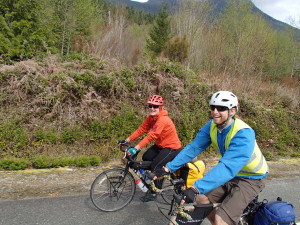 The ride to Powell River went very quickly and easily. We had a strong tailwind at our backs, and the road was significantly flatter than we were used to. So we made awesome time, and arrived there in the early afternoon. We went to the Base Camp Cafe, where we had Americanos (oh god, I think I might be hooked) and cheesecake. Brody and Lucy played some cribbage while I studied statistical mechanics, and we all waited for the ferry.
And of course, no VOC trip is complete without gratuitous ferry bouldering: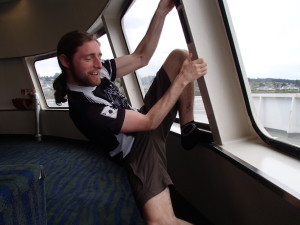 After the ferry, we rode up the hill into Comox where we picked up groceries. Lucy asked for directions to a nearby camping area. We rode back down towards the ferry, took a turn towards the airport, along past an air museum, airport, and a military base that seemed to go on forever. We finally arrived at a super windy beach, we hid behind a concrete barrier to avoid the winds, while we cooked supper.  Did I mention it was windy?
After a very delicious supper, we started wandering up residential streets to find a place to camp. I was dubious that we'd find anything, but lo and behold, we found a small mossy clearing at the edge of a forest. Given that we didn't see any houses in the dark, we suspected this land was soon-to-be-developed. We camped there all the same and it was the most wonderful ninja-camp ever.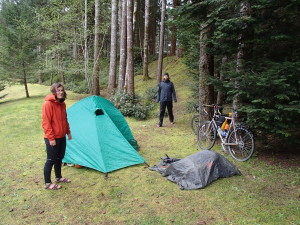 The next morning was forecast heavy rain. We met several people walking their dogs as we were packing the tents. One of them informed us that this was his property we'd slept on! Thankfully, he was very kind, and seemed to be OK with this. We made our very best ninja efforts to leave no trace of our presence, and soon we were off.
We rode through the wind and the rain for just a few minutes, when, to our surprise, we were in Comox again! It seems we'd ridden in a giant circle the previous night.
After a brief stop at the mechanic's, we rode down the hill, and something was wrong. I was giving it all I had, yet I was still falling behind Brody and Lucy. At the bottom of the hill, I tried touching my rear brake, only to realize the mechanic had siezed my brakes shut by accident! D'oh! I stopped to fix my brakes (which caused Lucy and Brody to come back looking for me).
Once fixed, we rode a little further to a small gazebo on the water, where we made an awesome breakfast of super buttery oatmeal.
Since it was pretty wet and cold out, and we were somewhat tired, we took it easy that day. We stopped several times, but ultimately decided to go to the town of Bowser, where we had carrot cake and more Americano. We spent a few hours there, sleeping and studying.
We figured we were all in desperate need of a shower, so we found a "real" campground in Qualicum Bay, where we relaxed even more, and cooked up an awesome supper consisting of mashed potatoes and "gravy". Although we took a bit of liberty with the gravy. I don't think the gravy packet's instructions called for onions, carrots, tomatoes, chicken, mushrooms, etc…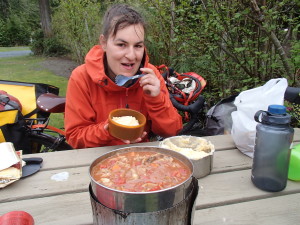 We got a fast start the next day, making it to Parksville very quickly, stopping briefly for ice cream and some hill rolling. We hit the highway, which was unpleasant but quick. After not too long we were on the trails that run alongside the highway, taking us through Nanaimo. Before we knew it, we were on a ferry heading back to Horseshoe Bay.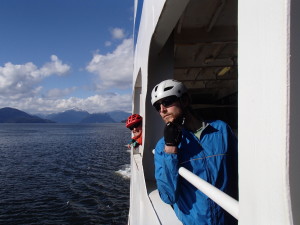 Not wanting to end the trip so soon, we decided to have afternoon breakfast in Horseshoe Bay. When we left the restaurant, Brody disappeared right away, so we figured he'd climbed the hill. We climbed up the hill, and there was no sign of him. Figuring he'd have probably waited for us, we rode back down the hill to look for him. No sign. Well maybe he'd gone the other way. Back up the hill we went. We ultimately made cellphone contact. He had done the same thing, riding up the hill, down the hill (missing us both times), and concluding we were way ahead, and deciding to ride far ahead.
Lucy and I needed to catch up, so we started moving. I felt my chain refusing to move, and figured something had caught up. I pulled over to fix it, and I realized my chain was broken. Luckily Lucy was still in earshot so I yelled, "LUCY, WAIT!". Luckily she heard me, and came back to help out.
Luckily, we had a chain breaker, which made this an easy, if unusual fix.  By sunset we were over the Lion's Gate bridge! We returned to our starting point, and made our own ways home. An excellent end to an excellent trip.