Hello my name is Ilya! I have done a bike trip in West Kootenay in May 2015 so just wanted to share some pictures and thoughts about that journey.
I went on this trip alone so this made all of the organization routines a bit easier than what usually happens in group tours. Although since this was my first journey in Canada and in North America things were a bit unpredictable for me.
I was almost late for the bus just because I had to wait in line with  everyone else who didn't have a ticket for the bus, to buy a box for the bike. Since only 3 minutes were left until the departure I had to carelessly throw my bike in the box with unremoved pedals and rear rack (usually packing the bike into the box takes at least 20 minutes)
After an 8-hour long trip east I have gotten out of the bus with my poor bike at Castlegar, where I spent the rest of the day and night in the local campground. The price for one night on campground was 10$ per night which was pretty cheap in comparison to the other camping I was staying at in Nelson.
I didn't spend much time in Castlegar on  my first day since I knew that I will return back to it on my last day. Although while on the trip to Kootenay I always felt that I left something interesting behind and wished to get to Castlegar soon. I heard about this town from many locals throughout the trip, especially when we were talking about the Russian community in Kootenay. A big Russian community, called Doukhobor, is thriving in Castlegar to these days keeping a unique blend of weird old-fashion russo-ukrainean and Northern American cultures. But we will leave this lovely town and people for later when I eventually come back to it after 10 day journey.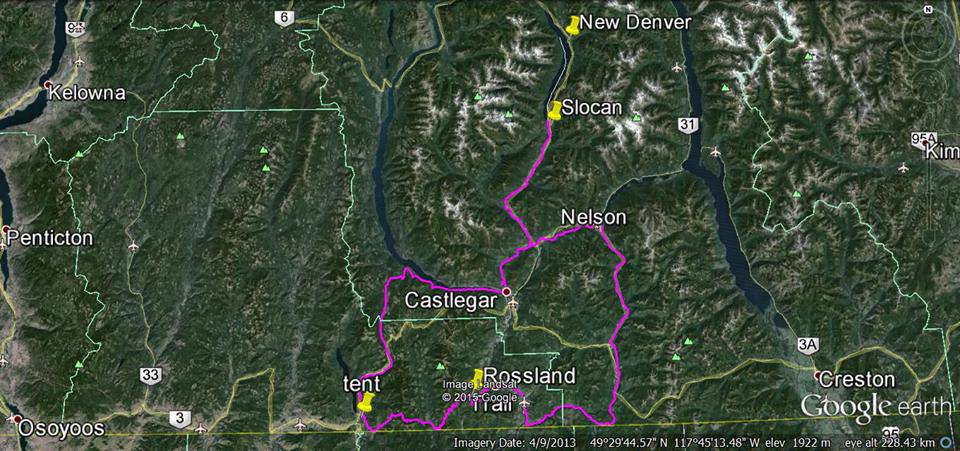 Things that I was very lucky with were weather and snow conditions on high-elevation road passes. From the first day of cycling until the very last day of trip the sky was always blue and it was warm enough to ride in a T-shirt. The spring air was cooling down to about 10-13 degrees Celsius during the nights which made me dress very warm before going to bed.
Probably the main factor that made me  decide to go to Kootenay was the developed system of cycling roads which are a heritage of rich history of Kootenay. In past days (say 100 years ago) Kootenay was a very developed economical region. Mines, mills, jam factories, orchards were sustained by a developed rail road system that in our century became useless since automobiles took over the land. Now, instead of old railway roads we have long cycling paths with unique surface quality, elevation gain gradient and opening landscapes along the way. All these things are truly different from other types of roads because railways had unique architecture in comparison to other roads.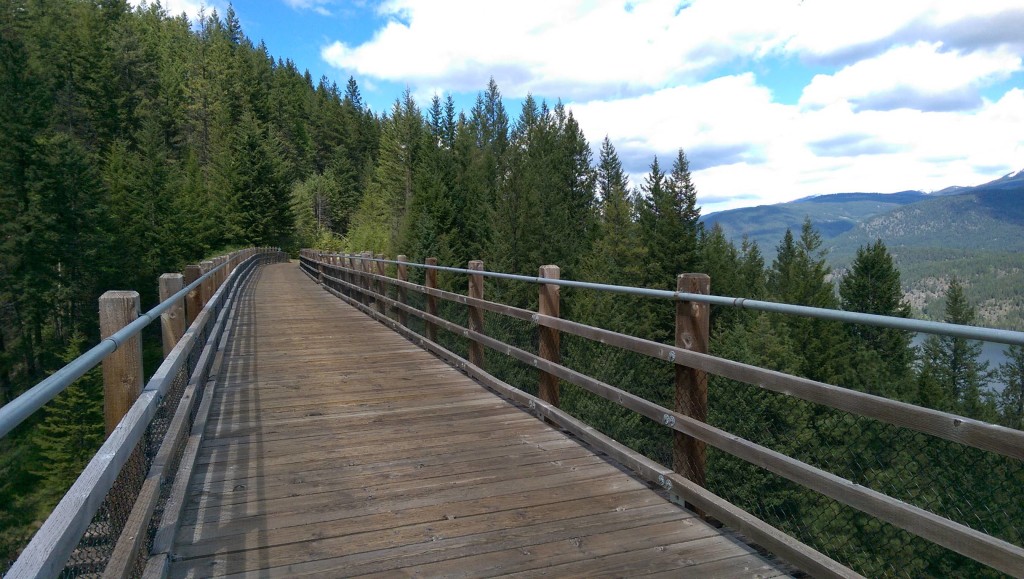 My first 70 K long day from Castlegar to Caterina Lake ran entirely along an old railway. The mild, almost imperceptible but infinitely long climb sucked all of the first-day freshness out of me and I started to feel the real struggle of the bike trip.
On the summit I encountered first snow on my way and that was a harbinger of further challenges which were waiting for me further along the way where the elevation was much higher and the snow depth could cause some serious problems. But this time I was easily passing  through rare batches of shallow snow.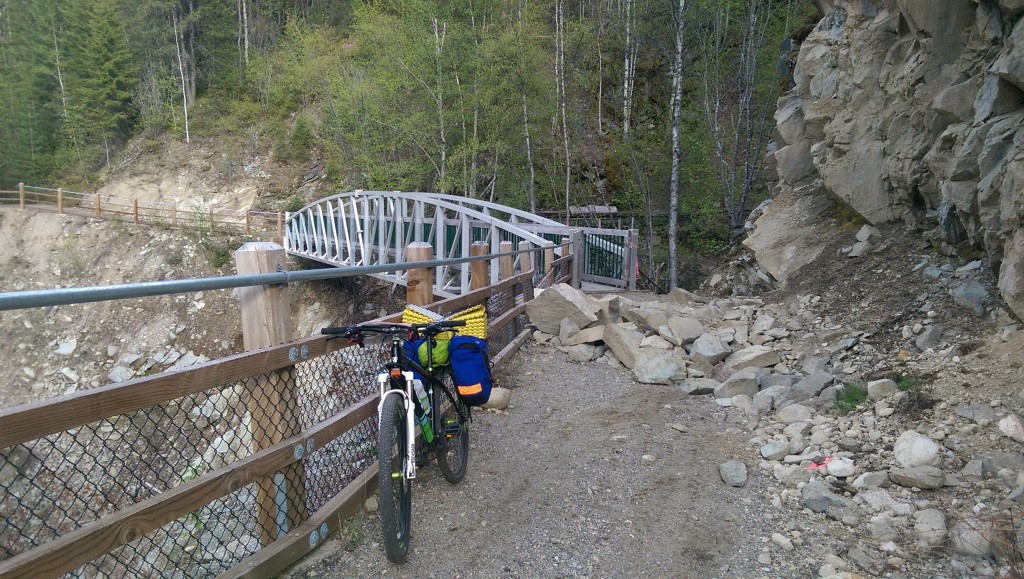 The nice thing about cycling in Kootenay is that you encounter posters with historical or ecological remark about the place you are travelling through (Is it true about all of Canada?). These remarks are surprisingly interesting in contrast with similar posters along the travellers' way in Europe. They add more dimensions to the landscapes you see, animals you encounter, mountains you climb and people you meet. All the historical or ecological information about ecology or history that you read or will read in this report was taken from these posters and sometimes confirmed by locals.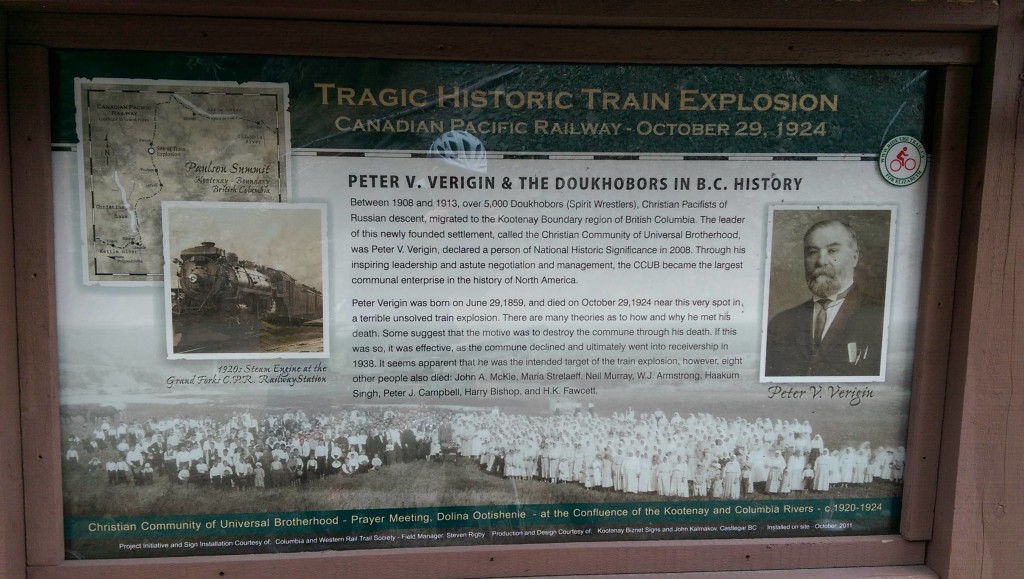 One of these posters on this old railway told me a story of ups and downs of Russian community in Canada that came in in 20th century, about their leader Peter Verigin "The Lordly" and about his mysterious death due to a bomb explosion on this railway.
I have stopped for the night in a tent leaving Cristina Lake a bit ahead of me. Before me the place was occupied by a railway station and a small village that served as an overnight place for miners.
On the next day I reached a town near Cristina Lake where I needed to ask about the accessibility of high elevation passes on Old Cascade Highway. Hospitable owner of the outdoor shop made his prediction that that the pass should be fine at this time of the year, especially with so little snow in the previous winter. I was the first person to check whether this prediction was true beacause the Old Cascade Highway is not used in winter season. Despite the encouraging prediction I ran into snow 1 K before reaching the pass, but I decided to push through it anyway.
Since I was delayed by the snow, which I had to walk through, I was a bit behind the schedule, so I had to stop in a very small, nameless farm between two passes on Cascade Highway.
In the next few days I was riding along the US border, passed a chain of lovely towns: Rossland, Warfield and Trail.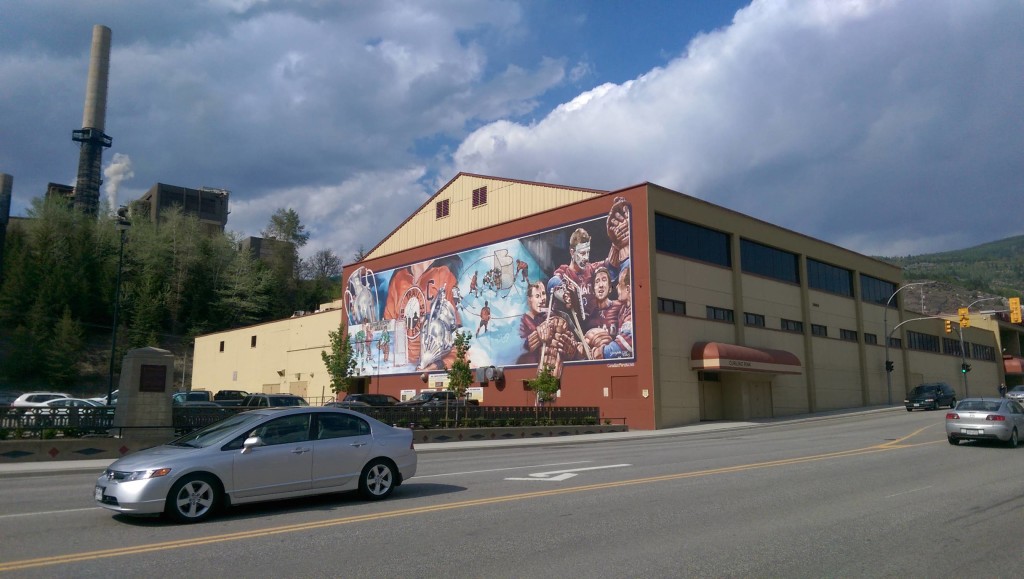 Then I went deeper into the forests on the shore of Pend Oreille River and turned North on Nelway boarder crossing. This was the first time I had to use a high traffic highway, which I always try to avoid.
This highway took me to Nelson where I planned to camp for the night. Nelson is very nice and cozy town. It's colourfulness of streets, old architecture, cozy cafés and relaxed ski instructors trapped in the off-season makes its unique charm. The attributes of civilized life, like the music concert in the café, real meat for dinner and a hot shower, were very refreshing and helped me to cover the 75 K route to Slocan Town on the next day.
The Slocan valley was by far the most beautiful place in my trip. Starting from Crescent Valley, where the old railway turns north to the valley, the nature changes dramatically. The Slocan River that flows in the bottom of the valley creates a unique habitat for blooming marsh plants that I don't even know names of (should have taken vascular plant course that term). The trail is well maintained, very flat and has almost no elevation gain. I had a feeling that I was going downhill at all the time up until the lake.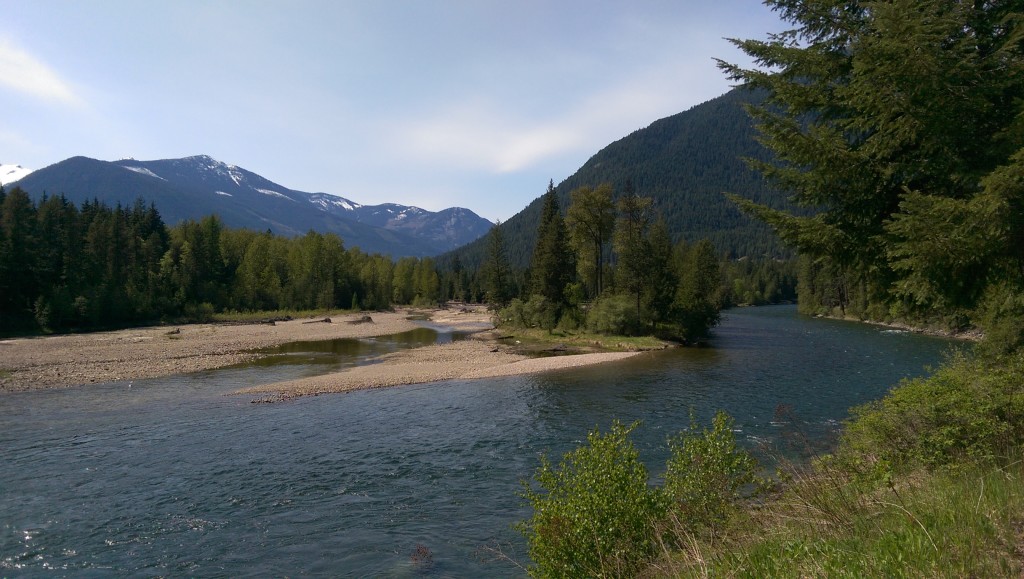 This road wasn't much different from the railway trail that goes from Castlegar – it also had interesting ecological and historical posters. One of them was talking about the unfortunate faith of thousands of poor Japanese in 1940's who were deported to these places because of the fear that they would be helping the Japanese in the Second World War by conducting a guerrilla war against the Canadian state.
Fortunately, nowadays this wonderful place is a campground with the best restaurant I have ever eaten in.
It was only 10 K left to Slocan Lake , so I got there in the morning of the next day. Slocan town used to be a major city in Kootenay. Silver mines, which were driving the life in the city, provided work places for thousands of people . When the mines were exhausted the city turned into a small, almost a ghost town. I didn't see much people there but those who I met were either old miners who worked their entire life in Slocan or people who came here to spend their old age here after the restless city life in Vancouver and other major Canadian cities. One of them was Joe who is now a kayak instructor. He told me a lot about his life: how he was living on Wreck Beach in a self-made hut for a few semesters while studying in UBC; about his job as a biology statist and about his fatal disease which should have taken his life 10 years ago but he sarcastically notes that he is still alive. Surprisingly to me he thinks of his disease as an advantage rather than a weakness. He was telling me: "I am the happiest and the most independent person in the world now, I can die in any moment which makes me appreciate every day I live, I can also do whatever I want now". Good luck Joe!
I spent 4 days at Slocan Lake, 3 of which I was travelling by kayak and 1 day hiking. I spent all 3 nights on Evan's beach, which is just about 7 K away from Slocan Town. The campground is well equipped: there are at least 11 spots for tents, one shelter with a shelf-like bed, a toilet, a few fire places, food cases, but no door. I was the only guest on the campsite not counting the two guys who met me there when I just arrived on the first day. They left a few hours after I arrived, so I felt a bit lonely there.
In three days I have explored the Western side of the lake up until New Denver, but I didn't risk to cross the lake to get to the other side because it was my first time I was swimming on a kayak (yes, unfortunately Eastern Europe doesn't have a strong aquatic background) and the water was as cold as liquid nitrogen, so my chances to survive after falling out of kayak would decrease if I swam far out from the shore. Although there were a lot of interesting attractions on my side of the lake.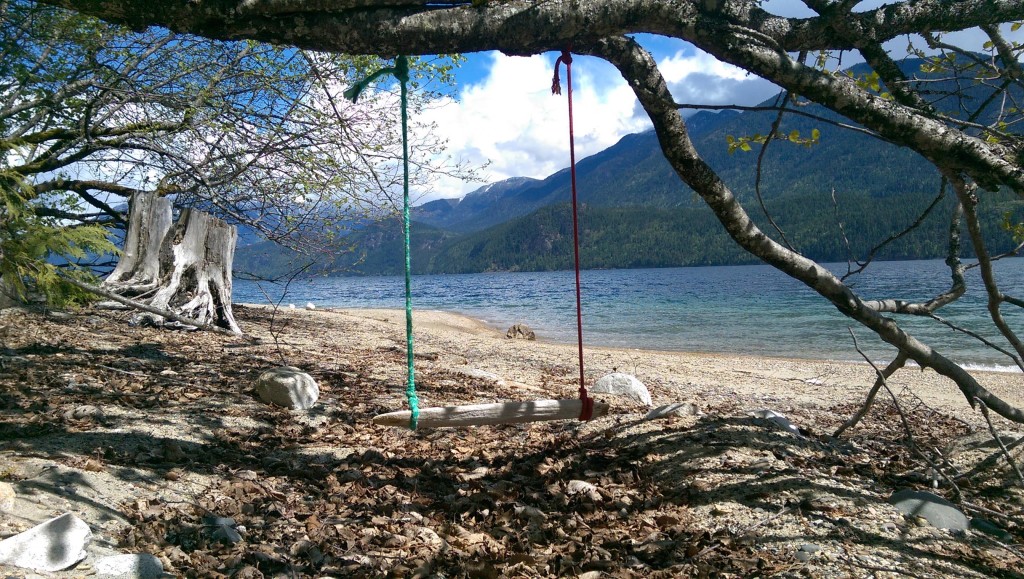 Initially I was planning to go up to the Wee Sandy creek which is opposite of New Denver. There is a lodge about 14 K upstream Wee Sandy Creek where I wanted to go for a 2 day hike, but Joe stopped me from doing this because on time of my trip it was not maintained and chances to get to the lodge were very low. Instead I decided to stop at Evans beach from where I could go on a hike to Cahill Lake which is on elevation of about 1260 m. Here are pictures from Cahill and Emerald Lakes.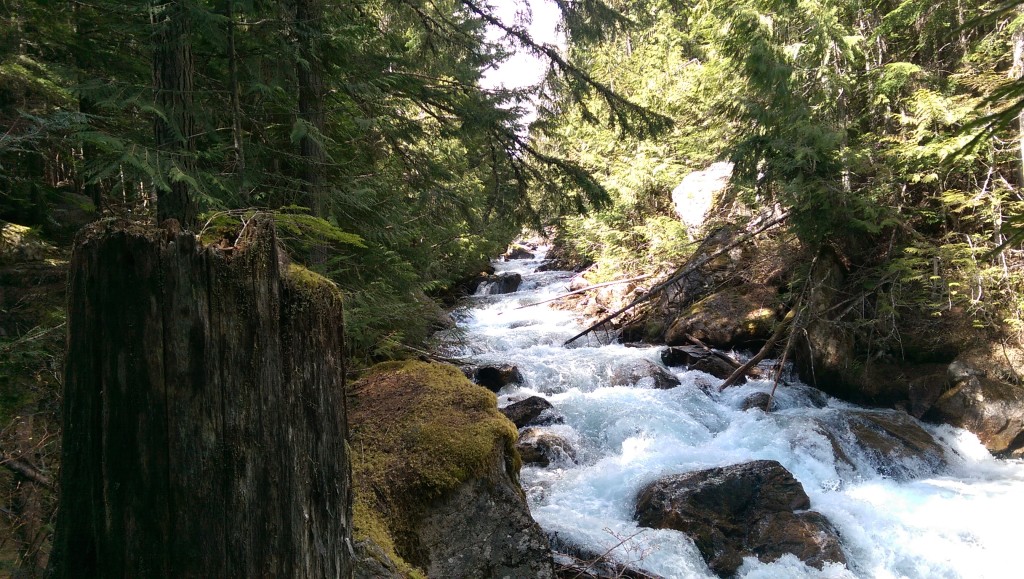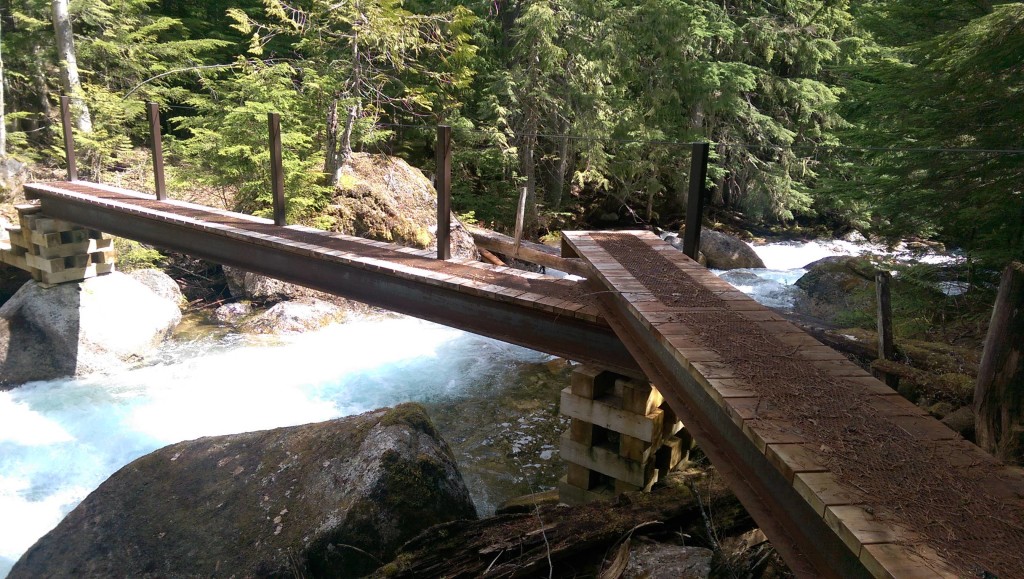 Slocan Lake was the last check in my "athletic" check list. After paddling part of my journey I spent one and a half day completing the "Kootenay Loop" returning back to Castlegar.
As I approached Castlegar I saw more Russian town and street names and felt the spirit of the Doukhobor culture. When I finally got to Castlegar I left my luggage in the campground and went to look at the town.
One of the most impressive events in Castlegar was meeting with a Russian speaking woman who I met in the Russian museum (which was pretty boring). Her name was Kate (Katya in Russian). I couldn't distinguish her from the other visitors of the museum but her accent revealed her. The main reason why I wanted to meet a Russian in the Kootenays was because I wanted to listen to how they speak Russian. I was delighted, when I finally heard it! Her speech was full of ancient Russian and Ukrainian vocabulary which I only knew from the odes of 18th century and my Ukrainian grandmother. There was not even a trace of an English accent, what I heard was ancient generations' voice which travelled through time, crossed the atlantics, and bounced out of Canadian culture right into my ears only in 21st century.
We were talking for a good hour. In this conversation I learned that the Doukhobor community keeps contacts with their Doukhobor brothers in Russia and Ukraine. Most of Doukhobors which live in the Kootenays remember Russian and they even have their own journal called ISKRA (or SPARK in English), although when Kate was reading it out aloud it was obvious that she needed more practice reading in Russian.
Afterwards, to be honest, I never expected to find a part of North America so historically diverse and interesting (maybe due to some European misconceptions . I was pleasantly surprised by the Kootenays in terms of its unique culture and history as well as beautiful and peaceful nature and trails. I will certainly return back to Kootenay but next time with skis. A report from winter Kootenay is coming soon.