To be honest, I didn't think that the trip will be popular since it is usually very hard to find people for a long expedition like the one I proposed on the Trip Agenda. When the trip was announced and it was already the time to start email faff, I realized that at least three people from the interest list are joining me for at least the weekend part of the trip, which quite surprised me! These brave men are: Alberto Contreras, Martin Cermak and Marius Muja. Many thanks to you guys for joining and making this trip so much better.
The trip was designed using tracks from the trips of two great bikepackers. Sunshine coast part was provided by Skyler on bikepacking.com and Vancouver Island part by Vik (link).
Sunshine Coast
On Saturday April 30th we took a traditional route to Sunshine Coast: bus to Horseshoe Bay and then a 40 min ferry to Langdale. Being afraid to miss the bus because of all spots on the bike rack could be full I arrived to the stop 10 minutes early. I was surprised with how empty the 250 bus to Horseshoe Bay was. On the ferry we had a nice little pre-trip meeting since we didn't have chance to meet up on campus. In the course of conversation we realized that all of us are Europeans: Marius from Romania, Alberto from Spain, Martin from Czech Republic and I from Moldova. Coincidence?
After we got off the ferry the GPSes were calibrated, tires were pumped, and straps on the helmets tightened. In front of us was legendary Sunshine Coast Trail, the host for Stages 3 and 4 of the world-famous BC Bike Race! As soon as we hit the trail I realized that from now on I am no longer the leader of this trip since I was barely keeping balance on my bike and barely keeping speed that Marius imposed. If someone ever told me that this trail is made for riding I would not believe in this! It was steep and all studded with big and loose boulders that I had to avoid hitting. On the first break I came to the front of the group, closer to Marius, to see if his breath rate is increased or not. Phew, he was breathing heavily and sweating as me and everyone else in the group – shouldn't get worse I thought. I think Marius noticed my worry, so he urged to calm me and everyone else down – that was just an access trail and we would soon be on the real trail that was less difficult.
Marius knew the first part of the trail till Sechelt since he had been riding it before. This saved us a lot of time since otherwise we would have spent a lot of time on way finding and getting lost, especially with my crappy GPS that for the last few weeks was refusing working properly in the forest.
After we arrived at the actual trail the rest of the day we were going on a quite a decent trail. Well, by decent I mean a classic mountain biking trail with roots, boulders sticking out from the ground and dirt. The nice thing about the trail is that the terrain as almost always passable despite all the boulders and roots. People who maintain the trail have built pretty robust looking bridges, cut the fallen tree trunks, no loose boulder will slip under your wheel. So great thanks to them! Nevertheless, by the end of each day on Sunshine Coast Trail I was exhausted. Riding this trail requires constant attention and strong effort to stay in the saddle, no meter if you are going uphill or downhill.
Sunshine Coast trail was not only a good test for our cycling abilities but it also put your bike under extreme pressure. I think that one this ride alone shorten the lifespan of my bike for a few months. As on every normal bike tour, bikes break and you have to repair them, and there is a high chance that on the trip there will be one participant with the bike that ALLWAYS breaks. On this trip this participant was me, yes, organizer, the most prepared and responsible person in the group!
Before the trip I and Martin had a discussion about the backpacking gear, whether it is a good investment to by a saddle bag, frame bag and a front roll, or a traditional bike rack should do. I was arguing that since I rode my bike with a rare rack in all my bike trips before and was quite happy with it, this trip should not be an exception. Also I thought that bikepacking bags are just a matter of fashion, especially in North America, since I have never seen them in Europe. Oh, how wrong I was! From the experience of this trip I learned that a rare rack can theoretically be used on very technical terrains, but you shouldn't expect it to serve you for a long time if you ride mountain bike trails. My rack was broken on the first day of the trip on an especially steep and fast segment of the trail. The bolt that was holding the rack from the bottom broke in half, leaving  a small piece of itself in the frame, which made it impossible to take it out of there. At that moment I thought that this is the end of the trip since I had no clue of how to repair this, but with knowledge and help from all the participants we were able to cure my rack. We used the two spare bolts from the frame (intended for the bottle holder mounting) and attached the rack to the holes for the fenders.
The thing that I like about this route is that it has a resupply in Sechelt right on half way to the end, so you don't have to carry any food on you the first day. We were lucky to stop at Sechelt to buy food and beer right before all groceries were closed. Being true Europeans some of us were very impatient and couldn't wait until we arrive at the campsite and started enjoying the fizzy drink right in front of the liquor store. Maybe this could explain why we didn't make it to the Big Tree Recsite that day and stopped at the quarry for the night. The starry sky, food cooked on the campfire and relaxed chatter made an awesome ending for a very hard day.
The next day was less technical but some uphill parts were pulling my front wheel off the ground.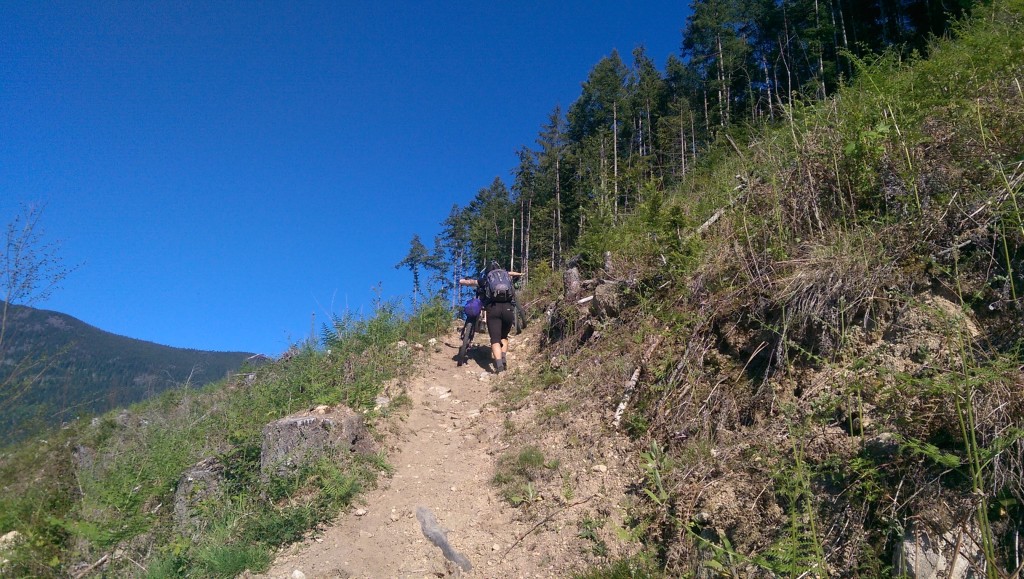 Alberto wanted to catch the ferry to Vancouver on Sunday, so he turned back to Sechelt a bit earlier to take the bus to Langdale and then ferry to Vancouver.
We camped at the Klein Lake Recsite next night where we took a deep in the cold lake. This was my last day with friends. On the next morning our paths diverged, Marius and Martin went back to Vancouver. For me this was just the beginning of the trip – I continued my way to Vancouver Island, towards new adventures. Angry loggers, inexistent roads, and hungry cougars were waiting for me, but that's the story for the next time!