An Appetite for the Alpine:
Alpine Skills Course 2016

Trail Mates: Sam McKoy, Artem Babaian, Martin Cermak, Kasia Celler, Else Bosman, Kelsey Miller, Luca Malaguti
Trip Date: June 17-19/2016
What am I getting into? Everyone who steps into the wild likely asks this same question. Donning a pair of boots and taking that first step out the door, whether it be in youth or just a new experience, there is no other feeling. For me specifically, it was a blend of the thrill of adventure and how in the hell did I get roped (figuratively and literally) into this!? A wise man once told me, all you can do is decide what to do with the time that is given to you. And thus, I am alive, feeling good, and better off for it.
Day 1:
The fun begins with a nice long drive (530am start) up through Pemberton and the gorgeous Coast Mountains. Massive monuments of batholith granite tower over you on both sides. All blanketed in huge swathes of temperate rainforest overshadowed by some of the largest icefields in the world. Here you can treat yourself to the last vestiges of civilization and a good, hot Mount Currie Coffee brew before the wilderness. Driving just outside of the town along Highway 99 you reach the trailhead, seal up your gators, swing your pack over your shoulders, and start the long march. You find yourself immersed in a forest of growth and regrowth, mud and stone, and clear blue skies. Being new to the whole "let's get out into the mountains and do stuff with really big backpacks" idea, this day was filled with character building for myself. Through hours of ups and downs, I learned the ins and outs of traversing long distances over different terrains (and remembering to breathe!). As we ascended the final snowy ridge I was glad to have Luca humming encouragingly behind me. If I recall correctly, a beautiful duet rendition of Ain't No Sunshine was sung aloud (my musicianship, his Italian vibrato=$$$). We took a short break, lashed our climbing gear on, and took a direct root up to Vantage Peak. Here we conferred with Sam about basic alpinism safety, rope work, and rappelling. All of this, of course, was done with the stunning background that is Mount Joffre, Matier, Howard, and the like. One look and I knew I was in the right place, doing something I loved with all the past hours of hardship forgotten. I even got the chance to bring out my nerdy, geologic side! It was then time to hop down into the valley, and pitch the shelters next to the babbling glacier stream and inhale a good meal. I got to know the crew better and watched as the sunlight reflection ran up the glacier in a softened hue of red. Thoughts of tomorrow's tiresome tasks were furthest from my mind as I dwindled on my place in this ancient bowl of granite. So ended my first day of alpinism.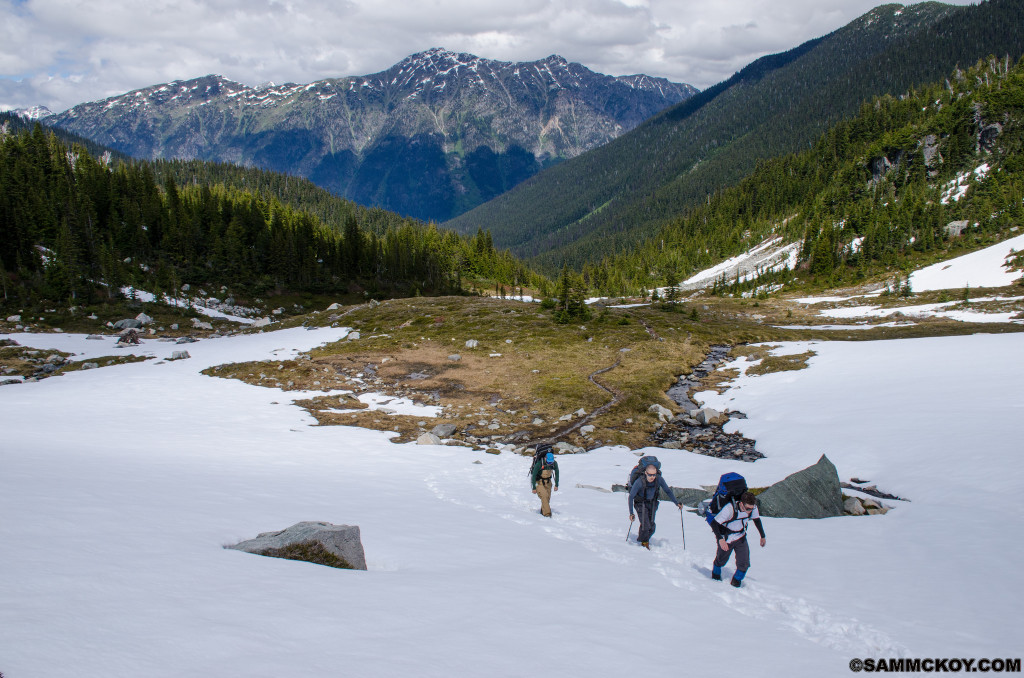 Day 2:
Surprise! 4am comes up really fast when you're having fun! Through my yawns I just had to remember that it's all part of the experience. So I didn't let it interfere, especially when a big bowl of oatmeal with a pound of butter came my way. Today was the day when all doubts were cast aside and it was either nut up or shut up. At this point, I should shout out to Kelsey (the most amazing, wonderful, gem of a being) who, graciously, denied my offer of service and hauled our stuff up the whole day. Kudos Kelsey, kudos to you! Hiking up to the toe of the glacier (the sun glinting off the snow and all that stuff) we went over key safety rules, general glacier travel manoeuvres, strapped on crampons (embarrassing moment considering I had never done it), roped up and started snow step kicking. Or at least, Sam did while I just followed his lead. With every step came the empowerment of summiting a life goal. Of course, there was the occasional scare of falling into a crevasse covered by a snow bridge (but I'm visually impaired, so I wouldn't see it coming anyway. HA). Luckily Sam knew what he was doing and expertly aligned us to safely ascend the rest of the Twin One glacier. I'll remember that for next time!
You know that feeling you get when you get your first A on a paper or you're finally strong enough to beat your older sibling? That deep emotion centered within and a moment of adrenaline filled accomplishment that washes over you. Well once on top of a glacier, you're suddenly not cold! That feeling of smallness within the big world falls away in the presence of your existence on top of that monstrous mountain. Don't seek the mountains just for adventure. If you find yourself on top of the world, seek the knowledge that that lonely mountain has to offer to you.
Over lunch, as expected, the weather took a turn for the worst. Thus, while admiring the incoming weather and surrounding landscape, we discussed hypothetical routes for summiting Mount Howard. It was then time to descend, but not without some shenanigans. We had a brief snowball fight with some hilariously crude jokes being thrown around. Before we returned to camp we opted to check out some of the open air ice formations at the toe of the glacier. Here we tried our luck with ice screws and techniques for ice climbing. I think I'll stick with my feet on solid ground for now though! At this point it was raining, which was fine until it took forever for our water to boil for dinner. Mother Nature was taking our last night very seriously, as it remained to bucket water while the four soaked lads huddled under a very small tarp to inhale our pasta in a delicious butter, sausage and pesto sauce. We were all in our tents by 8 trying to warm up and dry our clothing. Again, I had to remind myself it's all part of building character, and it makes for a better story. That night I got a solid 10 hours sleep.
Day 3:
Thankfully, we got to sleep in a bit this morning (7:30), but getting up early was still really nice in such a place. This morning was filled with technical talk on building snow anchors with pickets, ratchets, z-pulleys for crevasse rescue and self-arresting. The self-arresting just ended up being a giant snow slide mixed with snow balls and us hooligans trying to toss each other off the slope. Our boots were soaked and heavy but our moods were certainly not laden down. With some practice maybe I'll remember all of it, but I can say that what I did retain will forever be with me (on the mountain, camping, etc…). I am so thankful to have had the time and the people to bring me to such a place and spend their precious time teaching a novice like me. I hope I wasn't too much of a nuisance…
As we arrived back at camp, the weather was starting to lift and spots of blue hope appeared above us. We packed up our gear and tents and began the long march back. Half of it was just glissading down the snowy ridges which was incredibly delightful. Nature threw us some last curve balls with some rain and more mud, but we troopers made it back to the highway without fault. I've always been taught to finish strong no matter what, and thus did my best to keep up (I even beat my roommate back! Ha!). We changed out of our gear and drove back to Pemberton where we said our goodbyes and big thanks to Sam for taking us out and spreading his wealth of knowledge. The experience bestowed on me will not be forgotten. It was then a straight shoot toward Squamish where we stopped at Mags99 Cantina for some obnoxiously large and delicious burritos. Seriously, go there! It's literally the best things in life reincarnate.
We said our goodbyes and headed back to Vancouver. In the meantime, I rode by wave of revelation all the way home and collapsed into bed. I am content knowing that I had a weekend like none I'd ever had before. But as always, it was the people that made it so memorable and for that I will always be grateful. Thank you Artem, et al. for giving me this opportunity and bearing with me. And a huge embrace for the others who were there next to me every step of the way. Don't be strangers!
Kevin Out!