I registered for membership in the VOC. I dropped my fee off during the Gear Hours. I signed up for a trip that seemed interesting. I went to the pre-meeting and….found myself the only one not wearing outdoor apparel in the room! It was not difficult to realize that I was the only new one. Harlin asked: "Do you usually do sports?" "Do you know what you are facing?". Cassandra just laughed… I didn't know anything and thus I was super fearless.
It felt unreal when I stepped out of the car under the stunning-glittering-amazing starry night sky and had the first inhale of the fresh air from the woods, "Wow, my first hike!" Thanks Sylvia for letting us stay at the cozy lake-side cabin on Friday night! We had a spry start the next day, which meant everyone walked at a supernatural speed (for me) and nobody was in sight after a maximum of 5 minutes, excepted Lucy and Ross behind me.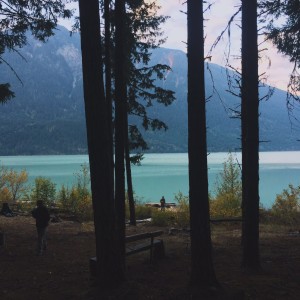 The view of the lake on Saturday morning
The first kilometer was a terrifying  narrow trail that goes up and down, and I tried quite hard not to think "what if I fall" when going across the boulders. It didn't become any easier with time, bitter recall hahaha…The challenges are lined up and took turns appearing. After surviving the rough patches of trail, two hours of going uphill, rain, and the one-log bridge, I ended up on the upslope near Lizzy Lake. The angle of the trail is definitely greater than 60 degrees. Millions of thanks to Ross, to whom the award of Club Gentleman should go, for keeping me accompanied and describing how bad his first VOC trip was. We discovered some blueberries, made the wrong prediction that  "the hut must be somewhere close" and stopped to rest several times.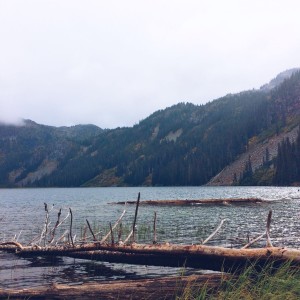 Lizzy Lake, it was a bit cloudy
We reached the hut around 5pm, not necessarily tired but surprisingly cold. The first group had already done lots of work. They fixed the roof shortly after our arrival and we started cooking dinner. It was amazing! There was even a tap with running water in the hut. The stove was also nice and warm. We managed to light up the room using a head lamp and a translucent water bottle. Then came the most interesting part of the VOC.
The situation was totally out of control after someone took out the VOC Song Book. It's a magical book that transforms a group of backpackers into a drunk choir. City people can never imagine over a dozen people squeezing into one bed trying to read the lyrics of this legendary book in the dim light and singing out loud (and hardly with correct rhythm). I took a video for my newly wedded cousin with everyone saying "Happy wedding" in Chinese. Oh, and my cousin liked it a lot, she said that's the most unique wedding blessing she has received and thanks guys!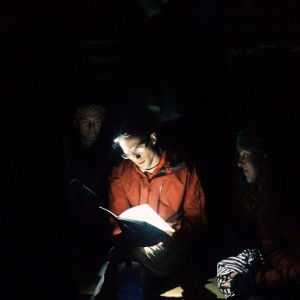 Sacred light shines upon Tom and the VOC song book
It was so cold at night that I had to bury my head in the sleeping bag.  First rain and then snow, after struggling for several hours, I decided to climb downstairs to find my hat in my backpack. Harlin was snoring.  The famous cute mouse got stuck in some plastic stuff and was making a lot of noise.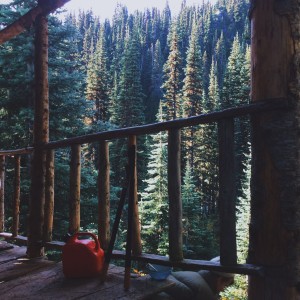 Sunday began by trying to activate the chainsaw for over 20 minutes. We took loads of photos of Cassandra in an orange working suit…After 3 or 4 people tried, Birgit made the final pull to success and I left on the return trip to the trail head with Jess. It was much easier the second day. Ross and Lucy enjoyed a quick swim in Lizzy Lake on the way back and I activated the brushsaw, yeeeh!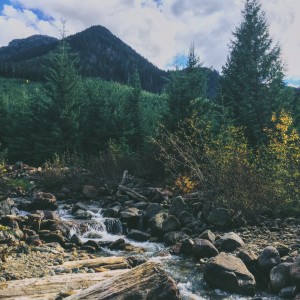 Nice sunshine along the one-log bridge on the way back
My knees stopped working the moment I walked out of the woods. I got back finding at least 3 scratches on my thigh and my toe nails were filled with soil…But this was such an amazing experience! I felt so sad about going back to civilization. During the drive back, I was thinking that my life is going to be filled with updating Facebook posts and walking around the university again.
Here are some interesting memories of my first trip:
You are the most amazing people that I've ever met in university! Full of energy and humour, and super friendly! Thanks for looking after me on my first trip. See you soon!
I learned new words for describing different tools: chainsaw and brushsaw; different wood house: cabin and hut; different animals: rat and mouse.
Since I survived from not washing my face for 3 days, does it mean the money & time I spend on cosmetics can be saved from now on?
It is a new way of living, people will not die without cell-phone signal or hot shower. It just feels good!
And I love you guys!