On Saturday July 22nd at the reasonably early hour of 6:00am, nineteen of us set off from the greater Vancouver area in four vehicles with exactly nineteen seats.  We regrouped at the only Tim Horton's in Hope where we were joined by two more, bringing our group size to an even twenty:  Birgit Rogalla, Vincent Hanlon, Genevieve Savard, Genevieve's friend Kimberly, Andrew Wilson, Aaron Yeung, Mirko Moeller, Liz Lund, Lianne McRadu, Ross Campbell, Jason Chi, Lucy Buchanan-Parker, Alberto Contreras Sanz, Alex Sylvester, Brandon Everell, Richard Shaw, Amy Prangnell, Tobias Huxol, Julian Schmidt, Julian's friend Fabian, and myself.  Breakfast sandwich needs satisfied, five cars with various combinations of people headed toward the trailhead by way of the Tulameen FSR.
Birgit's Beast continued up the 4wd spur road with the rest of us following on foot for around three flat kilometers.  We regrouped again at the trailhead and then started up the 5km, mostly forested trail to the meadows, crossing one short scree section where we met an equally large deer scouting party.
When we arrived at the meadows, there were some clouds.  And Illal Meadows was in those clouds.  It had been raining on and off driving up, but the growing blue patches combined with Mountain Forecast calling for partially cloudy skies had us optimistic that the weather would be an improvement on the forecast for the Alcoholic Traverse, our original plan.  Or maybe it was just me, since, still in the pack-extra-light mindset of the the Alcoholic Traverse plan, I brought a poncho instead of my rain jacket.
Photo Birgit
We set up tents out of the wind in the southeast corner of the meadows. Not to be deterred by some clouds that would surely soon blow over, Fabian, Tobias, Brandon, Jason, Alex, and I started across the pathless meadows to Illal Mountain, a.k.a the highest point of Illal Meadows, which we had glimpsed briefly through the clouds.  At the top, the clouds parted to reveal a small rainbow in the valley and then closed back in again.  That being about it for scenic vistas, we returned to camp to find the rest of the group had gone up to Illal Mountain to view the clouds from that particular angle as well.  When they rejoined us, it was starting to drizzle, and Ross told us a chemistry joke.  Several times.  This was maybe a Type 2 joke.   Having run out of jokes, we went to nap off the rain until dinner.
Following dinner, we sang from soggy songbooks and our singing was harmonious enough to attract a deer! We are collectively Snow White.  At some point, Birgit and Vincent had fashioned a very respectable bear hang between probably the two tallest trees in the meadow but as we added twenty people's food, the line began sagging within bear reach.  Birgit and Vincent each took a wet tree and climbed up to maneuver the rope around higher branches which, combined with some expert water bottle/stick tossing by Mirko and supervision/moral support from the rest of us, resulted in a bear hang at least higher than the tallest bear.
On Sunday morning, with the clouds showing no signs of blowing over, we made plans to tackle Jim Kelly Peak and/or Coquihalla Mountain in two groups.  Birgit, Vincent, Julian, Fabian, Mirko, Andrew, and Lianne set off right after breakfast for Jim Kelly, and met the rest of us on their way down in the col between Jim Kelly and Coquihalla as we started up a while later.    They continued on to summit Coquihalla.  The path up Jim Kelly was followable, if loose and windy in a few places, and we were rewarded at the top with a spectacular view of more clouds. Tobias and Brandon turned around immediately to catch up with the Coquihalla group.  We snacked out of the wind at the peak and then made our way down, where we started bagging waterbodies for the Centennial Skinny Dipping Challenge.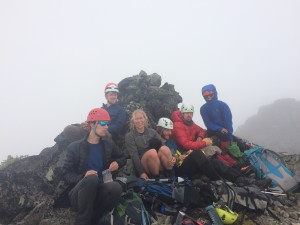 Photo Julian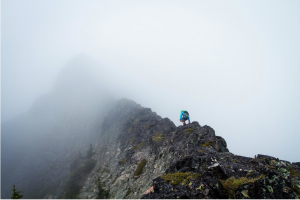 Photo Brandon
With minimal hesitation, Ross, Richard, Genevieve dunked in a beautiful tarn in the col, complete with stony beach. Genevieve even left her toque on. Ross and Richard managed two additional tiny tarns, barely submerging their shoulders, amongst other body parts.
Bolstered by their bravery and increasing sunshine, Lucy, Alberto, Alex, and I joined Richard and Ross for a dip in the lovely silty bottomed tarn nearer to camp followed by a dash through the heather to the larger, less lovely adjacent tarn.  After we warmed up with sleeping bags and tea, a second group consisting Lianne, Liz, Mirko, Ross, Birgit, Genevieve, Julian, and Fabian, repeated the dip-run-dip combo.  Whether or not they spotted any deer, I hope the scouting party at least got to use their long lenses for a nice view of our bums.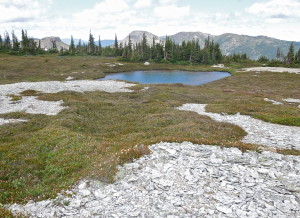 Photo Kay
After lunch and some final exploration of the meadows we packed up and hiked down into the sunshine that had been teasing us from the valley all weekend.  Of course on the drive home, the views of Coquihalla Mountain from the Coquihalla Highway were perfectly cloud free.