On Saturday July 29th, seven VOCers gathered at 7:30 am at the Grouse Grind trailhead for a fantastic day of beautiful views that our knees would come to regret. We were not in a rush to do the Grind and took breaks since we knew we had a long day ahead of us. After we finished that as our warmup, we collected ourselves, refilled our water bottles, put on sunscreen, and got a heads up that the Crown Mountain trail was not officially open yet and still had snow as of last week… But we went boldly onwards, reaching the start of the Crown trail around 9:45 am.
Crown involves going up a bit, then down the Crown Pass, then up to the top of Crown. There and back (not including the Grind) is around 10km, including roughly 800 meters of elevation (300 net, but 800 when you add all the uphill parts together). The first upward part was not too bad – it was not well marked yet, but it wasn't too complicated. A lot of snow was melting so it was sort of like walking up a shallow stream for a while.
When we got to the top of the first hill before going down Crown Pass, we got a bit lost. We didn't realize this until later, but there was a fork in the road, and we took the wrong path. Not knowing this, we wandered around what felt like less and less of a trail as we kept going forward for around 15 minutes (it was covered in snow). Eventually we swallowed our pride and used Google maps to find our way back to the trail, and from there we found trail markers and we were good for the rest of the trip. We asked the first few people that we met on the trail if they also got lost there, and they did, so that made us feel better!
The descent involved a bit of slipping but nothing overly dangerous – we went very slowly over the snow-covered parts and made sure not to walk on any snow that seemed too thin. Going down the Crown Pass was likely the hardest part of the trip, but we were able to do it safely with no special equipment (but a first aid kit came in handy when one of us got a few cuts from tripping!)
Climbing Crown from the bottom of Crown Pass was lovely – no snow left, very few people on the trail – we only met 3-4 other people on the whole way up. The sun was at our backs and there wasn't a cloud in the sky, we could see everything! It was quite long however, and we did take frequent breaks until we got to the top. At one point there was a fallen tree on the trail, not sure if that was a permanent feature or just something that has yet to be cleared away – it complicated things, but not overly so. There were some scrambles on the way but nothing too technical.
(Both pics by Levi Burns)
The view was beautiful from the top and we could see out to the horizon in every direction. We had lunch there and took it all in for 30-40 minutes or so before beginning the descent. Again, going down Crown really wasn't bad, although it is fairly long (especially if energy levels are starting to drop; a few people may have regretted the Grouse Grind warmup at this point!)
It may be worth mentioning that most people were running fairly low on water when we got back to the bottom of the Crown Pass. Most of us brought 2L of water from the Grouse lodge, but if I do this trip again I'd bring at least 3L per person. It wasn't an urgent situation though; we could cool ourselves down with snow when we felt like it, and there were also some streams where we were able to fill our bottles (but these streams are likely just seasonal while the snow was melting; not sure if I'd trust them to exist a month from now, and there aren't really any permanent bodies of water to even use chlorine tabs to filter, so bringing more is key next time).
Oddly, ascending the Crown Pass was easier than descending it. There are chains for a section of it, which helped. We didn't get lost at all this time getting back to the Grouse lodge – apparently the misdirection in the trail was only one-way!
We got back to the start of the trail around 4:00 or 4:30 and back to the lodge 15 minutes later. From here, four of us decided that we hadn't had enough punishment yet and took the BCMC trail to the bottom, deciding to instead put that $10 toward beer later. This felt like a great idea at the time but we all came to regret it within about 15 minutes of that one hour section, when we saw the condition of the BCMC trail, and shortly afterward one VOCer was stung by a wasp… but at that point we just kept going to the bottom. It was very dry and eroded, full of loose stone, and each step we took seemed to kick up dust. Protip: the Grouse Grind and Crown are enough for one day, you do not need to do the BCMC trail – it is not a smooth downhill jog like we hoped.
Ultimately, three of us out of seven survived to Mahoney and Sons in the evening, and at least that $10 was better spent there than on the Grouse Skyride (but next time we would take the Skyride). A successful trip! We had a wide range of skill levels and experience levels, but everyone was positive and supportive the whole time, and we were rewarded for our efforts with crystal clear blue skies and some great sleep the next day. I think the few snowy parts where we were held up earlier in the hike will clear away within a week, especially with the extreme heat coming – go hike Crown if you can, I'd do it again in a heartbeat!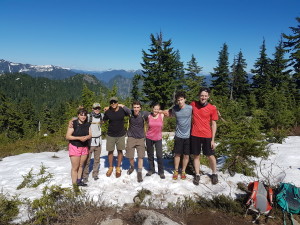 Participants (left to right): Katie de Sequera, Robyn MacDonald, JT Athwal, Luc Harvey, Amy Prangnell, Jonah Adelman, Levi Burns (picture taken by random passerby hiker)