The best part of this VOC trip to EC Manning Provincial Park is that besides the main goal (getting to the top of Frosty Mountain), we also wanted to see the magnificent Alpine Larch trees that characterize Canadien autumns.
Once in Manning Park, besides the Lightning Lake (what a beautiful name for a lake), we started the first part of the hike towards Frosty Mountain Campsite (or Manning Park Creek) ignoring the fact that being 21 of us, the available tent spots could be easily limited should other campers decide to visit the site that same day. If it happened to be full, then "we'll sort it out somehow".
We started hiking at around 10:30am to enter the beautiful BC forests at Manning Park. As a European who rarely sees any wild nature, I was surprised by the amount of chipmunks randomly jumping around. How graceful. We arrived at the campsite at around 12:30pm in separate groups and we quickly set up our tents, and besides a couple of campers, the site was pretty empty.
The sky was partially clear and the clouds didn't seem in the mood for rain. Thanks clouds! The forest, however, was wonderful. It was certainly chilly, some snow in the ground and the dense smell of the pine trees dominated the area… what a great spot for lunch. Lunch. The time where people get their nuts, their sandwiches, but also the time for MY FIRST WHISKEY JACK EXPERIENCE. Yes it was that good. I mean, holding a piece of bread and having two beautiful birds fighting over it on your hand is something that never happened to me before. These things don't happen in the Spanish "forests". I think I spent an hour and approximately half a sandwich feeding them, making sure they become dependant on No Frills bread. Sometimes they land on the hand, sometimes on the fingertips and sometimes on the head.
Our group was full of energy, so full that some of them summited Frosty Mountain that same day, even if it was the next day's activity. The rest of us went for a shorter hike, or relaxed at the beautiful camp site.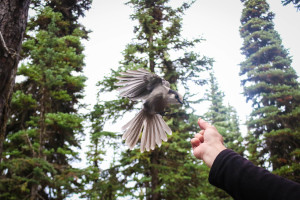 A wonderful Whiskey Jack landing on my hand because it loves me. It has nothing to do with the food. Photo by Jemma Titheridge.
A member of the group saved us all by bringing cards. Once we were all back we decided to play a werewolf game (a.k.a. mafia) and oh boy, what an experience. In summary, the game is played by two teams: the wolves and the innocents. It requires a narrator (that was me!) who does not participate as a player, and identities are assigned by handing out cards. At the start of the game, every wolf is given the identities of their teammates, whereas the innocents only know the number of wolves in the game (in our case bears, because this is Canada), and do not know which players are bears and which are innocents. The latter has to reveal and eliminate the former by accusing the correct person. From an outside perspective, it was scary to see how a group of lovely people who never met before fiercely accused each other of being the bear (the wolf).
It was funny to see how poor James Fisher was randomly declared guilty by everyone with absolutely zero evidence as soon as the game started (he happened to be a bear), and impressive how sharp Diego Adleson was when it came to identifying bears. The case of Jemma Titheridge was extraordinary. She was a bear and nobody caught her, she killed everyone one by one and she won the game on her own. It was an aggressive match, but it left beautiful and hilarious memories, like when the narrator (me!) asked Jan Cloppenburg who he thought the bear could be: "I don't know I just wanna die and clean my clothes".
For dinner we lit a wonderful fire, and by "we" I mean Fraser Stewart-Barnett, who collected wood for the fire and led the task. We had dinner and lots of fascinating conversations. A topic I'd like to highlight is the pigeon mating dance. Oh my god that double chin, those noises, dat spin… We concluded that pigeon dynamics are truly inspiring and that they can be easily transferred to human mating strategies, easy to observe in very specific environments that enhance such behaviour (dance pubs, rock parties…). Before heading to our tents the sky cleared up and I had a chance to gaze the night sky. So far from home yet under the same constellations.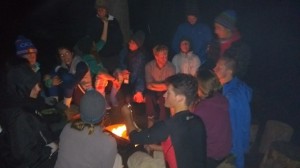 What a beautiful group. Photo by Freek de Haas.
The next day we woke up at 7:00am and headed to Frosty Mountain at around 9:00am. Those who attempted it the day before went to Windy Joe, another mountain in the area. The way to the first summit (where the "extreme caution" sign is and where the loop continues) was easy. Full of marvelous golden larches contrasting with the dark green colours of the forest. The weather got windy, a little bit rainy and the clouds started to slowly hide the summit. Different groups got to the top at different times, the first ones being the most unlucky as it was quite covered when they arrived. In my case it was cloudy as well, but in a matter of magic seconds the clouds were blown away, leaving a spectacular view of the NW side, and eventually displaying the whole panorama (views to the US and the North Cascades in the distance). We were lucky, maybe because I tend to tap the mountains in their summits once I reach them and as a response, they blow away the clouds for us (I know, it doesn't work like that). Also, congratulations to everyone who summited their first mountain ever, you all did AWESOME and you know who you are. I don't (except Olivia Sullivan, who was in my group. Good job up there!).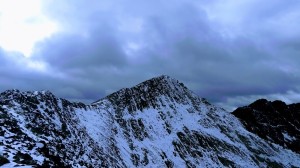 East summit (left) and Frosty Mountain (right). Photo by Freek de Haas.
The way back was long and surprisingly sunny, mostly through forest, and interestingly, through a creepy but stunning section were all of the trees were dead, probably after a fire. It was a wonderful trip, my first camping experience in this tiny and not-wild-at-all-country. The group was kind, funny, easy going and mature. It was effortless to have deep philosophical conversations and to build long-lasting friendships. Everything one would ask for in their first VOC activity, and everything one would expect from these people.
Drivers, thank you for the lifts. Thanks to everyone who shared their tents and of course thanks to Sarah Taylor for organizing this trip, helping me with my first report and for being so cool (I don't know if this is supposed to go in the report but why not?).
Pablo L. Finkel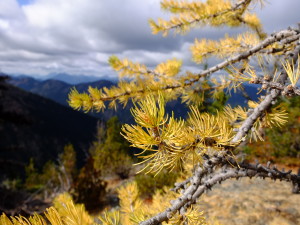 The soft, golden Larches. Photo by Mariana Jarkova.