This is a day hike trip led by Esther Li. The highlight of the whole hiking trip was that she brought her cat hiking with her!
On Monday morning, we all met at Kingsgate Mall. The drive to Golden Ears from the mall is about an hour. We started hiking at around 11:00am just as we planned. We decided to take the shorter loop, which is 12 km long and roughly took us 4 hours to finish. I would say the whole hike was very easy and perfect for a relaxing day. There were quite a lot people hiking there as well.
This would be a super helpful link: https://www.vancouvertrails.com/trails/golden-ears-canyon-loop/
It took about half an hour to get to the lower fall, as shown in the picture below. Then you need to take a right, and the trail is not very obvious. We did a little exciting detour, but just look out for the orange trail marking tapes on trees. From this point, the trail gets a bit steeper.
Following the trail, you will eventually cross the bridge over Golden creek. We had our lunch break beside the creek. We continued hiking after lunch, the trial is fairly flat.
To the point you turn south going back to the starting point, you will get to a highest point of the hike where you could overlook the golden creek.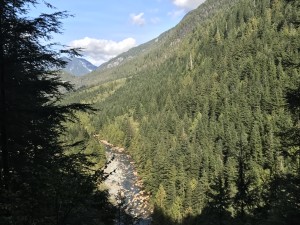 We finished at around 3:30pm and headed back to the city. Sammy was generously offering his place for a Friendsgiving potluck. We ate so much food!