In early June, Carla and I did an 11 day trip to Alberta. We thought we might have son Dave along but he doesn't much like long car rides, and I didn't think that VOC people would be interested, so in the end it was just Carla and me. Our purpose was to get some exercise, visit Carla's brother Jim in Calgary, visit my sister Phyllis in Medicine Hat, visit the massive pottery works in Medicine hat, and do some reminiscing about the good old days when we used to climb stuff, or later when we used to haul the kids along. How does one write up a trip report for such a long rambling trip? Perhaps in the form of a diary.
Timing: We hoped to do this in the shoulder season when the campsites were not crowded with school kids, and when it wasn't too hot. This worked out OK. It snowed on us twice, and at the pottery works it was over 30C, so not too bad. We didn't make any reservations so we avoided the "Keep driving, we aren't there yet" scenario.
What to bring: this is car camping, so if in doubt, just bring it. Two sleeping bags per person, pillows, and lots of clothes, boots, shoes, sandals, crocs. Entire back seat was full. Bring lots of food.

June 4, not too early, we set off for Manning Park, which took us 2 1/2 hours with a stop in Hope for gas. Arriving at noon we decided to do a "training" trip, but we didn't go up Frosty because that would be too much training. Instead we went towards the three Brothers and we stopped 5m from the summit of Blackwall where we would have had to hold on and Carla doesn't like holding on. Dined at Pinewoods Restaurant where two burgers and a tea set us back $43. At the Lightning Lake campsite the Australian attendant informed us that the camping would normally cost us $35, but as we are BC residents and seniors, only $17.50 The next morning we asked if we could use the defibrillator but the attendant told us it hadn't been installed yet. A couple of ladies from the Netherlands had rented a cool jeep/camping setup.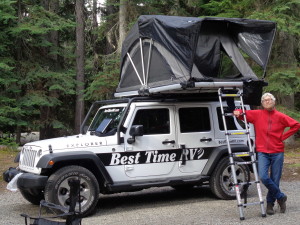 Interesting tent on rented Jeep
June 5 We decided that we didn't want to go to Princeton so we drove back to Hope then took the #5 up to the Othello Tunnels. If you are interested in really awkward places to put a railway, you would like the tunnels. We spent a couple hours there, then on to Merritt. Now the only reason to go to Merritt is to buy ice cream at the excellent Tourist Info Centre. False, it has been shut down and replaced with a very tiny one-toilet info centre in the center of town. Sorry about that.
We wanted to camp in Rogers Pass and reminisce about not climbing Sir Donald but all the national campsites in the pass were closed. Finding a campsite in Golden was tricky. We eventually found the golf course and sort of ninja-camped.
June 6 We drove to my sister's condo in Canmore. Nite in Canmore.
June 7 Did nothing, it snowed big two inch flakes called "horse blankets". Nite in Canmore.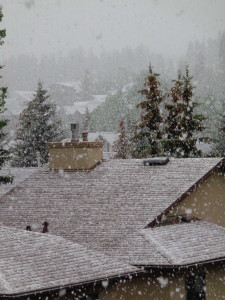 Snow in Canmore, Condo Country

June 8 To Johnson Canyon where we hiked the interesting trail through the canyon and up to the uninteresting Ink Pots where it briefly rained hard. Saw huge chipmunks. Nite in Canmore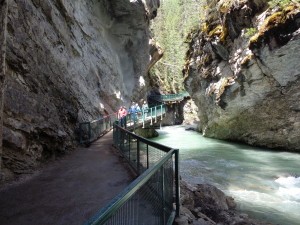 "Trail" in Johnson Canyon.
June 9 To Burstall Pass. another training trip where it briefly snowed very hard, small pellets of "graupel" We were following the tracks in the snow made by a man in running shoes and we turned back just after he turned back. Nite in Canmore
June 10 Eventually we found our way to the correct address in Calgary. There is so much road construction going on in Calgary that even the locals get lost. Nite in Calgary with Karen, and Carla's brother Jim.
June 11 To Medicine Hat (MH) passing a huge array of solar cells at Brooks. Nite with my sister in MH.
June 12 Pottery Day, 30C First a tour of the MedAlta museum, formerly a pottery factory which at one time made 75% of all pottery used in Canada, from ash trays to toilets and everything in between. Then a tour of the next-door more recent pottery factory which made tons of cups and saucers for restaurants as well as other stuff, and which shut down suddenly when they discovered they weren't making any money. Finally a tour of a company which makes modern day clay for modern day potters. All our guides were extremely knowledgeable and some of us tourists, not including myself, were also very into pottery.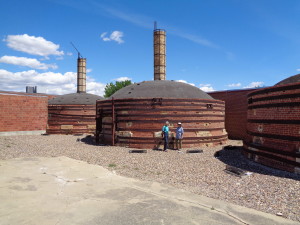 Pottery Kilns at MedAlta
June 13 Left MH heading west. One wrong turn and we would have been in Saskatchewan. Spent about an hour searching for a historic aquaduct which was used to irrigate parts of Alberta before they discovered that canals were more reliable.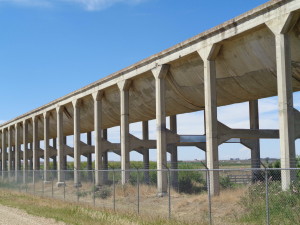 Aquaduct
Strathmore Starbucks. Gas at Dead Mans Flats Nite Kicking Horse Campground in Yoho Park. We tried to get to Takkakaw Falls campsite to reminisce but the Authorities had closed all sorts of roads and trails. The showers were broken so we received a $6 discount on the camp fee and we didn't have to pay the $20 National Parks Use Day Pass fee because their cash register hadn't been programmed yet to charge it (Another reason to go early in the season). One of the three ladies (from G.B.) in the campsite next to ours had very attractive red pajama bottoms. We dropped into the Cathedral Mountain Lodge just to see what they were up to and they said that indeed they did have a room available for us for $375 + tax, but we said "no thanks".
June 14 Gas in Revelstoke. In Golden we met a man with a dog and a bike who was trying to hitch-hike. It's very hard to get a ride if you have a dog and a bike. He said he hadn't eaten for two days. We gave him a package of cookies and he was grateful. In outer Kamloops, after searching for about an hour we found the 5A and drove to Monck Prov Park (recommended). We got the BC/senior rate of $10.50 and we didn't buy firewood. Lots of wild small kids which is nice if you like kids.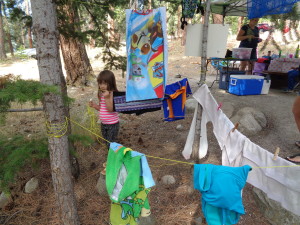 Kid at Monck
Jun 15 Hope Chevron 11 am. Home in time for a nap.
Conclusions: Carla drove 2064 kms. It was interesting to see the price of gas go from $1.66 in Vancouver down to $0.98 in Calgary. We wondered if we should buy carbon offsets to avoid feeling guilty but decided we'd already spent plenty.
You don't want to go climbing because the mountains are inconveniently large, and choss.
Choss near Yoho

We found that most people seem to pre-book campsites, which costs more, of course. The National Parks people are a bit sign-crazy, proposing a fine of $25,000 for anybody smoking marijuana after 11 pm. This was a tricky one because we were very close to the BC-Alberta time zone change. The National Parks are quite pricey and have long lists of things you aren't allowed to do. At Johnson Canyon we found people with Discovery Passes which cost around $136.40 + tax? Day passes which cost $20, and people with "tickets" on their windshield for not buying passes.
Avoid restaurants. Gracious dining isn't worth it. Bring lots of food from home. Freeze a 4-litre milk jug of water and keep it in your cooler.
The real secret to saving money is to have friends scattered across the route. They will feed you and put you up for the night and they will be happy to do this because they don't have to drive out to Vancouver to visit you.