I got a phone call from Jeff Mottershed, to the effect that a few days ago he went up to the Phelix trail head to carry in the new stove, but accidentally backed his car off the road, and ended up hitch-hiking back to Vancouver with Devlin. He had a plan to get a ride back up, retrieve the car, grab the stove and carry it up, and he would like it if I came along to carry water and snacks. The stove weighs about 150 pounds stripped down and it seems nobody is rated to carry that much. Carla thought it might be fun, or at least more fun than sitting on our back porch knitting, so we left Vancouver Monday noon in the Jeep. After the obligatory stop at Pemberton Macdonalds and some more driving, Carla and I were at the one-log bridge by 5:30pm. Christian Veenstra arrived with Jeff 7:13pm and by 8 Jeff's car was back on the road and Christian was driving back to Vancouver.
Next morning at 6am we were on the trail. Jeff didn't think he would get the stove all the way to the hut, and we started guessing where it might stop. He explained that we were likely to run out of Jeff before we ran out of daylight. Carla and I didn't have any trouble keeping up with Jeff because we didn't have this 150 lb albatross to carry. There are some parts of the trail that you might not notice if you were just carrying a normal pack. Jeff stopped from time to time. Eventually we got out the GPS so we could say "only xxx metres to the Hut". Around lunch time we were getting near the lovely woodpile, and Jeff was getting really used up. Knowing when to stop is a hard thing to learn, and it applies to climbing mountains as well as carrying stoves. We finally ground to a stop within sight of the lake.
The run back to the Jeep was easy, and the drive home mostly uneventful. Carla drove, I slept.
What we learned:
The tirfor is a fantastic machine for moving very heavy stuff. From now on where Jeff goes, the tirfor goes.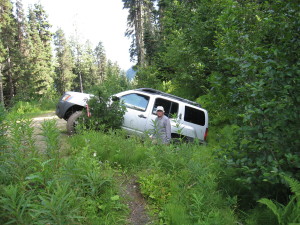 "Off Road" vehicle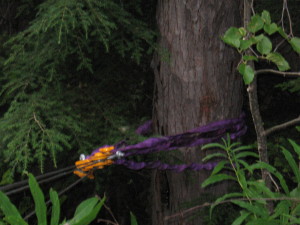 Let's see if we can pull over this tree on top of the car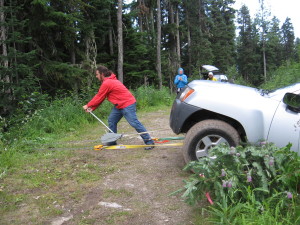 Jeff and the tirfor
The last 6 km of road is not improving and there was no sign of the people who put up the survey markers last year and had a plan to do some logging. The road would need a lot of improving before logging trucks could drive it, and there isn't very much good logging to be done up there.
The one-log bridge is still usable, but there is another, better one log bridge a short distance away. The new bridge should be improved with a rope handrail and possibly some traction mesh.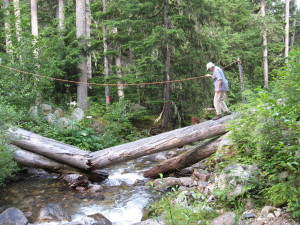 Old bridge is pretty used up
VOC should have bought the lighter stove. I don't know who in the Club is rated to carry the stove the last bit around the lake, but the keeners going up this coming weekend will figure it out.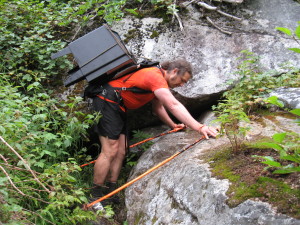 One of the inconvenient bits on the trail
Things seem to be going mostly well, and we should have heat this winter.