Listen up, all you would-be hotspringers. This is a real hotspring trip!
Picked up Sherry at 10 am and drove uneventfully to Harrison. Bought gas and a glow stick. Successfully passed three logging trucks. At the Clear Creek FSR turnoff we started to encounter fresh cross ditches and there were many, which made us believe that there would be no more logging trucks (true) and the hot spring would have nobody there (false). At the hot spring we found a party of two ladies, one extensively tattooed and the other with pink hair but no tattoos. The other party was four men, the Americans. They had been up there one night already and said it had been bitterly cold. Everybody seemed pretty polite and respectful and a bit drunk. Marijuana was available but they were short of food. Sherry and I ate lunch and headed for the pools. There are three man-made pools at Clear Creek. #1 was pretty hot, #2 was about right, and #3, my favourite, was uncomfortably cool this time. We installed "the bypass" which diverted the hot water from #1 to #3, and this made the people in #2 a bit cold so they complained. We were never able to get #3 up to operating temperature, maybe because the air temperature was below freezing.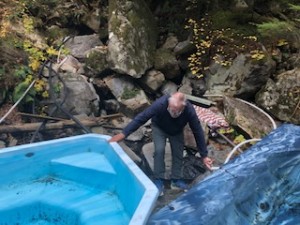 It takes about an hour for your body to go all pruney in the hot water. Life in Surrey and the hardships of being a health care worker were discussed. Two of the Americans left to go back to Harrison to get more food and more firewood. The other two Americans were getting pretty hungry. Sherry and I fixed up our tent (Sherry had three mattresses), ate our Presidents Choice White Cheddar and we went back to the pools. The two hungry Americans were getting really hungry. The two ladies were getting really drunk "I'm too drunk to drive back home and we still have all this beer to finish, and we have to show up for work tomorrow morning." We went to bed around 7pm because we were all pruney and it had been dark for two hours. The glow stick wasn't quite as fun as I had remembered it.
If you go to bed at 7pm, you are pretty bored by 5 am, also hungry and needing to pee, so we got up. The ladies and the Americans had all vanished. We had our peach pie and coffee at the pools. My propane stove froze solidly to a piece of wood. Around 9 we started to drive back as we figured we had done it all and Sherry wanted to go trick or treating because it was Halloween. We decided to count the cross ditches on the way back and found that this was extremely difficult, perhaps the most difficult thing on the trip. At ditch #46 we encountered four cars and a tow truck diagonally across the road. The tow truck was getting ready to retrieve an ATV that had gone over the edge last Sunday (by now it was Thursday). The ATV went down a long way but the passengers were OK. The other cars contained the film crew, fancy cameras, fancy microphone, a drone, and apparently an actor. The actor demonstrated his incompetence at rappelling while somebody hiked down to the ATV with a chain saw to remove some trees that were in the way. After a lot of filming and faffing they unwound the long steel cable from the tow truck then moved the truck so we could continue counting cross ditches. They were still filming and faffing as we drove away.
We continued driving carefully and ran out of cross ditches at #82. Now we had only logging trucks to avoid, until we came to the sign: "Active Logging. Wait until the man tells you to proceed". There was a large pile of logs in the middle of the road and a very large machine with giant jaws, called a loader, was sitting there patiently waiting for something. We soon found what it was waiting for as a logging helicopter brought down a log and deposited it in front of the loader. This repeated three times, then the loader speedily removed the logs on the road and the man waved us on. We encountered three logging trucks and then the rest of the drive to Harrison was uneventful, except pretty exciting when we finally got to pavement.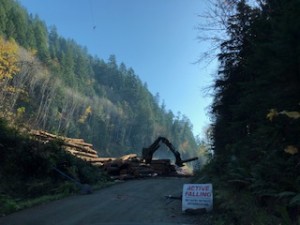 Past Harrison I accidentally took hwy #7 instead of #1 so we got to explore some interesting geography and places where they grow garlic, until I delivered Sherry back home an hour behind schedule but still with plenty of time to go trick-or-treating.