A Swede, a Thai, a Canadian, an Italian, two Swiss, two Chinese, three Liechtenstein people and – of course – four Germans set off to celebrate the start of a new year and decade. Fortunately, this is not the beginning of a bad joke, but the report of a real trip with a well-organized camp, yummy meals (solid, liquid and frozen), fun activities, a more or less civilized party, and snow all around.
The well-organized camp
Despite the freedom we seek outdoors, snow camps seem to work best with efficient German planning skills, Flo as a community manager, and a few rules. For a start, we were able to choose the spot with a maximum number of minutes of sunlight for our temporary home. This was thanks to Tobi's map with sunrise and sunset time data for different possible camping locations on the plateau. His exemplary preparations for the trip went far beyond a suitable location though; the community center for example was built according to his drafted layout and the rest was marked out in the 18-page trip manual. Sheltered under a retired parachute (like last year), we had to make sure to keep the mechanical tarp-door closed to stay as warm as possible during our comfortable adventure. Other, highly recommended, rules were to have locations for peeing, pooping and snow for drinking water defined – and separated. In favour of surrounding wildlife it is theoretically also ideal to keep the volume down at night. This aspect might have been subject to possible improvements, especially during NYE. However, if a group functions socially really well, this has to be lived out I think – and aren't we also part of the wildlife, too (see "The more or less civilized party")? This social dimension of the trip was not just a result of great people with a common spirit (& spirits) coming together, but also of Flo's fruitful efforts to connect old and new friends through chat assignments, question rounds, and common meals.
The yummy meals
Meals on a snow camping trip can have several functions: There's the social part mentioned above, the matter of fact that food is transformed to body heat and energy when eaten, and – last but not least – to please our sense of taste. With the help of pulks and people who filled and pulled them, we were indulged with food and drinks that were probably fresher and fancier than all our everyday meals. Maybe there is a causal link between the number of people you are cooking for and cooking ambitions. So, despite being in the middle of nowhere, we feasted on Apfelstrudel, Chinese vegetable and bread soup, fresh ginger tea, salty chestnut porridge, Swiss cheese fondue, and a Thai Curry rich in fresh veggies and taste, to name a few. Some say that all food is tasty when on a mountain. However, the frozen popsicle-like lunch eggs, hummus, carrots and apples were not even considered yummy under these circumstances.  As for liquid meals you have to make sure to either keep them warm or have them keep you warm by potable anti-freezing agents (see "The more or less civilized party") to not freeze.
The fun activities
While skiing is the most obvious choice of fun activities on a winter camping trip, the snowboarders and snowshoers on this trip also exhibited signs of having fun such as smiling and claiming to have fun. Levels of fun were additionally increased by maximum levels of sunshine (see "The well-organized camp") and bluebird/ starlit skies. Some of these activities were even culturally rooted by following the German saying of "sliding well into the new year". Subjects to follow this approach were a ski, followed by an apple, a backpack, and a water bottle, aided by an icy 35° slope (Note to self: Locking skis in walk mode properly is important if you appreciate skiing down on two skis and sparing your friends from rescuing your ski). All of the items could be retrieved wholly throughout the remaining ski day – only the apple was slightly softer than it had been earlier and 300 meters higher. Apart from falling objects, avalanches are a serious risk in beautiful snowy mountains, and so the routes were chosen accordingly, beginners were briefed on avalanche safety, and beacon searches were practiced. During hours of low visibility like at nighttime, however, it is considered much safer to exchange these fun sports activities through other, less healthy activities.

The more or less civilized party
Even though not everyone arrived and left on the same day, all 15 people were present during one evening. Since this "coincided" with New Year's Eve, a celebration of these events was twofold necessary. A communal dinner and suitably strong Feuerzangenbowle ("It is hard to get drunk in the cold") along with activities managed by party-officer Alina were worthy elements of this celebration. In order to successfully maximize the participation rate of the traditional naked snow run around the camp, our innovative party-officer offered to choose between a blue track (staying on consolidated tracks) and a black track (run in deep snow for at least a few meters). Most people even managed to get fully dressed and warm afterwards. The recovery of some "lost underwear" at a later hour was celebrated by dancing around it in the lounge area. In addition to the booze and nakedness, happiness levels were increased by a good amount of stage diving and group hugs under the stars (minus the nakedness just to be clear). By around 4 in the morning, all party folks had somehow found their way back into their tents or snow caves.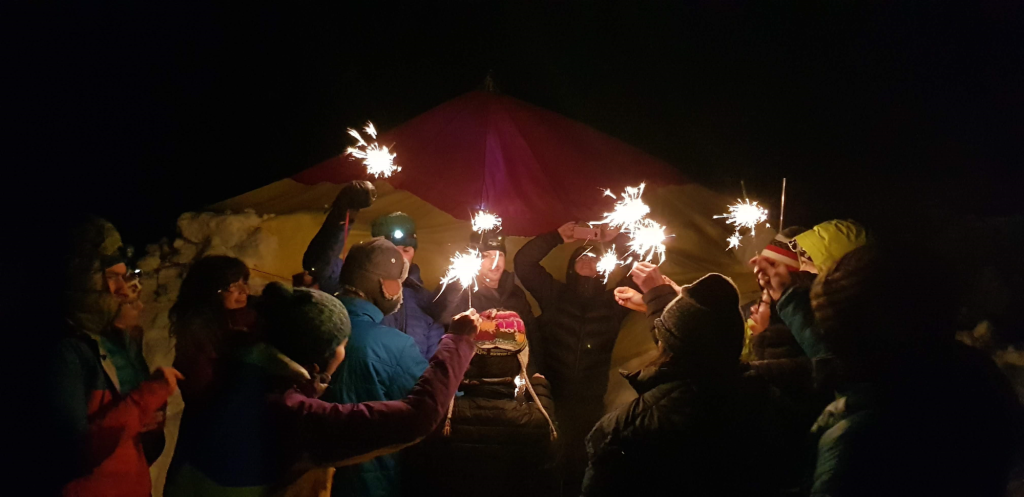 The snow all around
Although the snowpack was much lower than hoped for, a little cornice near the group camp was found and eventually housed ten people. The snowcave experts of the group gave a crash-course in snowcave construction to the newbies, who then undermined the wind-drifted snow to the extents of feasibility.
The ceilings of the caves had come a bit low after a few days, however breathing and sleeping inside was still possible. On top of that, sliding out of them like penguins surely provided lots of fun. Here's to winter camping making us feel worry-free and happy like kids again!
Epilogue: The "shitty" descent
We emerge out of our caves to be warmed by the rising sun once again. We have truly been blessed to have such formidable weather every single day (much better than last year). After a delicious, but ultimately futile, attempt to consume all the food we carried up, we start breaking camp. Our stay here is coming to an end and the camp site shall now become a tabula rasa. We give back what we temporarily borrowed to the pristine winter landscape.
With heavy backpacks and heavy hearts, we set on the final descent of the trip. The still powdery snow more than once makes us question our decision to leave. Luckily, we are blessed to have the mountains at our doorstep and are already thinking about the next trip. 
Leaving no trace means also carrying down our excrements. Surprisingly, no one volunteers putting them inside their backpack, so they are now dangling dangerously free on one of the pulks.
The pulk seems eager to get down and requires its wielder to keep a high speed to stay ahead and in control. Fueled by confidence from a surprisingly successful descent of a steep forest section, the poop pulk and its wielder enters the last slope of the descent. The bus stop with the trash bin is already in sight. The overconfident swede feels a firm tug from the pulk and a quick glance behind confirms what he feared. The pulk has turned, the bag containing the poop bags has ripped and the slope is dotted by its content.
The overconfident is quickly taken down to earth as he scurries up the slope to collect all the poop bags. An unsuspecting couple skis by, offering their help. To save everyone from embarrassment, he turns down the offer and stows the bags back in the pulk, utilizing the ripped bags as good as possible. A few hundred meters further down a small bump in the slope catapults a couple of the bags out of the pulk once more.
Luckily, the poop bags are all meticulously sealed and the snow remains as white and pure as ever. A few minutes later, they lie safely in the bear-proof trash bin at the bus stop. We take one last glance up towards our home for the last few days. The mountains will not remember us, but we will remember them and we will certainly come back!
Trip report written by Verena, Oscar, Ize and Tobias. If you would like to join future VOC Europe events, please contact Tobias or join our facebook group. We also have a WhatsApp group. All major trips will additionally be posted on the VOC message board.