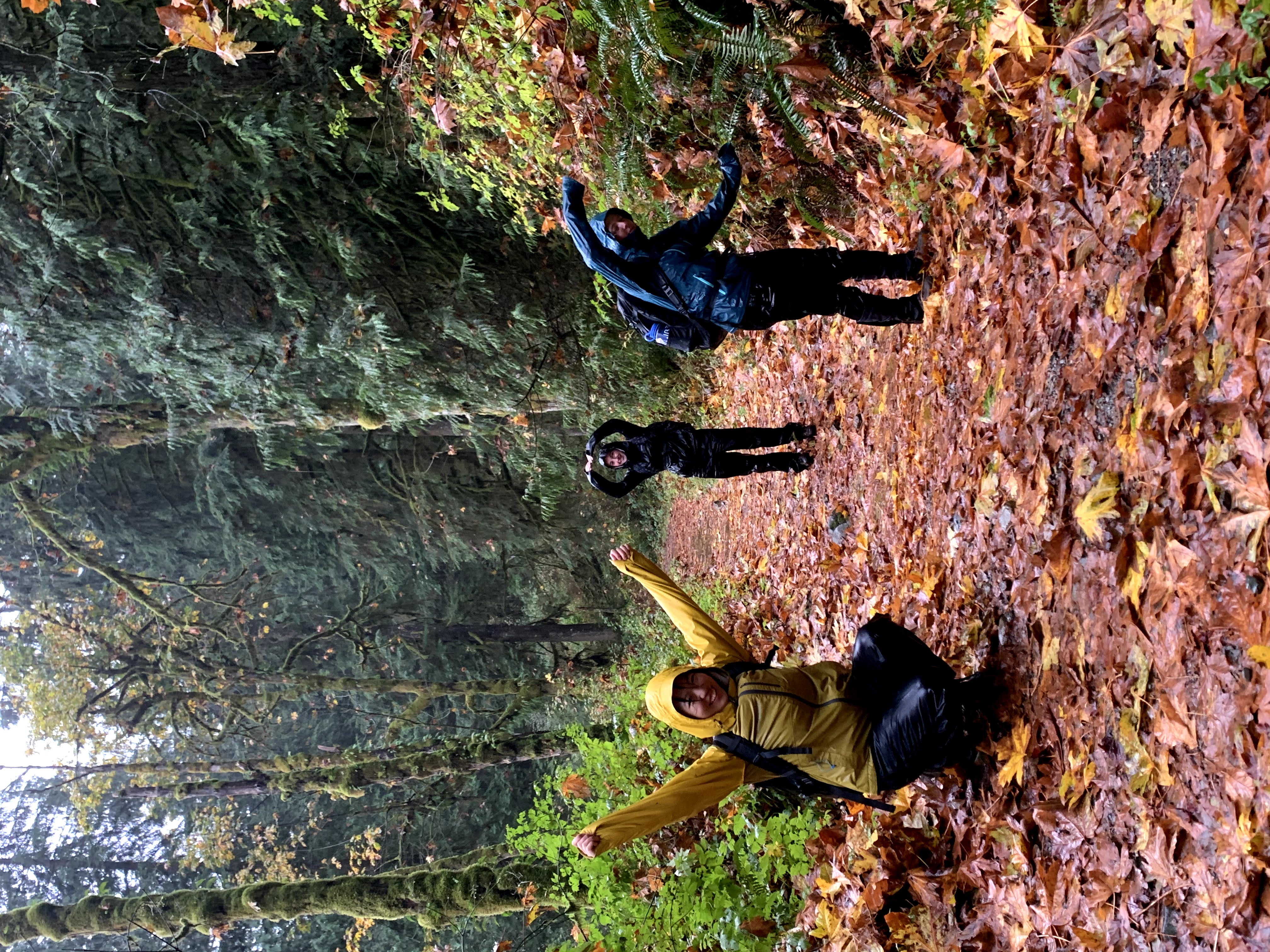 Lucy Luo: Yo Tyler!! This is our first VOC trip and trip report! What do you say we make it epic by using the most corny format and tone, so it becomes the first faux talk show to be found in the history of VOC trip reports!?
Tyler Chai: You know what Lucy, I hate that idea but let's do it anyway!
L: It's not like you have any better ones… anyhow, we met in a breakout room during a VOC Jumpstart workshop, and decided to escape our impending midterms by going on a "Beginner friendly but probably wet" trip.
T: Wet is an understatement. I felt like I was going to get hypothermia!
L: So in the wonderful dry morning of October 11, our very scary trip leader Melissa Berstein and Shaun Donnelly picked us up and we headed to Golden Ears Park. Tyler was wearing jean shorts and a flannel. Among a quick stop at Tim's and various small talk, we arrived at the lush forests of Golden Ears Park. We met up with Emma Green and her doggo Banjo at the head of the East Canyon Trail.
T: A bit of foreshadowing, the shorts would come and bite me in the a**. But anyway, the start of the hike was pretty relaxing. It was cloudy but not too wet, and we were all confident that the hike would go out great!
L: There were trickles (and sometimes streams) of water along the trail. "The boy's" (Tyler and Banjo) did not like it when their paws/feet got wet.
T: Excuse you I'm not a dog! What she meant was that besides the shorts, I also chose to wear runners that weren't waterproof.
L: Rookie mistake. Judging by your preparedness, you aren't as far off as you think. *shrugs*
T: Oh….
L: By the time we arrived at the East-West connector bridge, the rain started to trickle. We had a mini photoshoot and Chinese poetry was about to rise out of me.
T: Xue hua piao piao bei feng xiao xiao.
L: I KNEW THAT SONG BEFORE IT WAS A MEME!!
Here's some classical Chinese poetry they made me memorize at age 6:
日照香炉生紫烟,遥看瀑布挂前川。
飞流直下三千尺,疑是银河落九天。
(Think purple smoke. Think hanging waterfalls as walls. Think flying, poetic water droplets. Think the milky way upon earth.)
T: But with that out of the way, let's get back to the trip itself. After a few pictures and Lucy's poem, we continued on our way towards halfmoon beach! We stopped for lunch time under some wet and unidentifiable trees.
T: We didn't get too far before the rain had gotten too strong. It formed a deep pool that Banjo wouldn't be able to cross. So we had to turn back.
L: After lunch, we headed back through the West Canyon Trail in hopes of bumping into Chloe and Declan who were self-propelling to Golden Ears. The rain has become a constant downpour now. There is no longer anything dry.
T: Did we mention the rain? Because I'm gonna do it again. Rain! Sucks to suck for Declan and Chloe because that must have been one terrible bike trip!
L: I mean, I did hear from them that it was ~ "almost enjoyable"~
T: I was so wet by the time we had lunch that I legitimately didn't think there'd be a difference if I jumped into the nearby river.
L: Bongo – I mean, Banjo. Banjo had a rough time heading down West Canyon as West Canyon was considerably more rocky and slippery, and was shivering the whole time. With various strategies including positive reinforcement via treats, the boy did his best. Totally Type 2 fun as I've come to learn, but we were honestly vibing. Aside from the fact my "waterproof" jacket and pants failed it's supposed property, I was just happy being one with nature.
T: Cue the inspirational video:*in a deep, narrative voice* EmPoWeR. AdApT. CoNqUeR.
L: We eventually (and I mean eventually. Hours had passed by in the misty afternoon.) ended up at the West Canyon parking lot. At the parking lot, we ran into Chloe Curry and Declan Taylor huddling under the tiny trailhead shelter and sharing ramen.
T: At this point, Melissa and Shaun went to retrieve the cars from the original parking lot. Leaving me, Lucy and Emma together with Declan and Chloe. Aside from the fact that I couldn't feel my limbs, we had some great conversations waiting in the torrential downpour as Melissa and Shaun retrieved the car.
L: Oh I could not be happier to see our Evo rolling up. After changing into my dry but thin clothes, IT'S TIME TO DEVOUR THE BUNS.
T: With the buns now eaten, the day trippers' journey was over. We got back in the car and started to head home. But not before stopping at A&W for some burgers and some intense jam sessions in the car!
L: BIG BIG BIG shout out to Melissa for making our very first VOC trip wonderfully wet and welcoming my millions of questions!
T: And for the buns, the good chit-chat, and everything else! You, Emma and Shaun made our first trip something amazing
L: Yo Tyler, what was a highlight of this trip?
T: For me? I have to say the buns at the end. Just knowing that I had food at the end of the hike kept me going so much faster! And for you Lucy?
L: The conversations we had about school and not school made all these scary (Melissa: what ) fourth-years much more familiar. I'm excited to go on more trips!
T: I don't agree with you often Lucy, but you're right about that one. Anyway, our time's almost up. Thanks for tuning in to our first, and definitely not last trip report!