This trip begins right after the first online baby shower I have ever attended. My family, scattered across the globe, joined a Zoom call to welcome the latest member into the family. This occurred during the summer of 2020 when COVID-19 was in full swing. In person gatherings and air travel had become controversial.  My family adapted and had an online baby shower.   I had to excuse myself early from the zoom meeting since Cassandra and I had a ferry to catch. We got on the 11:00 am ferry that left Port McNeill towards Sointula on Malcom Island.
Once in Sointula we walked by some funny looking houses. Apparently Sointula is famous for its eccentric homes. Then, since I believe the best way to get to know a place is by learning about the people who lived there and died there, we visited the local cemetery. Most of the people buried there had interesting last names, like; Korhonen, Virtanen, Kurikka, etc. It turns out Sointula was established over one hundred years ago by Finish immigrants. The town to this day maintains its Finish heritage.
Talking to the friendly locals we heard about an old coming of age ritual. Apparently, when a kid in Sointula turns 14 he has to circumnavigate the island with only a pack of matches and a knife. There are hut(s?) hidden around the island for the kids to stay during their voyage. Cassandra and I were keen to find at least one of these huts, but the locals we talked to either didn't know or didn't want to tell us where to find these huts. We also learned that before the Finns arrived First Nations lived here and left their mark, quite literary, on the island. On the northernmost tip of the island, on Lizard's tip, there is a rock with a hieroglyph carved onto it. Not knowing where the huts were and having a vague idea of where the hieroglyph was, we decided to set off in a search for the hieroglyph.
We followed some old forest roads. They were so narrow that they gave my car a new "alder paint job." After a while we arrived at what you could almost call a trailhead. The trail, which was a very old overgrown forest road, was marked for the most part by empty kokanee beers hanging off of branches. On our way we came across two locals that were drinking beers. Were they the unsung heroes who had marked the trail for us? We will never know.
We continued down this old overgrown road for a while. It got denser and denser around us by the meter. Finally it was no longer a trail but rather a tunnel of greenness. The vegetation had grown so much that it went up and around the path. You had to duck to make your way through. Finally, we exited this tunnel and entered a second-generation beautiful forest. The forest floor was covered in a sea of salal and beautiful hemlocks and cedars were everywhere. In the distance we saw a hut. We had unexpectedly come across one of the huts we had heard about earlier. Or so we think we did. It was a really nice rustic hut.
The hut in all its glory.
At this point what was left of a trail was completely gone. We tried to continue walking north through the forest but we had just gone a few meters from the hut when the salal got too dense and tall that not even the most experienced VOCers would be able to walk through. We headed towards the beach. We found our way down a little cliff and continued walking on the beach, where we were no longer protected by the forest and the wind blew on us relentlessly.  In front of us we could see Queen Charlotte's straits and beyond massive, remote snowy peaks on the mainland. Was one of those mountains Mount Waddington? Maybe, but unlikely.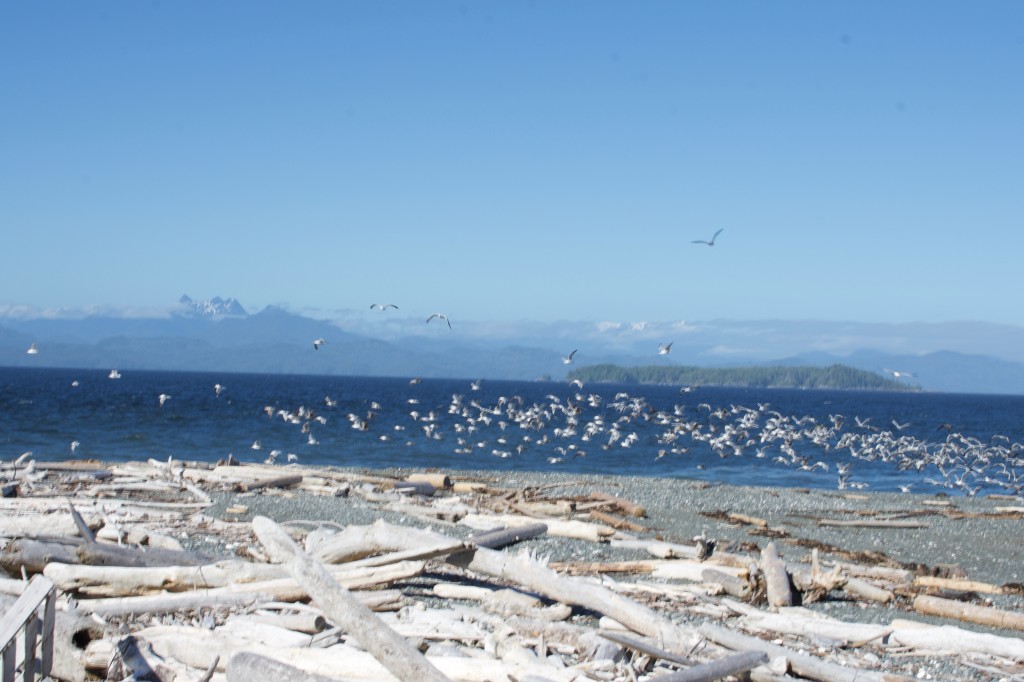 A blurry photo of the mountains and some birds.
We finally made it to Lizard's point. A bit to the east of Lizzards point there was a lovely little bay protected from the westward wind. It was somewhere around here where the hieroglyph should have been found. We looked for it. Couldn't find it. We found a really nice camping spot on the beach. We started a fire, had dinner, saw a beautiful humpback whale with snowy peaks in the background and enjoyed the sunset. Right before we went to bed we noticed that the sea level was rising. Our tent was originally far away from the water but now the sea was rapidly approaching. (Later when I was back in service I looked at the tide tables and learned that that night was very high tide). We moved our tent in a hurry to a less aesthetically pleasing spot in the forest, but sheltered from the high tide.
A nice cozy fire around sunset.
We had a great time. If anyone goes to the North Island I would recommend you to visit Sointula.