This trip report unintentionally turned into a lengthy saga… to make up for that, I wrote a mediocre, modified sonnet if you just want the essence of my experience. Enjoy!
Sonnet 814: To the Ponds
The day commence with smoke in hair
We hiked low woods, high spirits don't care
The lakes as mirrors ringing clear
With glaciers, boulders, and no fear
Force above sings a slow murmur
Trekked through remote lands with fervour
To camp! We snack we nap we gathered heart
Around the buzz of flies, we spread apart
Oh steep! To lake descend our crowd
It was cold. But breathtaking.
Spooky stories and lullabies of stars
Under which, our visions roamed far
Untimely sun rose behind "artichoke",
Did I mention the outhouse's door broke?
Towards marmot, glacier, resting dragon,
We march. Am I, the king of ancient lands!
-              Thus, we prepared return to mundane days
-              Yet the car! and Squamish Brewing! does not say!
(If you want to find out what "the car" and "Squamish Brewing" is about, I guess you need to read to the end.)
 ***
We were beginning to wonder whether this trip is cursed. When our group of twelve VOCers(Isaac Borrego, Simon Holdsworth, Min Wu Kim, Joseph Meyer, Sahar Mavali, Dante Salibain, Aye Min, Liam Kynaston, Paul Wang, Katie Gyte, Shane Hunt, and myself) pulled into the Tim's at Squamish early Saturday morning, thick smoke lingered in the sky and rendered the sun bloody. This trip is called "Rampart Ponds Redux" as it is an attempt to redo Isaac's trip here last year, where the forest fire smoked them out. We wondered if we might suffer the same fate. Banking on the forecast which indicated that the smoke would dissipate by Sunday, we set off for the trailhead.
Our cars bounced our way towards the trailhead. Isaac's high clearance El Taco was cruising while Joe's little Mazda was making noises it may or may not be supposed to make. I drew a little family portrait for Joe's passengers during the parking lot faff.
We finally set off onto the rocky trail. The first few kilometers winded up gradually and passed by in introductory conversations. The smoke was thick, so we used our imaginations at the viewpoints along the way. I hadn't slept well the night before, so I pushed myself to start fast-ish because I knew my energy will dwindle as the 22km day goes on.
As we reached the sub-alpines, the woods opened up, and I began to realize the beauty of the place. With a few more downhill turns, we arrived at Elfin lakes. We stopped for lunch and a few of us jumped in the lake for a quick swim.
After quite a bit of faff, we set off into the next 11 km, the rockier and less maintained part of the trail. We traveled through more forested areas into little alpine meadows with blooming purple flowers I couldn't name. We crossed a rushing, silty river that Aye Min remarked to resemble the Yangtze River of China. On the other side of the river, we started to climb again along the brown-grey rocks. We took breaks at various points, and took advantage of the radically different landscapes to conduct various photoshoots.
Passing by Opal Cone, we decided to summit the next day in hopes of clearer smoke conditions. The final stretch was over flat-ish, rocky terrain and took us along icy blue ponds. Min commented that it felt like we were on another planet; Sahar mentioned that this landscape is quite similar to her home in Iran. At some point Isaac said the campsite is right there! Beside that lone tree! But the vast open space played tricks on our perception. Behind each hill hid another unanticipated stretch of land. My feet were not happy with my brain's evaluation of distance and the expectations it set up. Luckily, my conversation with Liam about science communication and connecting sociology and engineering successfully distracted me, and we arrived at last.
The "rampart ponds" themselves were underwhelming, but the imposing Garibaldi Glacier, Mamquam mountain, and other nameless landscapes were breathtaking. The photos unfortunately could not capture the energy, the possibilities of greater forces beyond comprehension, in the air.
Exhausted, I sat down to refuel with some snacks with Joe while everyone else began to set up camp. One strong gust of wind almost tore a tent away. Don't worry, someone chased it up some boulders and retrieved it. The outhouse door is utterly destroyed. This made for some awkward hollering to check whether someone else is in the outhouse, as the food lockers involved the same area. However, the toilet opened up to the gracious Garibaldi Glacier. At least we have a worthy contender for the best pee-views.
My brain was feeling the afternoon low, and without any further objectives today, I napped at a soft grassy spot near the ponds. The warmth of the sun cocooned me, but the local buggy residence poked at my comfort.
As I rose from my power nap, a couple of horseflies keep circling me. Simon wandered over and asked me which way they flew. I thought, spinning my fingers to understand the question, and replied, "counter-clockwise". He began a whole tale about how flies fly clockwise in the southern hemisphere (He is from New Zealand, more credibility, right?), and that's called the Coriolis effect. I considered. I thought it was interesting. Then I suddenly remembered my grade 8 Geography teacher going on about the Coriolis effect and the earth's atmosphere and realized he was messing with me.
As everyone finished setting up, our group conglomerated near the pond. We stretched out our sore bodies and let the conversation take us wherever it went. Good vibes were oozing out of the air. My brain zoomed out for a moment, and it felt unreal to be at this gorgeous place with these lovely humans. I'm so grateful for this privilege.
Simon turned to Liam and Shane and asked if anyone brought a dehydrated dinner. They both did but was confused by the sudden change of topic. "You know what you call a thirsty hiker?" Simon continued. We stared at him. "A dehydrated meal for a Grizzly bear!"
With plenty of daylight and hungrier bellies, we thought it might be worth it to hike 1.5 km to Mamquam Lake for dinner. Isaac's comment, "it's a pretty good lake but I've seen better" was really the selling point.
That 1.5 km was the steepest 1.5 km of the whole trip. The more steps I take the more I realize how much of a pain the hike back up would be. We traversed back into full forests for this lake. I thought the mountain across from the lake kind of looks like a lotus bulb at a traditional Chinese garden, but what came out of my mouth was "Hey! An artichoke-looking mountain!" Gaining affirmation from Liam that the mountain indeed looked like an artichoke, I grew more attached to the artichoke association.
I don't know what standards Isaac put Mamquam Lake up against, but it was a lovely lake. By lakeside, Min and Dante whipped up the most delicious-looking tuna corn rice while everyone else prepared their dehydrated meals. I chomped on my whole stick of cucumber and ube pandesal.
Sahar and Shane jumped in the lake. Twice. They shivered and said yes, it was nice. They did not have swimwear or towels. One after another, more and more folks went for swims. Some skinny dipped.
As most people packed up and headed back to camp, the place quieted down. Not ready to dip fully, I took off my shoes and frolicked around a log. I traced my toes in the water, half a round de jambe, creating half-mooned ripples against the log. I'm convinced there was some magic in the water and the air. The moment's beauty was ephemeral while timeless. (It sounds like I'm making this up for an English essay, but it's true.) I danced to a soundtrack that vibrated in my head and in the mountains.
On the way up, Liam employed some reverse motivation speech – by being a terrible motivational speaker that made me doubt everything he said, and therefore surprising me when we got to the camp unexpectedly quickly. Seems like we missed a spectacular sunset.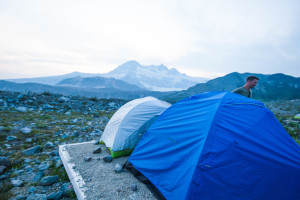 We sat around a beautiful (but short-lived) string of fairy lights Isaac brought to chat and attempted to tell ghost stories. Min offered up a good one about the goat man. "It's terrifying." He promised. Then there was silence as we contemplated our lack of ghost stories. Amidst the silence, Simon piped up. He began about alien game theories that were actually freaking terrifying because of their prospect of realizing. This launched into a whole mess of conversations about the Fermi Paradox and how fear is induced in horror movies and other things I didn't quite understand. "It's too scary! I won't be able to sleep tonight," I complained, "I'll be up all night contemplating my existence in this universe."
It was fitting, though, in the open land, beneath the blanket of stars. We were on the tail end of the Perseid Meteor shower, so we wondered if we might catch a few shooting stars as the smoke and clouds faded in and out. We did. At some point, we all came to lay on the grass, staring at the universe dead-on, feeling one another's existence. The falling stars had bright, transient tails. Each evoked a round of oo's and ah's, and "dang I missed it again!" It was the first meteor shower many of us have experienced. Venus hung low above the horizon.
By this point, many folks were getting chilly and sleepy, and trickled to their tents. Liam, Sahar, Shane, and I remained. We settled on the ground, staring upwards and chatting, hoping to elongate this beautiful day. At some point, Sahar and Shane began to talk about Montreal concrete for some reason; Liam and I talked about how we don't want to talk about Montreal concrete. Another hour slipped by in our easy existence.
Someone had an idea to go watch the sunrise on the ridge. I was dreaming, and then I was struggling up the ridge in my flip-flops, huddling my sleeping bag. Joe, Katie, Sahar, and Liam and I settled onto the ridge. Some set up for breakfast while others settled into sleeping bags and some did both. Whoever thought 6 am was sunrise didn't factor in the mountain (Artichoke Mountain) in our way. We waited for what felt like eternity among the morning bugs. The dawn light tainted the Garibaldi Glacier orange, and the shade shifted with each moment. The actual sunrise was underwhelming, as the sun is already quite high up, and just needed to peek out from behind the mountain.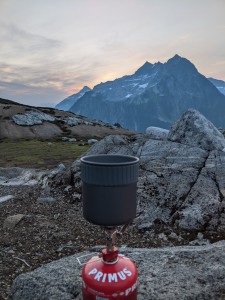 The moment the sun came up, me, Liam, and Sahar decided it's time to go back to sleep. That hour of sleep on top of the ridge was the best sleep I had all week.
As the morning rolled by, everyone began to get ready at drastically different paces. Joe and Katie who were up since 6 were packed by the time some others just woke up. After they were ready, they began to head out towards our objectives, the nearby glacier and Opal Cone. Knowing there are others barely awake, I ate my breakfast slowly while reminiscing on our experiences in Chinese schools with Paul.
As we waited for the last few people to pack up, Liam and I practiced our juggling, as per the instruction of our teacher Dante (and somehow both got worse the more we practiced). Paul attempted to boulder increasingly ridiculous rocks. We tested our balance on rocks and challenged each other.
After much faff, we finally headed off into our trek back. We hiked towards a corner of the Garibaldi Glaciers since it's only a km away.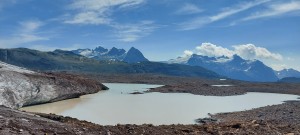 We admired the ice overhangs and mud and silt of the glacier, and had yet another photoshoot. The first group caught sight of a marmot!
Liam jokingly asked if anyone wanted to swim in the dripping glacial pond. Everyone bugged him enough that he decided "fuck it, might as well". Intrigued by the idea, me and Aye Min also joined him. The water was glacial. And cold. And close to bone-shattering. But it was refreshing, to say the least.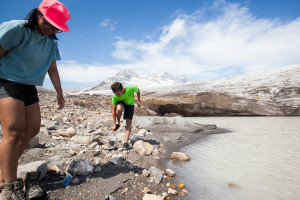 The silt around the pond massaged our feet and Aye Min even smeared some on his face as a face mask.
The sun shone bright, and clouds were high. We sauntered towards Opal Cone. Up some dirt ridge and a steep, gravelly climb, we ate our lunch on top of the cinder cone volcano. A few of us traversed the ridge along the opening of the volcano and enjoyed the panoramic view all around.
I climbed down towards the rock debris and a bit of ice. I admired the dragon-like rock form and attempted to make a snow angel on its back. When I scrambled out, amongst the whirling wind, I felt like the hero in a medieval Chinese Wuxia/Kungfu fantasy that had just barely survived the battle, and was overlooking the land he fought so hard for. The mountain and its winds reminded me to breathe.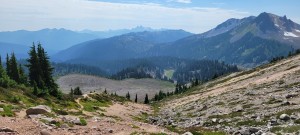 On the way down, I stepped on a loose rock and tumbled down the side of a steep section. It was just scratches but my entire right leg began burning instantly. To distract myself from the pain and my waning energy, I sang "Let it Go" in my head (because singing out loud was too much effort) and chatted with Aye Min about Burmese/Dian-Chinese cuisine.
After a fair bit of internal agony and more switchbacks than I can count, we were back at Elfin Lakes. I rinsed the mud and blood off my body and enjoyed a quick swim in the lake. The rain clouds rolled in along the Tantalus Range, and we were all ready to get on and finish the last 11 km of the hike.
Paul inserted the idea of Fried Chicken in our heads, and the last stretch was sustained by the debate between Sunny Chiba's and Mags 99 in Squamish. Talking to Isaac about the best way to visit Yosemite and music and photography also distracted me from my throbbing foot.
Here, our story could have ended, happy hikers home happily. But since we are university (affiliated) people, I must ask you to question the conventional and practice the art of imagining the rhetorical.
What if…
We were so excited to make it to the cars and head to town. We just might have enough time to grab some fried chicken. Buzzing with anticipation in my comfy flip-flops, I was hit with the reality at hand.
Reluctantly, Liam revealed that his car keys are inaccessible. Let that sink in – 12 exhausted hikers, interrupted in our quest for Fried Chicken because Liam, in fact, somehow, locked his car keys inside the trunk.
"How could- how did that happen?" I thought out loud, high pitched.
Simon was kind and pulled me from questioning him further, "I'm sure he's asking himself that."
We considered our Tetris possibilities to get everyone down to Squamish to await Liam's spare keys. After much faff, we somehow stuffed everyone in Isaac's truck. The four of us small-ish people, Shane, Aye Min, me and Min squeezed into the backseat with some complicated seatbelt contraption (Safety first, kids). Liam opted for the trunk with all the gear. We gave him a hiking pole to poke at our window if needed. (You know, if he got crushed by 7 people's packs. Or if the glass shattered with disappointment. Or if the air of shame choked him. The possibilities are endless.) When I looked back, the glass reflected him scrolling on an Instagram-type social media… we decided we'll find out if he's in trouble if he stops posting.
It was a bumpy ride down from the trailhead. Joe's car inched on; its mufflers were coming undone with each bounce. We did not make it to Sunny Chiba's. So, the Squamish Brewery was our next option. This proved even more faffy than we expected. We were split into two tables of six, and I didn't realize I was sitting with the Oldies until we ordered, and Joe from the other table walked up to announce the strange rule this restaurant had.
"They can't have any minors in the restaurant after 10pm. We don't have our ID's and Dante is 18. We're gonna head somewhere else and meet you guys after eating." This was at 30 mins to 10pm.
Shane doubled back to join our table because Joe's car only had five seats. Since we had already ordered, we sat in confusion and quietly debated whether I, being 18 with a late birthday, will also be kicked out. We thought the mean age and appearance of the other table was lower than ours. Sitting with men with beards may just exempt me from being ID'ed. Also, what kind of rule is this? What if there's a family with a young child. Are they going to be forced out of the restaurant too? Yes, minors really just osmosis the alcohol after 10 pm. Just when we thought the crisis had passed and chatted harmlessly, a waiter walked up and began rambling:
"Hey so I'm just here to check. We can't have anyone under 19 in here after 10 pm." She did her best to articulate through the mask, but now confused us with some strange double negative, "So I just want to make sure, is everyone here not, uh, all under 19?"
Isaac's face, across from me, was abysmally confused. I repeated her question back to her, "We are not all under 19?" That's not even a lie.
I'm not sure who heard what, so a 1 vs 7 staring contest henceforth commenced.
The masses won. I think she felt too awkward at our silence and decided silence is probably agreement. She walked away, and we were giddy, like children getting away with childish crimes.
The food was fairly decent and overpriced. The wait was long. I was cold. Sleep deprivation began to make me appear loopy and drunk. We found out the others had Panago pizza on the curb. I questioned whether I was better off if I joined them.
Eventually, tummies were filled, and cars were filled (at normal capacity, since we now have an extra car from Vancouver to take home the stragglers), and the eventful trip concluded.
Yes, we are still speaking rhetorically.
Aside from all the rhetorical chaos(and even incluidng it), I had an amazing time. It marked the longest backpacking distance in one day for me and I now feel invincible (for better or worse). Thank you, Isaac, for organizing, and so much love to the awesome people who ultimately made this trip!
*Unlabeled photos are mostly credited to Aye Min or Isaac (they took too many amazing photos, I got tired labelling them). Although I'm sure some of Min, Shane, and Simon's snuck in too