A party of six, we lacked the more but certainly had the merrier.
This was my first VOC outing, so I was excited to meet new friends and conquer another hike. Both objectives were accomplished.
Our trip started in the Murrin Park lot near Squamish at 8:30am. We met up, introduced ourselves, and crossed the highway to the trailhead – an entrance so small and mundane that, if one did not look for it, one would never notice it in a thousand car rides to Whistler.
The trail itself is of moderate difficulty. At a modest pace, it is not for those of meek cardio. Up rocks we climbed and over roots we trotted, breaking the ice and getting to know each other. I immediately took a liking to this group; our conversations ranged from hobbies and interests to travel and politics.
Our first destination: Petgill Lake. Roughly 7km from the start, it's a cute little lake that wouldn't make it on any tourism brochures but is good enough to have a swim in. And swim we did.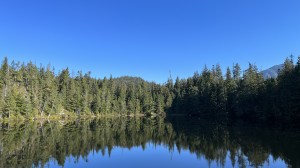 It was a hot day; 25 degrees near Squamish. The sun was beaming a High Noon. The water, ergo, must be warm and comfortable. Yet we were deceived, as is often the case, by the appearance of our surroundings. As I jumped in, the water chilled me to my bones like an ocean under the winter sky. We treaded water while an old lady took our photo, and exited promptly after.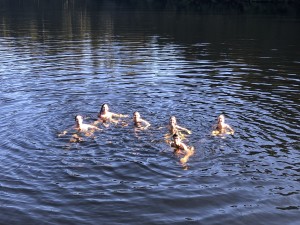 The High Noon sun pulled its weight in drying us, bestowing the feeling of a hot furnace in a fine dining terrace. We continued our journey to the second destination: the viewpoint, a short walk from the lake.
I make no exaggeration when I say that this view is nothing short of spectacular and mesmerizing. A panorama of Sea to Sky's precipice. The water turquoise as if it flowed from the fabled Lake Louise. The mountains across a gentle green, and the cloudless sky above a crystal blue.
We sat there enjoying our lunches and taking in the view. Alone, it felt as though the whole mountain belonged to us. Some of us napped; some of us meditated. The ambient silence in these moments was itself an eerie music.
As we prepared to return home, we took this photo:
I must say, it's quite a diverse group: an anthropologist, a forester, an environmentalist, a physicist, an engineer, and an economist. Can you guess which is which? 
We made our way down the same way we came, conversing more amidst the woody smell of an ancient forest. We returned to the lot, and said our goodbyes. Back we drove to papers, midterms, and reality.
I thoroughly enjoyed this adventure with five others I've never met before. It made a great first impression of the VOC and its rigour. Thank you to Sophia Collins, who organized this trip and made it possible.
Yours truly,
ML