So there I was, toasting some walnuts for a delicious sauce, when Ross walks in the door looking perturbed. I caught "Haley" and "Put a tarp on it" and chuckle to myself. "Oh dear" I thought "I guess the roof fell off at Phelix". Poor Tom, having just arrived home from the states and heading to dinner with his family, hung around perturbed.
Low and behold, dear reader, the roof had very much fallen off at Phelix on the 18th. Thankfully a crew of the Seattle Mountaineers were up there this week and immediately let someone know when they got back to cell reception.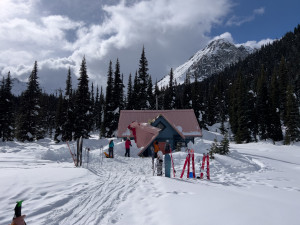 Cue Ross & I scrambling to get to Home Depot before it closed, grabbing a tarp and some screws right as they were preparing to lock up, and then out to UBC to grab the club tools, and then home to start packing around 11:30. Along the way Ross managed to wrangle Else Bosman, Julien Renard, Vincent Hanlon, Dave Mackenzie and Alex Rigby into ditching their respective plans to try and put a roof back on. So pre-dawn the next morning found us departing the city, filled with trepidation.
The switchbacks up were in poor condition, largely sheets of ice which presented a struggle for ski crampons and mandated step-kicking for those of us who've never bothered to buy them, however a few cm of fresh snow and glorious sunshine greeted us when we finally hit the lake around 3pm. As well as the sight of the roof having fallen off.
Oh dear.
We quickly set to work digging and in less than an hour had the roof flipped over flat and disassembled into various components. Fast, efficient team effort!
Now, not having skied uphill more than four times since 2019, let alone with a heavy workhike pack on, I was pretty well dead on arrival and not of much use this weekend. A huge, huge amount of credit is due to Julien & Dave, who spent every last minute of daylight saturday and the same on Sunday wearing a harness and balancing precariously up on the roof – while swimming in shit soup.
Ahh, the shit soup. Yes, dear reader, the roof of Phelix hides a dark secret:
Part A: The "vapour barrier" originally installed in 1998 and repaired in 2009 is the source of our long running mold woes: it is plastic sheeting which traps any moisture in the hut – except where it has failed due to rodent chewing or fraying on substructures.
Part B: The rockwool insulation in the roof is heavily contaminated with rodent feces. Since the insulation sits outside of the plastic sheeting, it becomes saturated with any water which enters through various holes in the thirty year old roof.
Result: The combination of the above means that during the wet season, the roof of Phelix is filled with a rodent shit soup collecting in the plastic, which can make its way inside through holes in the plastic sheeting. This was deeply unpleasant to swim in for two straight days while repairing the roof.
Anywho, much progress was achieved in limited time on Saturday. The night passed uneventful besides some tremendous snoring and my sleeping mat deflating, and we were up at the crack of dawn to begin again.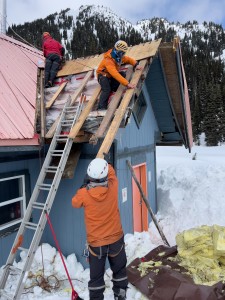 Dave & Julien were back on the roof, with Tom assisting.
Else & Ross & Vincent excavated the hobbit hatch to see what spare materials we had lurking around, and to stash the insulation we pulled out of the broken roof section.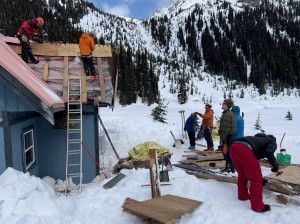 Ross & Alex were useful people, fetching components as necessary and generally being doers.

I wandered around the hut examining it for further damage (there was a lot), taking pictures of it, and working on a root cause analysis and repair plan for the summer.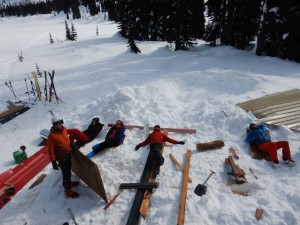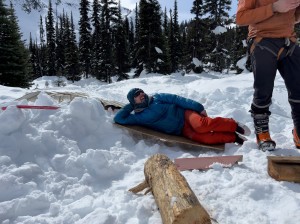 Some time was spent lounging in the sun.
By late afternoon we had the roof back on, the still-collapsing right side tied in with chains, and everything more or less watertight for the remainder of the wet season – hopefully. Ross & Else & I set off down the switchbacks as we suspected we'd be slower given the harrowing conditions, but the rest of the crew didn't catch up until well into the cutblock. The logging road beyond the bridge was a delightful rip, reminiscent of a tracked-out groomer on closing day at a resort. We were back in Vancouver by 11.
Altogether, a shockingly type-1 trip for having been put together with zero notice late on a Friday night, responding to extremely urgent circumstances.
Alas, dear reader, unless Phelix is repaired this year, Phelix will not exist in 2024. The roof structure has been compromised since 1998: It was never built anything close to code, and it is in the process of falling off as I write this, the rafters collapsing sideways one by one due to a lack of perpendicular reinforcement and proper tie brackets. The shock of one section tearing free has damaged the annex in multiple areas, and if the right side of the annex roof tears free as well it will take the main roof with it – with catastrophic results for the timber frame. The incoming exec has my full engineering report in hand. Suffice it to say, unless there is a Brew-3 level of commitment this summer, the hut will almost certainly collapse under snow loads next winter.
I don't know what plans you had for the warm months, but the VOC is going to need some useful people on this one.