Trip Report By: Kimble Mooney
The awkward silence of waiting for volunteers to write the trip report echoes in faint memory, as I now attempt to recall and summarize a rather epic early season adventure. I guess it really all starts with that ominous feeling that the trip will fall through because of a high freezing level. With lots of message board discussion and several emails the lights were a go and I woke to a 5:30 alarm and rain. After a quick Tims stop we (Paulo, Caroline, Tylar, Marius, Adriana and I) met Sam (Trip Leader) at the trail head at 8:00am.
We started with mud and basically hoped that every step and vertical foot would lead to a low lying snow-line. After about 2 hours of hiking we found the snow! The boot pack endured and eventually we could skin. From about the time we put the skins on to the base of the meadow, the snow got deep! We were hoping to merely ski on the permapack for the weekend only to find at least 30cm of freshy.
The decision was made and we set up camp as soon as possible to get out and shred a little of this unexpected joy. We made 3 sweet laps right infront of our camp, on this slope Sam scoped on the hike in.
I've always heard about the Tusk having good skiing and for the last few years it was a definite goal. It was absolutely stunning skiing in such close proximity of the legendary monolith. The clouds acted like the curtain of a stage, someone would shout "Check out the Tusk!" as the next show begun.
Dinner time! Marius built a massive dining table set for 24 unfortunately only us 7 showed. Sam and I stuffed our face with bamby and noodles as we watched Caroline, Tylar and Paulo prep their pasta (Inside joke time "Thank god Caroline has her Cheese!"). Thanks to Marius and Adriana, this was about the time I fell in love with malt wine…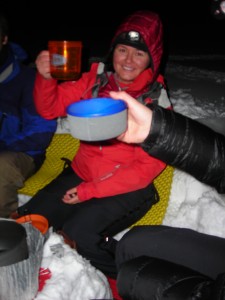 We all went to sleep only to be suddenly awaken by a screech and a mumble, something about sleeping in a puddle. I laughed, poor Caroline. It definitely rained through the night, so the fresh was now poached. Never the less, we took an early morning lap before the ski out got a little muddy (some of us more than others) and happily made it back to the vehicles.
Thanks for organizing the trip Samuel McKoy!