It was saturday and 4:45 in the morning when I woke up and crawled off my bed. Normally, I prefer to get up at forenoon, but now I had no problems with that, because today would be my first trip with the VOC as well as my first adventure in the beautiful nature of British Columbia, that I was looking to for several weeks. After a quick breakfast I caught up with Roland and Carla and later on with Chris in downtown. Still tired of the short night, we drove to our meeting point, a few minutes north of Squamish, where we would gather with the other 25 people.
After we had applied sunscreen and prepared everything for Christian's Traverse of 23km length and 2100m uphill, we started our trip in the woods and headed north to Brew Mountain. These were the first sunny days for weeks and the forecast promised temperatures up to 30°C. Only a few kilometers and we had to leave the protection of the trees and went out in the open snow-covered landscape, in which we would stay until the end of our trip. Just before starting our last hike uphill to Brew Mountain, we took advantage of a first rest and refilled our water bottles. On top of Brew we made a visit to the VOC's hut but continued hiking shortly, knowing about the long distance we still had to go. Subsequently, we hiked kilometer after kilometer, uphill and downhill, partly shoe-skiing to our appointed area, where we would spend our night. By late evening we found a great place to stay in between two mountains. Exhausted of the efforts of the first day, we enjoyed our dinner all the more, while we were rewarded by a stunningly beautiful sunset.
Following a relatively cold night, we got up at 5:30, enjoying our early breakfast and packed our bags for the second part of our adventure. Now we were hiking south to Cypress Mountain, while the sun rose slowly from behind the horizon. The group separated at its foot, because some of us wanted to climb to the summit. The uphill was not too difficult because the top of Cypress was not covered with snow and ice and so we were able to enjoy the view on the vast landscape of British Columbia. After descending, the group was heading to Tricouni Mountain, where we split again. I stayed with a small group at the food of Tricouni and trained the self-securing with my ice axe. The view on top of the mountain surely would have been as fantastic as it was on Cypress.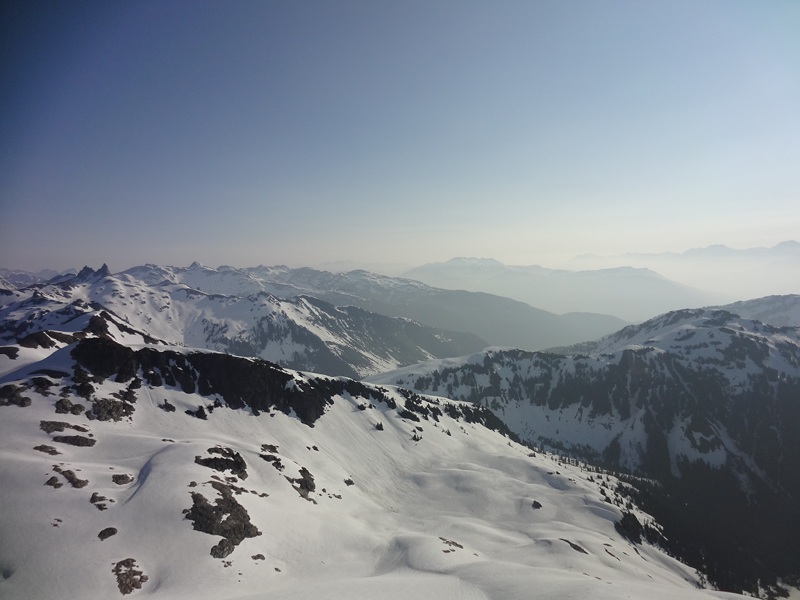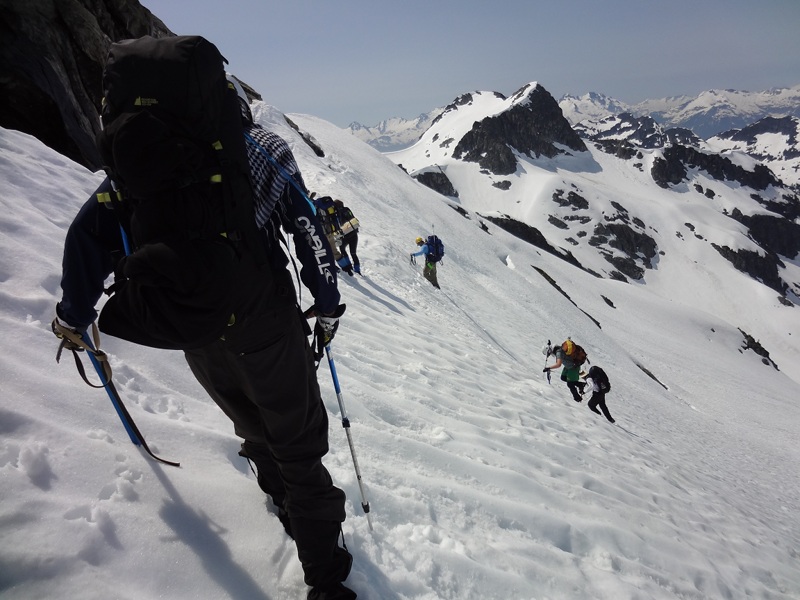 We were now slowly reaching the end of our adventure, but had to complete a last challenge before our final descent, because our way was blocked by a snow tongue. Therefore, Christian and some others who had some energy left, were building a stairway into the snow and up to its top, so that everybody could pass easily. Our further path down the mountain was slippery and partly hard to walk, but despite several falls and due to our training, luckily nobody got hurt. After our last collective rest at the food of the mountain, we hiked over a frozen lake and through snow-covered woods, until we finally arrived at the logging road, that would lead us to the point where we caught up the cars and went home to Vancouver in the late evening.