The night before was full of excitement, not knowing what to expect from my first real backcountry ski trip. Overwhelmed with excitement, I almost couldn't sleep that night. What would teleskiing be like? Would I tumble down the mountain upon decent? How steep would the hike be? These questions kept my mind occupied as I went through my packing list, making sure not a single item was forgotten.
The next morning (could you even call it morning just yet?) was an eventful start to the day. Our Zip Car just wouldn't open. We then discovered that it had been reserved for 4:30PM rather than AM! Luckily, no one had the car reserved (I mean, who would at this ungodly hour?) so we hopped in and made our way towards the Tim Hortons in Hope, our meeting point from which we would all head to the trail head together.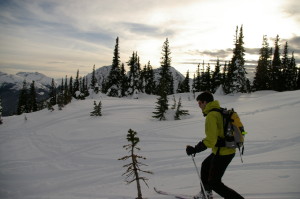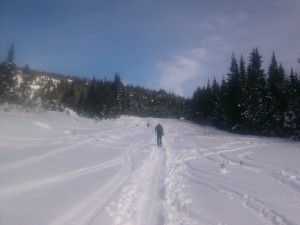 At about 8:15am, we set off on our 9km (return) hike up Zoa peak. Lucky for us, the sun was peering out over the horizon, meaning a sunny day awaited. The first few hundred meters was a gentle slope that left a good first impression. Minutes later, however, we hit a steep hill with a few switchbacks.
It was here that the first ski binding came apart and the first make-shift binding was made. We continued another km or two on some more gentler slopes before we hit the trees. Although I do love skiing through the trees downhill, ascending a mountain in a tree-dense area is not quite as fun. Manoeuvring through the trees meant sudden changes in hill gradient and branches hanging overhead that are just waiting to hit your head. Just a few meters after entering the trees, my right ski binding decided that it no longer wanted to stay attached and snapped in two. Already, the trek alone had me panting and wishing I had trained for this day. None of this was like what I had expected. Luckily, Alex had an ingenious idea involving voile straps to attach my boot to the remaining toe part of the binding, and it worked! Well, for the most part anyways.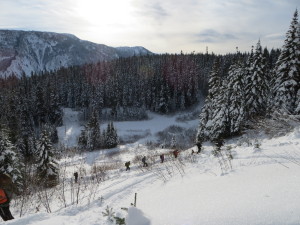 Another few km hiking through trees and some nice snow covered rolling terrain, we finally made it to the peak.  The view alone was worth the hike (as you can see in the photos). And, at this point, I didn't think anything else could possibly go wrong.
After a satisfying lunch, we began our decent and split into two groups with one of the groups wanting to redo the run we had just come down. Naturally, as that involved hiking back up, I didn't join that group. Nicole led our group down the slope, looking for where we would have to turn off to head back. Tele-skiing down hill was, I found, very different from regular downhill skiing. If you lean forward like you're supposed to in downhill skis, you immediately do a face plant. I ended up leaning back in my boots for most of it, which caused a bit of shin bang, but was way more worth it than constant face plants.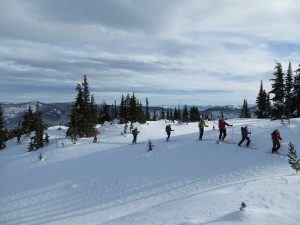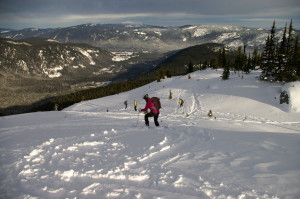 What happened on our way back showed me just how unpredictable backcountry trips can be, and I am impressed with how well Nicole, Alex,  Jannu, Bieke,  and everyone else handled it. If it weren't for the satellite communication devices, spare voile straps, and some extremely patient and helpful people, we may not have made it out by nightfall. On the way back, not only did mine and Grace's skins fail to stick to our skis, leaving us scrambling up on our hands and knees for a short stretch, but we were also split into three groups at one point, and weren't completely sure everyone was in a group. Luckily, after much effort from Nicole, we could safely say we had everyone.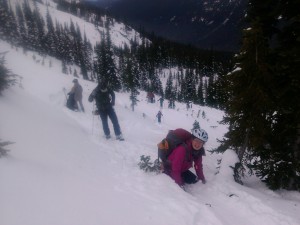 The last stretch of the return was, in my opinion, one of the most fun parts of the trip. With headlamps on, my group, who was the last of the groups, skied down the logging road back to the cars. The logging road was wide open and not too steep but filled with chunky, skied-out powder. It was challenging on tele-skis but was still nice to get some downhill skiing in. Upon arrival, we were welcomed with some steamy hot chocolate thanks to Ru and a few of us headed out to Home Restaurant in Hope for a nice hot meal and to talk about the eventful day. Who knew a first day out backcountry skiing would turn out that way. Though, despite the hectic events, everyone seemed to have a great time and my next trip will definitely be within the season!